A customized print-friendly version of this recipe is available by clicking the "Print Recipe" button on this page.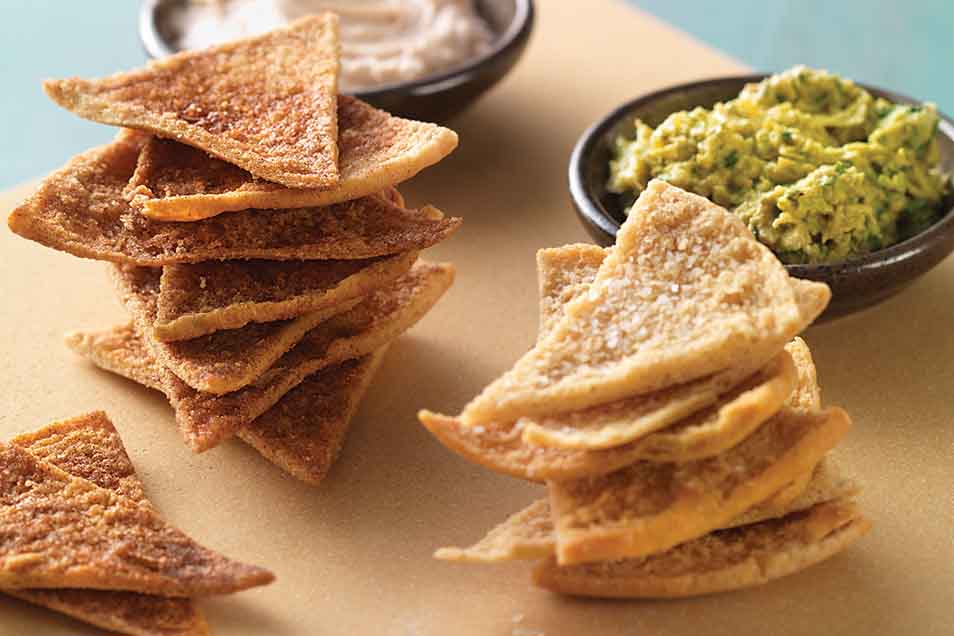 Popular enough to have made their way onto grocery store shelves, pita chips are a crunchy snack that can be made sweet or savory; here we offer both versions. Try an entire batch of savory, an entire batch of sweet, or half a batch of each for a crowd-pleasing treat — for dipping, or enjoying as is.
Instructions
Mix and knead the dough ingredients together to make a soft, smooth dough.

Place the dough in a lightly greased bowl or 8-cup measure, cover, and let rise for 60 to 90 minutes, until just about doubled in bulk.
Preheat the oven to 450°F, with a pizza stone on the bottom rack. If you don't have a pizza stone, see tips, below.

Gently deflate the dough, and divide it into 8 pieces.

Shape each into a ball, cover, and let rest for 10 minutes.

Working with two pieces of dough at a time, roll each into a 6" circle. Transfer them to the hot stone.

Bake for 4 minutes, until puffy. Turn them over, and bake for an additional minute. Remove from the oven, and place on a rack to cool.

Repeat with the remaining pieces of dough.

Once the pitas are cool, carefully separate the two sides of each to make 16 thin rounds.

Brush rounds with oil or butter, and sprinkle with the topping of your choice, sweet or savory.

Cut each round into 8 wedges. Divide the wedges between two parchment-lined baking sheets.

Bake the chips in a preheated 375°F oven for 15 to 20 minutes, until crisp; turn the chips over after 10 minutes of baking.

chips from the oven, cool completely on the pan, wrap airtight, and store at room temperature.

Yield: 8 pitas, 128 chips.
Tips from our bakers
If you don't have a pizza stone, put the pitas on an ungreased baking sheet, and put the baking sheet on your oven's bottom rack.
To make two different kinds of pita chips, simply cut the quantities for the topping ingredients in half, and use each topping on four of the pitas.
Reviews
Store bought pitas will never compare to these and they were so easy! This will be a regular in my house.
My family loves these chips! The flavor and crisp crunch are spot on and I won't be buying Stacy's Pita Chips again. I made minor changes after reading comments. I added a quarter tsp. baking powder to ensure they puffed, and once brushed with olive oil, I sprinkled lightly with Greek seasoning. I also monitored closely during the second bake for browning and then turned off the oven earlier than the recommended bake time and left them to crisp with the door closed until the oven cooled down. I stored in an airtight plastic container and they stayed crisp and fresh. I am making them again this morning but plan to follow the initial bake directions from the Golden Pita recipe as it was faster and easier. I also use a scale to portion the dough and a tortilla press to speed the process. Serving today for our New Year's meal with homemade hummus and baba ghanoush and gyros wrapped in Golden Pitas. Thanks for another wonderful recipe!
I had the same trouble as a previous reviewer with the tops being quite a bit thinner than the bottoms, but they still made pretty tasty chips. Next time, will experiment with turning the pitas a bit sooner.
Since not all my pitas separate nicely, I usually just skip that step and just cut the pita into wedges. It makes for a bulkier "chip" but delicious all the same. Thank you for trying the recipe and for your feedback! Elisabeth@KAF
I made these using a pizza stone. The dough puffed up but a bit too much. The top was too thin to use, so I had to use the bottoms only and I cut those and basted with olive oil. I wasn't crazy about these and it was too much of an effort for the result I got. I left two rolls behind and baked them as regular rolls and they came out ok. Could've used a little sugar if baking for rolls only. We're sorry these didn't work out to your liking! I find stacking them while they cool keeps them flexible for my falafel, then I use the leftovers for chips. Happy baking! Laurie@KAF
These turned out great. Don't roll the dough to thin. The chips burn when you bake them. Its hard to stop eating them!
My family and friends loved these! They are so good - no dip needed! I need to make another batch ASAP - thanks KAF!!
I will admit I didn't actually make the pitas from scratch, but I have been looking for a good pita chips recipe for what seems like forever and this is it! I used thick pitas and followed the end of the recipe and ended up with perfect pita chips which rivaled Stacy's (one of the best store bought products out there). Thanks KAF!