A customized print-friendly version of this recipe is available by clicking the "Print Recipe" button on this page.
Pittsburgh's Finest Diner Pancakes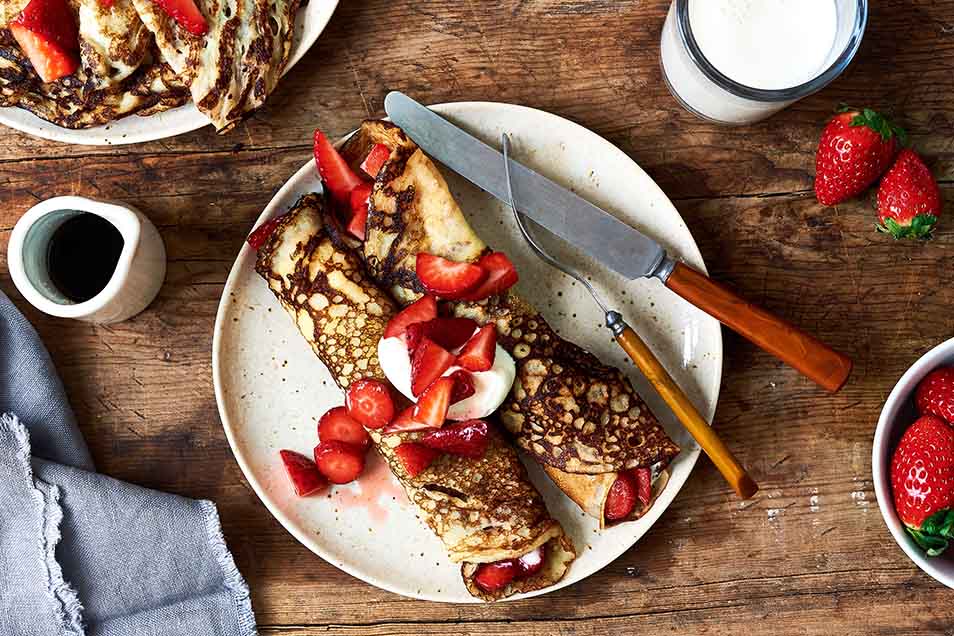 Pamela's Diner, with six outposts in and around Pittsburgh, is justly famous for its oversized pancakes. Light and buttery, thinner than regular pancakes but thicker than crêpes, people rave about their crisp edges and wonderful texture. In fact, a certain President liked owner Pam Cohen's pancakes so much, he invited her and co-owner Gail Klingensmith to the White House to cook their signature cakes in person!

Our version of these cakes, based on some "hints" Pamela's has dropped about their secret recipe, produces pancakes we feel are close to the original; but since we've never been to Pamela's Diner, we can't know for certain. Attention, Pamela's fans: try these pancakes, and let us know how they stack up — pun intended!
Ingredients
1 cup lukewarm milk
2 tablespoons vegetable oil
3/8 teaspoon salt (or a heaping 1/4 teaspoon)
1 teaspoon baking powder
1 tablespoon sugar
1/2 teaspoon instant yeast
1 large egg, beaten
Instructions
In a medium-sized mixing bowl, whisk together everything except the egg, stirring until fairly smooth; a few small lumps can remain.

Tent the bowl lightly with plastic, and allow it to rest at room temperature for 3 hours; it'll start to bubble just a bit.

Refrigerate the batter overnight.

Just before cooking the pancakes, stir in the beaten egg.

Heat a 9" or 10" skillet over medium heat; or heat a 9" or 10" electric skillet to 300°F; or heat a griddle that's at least 9" to 10" wide, and easy to pick up and handle.

Place 1 teaspoon vegetable oil and 1 teaspoon butter into the skillet, swirling them around until the butter melts. Yes, use 1 teaspoon each; this is what will give the pancakes their signature crisp edges.

Pour a scant 1/2 cup batter into the pan, tilting the pan until the batter forms a circle about 9" in diameter. It's important that you do this quickly, before the pancake has a chance to set; the thin edges that result from tilting the pan to distribute the batter become wonderfully crispy.

Cook the pancake for about 2 to 2 1/2 minutes, or until its underside is golden brown. Flip it over, and cook about 1 1/2 to 2 minutes more, until golden.

Transfer to a plate (or lightly greased baking sheet, if you want to keep the pancake warm in the oven while you cook the remainder). Repeat with the remaining batter.

Serve the pancakes with butter and syrup. Or spread sour cream (or whipped cream, or yogurt), layer strawberries down the center, and roll like a blintz.

Yield: 4 large pancakes.
Tips from our bakers
The "authentic" way to serve these pancakes is spread with sour cream, sprinkled with brown sugar, topped with sliced strawberries, and rolled — think blintz. We love them that way (and substituting yogurt for the sour cream won't noticeably diminish their wonderful flavor); or simply as is (not rolled), topped with a drizzle of maple syrup.
Want to double this recipe to make 8 pancakes? Not a problem. Double everything except the yeast, which can remain at 1/2 teaspoon.
Reviews
So I made thes pancakes, but made them as a dinner and filled them with vegetables like we do in Europe. We had a salad with it and had a very good meal.Pancakes were made to recipe and kept warm in the oven. The vegetables were blanched before and then I added a savory bechamel sauce , added to the veggies and then filled the middle of the pancakes, rolled them up and plated them and served immediately. So good with the salad and a complete meal
I loved Pamela's when I was in Pittsburgh for school. I agree with other reviewers that the taste is close (and delicious!), and the texture is...almost similar? The crisp edges and buttery taste were only achieved by adding closer to a tablespoon of butter and oil. I didn't taste any yeasty flavor at all. The texture was still a little flabby and thick, even though I used a 12" skillet, so I think half a cup of batter is too much. I probably would make it between 1/3 to 1/2 c next time. This was a delicious and easy recipe for hotcake, so I would definitely make this again but I wouldn't call it Pamela's!
Very good. Only modifications I will suggest is that to add maybe 1/4 cup of water along with the egg to make the batter a bit runnier. Also cook at medium high heat (I have gas). Typically first side should cook in 1.5 minutes and the second in 1 minute. I am from Pittsburgh and very familiar with Pamela's crepes and was trying to re-create this in San Diego now. Thank you.
Very, very close. To your point, you have to be careful to use at most 1/2 cup of batter in the pan. If it's too think, it doesn't get that crunch / crisp Pamela's is known for.
Very, very close. To your point, you have to be careful to use at most 1/2 cup of batter in the pan. If it's too think, it doesn't get that crunch / crisp Pamela's is known for.
My family and I loved this pancakes. I doubled the recipe and they were fantastic!
I often find standard pancakes to be too dry, but these were great - moist and extremely crispy. I used a non-stick pan but with plenty of grease. I loved the yeast flavor. These might supplant my current favorite (cottage cheese pancakes).
Pamela's is my favorite breakfast place in Pittsburgh and this recipe is pretty darn close. For old fashioned regular pancakes, Bette's Diner in Berkeley, CA makes the best. They have buttermilk. But this recipe made amazing crepe like pancakes. Next best thing to being at Pamela's.
I was hoping these would be the usual diner-style pancakes you get in those off the beaten path places. I had some at Chubby's in KC that were mind blowing. These were ok. The first half of the batch I cooked as directed, the second batch I added add'l sugar and cinnamon, that made a big difference. They do have a yeasty flavor, not really off-putting, but not like I've ever had in a pancake. I wouldn't make these again. I appreciate the effort, and maybe they taste like their intention, but diner-style pancakes they're not. BTW, I had one tear on me too that I was cooking on my electric griddle. The ones I cooked in my 12" teflon pan on the stove all flipped beautifully.
I cooked them in a crepe skillet and they came out beautifully. Just one problem: I don't like the yeasty flavor. Recommendation with reservations for people who might not like the yeasty flavor, which reminds me a bit of sourdough, which I don't like.