A customized print-friendly version of this recipe is available by clicking the "Print Recipe" button on this page.
Pizza Crust or Cracker Bread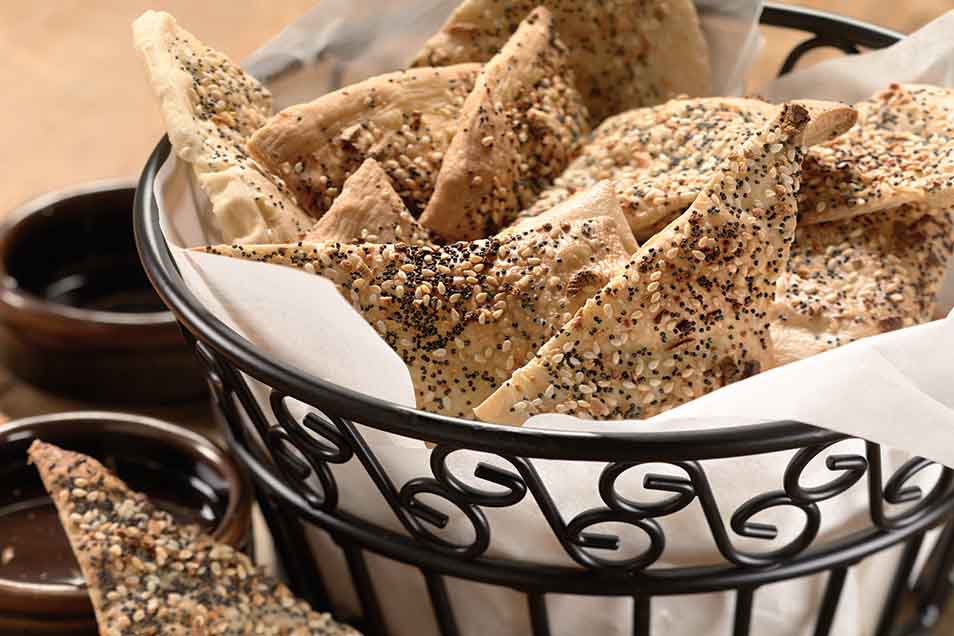 This recipe makes dough that may be used for crisp/chewy pizza crust; or rolled very thin to make cracker bread. Making the dough a few hours (or up to a few days) ahead and storing it in the refrigerator gives the crust great flavor.
Ingredients
3 cups Sir Lancelot Hi-Gluten Flour
3/4 cup Hi-maize Fiber*
1 tablespoon + 1 teaspoon Pizza Dough Flavor (optional, but delicious)
1 teaspoon instant yeast
1 1/4 teaspoons salt
2 tablespoons olive oil
1 1/2 cups lukewarm water, enough to make a smooth, soft dough
*Hi-maize gives the crust an extra crisp bottom; if you don't have it, use a total of 3 3/4 cups high-gluten flour.
Topping
seeds, herbs and salt, or pizza seasoning; tomato sauce, cooked meats, vegetables, and cheeses of your choice
Instructions
Dough: Mix and knead together all of the dough ingredients, by hand, mixer or bread machine, till you've created a smooth, soft dough.

Allow the dough to rise, covered, for 1 hour; then shape and bake as directed below. Or refrigerate dough for up to 2 days; this step will develop the crust's flavor.

Divide the dough in half (or in thirds, for cracker-thin crust).

Shape each piece into a 10" to 14" circle or rectangle (thicker or thinner crust), and place each on a piece of parchment paper or greased pan.

Allow to rise for 30 minutes or so, covered, while preheating the oven to 475°F.

To make cracker bread, spray the dough with Quick Shine or brush it with garlic oil; and sprinkle with assorted seeds. Or top any way you choose. Bake for 12 minutes, till brown and crisp. For the crispiest pizza, bake the crust for 8 minutes, until set, before topping with sauce and cheese; then bake for an additional 4 minutes.
Reviews
The perfect pizza crust!!!
This recipe produced a thin and very crisp crust even though I didn't have any Hi-Maize around. I baked it on a pizza stone and it came out delicious. This is my go-to pizza crust from now on.
Felt like a change, so we gave this one a try. Divided the dough in thirds, and prebaked the crust. Made a giant bread balloon. It was very crispy though. Checked the next one three minutes in, and it was starting to bubble. Poked it with a fork, turned it over, and proceeded. Pizza was very crispy, and I would make this again. Wish I knew why it ballooned, though.
The ballooning was just the gas and steam given off as the yeast goes wild in the hot oven. You did the right think poking the dough the second time around! Barb@KAF
My go to crust. Looked all over for a delicious crispy thin crust recipe, by far the best out there. I'll usually make it the night before I use it, although tonight it's make and bake. I parbake for 4m at 500 on a stone, cool for a few minutes, then top with homemade sauce and fresh Mozzarella. Never any leftovers. Also use it for calzones and flatbreads. When it comes to pizza, it's all about the dough.
A long time pizza peel to hot stone crust maker, I never thought good pizza crust on a pan to be possible. This is thin, crisp and tender even on thick edges. Easier to roll with less back spring, no transfer from peel to stone, and no oven scorched corn meal make this the easiest pizza I've ever made. The Hi maize makes for the extra crisp, tender texture in addition to sneaking in healthy fiber and lowering calories. For the pure, fresh taste of margherita pizza, we omit any dough seasoning but enjoy it for others.
All I can say is Wow! I have been on a quest to find a recipe for a thin, crispy pizza crust for my homemade pizzas, and this is it! I ordered the Lancelot and Hi-fiber flours, and followed this recipe. It was easy and the crust turned out nicely crisp and a tad chewy. The veggie and turkey pepperoni pizza was awesome on this crust. I also made some seeded crackers with fresh rosemary and parsley added into the dough. They are wonderful and taste like many of the expensive gourmet crackers in high-end stores today...but without harmful hydrogenated oils. I spread the seeds on the rolled out dough and then embedded them with the rolling pin, as suggested, and it worked just great. Thanks again for providing a quality product. I am highly impressed with King Arthur Flour products.
Really an excellent recipe. I've got a house full of thin crust pizza lovers and this is just right. To get perfect consistency and crispiness, I make the dough, let it rise for 24 hours (or longer) in the fridge, roll it out as thin as I can and then completely cover a perforated pizza pan with it. I cut off the extra, bake the crust for 7-8 minutes at 450 degrees, let if cool off for a few minutes, and then top the pizza. Back in the oven for 5-6 minutes at 500. Pre-baking the crusts allow me to make several crusts in one go round in the kitchen; I use what we eat for dinner and freeze the rest. I did try the crackers, but they were too thick and more chewy than crispy. Shame, the taste was perfect.
This recipe makes an incredible crust! I used KA bread flour and "pizza crust yeast", did not allow any time for rising, baked 8 min before adding toppings and 5 minutes after on the stone. This is the best, thinnest crust I have ever made at home!! One pizza had tonnata, mushrooms and roasted red peppers with olive oil and mozzarella, the second had spinach, mushrooms, goat cheese and mozzarellla with a red sauce. Mmmmmmm
Quick and fabulous! I topped it with garlic-infused olive oil and oven-roasted onions and peppers. WOW!