A customized print-friendly version of this recipe is available by clicking the "Print Recipe" button on this page.
Pizza Crust or Cracker Bread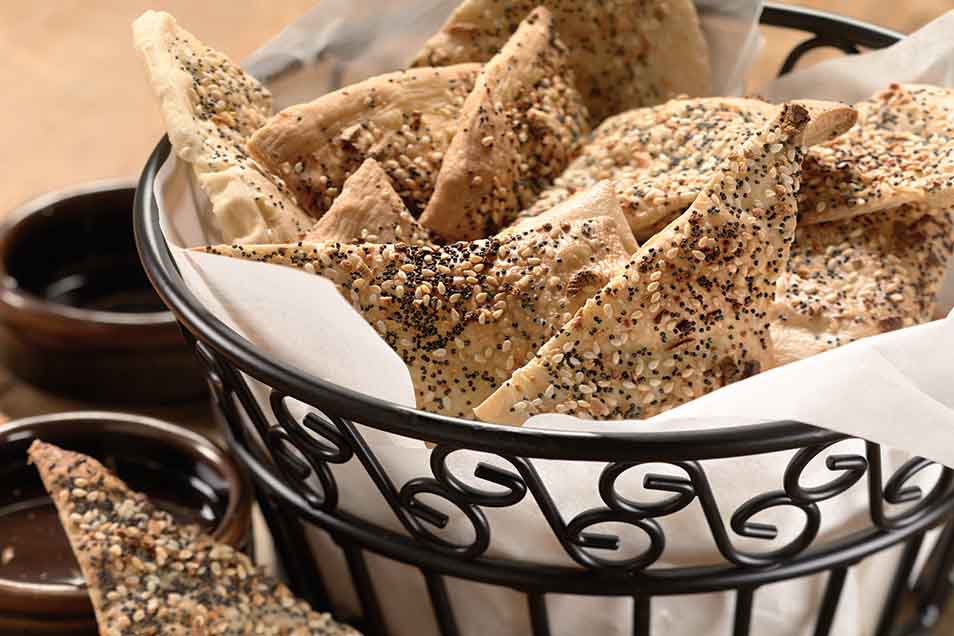 This recipe makes dough that may be used for crisp/chewy pizza crust; or rolled very thin to make cracker bread. Making the dough a few hours (or up to a few days) ahead and storing it in the refrigerator gives the crust great flavor.
Ingredients
3 cups Sir Lancelot Hi-Gluten Flour
3/4 cup Hi-maize Fiber*
1 tablespoon + 1 teaspoon Pizza Dough Flavor (optional, but delicious)
1 teaspoon instant yeast
1 1/4 teaspoons salt
2 tablespoons olive oil
1 1/2 cups lukewarm water, enough to make a smooth, soft dough
*Hi-maize gives the crust an extra crisp bottom; if you don't have it, use a total of 3 3/4 cups high-gluten flour.
Topping
seeds, herbs and salt, or pizza seasoning; tomato sauce, cooked meats, vegetables, and cheeses of your choice
Instructions
Dough: Mix and knead together all of the dough ingredients, by hand, mixer or bread machine, till you've created a smooth, soft dough.

Allow the dough to rise, covered, for 1 hour; then shape and bake as directed below. Or refrigerate dough for up to 2 days; this step will develop the crust's flavor.

Divide the dough in half (or in thirds, for cracker-thin crust).

Shape each piece into a 10" to 14" circle or rectangle (thicker or thinner crust), and place each on a piece of parchment paper or greased pan.

Allow to rise for 30 minutes or so, covered, while preheating the oven to 475°F.

To make cracker bread, spray the dough with Quick Shine or brush it with garlic oil; and sprinkle with assorted seeds. Or top any way you choose. Bake for 12 minutes, till brown and crisp. For the crispiest pizza, bake the crust for 8 minutes, until set, before topping with sauce and cheese; then bake for an additional 4 minutes.