A customized print-friendly version of this recipe is available by clicking the "Print Recipe" button on this page.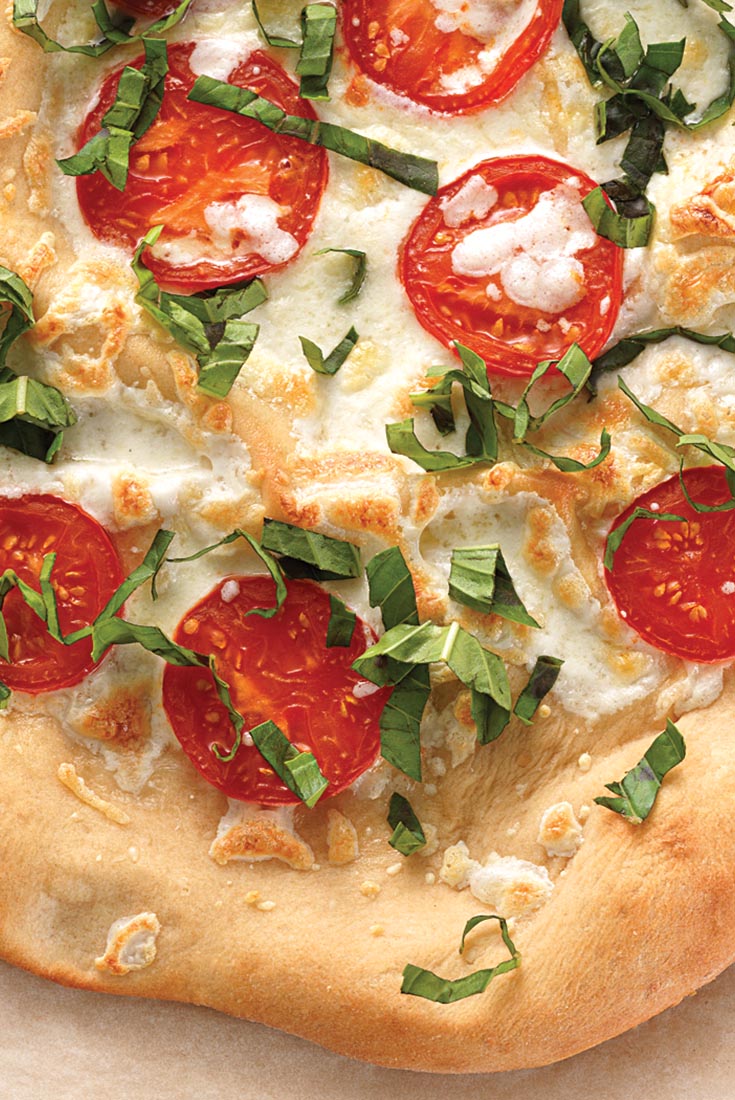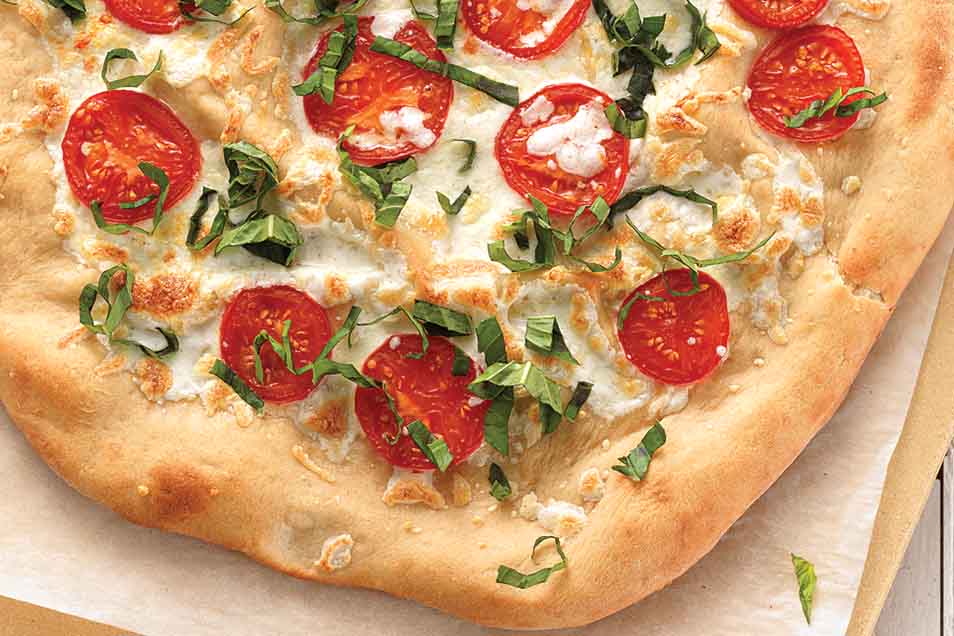 Legend holds the Pizza Margherita was named in 1889 for the Queen consort of Italy, Margherita of Savoy, by the chef Raffaelle Esposito of Pizzeria Brandi; its festive colors reflect the three colors of the Italian flag. While we've made the crust with whole wheat flour, feel free to substitute all-purpose flour for a more traditional American-style crust.
Ingredients
Toppings
3 tablespoons extra-virgin olive oil
4 ripe plum tomatoes, sliced into thin rounds
2 cups diced fresh mozzarella cheese
12 fresh basil leaves
1/2 teaspoon bread salt or other fine salt
Instructions
To make the dough: Stir together the yeast, water, honey, and 1 cup of the flour in a large mixing bowl, in the bowl of a stand mixer, or in the bucket of a bread machine. Cover the mixture and let it stand for 30 minutes; it'll be very soupy.

Add 2 cups of the remaining flour, the vital wheat gluten, and the salt to the yeast mixture, along with the olive oil and sesame seeds. Mix and knead the dough — by hand, mixer, or bread machine — for about 5 minutes, adding more flour as necessary to make a smooth elastic dough.

Place the dough in a lightly greased bowl, cover the bowl tightly with plastic wrap, and allow it to rise for at least 2 hours, or until it's puffy in size.

An hour before you plan to bake, preheat the oven to 425°F. If you're using a baking stone, preheat the oven to 450°F.

To assemble the pizza: Divide the dough in half, roll each piece on a floured surface into a 13" to 15" round (depending on the size of your pizza pans), and place the rounds on lightly oiled pans. (A 13" diameter yields a thin crust; a 15" diameter yields a cracker-thin crust.)

Turn in the overhanging edge to form a rim. If you plan to use a baking stone to bake the pizza, place the dough on two baker's peels, dusted with cornmeal or surfaced with parchment.

Brush each round with 1 tablespoon of the olive oil. Divide the tomato slices between the rounds. Divide the cheese and sprinkle it on top of the tomatoes. Divide the basil leaves and sprinkle them on top of the cheese. Divide and sprinkle on the salt and the remaining 1 tablespoon of oil.

Bake the pizzas in the pans for 20 to 30 minutes, or until the top and bottom crusts are nicely browned. If you're using baking stones, bake for 15 to 25 minutes (leaving the pizza on the parchment), or until the crust is nicely browned on the bottom.

Cut into wedges and serve immediately, garnished with additional fresh basil, if desired.

Leftover pizza can be stored in the refrigerator for 3 days.
Reviews
Cooked one at 425 for 13 minutes and it burned. Crust was hard and nothing like the picture. Dull drab and tasteless. Hugely disappointing.

We're sorry to hear your pizza baking experience was quite so disappointing, fellow baker. We recommend baking this pizza at a high temperature to replicate the wood-fired crispness of an Italian-style, thin crust pizza. It sounds like your crust might have been rolled particularly thin, or maybe your oven is super hot.

If you're looking for a pizza that's more American-style rather than thin and crispy, you might consider making our Detriot-Style Pizza or our Now or Later Pizza recipe. Consider turning the oven temperature down by 25°F if you're looking for a softer crust. We hope you're able to make the pizza you're looking for! Kye@KAF
I made this recipe per the directions and it is NOT as pictured. The picture is clearly of white flour and no sesame seeds. I knew better!

Hi Amy, we're sorry to hear you didn't feel the recipe photo matched what came out of your oven. It's true that it does look particularly light, and that's because our White Whole Wheat Flour is also quite light and cream-colored. If you look at the edges of the crust, you'll be able to see some white sesame seeds. If the crust didn't turn out to be what you were looking for, please feel encouraged to give our Baker's Hotline a call at 855-371-BAKE(2253) and we can work together to find you a recipe that's more appealing to your pizza preferences. Kye@KAF
Wonderful crust! We stuffed ourselves and I have another one in the oven par cooking right now. This will become my go to crust. I used the new White Whole Wheat Flour and it rocked. Flavorful and crispy. YUMMY!
super easy, delivers a chewy crusty bubbly pizza crust! I used my baking steel and used a whole wheat flour and bread flour mixture. Turned out really well. After dividing the dough in 1/2 I froze the 2nd half for later. nice .
I made big mistakes making this dough... and it tasted excellent. I didn't have vital wheat gluten and choose to omit sesame seeds. I made a double batch half white whole wheat half AP. Made the starter with no problem. Then I added my flour and mixed for five minutes. And still had soup. So I add more flour and mixed more. Still very wet, not forming a ball. More flour, more mixing....and so on. BY the time this thing seemed the the right consistency, had risen and was ready for shaping, it was as tight as all-get-out, and cooked up like a loaf of bread. But it was so tasty! lol Going to try again this weekend, and I'm making note to learn from my mistakes. A) Don't hold back with the extra flour, apparently mine is very saturated. B) Mix for five minutes and STOP. C) don't be overly concerned about "smooth and elastic dough", it's pizza dough, it's supposed to be on the wet side, it's whole wheat it won't get totally smooth my AP/bread flour
Aha! The whole wheat flour and the all purpose flour absorb liquid differently! For best results with this recipe - use all white whole wheat flour as written (it really does absorb more liquid than the all purpose flour). We'd love to hear the results when you make this change. Happy Baking! Irene@KAF
Fantastic!! Makes a great thin crust if rolled thin, also makes a nice thicker crust, if not pulled out as flat. I always use white wheat (I have a flour mill at home). This is one of the best pizza crust recipes I have used!
I omitted wheat vital gluten and substituted flaxseed to sesame seed. It doubled up the size in less than 2 hours. My thin crust pizza was done in 15 minutes. Both my kids love it. Will definitely make it again.
I don't think I'll order out for pizza anymore! I made the crust using the recipe as a guide, but I forgot the salt, and added Italian seasoning to it. I only buy whole wheat flour, both the white & red. After rolling out half the dough, I realized I needed a gadget! So I balled up the dough & re-rolled it to a smaller round, to fit a dinner plate. Then I loaded all my toppings (lot's), transferred them to the stones in the oven. The result was two thick crust "personal sized" pizzas! YUM!
I'm almost ashamed to admit that I totally screwed up this recipe but it was so forgiving that it still turned out amazing! First, I was in a hurry yesterday morning and looking for a pizza crust that didn't need to rise overnight. I was also out of regular flour and wouldn't be able to go to the store until much later in the day. When I saw this one, I was ecstatic because I knew I had a bag of whole wheat flour in the freezer just begging to be used. When I was ready to start making the crust around 2 pm, the 1st problem arose- what I thought was a half a bag of whole wheat flour only contained a scant cup. Still needing pizza dough for dinner, I quickly decided I'd make up the difference with bread flour. Knew it would turn out differently but forged ahead anyway. The only change I made was to add a spoon full of KF Pizza dough flavor and omit the wheat gluten which I didn't have. Problem #2- I didn't reread the recipe and just measured all the ingredients into my mixer! Then I looked at the recipe again and mentally began cursing because I know better but was still in too much of a hurry. Not wanting to toss the bowl & contents and still craving homemade pizza, I forged ahead again. Set it aside to rise (covered in plastic! I did read that part!) and finally went to the grocery store. It had doubled in size by the time I was ready to proceed and I was feeling a little better about the outcome. I had to add about 1/4 cup of flour to get it to a good kneading consistency and it was too elastic to roll so I stretched and shaped by hand into 2 crusts on parchment. Added toppings and then transferred to my stone in the oven. They browned and puffed nicely during the baking and looked/smelled amazing! The taste was equally wonderful and it was proclaimed 'Excellent!' by both husband and daughter! I didn't confess my screw-up to them and basked in the compliments but plan to make this again soon using the correct ingredients/procedures to see if it's better than my fluke.