A customized print-friendly version of this recipe is available by clicking the "Print Recipe" button on this page.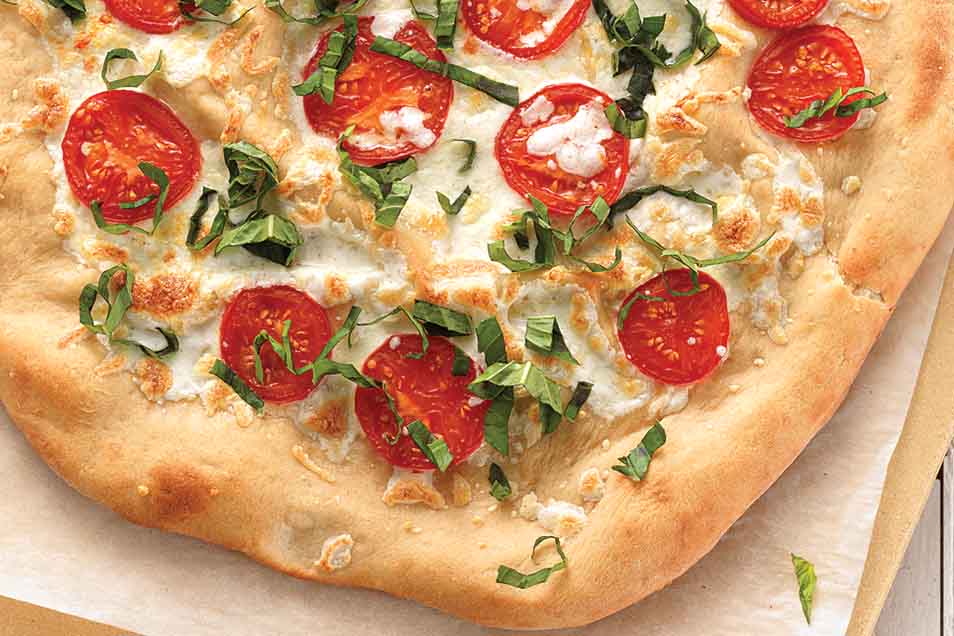 Legend holds the Pizza Margherita was named in 1889 for the Queen consort of Italy, Margherita of Savoy, by the chef Raffaelle Esposito of Pizzeria Brandi; its festive colors reflect the three colors of the Italian flag. While we've made the crust with whole wheat flour, feel free to substitute all-purpose flour for a more traditional American-style crust.
Ingredients
Toppings
3 tablespoons extra-virgin olive oil
4 ripe plum tomatoes, sliced into thin rounds
2 cups diced fresh mozzarella cheese
12 fresh basil leaves
1/2 teaspoon bread salt or other fine salt
Instructions
To make the dough: Stir together the yeast, water, honey, and 1 cup of the flour in a large mixing bowl, in the bowl of a stand mixer, or in the bucket of a bread machine. Cover the mixture and let it stand for 30 minutes; it'll be very soupy.

Add 2 cups of the remaining flour, the vital wheat gluten, and the salt to the yeast mixture, along with the olive oil and sesame seeds. Mix and knead the dough — by hand, mixer, or bread machine — for about 5 minutes, adding more flour as necessary to make a smooth elastic dough.

Place the dough in a lightly greased bowl, cover the bowl tightly with plastic wrap, and allow it to rise for at least 2 hours, or until it's puffy in size.

An hour before you plan to bake, preheat the oven to 425°F. If you're using a baking stone, preheat the oven to 450°F.

To assemble the pizza: Divide the dough in half, roll each piece on a floured surface into a 13" to 15" round (depending on the size of your pizza pans), and place the rounds on lightly oiled pans. (A 13" diameter yields a thin crust; a 15" diameter yields a cracker-thin crust.)

Turn in the overhanging edge to form a rim. If you plan to use a baking stone to bake the pizza, place the dough on two baker's peels, dusted with cornmeal or surfaced with parchment.

Brush each round with 1 tablespoon of the olive oil. Divide the tomato slices between the rounds. Divide the cheese and sprinkle it on top of the tomatoes. Divide the basil leaves and sprinkle them on top of the cheese. Divide and sprinkle on the salt and the remaining 1 tablespoon of oil.

Bake the pizzas in the pans for 20 to 30 minutes, or until the top and bottom crusts are nicely browned. If you're using baking stones, bake for 15 to 25 minutes (leaving the pizza on the parchment), or until the crust is nicely browned on the bottom.

Cut into wedges and serve immediately, garnished with additional fresh basil, if desired.

Leftover pizza can be stored in the refrigerator for 3 days.