A customized print-friendly version of this recipe is available by clicking the "Print Recipe" button on this page.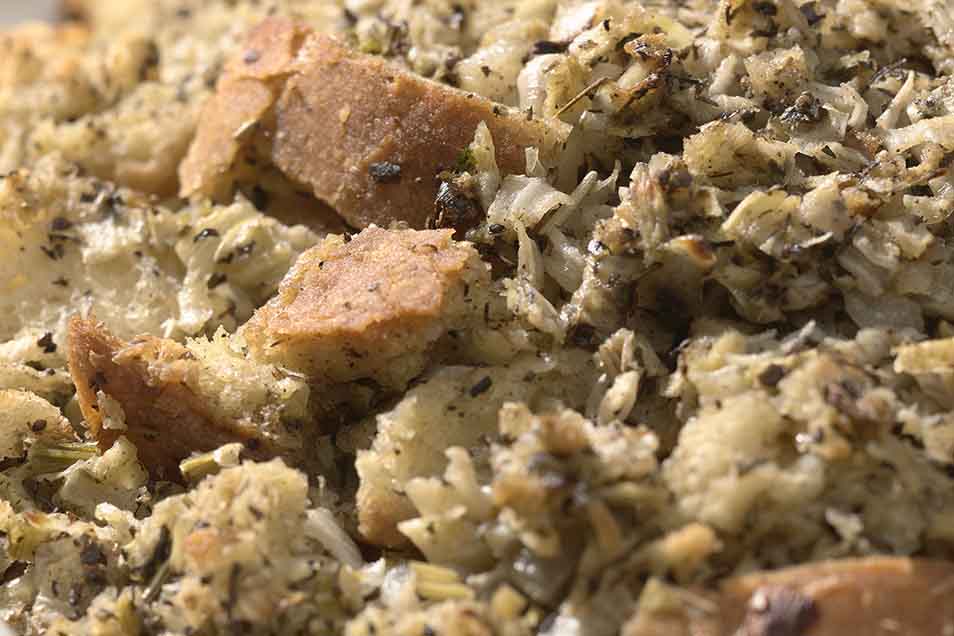 There are as many variations on stuffing as there are imaginative cooks. The bread element can be plain white bread, cornbread, whole-wheat, herb bread or even a cranberry loaf; moisteners range from water to butter to spirits; and additions include anything from fruits and nuts to meat and shellfish, with a wide range of vegetables, herbs and spices enlivening the whole affair.

This is a popular version: it's not heavily seasoned; the main tastes are of plain white bread and butter, with onions and celery adding some texture and tang, the poultry seasoning some traditional taste. This recipe is good for a small (10 to 12-pound) turkey; it can be increased by half, or doubled, to fill larger birds.

Baked outside the bird, it's referred to as dressing.
Ingredients
8 cups bread cubes, made from a firm white bread (about 12 slices); gluten-free sandwich bread is fine
1 cup (16 tablespoons) butter
4 large onions, finely chopped (about 3 cups)
1 cup finely chopped celery stalks (including tops)
1/4 cup chopped dried parsley (or 1/2 cup fresh)
2 teaspoons poultry seasoning
2 teaspoons salt
1 teaspoon pepper (less for a milder stuffing)
1 to 2 cups chicken broth, optional; if baking the stuffing in a separate dish, outside the turkey
Instructions
Place bread cubes on a cookie sheet or other wide, flat pan and bake in a preheated 350°F oven for 10 minutes. Remove from oven and set aside.

Melt butter in a large frying pan, and sauté onions and celery until soft, about 5 minutes. Remove from heat.

Place bread cubes in a large bowl.

Spoon onion-celery mixture over bread.

Add parsley, poultry seasoning, salt and pepper and toss mixture until it's thoroughly combined (the best way to do this is to roll up your sleeves, wash your hands and dig in).

Spoon stuffing into both the body and neck cavities of the turkey, and roast the turkey.

To bake the dressing: Preheat the oven to 400°F. Lightly grease a 3-to 4-quart baking dish or pan.

Pour the dressing in the dish. Pour the stock evenly over the surface; if you like a more moist stuffing, add about a cup more stock.

Cover the dressing with foil, and bake for 30 minutes.

Remove the foil and continue to bake until the dressing is crispy on top, about 15 to 20 minutes.

Store leftovers, refrigerated, for up to 4 days in the fridge.