A customized print-friendly version of this recipe is available by clicking the "Print Recipe" button on this page.
Portuguese Muffins (Bolo Levedo)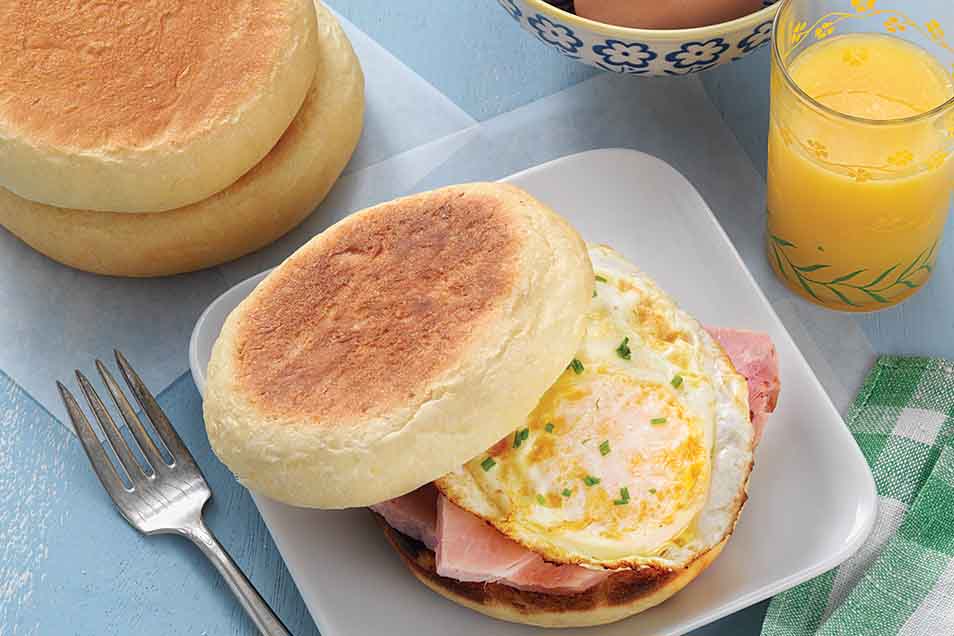 A Portuguese muffin looks like a very large English muffin, without the cornmeal on the bottom or the craggy holes within. About 4" in diameter, and a good 1" thick, this soft though sturdy bun is delicious toasted and slathered with butter and jam, à la English muffin; and it's equally good as the basis for a sandwich. With a vibrant Portuguese community in southeastern Massachusetts, many restaurants in that region serve their signature sandwiches on Portuguese muffins. Our version of these muffins includes some non-traditional ingredients: potato and soy flour, (both optional), which contribute to the muffin's soft, tender texture; and a touch of both lemon and vanilla.
Ingredients
1 cup milk
1/4 cup (4 tablespoons) soft butter
3 1/2 cups King Arthur Unbleached All-Purpose Flour or 3 3/4 cups Pastry Flour Blend
1/4 cup potato flour, optional (See "tips", below.)
1/4 cup soy flour, optional (See "tips", below.)
1/4 cup sugar
2 1/2 teaspoons instant yeast
1 1/2 teaspoon salt
2 eggs
2 teaspoons vanilla extract
1/8 teaspoon lemon oil or 1 tablespoon grated lemon peel or 1 teaspoon Sweet Dough Flavor
Instructions
To make by hand or with an electric mixer: Scald the milk (heat it just until small bubbles form), then pour it over the butter. Set the mixture aside to cool to lukewarm.

In a large bowl, or in the bowl of an electric mixer, combine all of the dry ingredients, whisking thoroughly. (This prevents the potato flour from lumping).

Add the remaining ingredients, mixing to form a workable dough. Knead the dough until it's smooth; this should be a soft (though not sticky) dough.

Place the dough in a lightly greased bowl, cover the bowl with plastic wrap, and allow the dough to rise for about 90 minutes; it'll become quite puffy.

To make with a bread machine: Place all of the ingredients into the pan of your bread machine, program the machine for manual or dough, and press Start. About 10 minutes before the end of the final kneading cycle, examine the dough, and adjust its texture as necessary with additional flour or water. The dough should have formed a smooth, cohesive ball. Allow the machine to finish its cycle.

Transfer the dough to a lightly oiled work surface, and divide it into 10 pieces, each about 3 1/4 ounces in weight.

Form the dough into tight balls, and let them rest, covered, for about 30 minutes. Flatten the balls into circles 4" to 5" in diameter and about 1/2" thick.

Place the muffins on a lightly greased or parchment-lined baking sheet, leaving about 1 1/2" between them.

Place a piece of parchment paper atop the muffins, or lightly grease the bottom of the second baking sheet. Place it atop the muffins, and let them rise for 45 minutes, or until they're about 3/4" thick.

Bake the muffins in a preheated 400°F oven for 18 to 22 minutes, leaving the second baking sheet in place; this will help keep the muffins flat.

Remove the top baking sheet, and test to make sure the muffins are done; they'll be golden brown on the top and bottom, with paler sides. Remove them from the oven, and cool on wire racks.

Store, well-wrapped, for 3 days on the counter, or freeze for up to a month.
Tips from our bakers
If you choose not to use the potato flour and/or soy flour, reduce the milk by 1 tablespoon.
Reviews
This recipe was easy to make and the dough was easy to work with. I did not use soy flour, but did use double the amount of potato flour. I also substituted one cup of whole wheat for the regular flour. And, I left out the lemon flavor, as I knew I was using them for sandwiches so didn't know how the flavor would match the sandwich. They were a hit in our house (with 4 out of 5 liking them). They made a wonderful base for an egg and cheese sandwich. I was able to squeeze them all on one pan, which was good because I was using both my cookie sheets to make the muffins, would have needed to get creative if I needed more than one pan.
Nice work keeping track of those recipe changes - if the recipe does head south sometime, you'll know what the most recent change is and then identify who the culprit might be - Happy Baking! Irene@KAF
Recipe is easy to make. We found that 2 1/2 tsp of yeast was too much, the muffins were too light and not as dense as muffins bought locally. Some experimentation later we found that 1 tsp of yeast produced the denser muffin we liked but did not require additional rising times. Also added 1/2 cup raisins.
This was an easy recipe to follow; I had all the ingredients on hand. I followed the directions for the bread machine. The texture came out exactly as the recipe stated. However, I just thought the overall taste was very bland. I don't think I would make these again. So, I would recommend the recipe because I'm sure some bakers would love it as is, and would come up with some creative ingredient to kick up the taste.
Some of my happiest childhood memories revolve around these muffins and the bakery in Provincetown, MA where we used to get them. I used meyer lemon rind in mine and did opt for the potato and soy flours. The smell, texture and taste were exactly right.
Made these again with only some lemon zest and oh my! So good! They freeze wonderfully. Don't even need to thaw, just pop in the oven for about 10 min at 350. Love them!
Nice addictive and makes good snacks. Delicious toasted spread with butter and jam or just by itself. we definitely will make it again and again.
Used lemon instead of sweet dough flavoring and boyfriend said it was too strong. Next time I will omit, unless only using for sweet applications. Otherwise wonderful recipe! Love these things!
WOW, My family and I love these muffins. We use them for everything from sandwiches to just plain snacking on. They freeze well and lasta long time, though not in this house! Try them!!
Fabulous flavor and texture! Husband, son-in-law and neighbor give these muffins a thumbs-up! I left out the soy flour, used the Sweet Dough flavor and used the parchment paper. Instead of baking sheets (mine are on the heavy side), I placed light, wire cookie racks on the top. I experimented with the GT Express baker. Baked 8 muffins in the oven and 2 in the GT Express. Oven baked rate 5+ stars and GTExp 4.5. The finished product (baked in oven) actually resembles the photo! These are great and I'll be making them again this weekend. Thank you KAF!
Just pulled them from the oven but they look beautiful. Can't wait to build some sandwiches on them. I did make 12 rather than 10 so they would be a bit smaller. I did not use the optional ingrediants but they still look and smell great.