A customized print-friendly version of this recipe is available by clicking the "Print Recipe" button on this page.
Potato Bread Perfect for Toast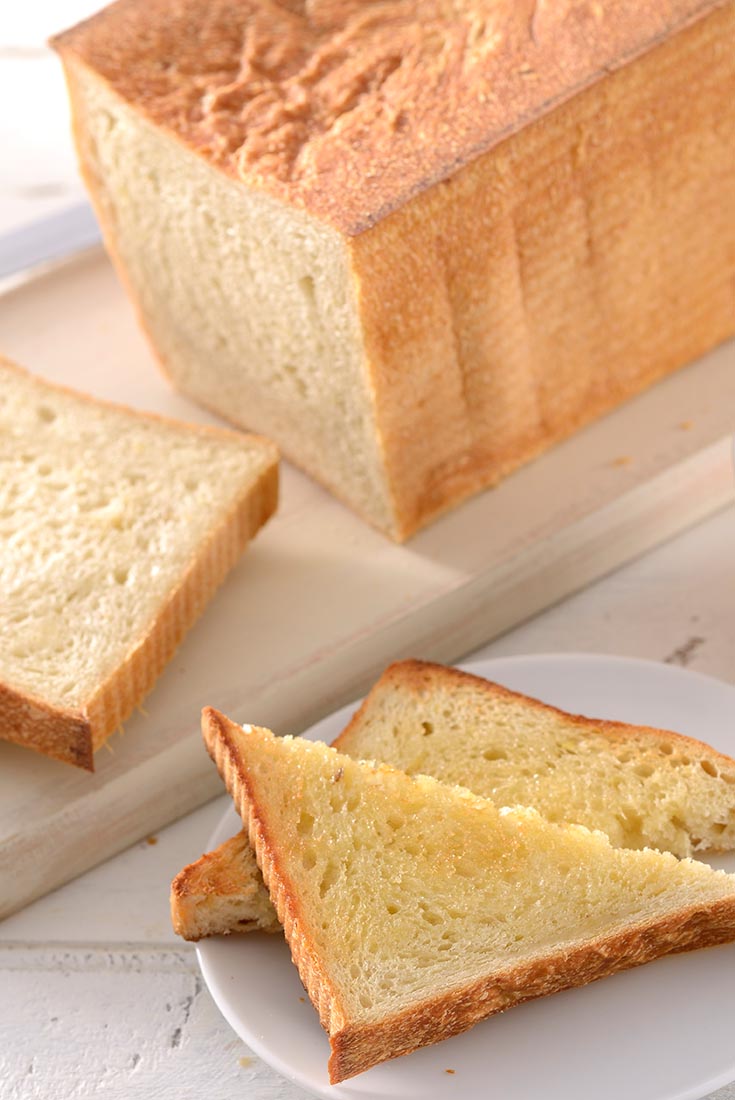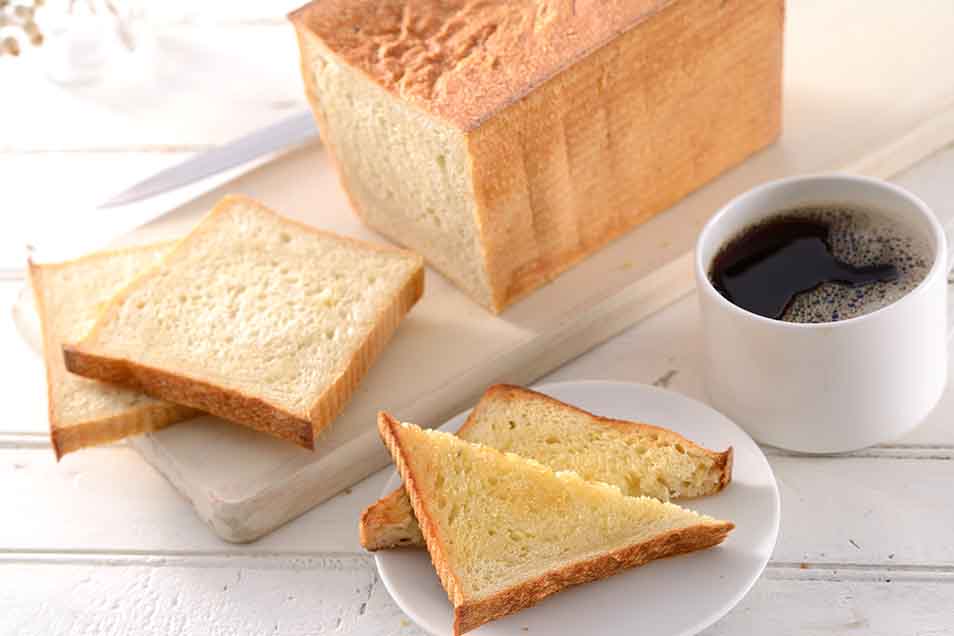 This recipe is based on a recipe of Elizabeth David's, an iconic English food writer. As Elizabeth says, "Usually associated with times of grain shortage, or with a need for strict economy in the kitchen, potato bread is also advocated by some nineteenth-century writers as being the best bread for toast." David also quotes a "Doctor A. Hunter," who wrote in 1805, "...lovers of toast and butter will be much pleased with this kind of bread. The potato is not here added with a view to economy, but to increase the lightness of the bread, in which state it will imbibe the butter with more freedom..."
Instructions
To make the dough: Mix and knead all of the ingredients together — by hand, mixer, or using the dough cycle on a bread machine — to make a smooth, very soft dough. Don't be tempted to add more flour; slack dough is what will give the bread its open structure, which makes it able to "imbibe the butter with more freedom."

Transfer the dough to a lightly greased bowl. Cover the bowl and let the dough rise for 1 to 1 1/2 hours, or until it's noticeably puffy. If you started this dough in your bread machine, transfer it to a bowl to rise; you don't want to risk "dough overflow," as this is a larger-than-usual amount of flour for the typical machine.

Turn the dough out onto a lightly greased or floured surface, and gently deflate it. The dough is very slack, so you won't be able to shape it into a log; simply pat it into a greased 13" x 4" pain de mie pan, or a 10" x 5" loaf pan. Cover the pan, and let the loaf rise for 45 minutes to an hour, or until it's puffy. If you're using a pain de mie pan, the dough should come to within about 1/2" of the pan's rim.

While the bread is rising, preheat the oven to 350°F.

If you're using a pain de mie pan, add the lid and slide it shut. Bake the loaf for 35 minutes. Remove the lid and bake for another 10 minutes. The 10" x 5" loaf will bake for about the same amount of time: 45 minutes or so. When done, the bread will be golden brown, and its interior temperature at the center will be at least 190°F.

Remove the bread from the oven, and after 5 to 10 minutes turn it out of the pan onto a rack to cool.

Store the bread, well wrapped, at room temperature for several days; freeze for longer storage.
Nutrition Information
Serving Size

1 slice (36g)

Servings Per Batch

30
Amount Per Serving:
Calories

69

Calories from Fat

Total Fat

1g

Saturated Fat

Trans Fat

Cholesterol
Sodium

160mg

Total Carbohydrate

13g

Dietary Fiber

1g

Sugars

Protein

2g
* The nutrition information provided for this recipe is determined by the ESHA Genesis R&D software program. Substituting any ingredients may change the posted nutrition information.
Tips from our bakers
You can use mashed potato flakes, following the directions on the box. But it's just as easy to put a large, thoroughly pricked baking potato (such as an Idaho) in your microwave oven, microwave for 3 minutes, then turn over and microwave for a further 3 minutes. Let the potato cool, peel it, and mash it. This is pretty simple, and the flavor is significantly better.
Reviews
this bread is absolutely exceptional and the toast is wonderful but try using it for grilled sandwiches and Panini it is perfect
I bake this bread regularly and love it! It's moist and flavorful with a great crust. This last time, however, I changed the mashed white potato to mashed sweet potato. (Plain, no marshmallows, brown sugar, etc., not even any salt and pepper.). What a wonderful, subtle difference. The color of the bread was a gorgeous gold. But the flavor was even better. The bread had a very subtle change. It was a bit sweeter but not an added sugar kind of sweet. In other words, it was not a coffee cake sweetness. (Although a sweet potato coffee cake would be good too!) You could actually taste the sweet potato but not be overwhelmed by it. It still made great sandwiches and toasted up perfectly. I wish I could include a photo of it!
Hi all. Awesome bread. I just wanted to know if I can make it with 100% whole wheat flour? Thank you in advance n

We typically recommend starting by replacing half of the regular flour with whole wheat flour so that the final result isn't drastically different from what you're used to. If you like the results, feel free to use more whole wheat flour. As you increase the percentage of whole wheat flour, the bread will become slightly heavier and may not rise quite as high. To prevent it from being dry, you may want to add a few tablespoons of additional water if the dough feels dry. Happy baking! Kye@KAF
I made this standard recipe and it turned out great. Can I make a gluten free version by substituting your gluten-free flower of all purpose flower?

Ed, we're glad you enjoyed the flavor of this delicious potato bread! If you'd like to make it gluten-free, you'll need to make a few other adjustments rather than just substituting our Measure for Measure Flour for the all-purpose flour because it isn't designed to be used in yeasted recipes. Instead you can try using Gluten-Free Flour and 1/4 teaspoon of xanthan gum for every cup of flour used. You may also need to add an additional egg for some of the liquid. Keep in mind you'll be experimenting, as we haven't tried making this variation before. If you'd like fail-proof results, check out the designed-to-be-gluten-free bread recipes on our website. Happy baking! Kye@KAF
Kye, You were right, the second time I had no problems. Now, on to a marble rye.... Thank you and be well, Annie K
I doubled this recipe and used TWO greased 13" x 4" pain de mie pans, both pans exploded in the oven.

Hi Annie, doubling yeast bread recipes can be tricky. Often times we recommend increasing all of the ingredients 2x except for the yeast, which should be increased by 1.5x. This is likely the reason your dough had so much oven spring. Try cutting back the yeast next time (or making two single batches separately), and this should help control the rise. Good luck! Kye@KAF
Terrific recipe that's just perfect to use up that last bit of mashed potatoes. Very easy (and tasty)! Mixed in my Zoji, let rise in pans, and boom - perfection! No alterations needed. However, I loved it so much that making again today with the addition of KAF Vermont Cheese Powder (about 1/4 cup), 1/4 teaspoon cracked pepper and 1/2 teaspoon Spike seasoning. I believe this is going to yet another grandslam!
I made this with leftover mashed potatoes, bread flour, potato water and bread salt. Not particularly slack, I was able to form 2 loaves in the 8x4 pans. On 2nd rise now, going slow but that's all good. Should be fabulous. Hard to wait.
My entire family (even the pickiest of the crew) loved this bread.
This recipe, as others have noted, is excellent. I made a double batch that quickly disappeared. I used some lovely yellow potatoes that I ran through a ricer for a great texture. A couple issues I had though that I will work out- I used 120g per cup of flour for a more precise measure. The dough was very wet and very sticky. I rolled with it and baked up four loaves in two batches. The dough was so delicate that they fell while gently moving them to the oven. I may add just a tad more flour in hopes it gives in enough additional support so it doesn't fall. Bread was still great just a little sunken, this makes outstanding toast!