A customized print-friendly version of this recipe is available by clicking the "Print Recipe" button on this page.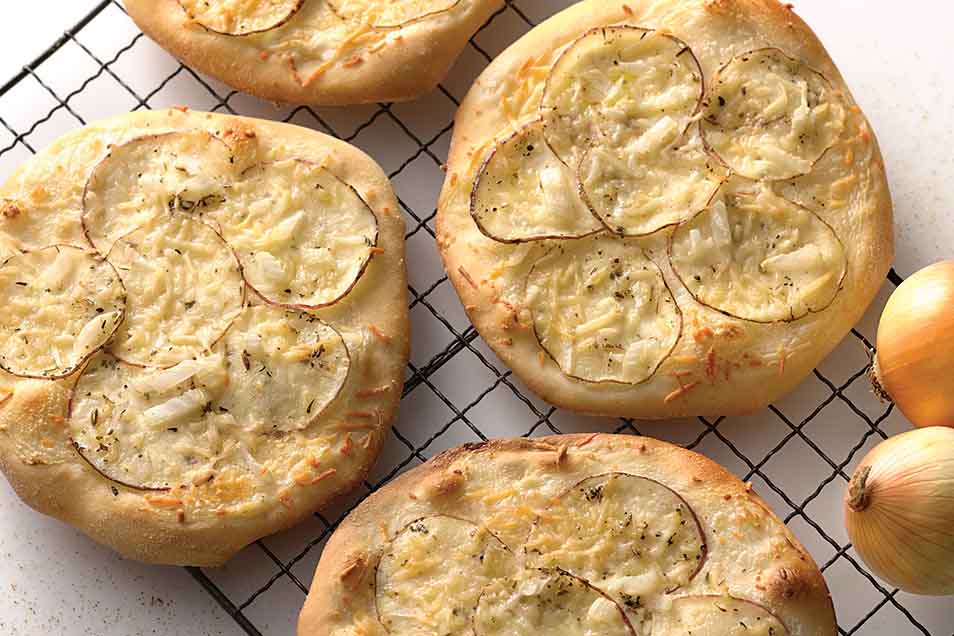 We love to serve these individual flatbreads at a party. They're perfect as a hand-held snack, or can be topped with a lightly dressed green salad and served as a starter at a sit-down meal.
Ingredients
Dough
2 teaspoons instant yeast
2 teaspoons sugar
1 1/4 teaspoons salt
1 tablespoon King Arthur Easy-Roll Dough Improver OR Baker's Special Dry Milk OR nonfat dry milk
3 cups (11 ounces) King Arthur Italian-Style Flour*
3/4 cup lukewarm water
2 tablespoons olive oil
semolina or cornmeal, for dusting
*Substitute pastry flour or all-purpose flour if you wish, though you'll get markedly different results; you may also need to increase the amount of water.
Topping
1 medium (8 ounces) red-skinned potato, thinly sliced (about 2 cups); we recommend using a mandolin
1/2 teaspoon salt
1 to 2 teaspoons herbes de Provence
2 tablespoons olive oil
1/2 cup sour cream
1 small onion, peeled and diced
1/2 cup grated Parmesan, optional
Instructions
To make the dough: Combine all the dough ingredients, and mix and knead to make a soft, supple dough. This can be done by hand; using a stand mixer fitted with a dough hook, or with a bread machine set to the dough cycle.

Place dough in a lightly greased bowl, cover, and allow to rest for 15 minutes, or up to an hour.

To ready the topping: Soak the potato slices in cold water for 30 minutes.

Divide the dough into six equal pieces. Dust a work surface with semolina or cornmeal, and roll the dough pieces into 5" to 6" rounds. Cover them with a kitchen towel and let rest for 30 minutes.

Drain, rinse, and pat the potatoes dry, then toss them with the salt, herbs, and olive oil.

Place a baking stone on the bottom rack of the oven. Preheat the oven to 425°F, and dust a pizza peel with semolina or cornmeal.

Working with three crusts at a time, spread half the sour cream over their surface, then evenly distribute half the potato mixture, the onions, and the Parmesan. Use a peel to transfer each flatbread to the hot baking stone.

Bake the flatbreads for 10 to 12 minutes, until their edges start to brown. In the meantime. top the remaining three flatbreads with the remaining potato mixture, onions, and Parmesan.

Remove baked flatbreads from the oven, and bake the remaining breads. Serve warm.

Yield: 6 individual flatbreads.
Tips from our bakers
Don't have a baking stone? Bake the flatbreads on a greased or parchment-lined baking sheet for 12 to 15 minutes.
Preparing for a party? You can prepare these breads a day in advance. Place them on a baking sheet, wrap in plastic, and refrigerate. Take them out of the refrigerator about an hour before you're ready to bake.