A customized print-friendly version of this recipe is available by clicking the "Print Recipe" button on this page.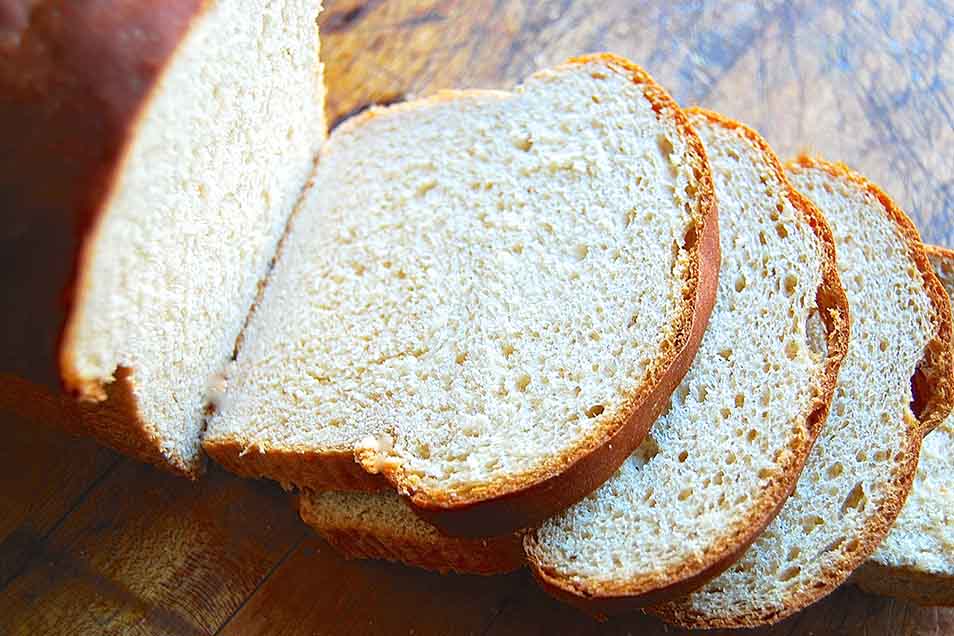 Soft and moist from the addition of fresh potato, this 100% whole wheat bread rises tall, slices beautifully, and is a great keeper. Who could ask for anything more?
Instructions
Peel the potato, and cut it into chunks. Combine it in a small saucepan with the 1 cup of water, which should just cover the potato (if you've cut it in small enough chunks).

Simmer the potato until it's soft. Remove the pan from the heat, and use a small food processor, blender, or hand beater to blend the potato/water into a smooth, chunk-free slurry. See "tips," below.

Once the potato mixture has cooled to lukewarm, combine it with the remaining ingredients. Mix and knead them — by hand, mixer, or bread machine — to form a smooth, supple dough.

Transfer the dough to a lightly greased bowl, cover the bowl, and allow the dough to rise until puffy though not necessarily doubled in bulk, 60 to 90 minutes.

Lightly grease a 9" x 5" loaf pan.

Transfer the risen dough to a lightly greased work surface, shape it into a log, and fit it into the pan.

Cover the pan with lightly greased plastic wrap (or, even better, a clear shower cap), and allow the dough to rise until its domed center is about 1" over the lip of the pan, about 60 to 90 minutes. Towards the end of the rising time, preheat the oven to 350°F.

Remove the plastic, and put the bread into the oven. Bake the bread for 37 to 40 minutes, until it's golden-brown on top and tests done; a digital thermometer inserted into the center will register at least 190°F.

Remove the bread from the oven, and turn it out of the pan onto a rack to cool completely. For a soft, flavorful crust, brush the loaf with melted butter while warm.

Yield: 1 loaf.
Tips from our bakers
If you don't want to prepare the potato as directed, simply add 3/4 cup water and 5 ounces (about 2/3 cup) unseasoned mashed potato to the dough (instead of creating a slurry from 5 ounces of raw potato and their 1 cup boiling water). Add up to an additional 1/4 cup water, if necessary, to make a smooth, supple dough.
Reviews
I'm glad to read I'm not the only one who didn't succeed in this loaf. I was super excited to find it cuz my husband loves potato bread. Followed it precisely, all ingredients room temp. The dough was VERY sticky, VERY bubbly while it rose and the top never domed, and in fact sunk in the middle a bit, while it baked :/ I'm sure I'll try it again, just not sure when.

Hi there, Jeni! We're sorry to hear that this recipe didn't go well for you. We wonder if you might have used some additional water to cook the potatoes, as well as adding the 1 cup of water called for to your dough. This would result in a very wet and sticky dough that doesn't bake through properly. The 1 cup of water called for in the ingredients list is used to cook the potatoes and doubles as part of the liquid for the dough. If we can help troubleshoot or pick out another recipe that might be a better fit, please feel free to give our friendly Baker's Hotline folks a call at 855-371-BAKE (2253). Happy baking! Morgan@KAF
I don't know about the Flavor of this Bread just yet. Problem is, Instructions wasn't written to Reflect what to do with the yeast. Dough was Extremely Sticky. I think it was because of to much Hydration in the recipe. The Dough first rise was 1h 30m and was quite active. Second rise was 30m. I poured it out in a loaf pan lined with parchment paper, it was more or less a Batter and not a slightly stiff dough. I followed directions to the T, or at least best i could, because the recipe didnt' specify proofing the yeast, I put the yeast right into the flour, added the potato/water mixture, Milk and Water. I was VERY Tempted to add more flour but decided against it. Anyway needless to say, my Loaf is Flat on top, there is NO dome on it. I'll be trying again eventually but with less hydration to the recipe and see if this helps.

Jimmy, we're sorry this recipe didn't work well for you! You did quite right with the yeast. Modern yeasts don't need to be activated or proofed before using, so they're typically added in with all your other dry ingredients. We notice that you mentioned the potato/water mixture and water again separately. Is there a chance you added your water twice? There shouldn't be any additional water in this recipe aside from the one cup that is used to cook the potato. If this isn't the case, please feel free to call our Baker's Hotline at 855-371-BAKE (2253) so that we can help you troubleshoot your process. Happy baking! Kat@KAF
Having tried other whole wheat bread recipes on the site with successful results always, I was curious to give this a try because I ve never tried or tasted a bread or bun recipe with potatoes in it. Weighed the ingredients (used kaf white whole wheat flour)and boiled a potato with water just enough(as minimal as possible)to cover the chunks. Added it after blending it(the consistency of this was thicker than mashed potatoes). Continued by mixing the dough with the milk and finally ended up using only less than 1/4 cup of water(not 1 cup as mentioned). The dough was slightly sticky. The first rise was ok. The second one, dough rose only just enough to cover the pan , after an hour and 15 min. The bread came out very dense. Could you please point out what could have gone wrong possibly?

Geetha, we totally understand feeling disappointed with a loaf that is denser than you were hoping for, and without a great rise. This is often because the ratio of dry to wet ingredients is off. Since you used only 1/4 cup of water instead of one full cup, this meant your dough had too much flour for the amount of water used, which resulted in a dough that struggled to rise. We think that if you try this recipe again with the full amount of liquid, you'll get a lighter, softer bread. Happy baking! Kat@KAF
Great recipe, I've made this several times with whole wheat flour not white whole wheat and potato flakes (2/3 cups). The recommended additional water for the potato flakes seems off. I found I only need to add 1/4 cup additional water, 1 1/4 cup total. It makes a very soft dough that sticks to even greased nonstick pans. Lining the pan with parchment paper does the trick and the loaf comes out beautiful. This dough is easy to over-rise. 60 minutes for the first proof and 45 minutes rising in pan seems about right.
My loaf deflated, too. Followed as written, so this is extremely disappointing. It's still in the oven. I'm sad.

We're sorry to hear about your deflated loaf, fellow baker. The most common reasons why this happens is because the dough rises too quickly or is left to rise for too long. Be sure the dough rises somewhere that's a comfortable room temperature and not too warm. Additionally, the dough should rise just until it's about 1" over the edge of the pan in the center (and no higher). Last important factor to consider is the kind of flour you're using. If you're not using King Arthur White Whole Wheat Flour, you may need to add additional flour to give the loaf more support. We hope that helps you make a beautiful loaf next time. Kye@KAF
Made this bread tonight, followed the recipe as written and it came out great. Delicious flavor will definitely be making it again.
I tried this recipe and followed it exactly as I always do the first time I try a recipe. The first problem was that what you call White Whole Wheat Flour looked exactly like regular Whole Wheat Flour. It was not white, it was brown. So the resulting bread was brown, not almost white like the picture. It did not have a good flavor and it did not have a good texture. I ended up throwing the bread away and am about to do the same with the flour. Is it possible that the wrong flour got into the bag? I am an experienced bread baker and this was my least favorite of all the recipes I have used from the KAF web site. Usually they are wonderful.

We apologize for any confusion or disappointment you may have experienced when making this recipe, fellow baker. It sounds like you might have used traditional whole wheat flour, which does indeed have a darker color than regular flour. White Whole Wheat Flour, on the other hand, is lighter in color than traditional whole wheat but has a slightly creamy color (like the inside of the loaf pictured here) and is more of a tan-ish color than all-purpose flour. If you know you prefer the neutral flavor and white color that all-purpose flour imparts, feel free to use it in this recipe instead. You may be able to hold back a few teaspoons of water as all-purpose flour is not as absorbent as White Whole Wheat Flour. We hope this helps, and if you have further questions about our flours or how to use them best, feel free to give our Baker's Hotline a call at 855-371-BAKE(2253). Kye@KAF
I did not have KAF so used white bread flour (60%) and wholewheat flour (40%). It turned out unbelievably soft and good. Thank you so much. This has to be my best whole wheat bread to date. Highly recommended. Just a question, can I add raisins to it?

Go for it, Sway. Add raisins at the end of the kneading cycle to evenly incorporate them in the dough. Happy baking! Annabelle@KAF
A spider crawled onto my dough when it was on its second rise and I only discovered it right when I was about to bake. I took its body out with a little spoon, and in doing so, my beautiful dough completely deflated right in front of my eyes. I soldiered on through the bake and it never did rise up as much as it should have. Still tasted pretty good despite all that. I used sweet potato and added a shot of honey.
I've begun to mill my own wheat berries and use half hard winter white and half hard winter red but I'm sure that if I had used KA flour it would have been every bit as good and it really is delicious. It is so light and has a wonderful flavor. I usually make a sweet potato bread for lunches but was out of sweet potatoes and decided to give this a try. The sweet potato bread is excellent but it's got really tough competition with this one. I know I'll be making this regularly going forward. Thanks to the gang at KA for a truly wonderful recipe.