A customized print-friendly version of this recipe is available by clicking the "Print Recipe" button on this page.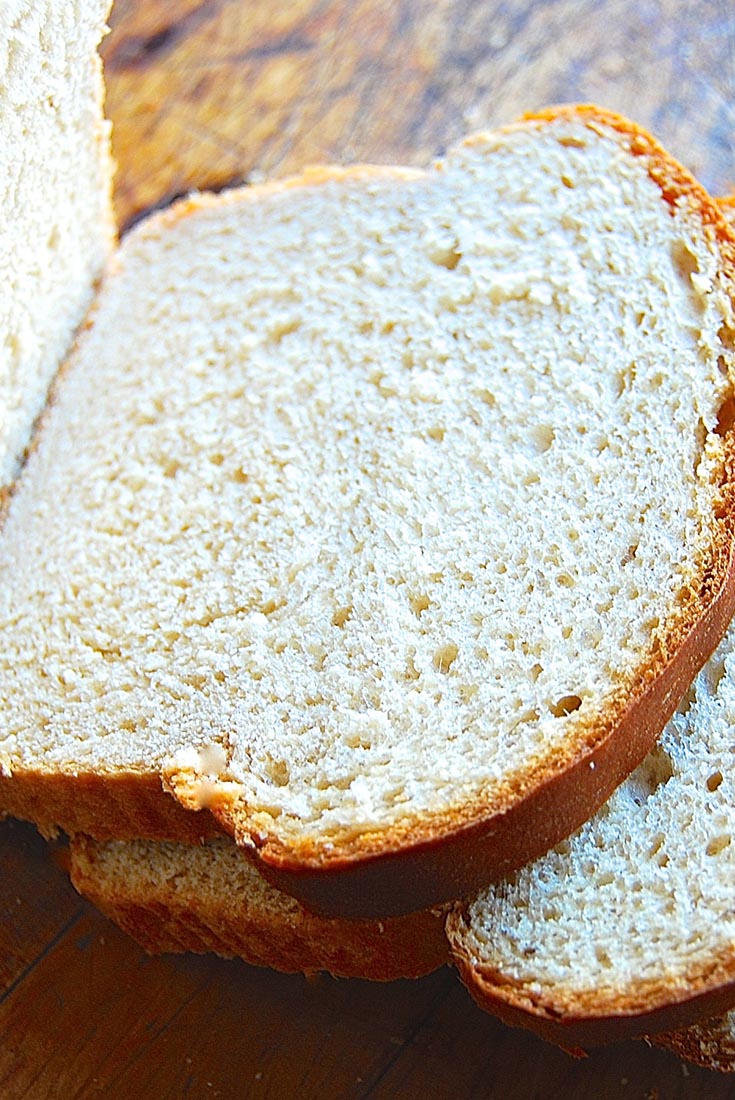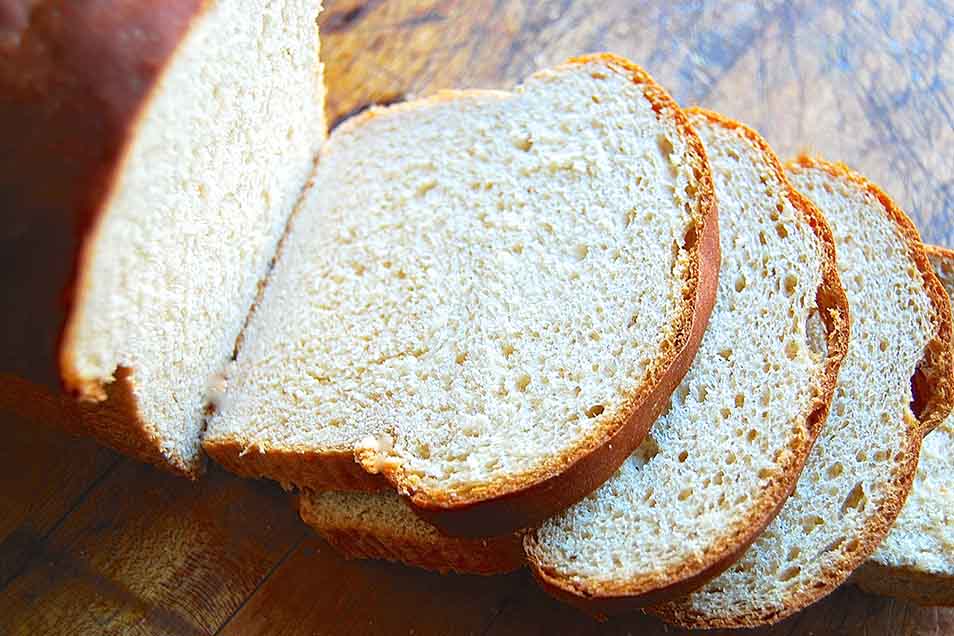 Soft and moist from the addition of fresh potato, this 100% whole wheat bread rises tall, slices beautifully, and is a great keeper. Who could ask for anything more?
Instructions
Peel the potato, and cut it into chunks. Combine it in a small saucepan with the water, which should just cover the potato (if you've cut it in small enough chunks).

Simmer the potato until it's soft. Remove the pan from the heat, and use a small food processor, blender, or hand beater to blend the potato/water into a smooth, chunk-free slurry. See "tips," below left.

Once the potato mixture has cooled to lukewarm, combine it with the remaining ingredients. Mix and knead them — by hand, mixer, or bread machine — to form a smooth, supple dough.

Transfer the dough to a lightly greased bowl, cover the bowl, and allow the dough to rise until puffy though not necessarily doubled in bulk, 60 to 90 minutes.

Lightly grease a 9" x 5" loaf pan.

Transfer the risen dough to a lightly greased work surface, shape it into a log, and fit it into the pan.

Cover the pan with lightly greased plastic wrap (or, even better, a clear shower cap), and allow the dough to rise until its domed center is about 1" over the lip of the pan, about 60 to 90 minutes. Towards the end of the rising time, preheat the oven to 350°F.

Remove the plastic, and put the bread into the oven. Bake the bread for 37 to 40 minutes, until it's golden-brown on top and tests done; a digital thermometer inserted into the center will register at least 190°F.

Remove the bread from the oven, and turn it out of the pan onto a rack to cool completely. For a soft, flavorful crust, brush the loaf with melted butter while warm.

Yield: 1 loaf.
Tips from our bakers
If you don't want to prepare the potato as directed, simply add 3/4 to 1 cup water and 5 ounces (about 2/3 cup) unseasoned mashed potato to the dough. Use the lesser amount of water to start, then add more, if necessary, to make a smooth, supple dough.
Reviews
A spider crawled onto my dough when it was on its second rise and I only discovered it right when I was about to bake. I took its body out with a little spoon, and in doing so, my beautiful dough completely deflated right in front of my eyes. I soldiered on through the bake and it never did rise up as much as it should have. Still tasted pretty good despite all that. I used sweet potato and added a shot of honey.
I've begun to mill my own wheat berries and use half hard winter white and half hard winter red but I'm sure that if I had used KA flour it would have been every bit as good and it really is delicious. It is so light and has a wonderful flavor. I usually make a sweet potato bread for lunches but was out of sweet potatoes and decided to give this a try. The sweet potato bread is excellent but it's got really tough competition with this one. I know I'll be making this regularly going forward. Thanks to the gang at KA for a truly wonderful recipe.
not good, tossed it

Sue, it sounds like something went quite awry when making this recipe, which we're sorry to hear. We'd love the chance to troubleshoot and help get you back on track with baking a delicious loaf of Potato Wheat Bread. Feel free to give our Baker's Hotline a call at 855-371-BAKE(2253) so we can assist you further. Kye@KAF
Wonderful recipe. This is surely a keeper. Can you please help me with the measurement for a 13 by 4 by 4 pain de mei. Thanks in advance.
Loved the flavors I am a huge fan of potato bread of any kind. I am a regular user of the Irish style wholemeal flour. Simply because I do not like the westernized version of whole wheat flour. I would like to make this loaf again but with wholemeal, do you have any tips for me to limit the flavor and ratios mistakes? Thanks so much!

Caur, we recommend starting by using half white whole wheat and half Irish-Style Flour to ensure the bread still has enough strength to rise. Irish-Style Flour is lower in protein than traditional whole wheat and is a bit "softer," which might make the bread crumbly if used in a larger amount. Hold back a few tablespoons of the milk and only add it if the dough seems dry, as Irish-Style Flour is also slightly less absorbent than traditional whole wheat. Otherwise, give it a shot! We think you'll like the results. Happy baking! Kye@KAF
Very delicious and not difficult to make. I've now made it twice, using a russet potato the first time and a sweet potato the second - both loaves have been wonderful. I prefer not to rub the butter on the top at the end in order to maintain the perfectly crisp crust on all sides. I have found that it's not a problem to leave small chunks of potato if you can't get it perfectly smooth (I just mash it with a fork rather than going to the trouble of blending it). Once the potato is cooked, I add the cold milk to it and pop it in the fridge for a few minutes which usually leaves it just the right temperature to activate the yeast without killing it. My rise times have consistently been 60 minutes and it's huge, so unless you're in a particularly cold location, I wouldn't worry about having to wait 90 minutes. This recipe is definitely a keeper!!
Fantastic flavor. Proportions of water and potato right on. I used a sweet potato just for the heck of it. After the potato was done, I added the butter and honey, as well as the lukewarm milk, and simply mashed it. My husband absolutely loves this. He wonders how it would taste substituting molasses for the honey. I'll try that next. Sure glad I found this recipe.
I have baked a lot of bread over the years, but the perfect whole wheat sandwich loaf eluded me... until now! This is my new go-to recipe. Easy, forgiving dough, soft texture, beautiful crumb, high rise, and great flavor. I can't say enough about how happy I am with this recipe!
The taste was wonderful but I substitute one packet of dry active yeast for the instant. The loaf rose as normal but collapsed just before i put it in the oven. I baked it anyways but obviously it turned out very dense. Could this have happened from the substitution or possibly a different reason? I prefer the active dry yeast and would like to know the proper amount regardless. Thanks a bunch!

Andi,you can use one packet of either instant or active dry yeast in this recipe. The only difference is that instant yeast tends to make the dough rise slightly faster. It sounds like your dough was over-proofed, which means it was left to rise for too long at room temperature. Next time, cut back on the rising time and let it only double in size the first time. The second time, the loaf should crest the rim of the pan by 1" in the center. It should also rise someplace that's room temperature rather than warm or hot. Try making these changes (or reducing the yeast by about 1/4 teaspoon) and see if that helps. Kye@KAF
I didn't know it was possible to make bread this good. It rose so high it barely fit in my countertop oven. So light, tender, and moist. This is the best bread I've ever made.