A customized print-friendly version of this recipe is available by clicking the "Print Recipe" button on this page.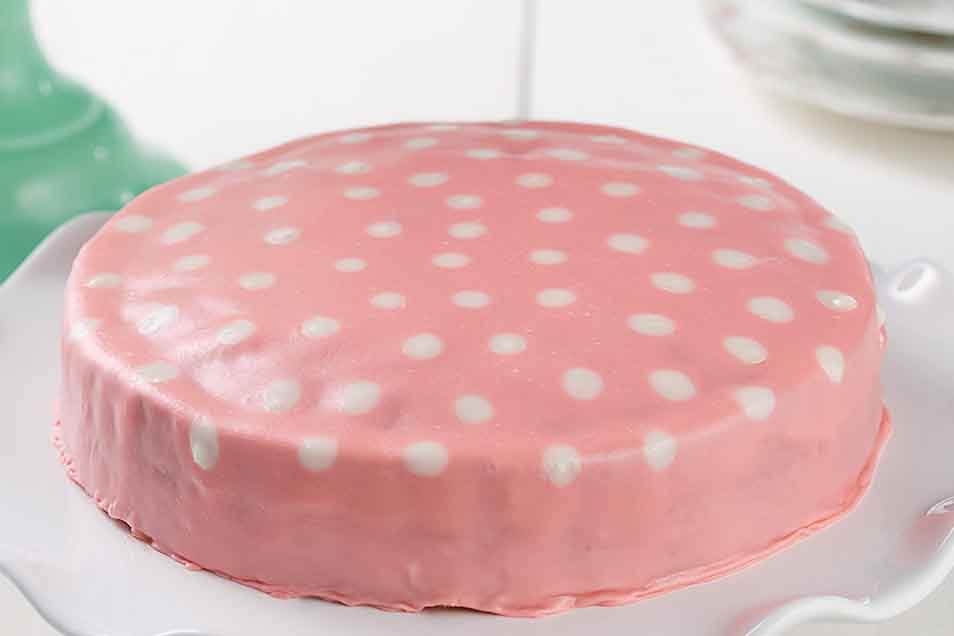 This frosting is the traditional coating for baked goods like petits fours. It can be tinted any color you like, and makes a lovely, slightly sheer glaze over a cake or cupcakes. Work with it warm, and simply pour it over whatever you're planing to frost. The excess can be remelted and strained of crumbs to use again; or poured into molds to make candies.
Ingredients
1 cup white confectionery coating or white chocolate chips
4 cups confectioners' sugar or glazing sugar
1/4 cup light corn syrup
1/4 cup hot water
1 teaspoon vanilla extract
food coloring
Instructions
In a saucepan set over low heat, or in the microwave, melt the white coating or chocolate, stirring until smooth.

Sift the confectioners' or glazing sugar into a large bowl, and add the corn syrup and hot water, stirring until smooth. If you're using a mixer, set it on low speed so the icing doesn't become too aerated.

Add the melted coating to the sugar mixture, then add the vanilla and the coloring (if you're using it). If the mixture is too thick to pour, reheat it briefly over low heat, and stir in 1 to 3 tablespoons additional water. The mixture is easiest to work with, and pours smoothly, at about 100°F.
Nutrition Information
Serving Size

varies

Servings Per Batch

one
Amount Per Serving:
Calories

2770

Calories from Fat

420

Total Fat

47g

Saturated Fat

28g

Trans Fat

0mg

Cholesterol

25g
Sodium

200mg

Total Carbohydrate

595g

Dietary Fiber

0g

Sugars

586g

Protein

10g
* The nutrition information provided for this recipe is determined by the ESHA Genesis R&D software program. Substituting any ingredients may change the posted nutrition information.
Tips from our bakers
To make candies from leftover fondant, pour it by the teaspoonful onto parchment-lined or lightly greased baking sheets, or into lightly greased candy molds. Allow to dry overnight, then store cool and dry for 1 week.
Reviews
Excellent. I used 1/4 c strong coffee in place of the water and used this to coat saffron truffles.
KAF has all besties. Wish to know - I want to cover the sides of cake in red colour and top in white. Can I use this icing, like one can take with the help of spatula to cover sides like we do the buttercream frosting?

Hi Jia! We have a feeling that spreading this glaze with a spatula would be a frustrating process as it likely wouldn't stay where you want it. Our recipe for Seven-Minute Frosting should give you a much easier time and it accepts colors beautifully. Happy baking! Annabelle@KAF
When it comes to coating petit fours, which technique do you recommend as the easiest - pouring over petit fours lines up on cooling rack or skewering petit fours from bottom and dipping them?

Pouring for sure, Philip! Then you don't have to worry about the layers coming apart or anything falling off of the stick. Plus, by pouring, you avoid getting any crumbs in the icing. Happy baking! Annabelle@KAF
I added a little almond extract because that's what we like and the result was fantastic. Such an easy, no candy thermometer recipe. My new go to icing recipe.
Great recipe. I'm planning to use it next to make egg shaped cakes for Easter treats. I think the polka dots you have on the cake would look good on the eggs. Would you share your technique for doing the dots?

Sherry, if you check out the associated blog post (linked in the upper right hand part of this page), you'll see at the bottom that the author, MaryJane, demonstrates how to add details to baked goods coated in poured fondant. Basically you'll make two batches of poured fondant and use one to cover the cakes entirely. Put the second color in a piping bag and add the details on top of the poured fondant while it's still soft/wet. The second color will sink into the first layer so it will all be on one plane. Your Easter treats will look fantastic! Kye@KAF
I really liked this recipe and found it very easy to use. My only concern is that there is much shine to it. Can paraffin wax be added to this recipe to add a sheen to my petite fours.

Steve, we don't tend to include paraffin wax in our baking, but if it's an ingredient you're comfortable using you're welcome to give it a try. You can also consider reducing the corn syrup to 2 tablespoons and adding additional milk to reduce the amount of shine in the icing. Good luck and happy baking! Kye@KAF
This is a delicious recipe. I use it also for donuts. I sometimes sub the white chocolate with semi sweet chocolate. It spreads well and firms up very well. YUM YUM!!
Thanks for the fabulously easy icing!! My Valentine's Day heart cakes were beautiful - a big hit!!! Applying the icing was a little time-consuming, but it was worth it. Super easy to make for a great reward!
This worked well. I melted everything together in a double-boiler and kept it there over low heat while working with it. This way it stayed soft the whole time. I am going to try candy melts next time to see if it helps with the transparency.
I tried this out as my first attempt to make poured fondant; it was so easy and so good! I made a good many mistakes but they were operator error and not the recipe, so I will absolutely be making this again. I did keep the icing hot over a double boiler, which is a great tip I read from other reviews and it works perfectly.