A customized print-friendly version of this recipe is available by clicking the "Print Recipe" button on this page.
Mr. Washington's Cherry Pie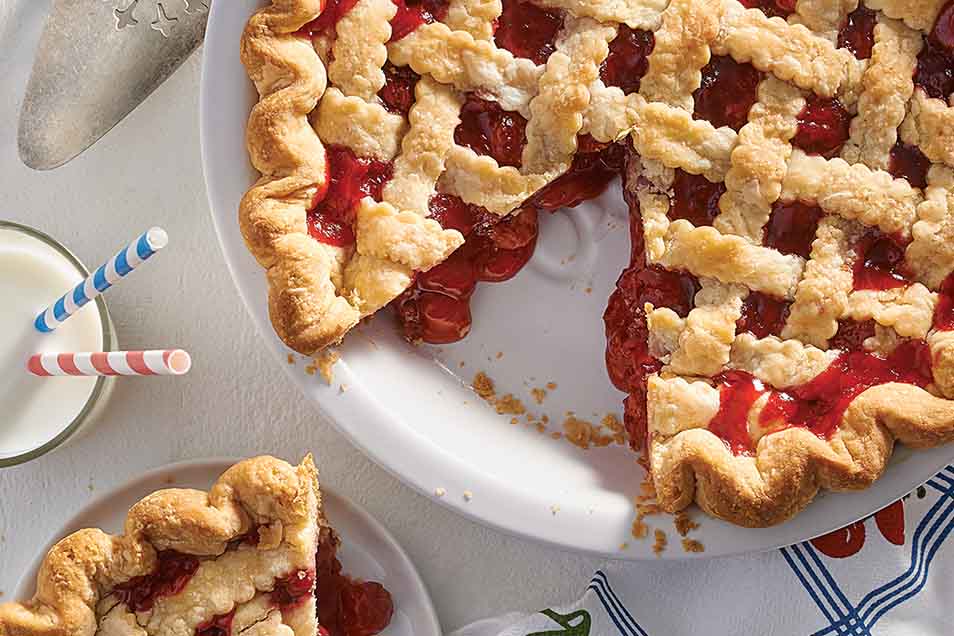 In honor of George (of course), the following recipe uses canned, frozen or bottled sour cherries. Canned cherry pie filling is a bright-red, gelatinous substance that bears only faint resemblance to the fruit from which it supposedly springs. Bakers who've used sour cherries know they're well worth the effort. Hopefully your store carries these cherries; they're a tawny red, rather than neon-colored. Many coops carry individually quick frozen sour cherries, which have a beautiful bright red color and unforgettable flavor.
Instructions
Divide the dough into two pieces, making one chunk slightly larger. Roll the larger piece of dough into a 13" circle. Transfer the circle to a 9" pie pan.

Drain the cans of cherries, reserving 2/3 cup of water from one of them. Place the cherries and reserved liquid in a large mixing bowl.

Combine the sugar, cinnamon (if using), and tapioca or Pie Filling Enhancer. Stir this into the cherries until everything is evenly combined.

Stir in the almond extract and salt. If you're using tapioca, let the filling sit for 20 minutes before using it to fill the pie shell.

Spoon the filling into the pastry-lined pan, and dot with butter, if desired.

Roll out the second crust and place it on top of the filling. Cut a design (two cherries? a hatchet?) into the top to vent steam, and squeeze/seal the top and bottom crusts together, fluting with your fingers or a fork. You may also choose to make a woven lattice crust.

Place the pie on a parchment-lined (to catch any spills) baking sheet, and bake in a preheated 425°F oven for 40 to 45 minutes, until the crust is golden brown and the fruit is bubbling.

Remove the pie from the oven, and cool it on a rack before slicing, so the filling can set.
Nutrition Information
Serving Size

262g

Servings Per Batch

8
Amount Per Serving:
Calories

520

Calories from Fat

210

Total Fat

24g

Saturated Fat

12g

Trans Fat

.5g

Cholesterol

45mg
Sodium

520g

Total Carbohydrate

72g

Dietary Fiber

4g

Sugars

34g

Protein

6g
* The nutrition information provided for this recipe is determined by the ESHA Genesis R&D software program. Substituting any ingredients may change the posted nutrition information.
Tips from our bakers
If you have Instant ClearJel on hand, you can use 2 tablespoons plus 1 teaspoon as your thickener. Be sure to combine it with the sugar in the recipe before adding to the filling, or it will clump.
There are many different thickening options available for fruit pies, from flour to cornstarch to Instant ClearJel and more. For an easy guide to thickener substitutions, see our Pie Filling Thickeners Guide.
Reviews
Splendid recipe, just a shame that my local supermarket's sour cherries are so expensive! I hope I can find some cheaper elsewhere, as this is absolutely worth making again.
Very good, full flavored and well-set pie. I used 1/2 tsp. Almond extract and 1/2 tsp. Vietnamese cinnamon which suited my taste very well. I made it for my boss' birthday and he was pretty well over the moon.
I only use .25t almond extract. A full t is too much for me.
YUM! I didn't have almond extract so subbed Fiori di Sicilia,and no cinnamon; and after reading the reviews, upped the sugar a bit and cooked and cooled the filling before baking it in an aluminum pan. PERFECT.
This pie turned out a soupy mess and the filling was noticeably tart. A couple of comments....The pie was bubbling in the middle and elsewhere for more than 10 minutes (filling temp was 213 deg F when pie was removed from the oven.) Prior to baking, I measured the fruit by volume, there were exactly 8 cups of whole fresh berries, however, berries weighed 45 oz While I realize there must be variances in the cups per pound of blueberries ratio, the USDA in 2016 stated that a cup of blueberries weighed .32 pounds (about 3 cups per pound) and the absolute highest cups per pound figure I could find elsewhere is 3.5 cups per pound. King Arthur uses 4 cups per pound (8 cups = about 2 pounds) So if one goes by Volume (rather than Ounces) using the King Arthur recipe, it is quite possible that there could be far too many blueberries. In addition, it was quite obvious to me that 8 cups of fruit is way too much for one 9" pie (when I put the top crust on my pie looked like Mount Everest....pie dish 1.75 inches deep). If too many blueberries were used, that would explain the tartness as well Note Instant Clear Jel was used as the thickener, mixed thoroughly with sugar (1 cup) and measured carefully. If the blueberry volume to weight ratio is off, does the Instant Clear Jel have enough latitude to compensate for that? Any comments would be appreciated. Thanks Ron

We're sorry this pie recipe brought you some frustration, Ron. We have a feeling the change in fruit from cherries to blueberries made for the unusually soupy filling but would love to get more details. We ask that you please call our our free and friendly Baker's Hotline staff to help troubleshoot at 855-371-BAKE (2253). We'd love to help. Kindly, Annabelle@KAF
Wow! This was an amazing cherry pie, everyone wanted seconds! I used 3 cans of tart cherries (3/4 c of juice in the pie) along with about 1 1/2 cups of fresh picked Morello tart cherries from tart cherry tree. I used 3 Tbsp of Instant Clear Jel and the pie set up perfectly! Sweetness was perfect per the recipe. I did not use almond extract or cinnamon. Baked on bottom oven rack and used metric measurements. My favorite compliment was how it was so nice to have a cherry pie packed with cherries! The leftover cherry juice made an amazing drink for the chef!
I really like this recipe. I used cinnamon and 6 cups of sour cherries. I left the filling mixed up on the counter for about an hour before I put it in the crust. I baked the pie in the lower third of the oven to ensure that the bottom cooked through. It took about 55 minutes to bake. Will definitely use this recipe again.
Why are you using Instant ClearJel when baking a pie, when Cook or Regular type is recommended for baking or canning anything that will be baked.. I use Instant for thickening gravy and other foods etc . on the stove that will be eaten that day..

Hi there, fellow baker! We enjoy using Instant ClearJel both in baked and no-bake recipes as it thickens quickly and doesn't contain any added sugar. Some recipes call for our Pie Filling Enhancer which is a combination of Instant ClearJel and sugar. If you check out the Pie Guide in the Learn section of our website, you'll find an orange link to our Pie Filling Thickeners guide which gives you the amount of whatever thickener you want to use needed depending on the fruit and size of the pie you're making. We like options, so that chart is great to have nearby! Annabelle@KAF
I made this recipe with frozen sweet cherries that I picked last summer. I chatted with someone on the hotline and we agreed to let them thaw first, then collect the liquid that drained from them and move forward with the recipe. I used Instant-Clear Jel as my thickener (thanks to the note below the recipe for the amount - it was perfect!). My mother-in-law and father-in-law RAVED about how delicious this pie was! I did not add cinnamon, as I knew my audience would not like the warmth it would add. I will most definitely make this again!
I made this cherry pie just a few days ago to take to Easter dinner. I followed the recipe exactly as printed, and I did use cinnamon. I used a homemade butter crust and did a lattice top crust. No one even suspected the sour cherries came in a can. They were very surprised. Anyone who sampled the pie loved it. I have already trashed my other cherry pie recipes. This is a keeper.