A customized print-friendly version of this recipe is available by clicking the "Print Recipe" button on this page.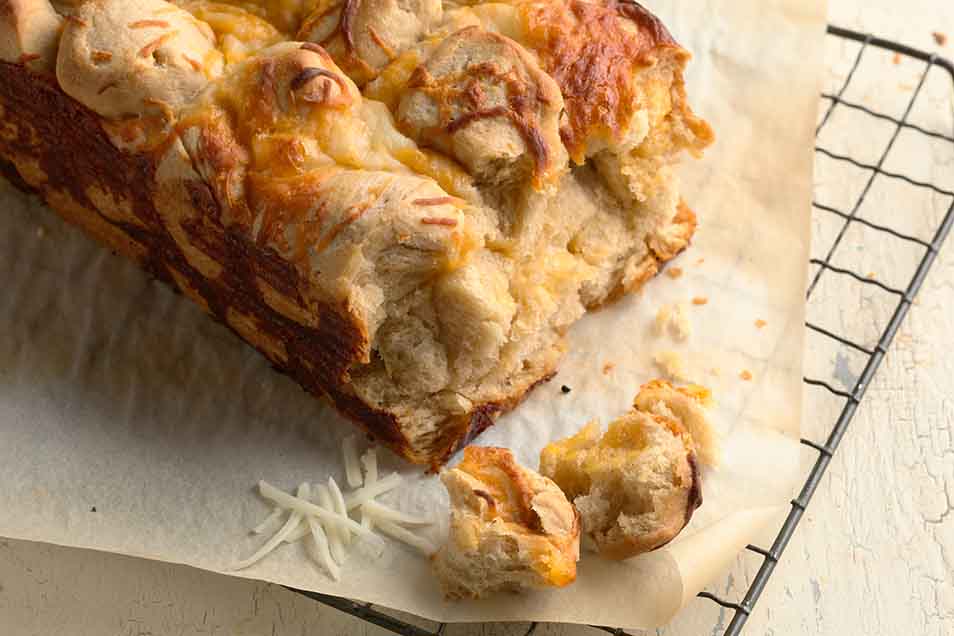 This pull-apart bread includes whole wheat flour to add a bit of character and nutrition to the loaf. Melted cheddar cheese, laced throughout and on top, makes it super-tempting — and a great party dish!
Ingredients
Filling and Topping
1 1/3 cups shredded cheese: pizza blend, mozzarella, cheddar, or the cheese of your choice
2 1 /2 tablespoons melted butter
Instructions
Combine all of the dough ingredients, mixing and kneading to make a smooth, fairly soft dough.

Place the dough in a lightly greased bowl or large (8-cup) measure, cover it, and let it rise till very puffy, though not necessarily doubled; about 1 1/2 to 2 hours.

Gently deflate the dough, and divide it into chestnut-sized (about 1") pieces. Don't be too fussy here; the pieces don't have to be exactly the same size, nor do they need to be rolled into balls. Dividing the dough into half, then each piece into half again, etc. works well; you want to end up with 64 pieces of dough, more or less.

Lightly grease a 9" x 5" loaf pan, and line the bottom with parchment or foil. Grease the parchment or foil.

Place 16 dough pieces in the bottom of the pan, putting them close together. Sprinkle with 1/3 cup of the shredded cheese. Drizzle or brush with some of the melted butter.

Place another 16 pieces of dough atop the first layer. Sprinkle with 1/3 cup cheese, and drizzle or brush with some more of the melted butter. Repeat with the remaining pieces of dough, making two more layers. Brush the top layer with butter, but don't sprinkle with cheese; that'll be added after the loaf is baked.

Cover the pan, and let the bread rise for 30 to 60 minutes, till it's slightly crowned over the rim of the pan. Towards the end of the rising time, preheat the oven to 350°F.

Bake the bread for 20 minutes. Tent it lightly with aluminum foil, and bake for an additional 15 to 20 minutes, until an instant-read thermometer inserted into the center registers about 190°F.

Remove the bread from the oven, and immediately loosen the edges with a table knife or heatproof spatula. Wait 2 minutes, and turn it out of the pan onto a baking sheet. Carefully turn it right side up, sprinkle the top with the remaining 1/3 cup cheese, and return it to the oven for about 2 minutes, just till the cheese softens and starts to melt.

Remove the bread from the oven, and serve warm.

Yield: 8 to 10 servings.
Tips from our bakers
Want to prepare the bread ahead? Bake it for 25 minutes, till it's set but not completely baked through. Remove it from the oven, cool completely, wrap airtight, and freeze till you want to serve it. Prior to serving, remove it from the freezer, and place it into a lightly greased 9" x 5" pan. Let the bread thaw at room temperature for 2 hours, or until it's thawed all the way through. Tent with aluminum foil, and bake in a preheated 350°F oven for 15 minutes. Turn it out of the pan onto a baking sheet, sprinkle with 1/3 cup cheese, and bake for an additional minute or two, till the cheese has barely melted.
Reviews
Made as directed, using mozzarella. Good!
I made this bread today and was very happy with it. I baked it in a round dutch oven lined with parchment. I used a combination of Pepper Jack and cheddar cheese. The round shape was very attractive and since It was baked in the parchment I could lift it out ant plate it. Very pretty. I do think it tastes better cool rather than warm. I will make this for a rustic appetiser or to serve with soup in the future. Very good.
Delicious. Made with everything but Italiano dough stuff, but put cheese on top of loaf without unmolding. Excellent with soup for lunch.
Warning: do not make this bread: HIGHLY ADDICTIVE! I made a double recipe to take to work, baking it in a Pampered Chef stoneware rectangular deep casserole. (Stoneware is definitely the best for baking!) Not having some of the ingredients I substituted Johnny's Great Caeser Seasoning for the KAF Pizza Dough Flavor, and another cheese powder I had on hand for the KAF Vermont Cheese Powder. Rather than sprinkle cheese on top, I incorporated it (extra sharp cheddar) into the dough. I rolled the pieces in olive oil rather than butter, and sprinkled them with a couple tablespoons of saltless Italian Seasoning. Fantasic! Gone in a heartbeat at work :-)
I LOVE this bread. I'm making it for the second time today. My boyfriend's work holds potluck dinners for the community some Fridays and I made this for one a few weeks ago. They've been begging for more ever since!
Really nice recipe and technique. I made dough and assembled the loaf on Saturday night for a Christmas party on Sunday morning, refrigerated it, and baked it so it would come out of the oven just as everyone arrived. It was torn apart in short order. It smelled so good everyone was going crazy, and competition for the little crispy bits of cheese on the outside was fierce. I foolishly forgot to add extra gluten (didn't have any high gluten flour), so it didn't rise up as high as it could have, but that didn't stop us. I also didn't have the pizza dough flavor, so added a few teaspoons of basil, oregano and garlic powder instead. Such a nice flavor, and the texture of the bread was wonderful. Not as much work as I thought it was going to be, and definitely worth it. Thanks a lot.