A customized print-friendly version of this recipe is available by clicking the "Print Recipe" button on this page.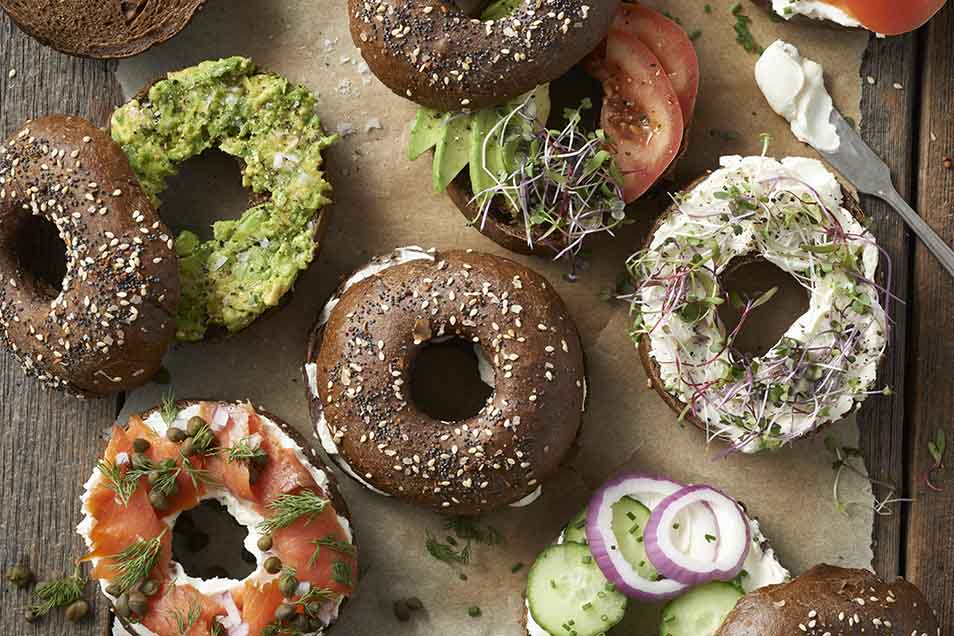 These bagels use a favorite product of ours, Pumpernickel Artisan Bread Flavor, which adds rich rye flavor to this soft and chewy bagel.

Note: Since we no longer carry the pumpernickel artisan bread flavor that we used in developing this recipe, as of 11/14/17 it calls for alternate ingredients.
Instructions
Combine the dough ingredients and mix and knead – by hand, mixer, or bread machine – until a stiff smooth dough forms.

Place the dough in a lightly greased bowl. Let it rise, covered, until noticeably puffy, 60 to 90 minutes.

Divide the dough into eight pieces. Roll one piece at a time into a smooth ball. Let the balls rest, covered, for 30 minutes; they'll puff slightly.

Bring the water, malt powder, and sugar to a very gentle boil in a wide-rimmed pot. Preheat the oven to 425°F.

Cut or poke a hole through the center of each ball. Stretch the hole with your fingers until it's 2" in diameter. Place the bagels on a lightly greased or parchment-lined baking sheet.

Transfer bagels, four at a time, to the simmering water. Cook for 2 minutes on one side, flip over gently, and cook for another minute.

Remove the bagels from the water and return to the baking sheet. Repeat with the remaining bagels.

Bake the bagels for 25 minutes, until they're set and an instant-read thermometer inserted into the center of one registers at least 190°F.

Remove the bagels from the oven, and cool on a rack.
Tips from our bakers
To top your bagels with our Everything Bread & Bagel Topping, sesame seeds, salt, poppy seeds, etc., simply brush the unbaked bagels with a glaze made of 1 egg white beaten until frothy with 1 tablespoon of water. Sprinkle heavily with your chosen topping just before baking.
While the rye bread improver is optional, we recommend it to help improve the rise, texture, and flavor of the bagels.
Turning the bagels over after about 15 minutes of baking will help them stay round.
Reviews
I have made this recipe, it is quite good. Finding good pumpernickel recipes has not been easy. This is one of my favorite recipes for bagels. Haven't used the Everything topping yet, will order some w/ next order. I recommend.
Thanks for revising this recipe! It is a favorite. I used my last Pumpernickel Artisan Bread Flavor with the batch I made this evening, so next time I will use the new version. I make the bagels in the evening and let the rise in the refrigerator overnight. They develop a strong Pumpernickel flavor, and it makes breakfast a breeze. (See the recipe for WHOLE WHEAT BAGELS for details on the overnight preparation.)
Using this recipe with the new KAF bagel molds I got for my birthday. I do the proofing/first rise in the bread machine. Excellent in all ways. As good as the fancy bagel place downtown. And easy enough that I can make a batch every week without even breaking a sweat. Once again, thank you KAF.
Where can I get Pumpernickel Artisan Bread Flavor?

Thanks for checking, Jin. We've recently stopped carrying the pumpernickel artisan bread flavor that we used in developing this recipe, and as of today, it calls for alternate ingredients. We hope this helps to make for an easier path to your own pumpernickel bagel bake! Mollie@KAF
With the aid of the called for pumpernickel artisan bread flavor, this recipe makes excellent bagels with a chewy texture. I was trying the new Lekue silicone bagel molds that KAF now sells. It would have been helpful to get some written tips from KAF on how to adapt the Lekue bagel molds to this recipe. in any case, I finally can make better shaped bagels. I will make this bagel recipe often!

Thanks for giving this recipe and the new bagel molds a try! The bagel molds should have come with an instructional booklet which contains directions that can be used with any boiled and baked bagel recipe. If for some reason this was missing from your box, please give us a call at 800-827-6836 so we can see what we can do to help get one out to you. Generally speaking, you'll want to follow the boiling and baking instructions for the molds, rather than the recipe, as bagels will boil and bake a bit differently with them compared to boiling and baking without. Mollie@KAF
Pumpernickel bagels have been my favorite since I was a kid. This recipe is perfect.
Love these bagels! I go exactly by the recipe (at altitude in CO), except for two additions: I add 1 T. of caraway seeds to the dough (I like the texture), and when I pull them out of the boiling bath I sprinkle a pinch of caraway seeds and a pinch of coarse salt on each bagel before baking.
Very easy-to-make bagel recipe. Nice flavor.
These make the best quickish bagels I know of. I lowered the yeast to 2 tsp, which yields something denser and closer to my ideal bagel. If you have time to retard them overnight after forming, it helps but isn't necessary for decent results. Pumpernickel bread base/flavoring is the closest thing to a prepared mix I use in baking, because it gives such good results in bread and rolls and bagels. Worth dropping my purist prejudices for.
I made the same mistake it seems others are prone to making-- I used pumpernickel FLOUR instead of pumpernicke FLAVOR. So now I have to order the flavor and wait another whole week before I can make these. 😥 Please make the word "flavor" bold, red font, italics, all caps!!!!!!