A customized print-friendly version of this recipe is available by clicking the "Print Recipe" button on this page.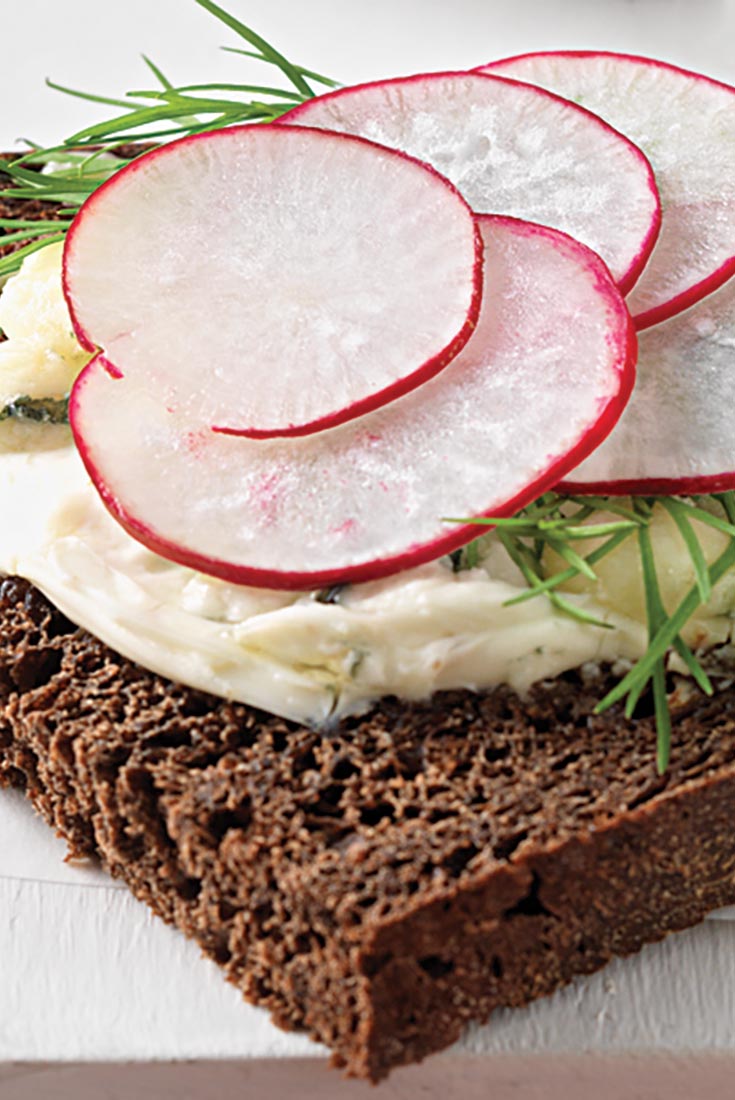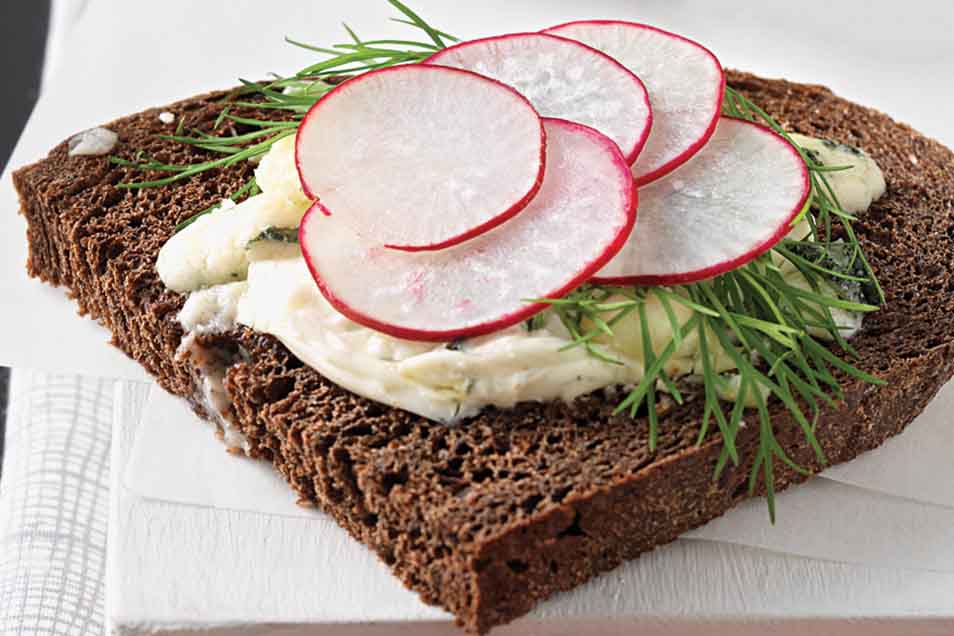 This bread received big thumbs-up from our taste-testers as is; but when we topped slices with a Bacon Horseradish Spread (inspired by our Café), it became downright addictive. With its soft, moist crumb and aromatic pumpernickel notes, this loaf will be the life of any festive gathering.

Note: Since we no longer carry the pumpernickel artisan bread flavor that we used in developing this recipe, as of 11/14/17 it calls for alternate ingredients.
Instructions
Combine all of the ingredients and mix and knead — by hand, mixer, or bread machine — until the dough is elastic and slightly sticky.

Let the dough rise in a lightly greased, covered bowl for 1 to 2 hours; it should become puffy.

Transfer the dough to a lightly oiled surface. Gently deflate it, and shape it into a ball.

Place the shaped loaf onto a lightly-greased or parchment-lined sheet pan or into a round lidded stoneware baker (our cloche is a good option here) and cover with the lid.

Let the loaf rise for 60 to 90 minutes, until it's almost doubled in size.

Preheat the oven to 425°F.

Slash the loaf diagonally in several places.

Bake the loaf for 35 to 45 minutes until it is crusty, and a digital thermometer inserted into the center reads 190°F to 200°F. If using a stoneware baker, remove the lid for the final 5 minutes of baking for a crusty top.

Remove the bread from the oven, and transfer it to a rack to cool completely.
Tips from our bakers
Both the rye dough improver and the rye flavor are optional, but recommended. The dough improver helps to improve the loaf's rise and texture, while the rye flavor adds authentic pumpernickel flavor.
Reviews
Thank you Annabelle, you guys at KA are the best.
Made this many times. One of the best pumpernickel breads. However, I still have a lot of the 'pumpernickel artisan bread flavor', sad to see that product go,and I can't remember how much to use. Would you please let me know what the original recipe was? At least until I use the rest of the pumpernickel bread flavor that I have. Also King Arthur doesn't sell the caramel color powder anymore that I used in recipes that require cocoa in dark bread. I looked all over the net until I found it.

Hello! We were able to dig up the older version of this recipe for you. Simply copy and paste this link (https://bit.ly/2GUDZxJ) into your internet browser, and you can bookmark it to use until you've worked through all of the Pumpernickel Artisan Bread Flavor. We hope this helps! Annabelle@KAF
This is delicious. I made it according the recipe but added a tiny bit more water because of our very dry climate. I baked it in a cast iron pot. I do not like pumpernickel breads that have a sweet taste. This one does not. The color and flavor is delicious. I may add a bit more of the deli rye flavoring and a bit more salt next time. I also may take the lid off for the last few minutes for a crispier crust. My husband just loved it. We're looking forward to toasting it in the morning.
Really new to bread baking. Got a bread maker a couple of years ago. Been using its dough cycle recent for lots of pretzel bites. I have always liked dark rye and pumpernickel breads because of the great tastes. I found this recipe and proceeded to order up all the items I didnt already have. I also purchased a 10' loaf pan because there were notes about large loaf and pan size (remember this is a 5 cup recipe). Put it all in the bread machine and let do it thing for 1/2 the cycle. Removed the dough and let it rise per the recipe. I noticed that the 10' pan wasnt going to hold it. So I put the dough ball into my #4 Lodge dutch oven. Baked per recipe. WOW! The bread turned out absolutely awesome. Texture and taste are perfect! Thanks KAF!
This is my "go to" recipe for pumpernickel bread, it never fails. I usually add at least 2 tsp of the deli rye flavor, but that's based on my preference for a more sour loaf -- I've made it with no deli rye flavor and though milder it is still delicious. Lately I've modified the recipe by adding 2 tbsp of butter and replacing half the water with whole milk and baking in a loaf pan. This produces a softer loaf, great for sandwiches and rivaling the pumernickel sandwich bread I get at my bakery.
I've tried many pumpernickel recipes and found they all lacked... a certain something. FINALLY!!! Just what I've always wanted in a dark pumpernickel bread. Followed the recipe to a tee & couldn't be happier with it. Wish I could post a picture because it came out as dark as the picture!
I made this bread today and my family is already asking me to make it again. I followed the recipe, but added 3 tbs rye bread improver, 1 tbs molasses and 2 tbs minced dried onions. It came out picture perfect and was easy to slice. It was as dark as your photo! I think the Pumpernickel Artisan Flavor was the key to the color and flavor.
Lovely rye loaf with distinct flavor. I agree with Bev that the picture is very misleading. I made the recipe exactly as written with KAF ingredients including the Artisan Pumpernickel Flour and it came out a light caramel color and nothing like the picture.
I rate this recipe as a 5 star for instructions and presentation. I will add that if you skip steps by not using the Pumpernickel Artisan Bread Flavor, you will not only not attain the true flavor desired but the color expected, also. I tried baking this bread and omitting the Pump Flavor, used Cocoa Powder and was disappointed. I then purchased the Pump Flavor and reached the goal I had expected. Skipping steps often does not produce the product you wished to attain, i.e. you would try to bake a loaf of yeast bread with baking powder - You must follow the recipe precisely to achieve ones' goal.
I agree with Bev from Montana - the picture is very misleading. Unless you have the pumpernickel flavoring, it ain't gonna look like the picture. Even then, it might not come out that dark. Here's what I did to make up for the lack of specialty ingredients: I used 2 tbs. of pickle juice as part of the liquid, a tbs. of KA dbl Dutch dark cocoa and a tbs. of caraway seeds. Mixed a poolish using rye sourdough starter plus the rye and white wheat, equal weight of water, and let it sit overnight. Next day added the rest of the ingredients and liquid plus 1/4 tsp. instant yeast. Mixed in the Kitchenaid, proofed for 45 minutes, did a couple of stretch and folds at 25 minute intervals. Shaped, proofed and baked. The result was fantastic! Very flavorful with a moist crumb and chewy crust. Thanks KA for another wonderful recipe, but maybe put in a disclaimer or substitutions for the specialties that some of us may not have on hand.