A customized print-friendly version of this recipe is available by clicking the "Print Recipe" button on this page.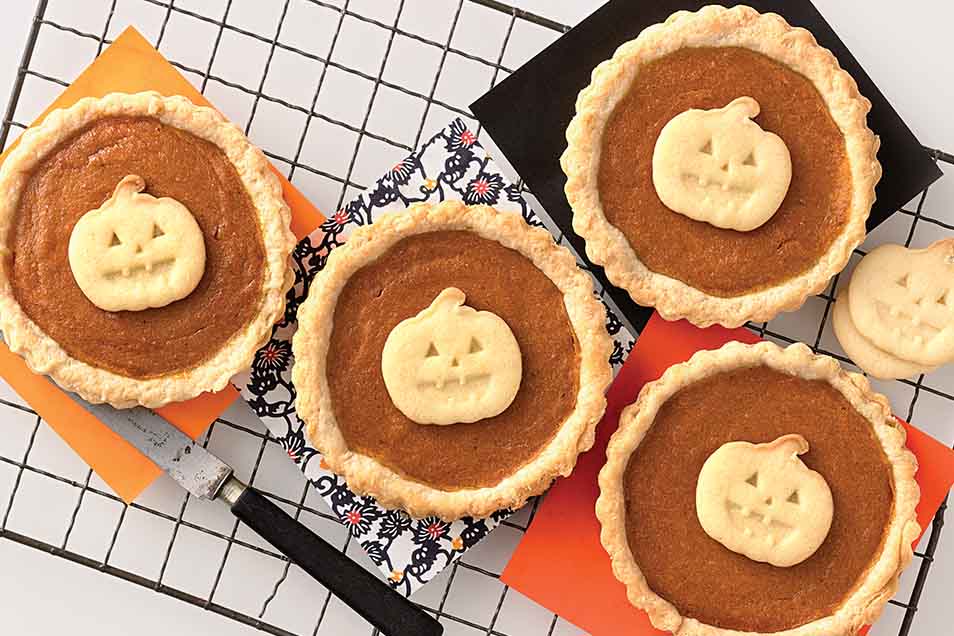 These mini tarts are a tasty way to get a fix of pumpkin pie before the holiday season gets into full swing.
Ingredients
Filling
1/2 cup brown sugar
1 tablespoon King Arthur Unbleached All-Purpose Flour
1 teaspoon ground cinnamon
1/2 teaspoon ground ginger
1/4 teaspoon ground nutmeg
1/4 teaspoon salt
15-ounce can pumpkin (plain pumpkin, not pie filling)
2 large eggs
3/4 cup heavy cream
Instructions
Preheat the oven to 425°F. Lightly grease six 4 1/2" mini tart pans.

To make the filling: Whisk together the brown sugar, flour, cinnamon, ginger, nutmeg, and salt.

In a separate bowl, whisk together the pumpkin, eggs, and heavy cream.

Add the dry ingredients to the wet ingredients, stirring until well combined. Set aside.

Divide the dough in half. Working with one half at a time, roll the dough into a 10" circle, about 1/4" thick. Cut out three 6" rounds, saving the scraps.

Place the rounds in three tart pans, pressing the dough into the corners and trimming any excess.

Roll the scraps, and cut three pumpkin-shaped pieces; these will decorate the tops of the tarts.

Distribute half the pumpkin filling evenly among the pans. Place the pans onto a baking sheet. Lay a pumpkin decoration atop each tart.

Repeat the entire process with the second half of the dough and the remaining ingredients, to make a total of 6 tarts.

Bake the tarts for 15 minutes. Reduce the oven temperature to 350°F, and bake for an additional 18 to 20 minutes, until the crust is golden.

Remove the tarts from the oven and allow them to cool and set in the pan. Refrigerate until ready to serve.

Yield: 6 mini tarts.