A customized print-friendly version of this recipe is available by clicking the "Print Recipe" button on this page.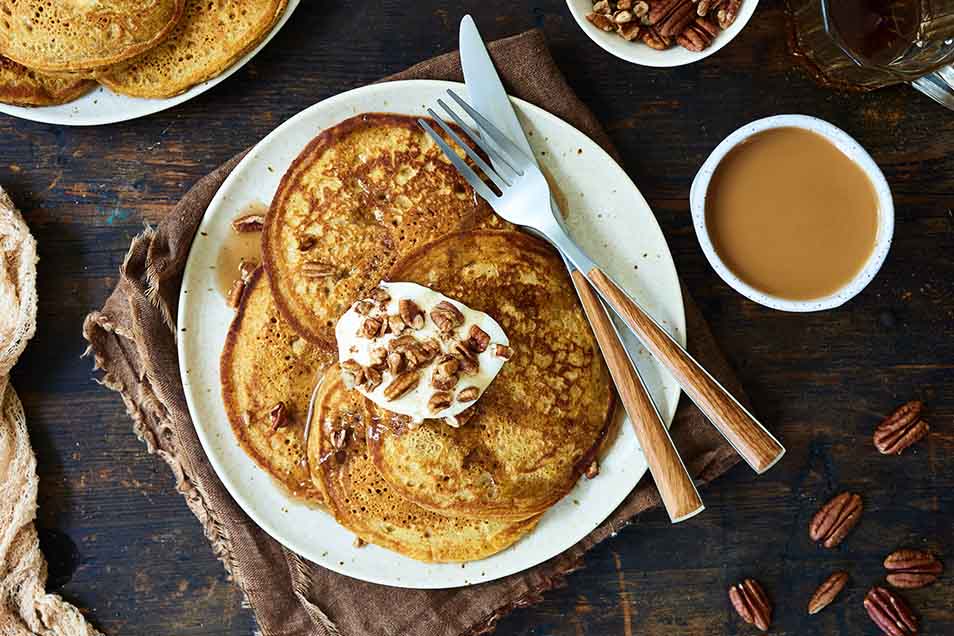 Breakfast meets autumn in these flavorfully-spiced, pumpkin-laced pancakes. They are as tasty with a drizzle of sweet maple syrup as they are with a dollop of whipped cream and a sprinkle of nuts. Quick and easy to prepare, they're sure to make a regular appearance on your breakfast rotation.
Ingredients
1 1/4 cups King Arthur Unbleached All-Purpose Flour
2 tablespoons sugar
2 teaspoons baking powder
1 1/2 teaspoons pumpkin pie spice
1/2 teaspoon salt
1 cup milk
1/3 cup pumpkin purée, homemade or canned
2 tablespoons melted unsalted butter or vegetable oil
1 large egg
Instructions
Whisk together the flour, sugar, baking powder, spice, and salt until evenly incorporated.

In a separate bowl or measuring cup whisk together the milk, pumpkin, melted butter, and egg.

Pour the wet ingredients into the dry ingredients, stirring just until evenly moistened.

Heat a large pan over medium heat or preheat a griddle to 350°F; the surface is hot enough when a droplet of water skitters across it. Lightly grease the pan with butter or vegetable oil.

Spoon the batter, 1/4 cup at a time, into the pan; a scone and muffin scoop works well here.

Cook on the first side until the edges of the pancakes start to look dry, about 2 to 3 minutes, then flip the pancakes over, and continue to cook until the bottoms are brown, an additional 2 minutes.

Serve immediately or transfer cooked pancakes to the oven to stay warm, if desired.
Reviews
After reading previous reviews I decided to add more pumpkin and pumpkin spice but it was to no avail. This GF flour is NOT a good blend, very gummy, not fluffy like pancakes should be. Would NOT recommend.

We'd like to help you troubleshoot this recipe, Alexis. This recipe is calling for regular all-purpose flour, so when making something gluten-free, we want to make sure the right flour is going in there.

Our Gluten-Free All-Purpose Flour is designed to be used in recipes that are already gluten-free, so if it were used in a regular recipe like this one, the results would be disappointing.

We have another gluten-free flour called Gluten-Free Measure for Measure Flour that's designed to replace regular all-purpose flour in non-yeasted recipes, so this would be the ideal flour to use in this recipe.

We see you're from Colorado, and there are some changes to make to our recipes if you're baking at high-altitude. We encourage you to type "high altitude" into the search bar above to view our full chart from Colorado State University. In this particular recipe, you'll want to increase the flour and liquid and to decrease the leavener for best results. That guide is a fantastic resource to have bookmarked.

If we can help troubleshoot further, please call our free and friendly Baker's Hotline staff at 855-371-BAKE (2253). Kindly, Annabelle@KAF
A lot like a pumpkin muffin, but you can't get those on the breakfast table in 20 minutes. These are quick and delicious.
I have many great pancake recipes I have collected over the years and this will be added to it! I already have a Pumpkin Puff Pancake recipe that is fabulous, but I do not make it often because it takes a little more time with separating the eggs and beating the whites. This gives me pumpkin flavor with no extra work from my regular pancakes I usually make.
I made as directed but substituted whey from my house made yogurt. This was absolutely delicious and they had a good pumpkin flavor.
Very easy to make and delicious. I would only add a little bit more pumpkin, pumpkin spice, or make pumpkin butter to boost up the flavor, as it is subtle. Nonetheless, a big hit!
My son said these were the best pancakes I ever made. I topped them with homemade whipped cream. Thanks for the great recipe! They light, fluffy and delicious.
Just made these for breakfast to use up some extra canned pumpkin. I swapped the regular all purpose flour for KAF white whole wheat flour, and I only used 1 tbs of sugar. Very pleased with how light they were (and how high they rose!), despite the ww swap. I'm giving this recipe 4 stars because I think the pumpkin flavour could be more pronounced.
Delicious pancakes. Fluffy and just a hint of pumpkin taste.
I made this recipe but I used KAF's GF All Purpose Baking Mix as a direct 1:1 replacement of the flour. Since salt and baking powder are in the mix, I didn't add the salt and I reduced the baking powder to 3/4 teaspoon. The baking mix needed more milk though, so I used about 1 & 1/3 cup of milk. Everything else in the recipe I kept as is. Pancakes came out as typical pancakes should, light and fluffy, with a hint of pumpkin spice on the nose and the faint taste of pumpkin pie. Bacon and sausage paired well with them. Definitely will be making this again as the family enjoyed them greatly. The recipe made 14 pancakes when using a 1/4 dry cup to scoop the batter.