A customized print-friendly version of this recipe is available by clicking the "Print Recipe" button on this page.
Pumpkin Praline Mini Pies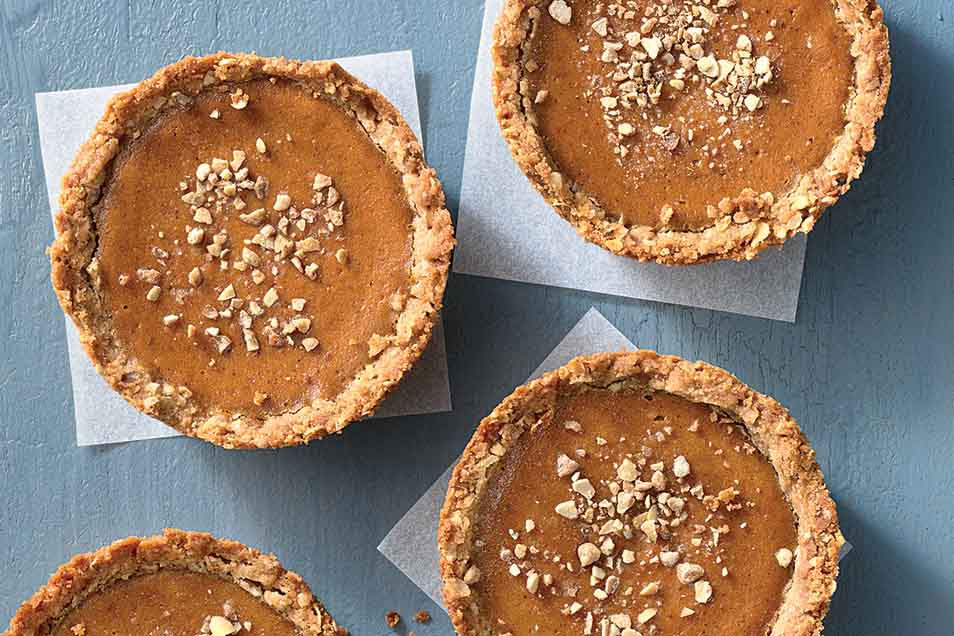 These mini pies get an extra burst of pumpkin from the Praline Pumpkin Seed Crunch we add to the crust and topping.
Ingredients
Crust
1/2 cup brown sugar
1/2 cup old-fashioned rolled oats
1/4 cup Praline Pumpkin Seed Crunch
1/2 teaspoon ground cinnamon
1/4 teaspoon salt
1/2 cup (8 tablespoons) cold unsalted butter
Filling
1/2 cup brown sugar
2 teaspoons King Arthur Unbleached All-Purpose Flour
1/4 teaspoon salt
2 teaspoons pumpkin pie spice*
2 large eggs, beaten
1 cup pumpkin purée
1/2 cup heavy cream
*Substitute 1 teaspoon ground cinnamon, 1/2 teaspoon ground ginger, and 1/2 teaspoon ground allspice, if desired.
Topping
2 tablespoons Praline Pumpkin Seed Crunch, optional
Instructions
Preheat the oven to 350°F. Lightly grease the cups of a hamburger bun pan, or six mini (4") tart pans, about 1" deep.

To make the crust: Stir together everything except the butter.

Cut in the butter until no large chunks remain, and the mixture resembles coarse crumbs.

Evenly distribute the crumbs among the cups of the prepared pan, pressing the mixture into the cups' bottoms.

Bake the crust for 12 to 15 minutes, until lightly golden. Remove the pan from the oven.

To make the filling: Whisk together the sugar, flour, salt, and spice.

In a large measuring cup, beat together the eggs, pumpkin, and cream. Combine with the dry ingredients.

Pour the filling evenly over the crusts.

Bake the pies for 20 to 22 minutes, until the tops are just beginning to set in the middle. Remove from the oven, and Immediately sprinkle with Praline Pumpkin Seed Crunch, if desired.

Cool the pies in the pan, and turn out when ready to serve.

Yield: 6 mini pies.
Tips from our bakers
Don't have our Pumpkin Praline Seed Crunch? Make your own by grinding 1/4 cup dried pumpkin seeds, 1 teaspoon sugar, and a pinch of salt into a coarse powder. Toast the mixture for 8 to 10 minutes in a 400°F oven, then allow to cool before using.
To make a standard-sized pie, press the crust into the bottom and up the sides of a 9" pie pan. Bake the crust for 15 to 17 minutes. It may sag along the edges, which is OK; the filling will hide any flaws. After filling the crust, bake the pie for 35 to 40 minutes.
Reviews
I love this recipe, the crust would probably work for most any pie that uses a graham cracker crust. It tasted a little like a candy bar. I used half n half instead of the heavy cream as that was what I had in the fridge. I used 6 mini tart pans from Wilton. Had a little of the crust mixture left over so I added a few nut pieces to it and used that as the topping instead of the pumpkin seed praline. May make some more next week for Thanksgiving, bet it could be made to work with a muffin pan, maybe with muffin liners.
Love this recipe! The filling is fantastic-so happy to use a pumpkin pie recipe without evaporated milk. The crust is a little unexpected, it has a chewy/caramelized taste that seems to come from where the filling and crust meet. I say unexpected, which it is, but also really really delicious.
This recipe is so good that it actually brought tears to our eyes when we took our first bite. It was super easy to boot! The press-in crust is delicious. It has a nice sweetness to it that complements the filling without making the pie too sweer. I would note that if you're making one large pie instead of mini pies you might not need to use all of the crust mixture. It may be a little too thick. On the other hand, it tastes so good so you might not mind!
I tried this recipe because I had a bun pan and it uses heavy cream instead of evaporated milk; a good thing as I am lactose intolerant. I didn't have the pumpkin praline seed crunch, but didn't miss it in the delicious results. I find the size to be more than I want so I share one with my husband and am considering making the next batch in a muffin pan. Both the filling and crust are tasty, but combined are wonderful. I know because I had extra filling I baked in custard cups. Great taste, but better with the crust.