A customized print-friendly version of this recipe is available by clicking the "Print Recipe" button on this page.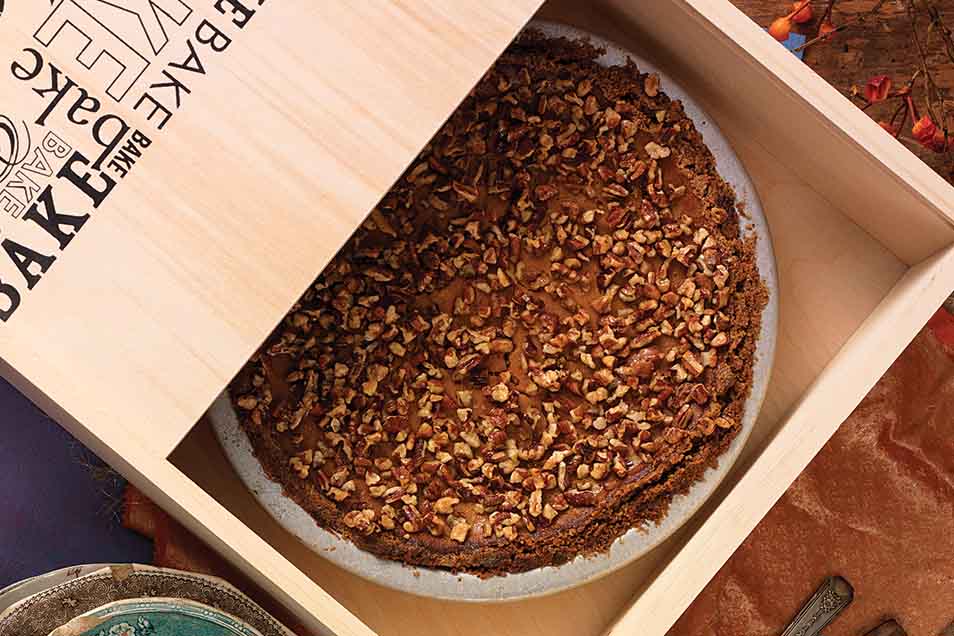 The following recipe takes a simple-though-rich pumpkin pie one step further with the addition of buttery toffee bits swirled into the filling, and crushed pecans or almonds accenting the crust. Go ahead, I dare you — scrunch up your face at this one!

Use your favorite unbaked 9" deep-dish single crust (at least 1 1/2" deep) Classic Single Pie Crust Recipe, or try the following pecan crust.
Ingredients
Filling
3/4 cup brown sugar, lightly packed
1 tablespoon King Arthur Unbleached All-Purpose Flour
1/2 teaspoon salt
1 teaspoon ground cinnamon
1/2 teaspoon ground ginger
1/4 teaspoon ground nutmeg
1/8 teaspoon freshly ground black pepper
1/8 teaspoon ground cloves
2 large eggs plus 1 egg white (reserved from above), lightly beaten
1 (14- to 15-ounce) can pumpkin (NOT pumpkin pie filling!) or 1 2/3 cups cooked, mashed pumpkin
1 cup light cream or evaporated milk
3/4 cup toffee-flavored bits
Garnish (optional)
3/4 cup chopped pecans
2 tablespoons Sticky Bun Sugar or 1 teaspoon corn syrup + 1 tablespoon granulated sugar
Instructions
Preheat the oven to 425°F.

To make the crust: In a medium-sized bowl, whisk together the pecan meal, sugar, salt and flour.

Using a pastry blender or fork, your fingers, or a mixer, cut in the butter, then add the egg yolk, tossing and stirring to make a crumbly dough.

Sprinkle the dough into the pie pan, and press it over the bottom, up the sides, and over the rim of the pan.

Cover the crust with a pie crust shield or aluminum foil to protect it from over-browning, and bake for 15 minutes. Prepare the filling while the crust is baking.

To make the filling: In a medium-sized mixing bowl, whisk together the sugar, flour, salt, cinnamon, ginger, nutmeg, pepper, and cloves.

Stir in the beaten eggs, then the pumpkin and cream or milk, mixing until thoroughly combined. Finally, stir in the toffee bits.

To make the garnish: Toss the pecans with the sticky bun sugar or sugar and corn syrup.

To assemble the pie: Pour the filling into either your favorite unbaked deep-dish (at least 2" deep) crust (see "tips", below), or into the pre-baked pecan crust. Top with the pecan garnish, if desired.

Bake the pie in a preheated 425°F oven for 15 minutes, then reduce the oven heat to 350°F and bake for an additional 40 to 45 minutes, or until a knife or cake tester inserted into the center comes out clean.

Remove the pie from oven, and cool it on a wire rack.

Store, covered, in the fridge for 5 days.
Tips from our bakers
If you want to grind toasted pecans or almonds, rather than use pecan meal or almond flour, an easy and quick way to do it, without turning the nuts into paste, is to place the nuts, sugar, salt, and flour into a food processor, pulsing until the nuts are ground.
If you don't have a deep-dish pie pan, this recipe will fill two 9" pans somewhat scantily. Or (better choice), fill one 9" pan with as much filling will hold, and bake the extra filling in a few custard cups. Start to check the pie for doneness after 45 minutes.
Need some tips to make your pies perfect? Check out our Pie Baking Guide.