A customized print-friendly version of this recipe is available by clicking the "Print Recipe" button on this page.
Quick and Easy Sticky Caramel Buns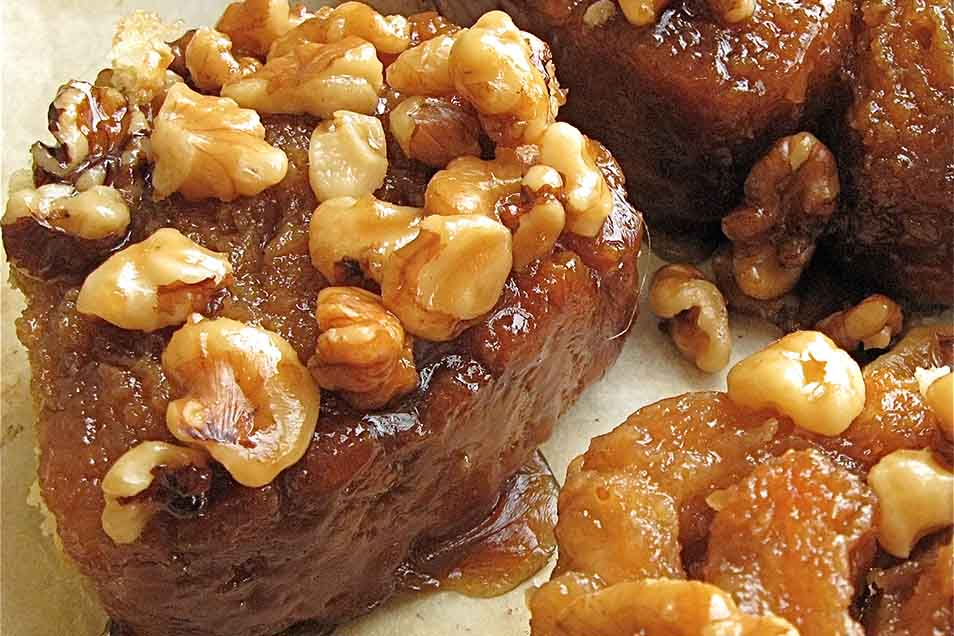 These soft, tender buns, bathed in golden syrup and crowned with pecans, are leavened with baking powder - not yeast. They go from "What's for breakfast?" to "YUM" in under 45 minutes!
This recipe is a favorite at our Baking Education Center.
Ingredients
Topping
1/2 cup brown sugar
1/4 cup butter, melted
2 tablespoons dark corn syrup or maple syrup
3/4 cup coarsely chopped pecans or walnuts, optional
Dough
2 tablespoons granulated sugar
1 1/4 teaspoons baking powder
1/2 teaspoon baking soda
1/2 teaspoon salt
1 cup lukewarm buttermilk*
1/2 teaspoon Buttery Sweet Dough Flavor or 1 teaspoon vanilla extract
4 tablespoons melted butter
*Substitute 1/4 cup buttermilk powder + 1 cup lukewarm water, if desired; or 1/3 cup plain or vanilla yogurt stirred together with 2/3 cup milk.
Instructions
Preheat the oven to 400°F. Lightly grease a 9" x 9" cake pan. If you don't have a 9" x 9" pan, substitute a 7" x 11", or 9" round cake pan. If you choose the 9" round pan, make sure it's at least 2" deep; if it's not, place the pan on a parchment- or foil-lined baking sheet, to catch any potential spills.

To make the topping: Combine the melted butter and brown sugar, stirring to combine.

Stir in the syrup.

Pour the topping into the prepared pan, spreading it to the edges. Sprinkle the nuts (if you're using them) atop the topping. Set the pan aside.

To make the dough: Stir together the flour, sugar, baking powder, baking soda, and salt. Note: If you're using buttermilk powder in place of buttermilk, add it here.

Pour the lukewarm buttermilk (or lukewarm water, if you're using buttermilk powder), sweet dough flavor or vanilla, and melted butter into the bowl with the dry ingredients.

Stir to combine. The dough will be quite sticky.

Transfer the dough to a well-floured surface, and pat/roll it into a 9" x 12" rectangle.

Brush the dough with water, and sprinkle with the 1/2 cup brown sugar, leaving a bare edge on one of the longer sides.

Roll the dough into a log, starting with the filled longer edge. Pinch the seam closed as well as you can; it'll be a bit messy, with sugar spilling out. That's OK.

Using dental floss or a serrated knife, cut the log into 16 slices.

Lay the slices in the prepared pan, atop the topping.

Bake the buns for 26 to 28 minutes, until they're golden brown.

Remove from the oven, and immediately invert the pan onto a serving plate. Let it sit for about 15 seconds, then remove the pan, scraping out any nuts or syrup that are stuck in the pan, and spreading it back onto the buns.

Serve immediately. Or cool, wrap airtight, and store for a couple of days at room temperature. Reheat briefly before serving.
Tips from our bakers
Note: The dough for these buns is quite sticky; it's meant to be. The stickier the dough (to a point), the lighter and more tender the buns.
The caramel around the edges of these buns tends to become quite sticky as it cools, especially if the buns are baked just a bit too long. Enjoy the buns hot, right out of the oven; or cool, wrap, and just before serving, rewarm individual buns briefly in the microwave.
Note: Thanks to helpful feedback from lots of you out there, as of 9/13/12 we've improved this recipe, as follows: we've added flavor to the dough, and reduced the liquid to make it less sticky and easier to work with; changed the suggested pan size, to eliminate the possibility of hot syrup overflowing; and reduced the ultra-stickiness of the topping to something more manageable.
Reviews
A swing and a miss...I understand wanting a quick roll recipe, but it didn't really satisfy my craving. For the calories, I'll schedule the time for the yeast version.

We're sorry to hear this recipe didn't give you the results you were looking for, Ashley. We hope another recipe will be more satisfactory, or our friendly Baker's Hotline is available to troubleshoot if you'd like to try this recipe again. Their number is 855-371-2253. Kindly, Annabelle@KAF
I thought they were fantastic!! I used salted caramel for the topping and they were sooooooo good. They gone in five minutes and i probably ate half of them. :) thanks KAF
These were quick, easy and delicious. Made exactly as written in recipe (I may have added a wee bit of dulce de leche to the topping!)
Great biscuit recipe! I use it as my dinner biscuits too. One time I rolled out the dough, brushed with melted butter, cut into triangles and made 'cresent' rolls.
They are indeed quick, easy, and sticky, but about the rolls themselves, I agree with HeatherHH (12/30/2010, "Secondly...") that they were disappointing in taste and texture.
These buns are not going to compare to the authenticate article (i.e. baked with yeast) but they do have lots of pizzazz if you have ALL of the ingredients (buttermilk powder being critical to their flavor!). We added a note to the top of the recipe since so many people asked how to improve it. I'd read those and see if it helps next time should you try it again! Kim@KAF
Is there a glutenfree conversion for this recipe? I'd LOVE to make these for christmas....
I thought these were great! The dough was definitely more biscuit-like than a traditional sticky bun, but that meant they were still good the next day, not dried out like yeast buns can get. After seeing in the reviews that the buns tended to overflow the pan, I decided to use a 9" springform pan, which worked well because of the higher sides - no overflow on the top. However, I forgot that liquid sugar can seep out the bottom - and it did! Thankfully my baking stone caught the brunt of the mess (and not the bottom of the oven) and next time I'll remember to wrap the pan with foil like I do for cheesecake! :0)
Did you change the recipe after people commented about bubbling over back in 2010? I just made these with a 9x2 round pan, and there was absolutely no hint of bubbling over. The topping is great, the rolls are not interesting but they're good, and it's a very, very easy recipe. It looks great when dumped out on a serving plate. The dough is shaggy, but soft and easy to knead with a sprinkling of flour on the board and some on top of the dough. It rolls out better than the standard cinnamon roll dough I generally make, think I'll switch to this dough instead. I used thick Bavarian buttermilk and real butter, btw. I often wonder if some recipe disasters are from the little substitutions people think don't matter...