A customized print-friendly version of this recipe is available by clicking the "Print Recipe" button on this page.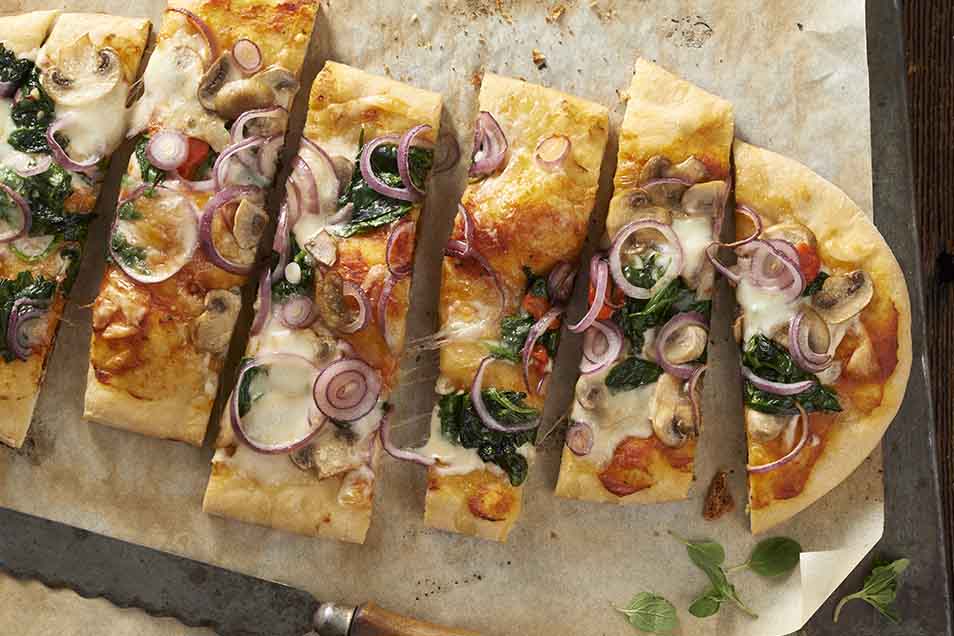 Beer adds just a hint of fragrance and flavor to this quick pizza dough.
Instructions
Mix and knead together all of the dough ingredients — by hand, mixer or bread machine — until you've made a smooth, soft dough.

Cover the dough, and allow it to rise for 30 minutes, or for up to 2 hours.

Preheat the oven to 450°F with the pizza stone (if you're using one) on a lower rack.

Divide the dough in half. Shape each half into a 10" to 12" round.

Place the rounds on parchment paper, if you're going to use a pizza stone. Or place the dough on a lightly greased or parchment-lined baking sheet. For thin to medium crust, bake the pizzas immediately. For thicker crust, let them rise for 30 to 60 minutes.

Transfer the pizzas, parchment and all, to the baking stone. Or place the pans in the oven.

Bake for 5 minutes. Remove from the oven, top as desired, and bake for an additional 15 minutes, until the bottom crust is crisp and the cheese is bubbly and browned.

Remove from the oven, and serve hot.

Yield: 2 pizzas.
Nutrition Information
Serving Size

58g

Servings Per Batch

16
Amount Per Serving:
Calories

144

Calories from Fat

18

Total Fat

2g

Saturated Fat

1g

Trans Fat

0g

Cholesterol

0mg
Sodium

247mg

Total Carbohydrate

26g

Dietary Fiber

1g

Sugars

0g

Protein

4g
* The nutrition information provided for this recipe is determined by the ESHA Genesis R&D software program. Substituting any ingredients may change the posted nutrition information.
Tips from our bakers
We like to top our pizzas with cheese, but prefer it to be gently melted, rather than browned/hard. To that end, we add any meat, veggies, etc. after 5 minutes of baking time; half the cheese after 15 minutes (total) baking time; bake for 3 minutes; add the remainder of the cheese, then bake for an additional 2 minutes, until the second addition of cheese is barely melted.
Reviews
Pleasant malty flavor from the beer, but otherwise performed poorly as a 750-800°F wood fired style pizza crust. The low moisture % of the recipe coupled with this high of a semolina flour % and the baking powder addition made for a poor crumb that was overall tough (even with a two hour first rise and one hour dough ball prove). It wanted to puff in large places like a pita and required frequent puncturing notwithstanding that I started to dock the dough prior to topping to try to minimize. Didn't stay thin like a Roman crust nor light and chewy like a Neapolitan or Sicilian. Don't expect it would be great for pan style crust, either, but who knows. Double batch made six ~10" sized pizzas.

We're sorry to hear that this well-loved recipe didn't do the trick for you. If we can help pick out a recipe that better fits your tastes, please give our Baker's Hotline a call at 855-371-BAKE (2253). Kindly, Annabelle@KAF
So easy! This dough came together VERY quickly in my mixer. I usually make my dough the day before I plan on making pizza for a long slow rise in the refrigerator. This time was no exception but, the next time I make this, I'll go ahead and make it the same day. I've had this particular recipe in my files for a while and don't really know why I haven't used it before. While we STILL prefer our "usual" recipe for crust, this will definitely go into regular rotation at our house.
This turned out great! Nice crispy crust. I cut the recipe in half as I was just myself and my husband. It made two small pizzas. My cooking method was different: I heated oven to 475 degrees with my cast iron inside, once 475 achieved, continued heating pan for 10 min. During the 10 min, I used a piece of parchment sprinkled with cornmeal to spread out my dough with olive oil dipped fingers. Fairly easy. I then turned my cast iron skillet upside down so I could just lay parchment with the dough on the bottom surface, cooked for 5-10min. Removed parchment/dough from oven and brushed on my marinara sauce, sprinkled lots of cheese, olive oil and continued cooking until nice bubbly, brown, golden. So very yummy!! Will do again!!
agree with the overwhelming majority of reviewers that this definitely is a go to pizza crust. i threw it in a bread maker and only had to let it rise a bit after i shaped it into pizza shape. i used a ginger beer i had lying around and it was perfect. am not a beer afficiando so can't say if i could have told the difference using a more expensive beer. i piled the dough high with grilled eggplant, spinach and feta cheese and it was delicious.
This was a fun recipe to make. Have never used the dough hook on my Kitchen Aid mixer - this was so easy! Dough was sticky after 7 min, my husband, who had managed a Pizza Hut many years ago said it needed more flour so added 2 large spoonfuls of flour. It became like the picture in the KAF blog, let it rise for 2 hrs. He made the sauce so it was a family affair. It was so good! Will definitely make this again, however we will still have to visit our fav pizza parlor occasionally. :)
Does rolling the pizza dough into a long strip (as in the picture) change the baking time?

Thinner crusts bake through faster than thick crusts, so if you roll your crust into a large, long pizza like what's shown, you might want to check for doneness five minutes earlier than you otherwise would. The edges should be slightly golden in color and the cheese fully melted when it's done. Happy pizza making! Kye@KAF
I have a similar beer Crust recipe that I have been using for a long time now which I like a little better then this one, that being said and from my many trial and errors of making Beer crust pizza dough I have found that the type of beer you use is very important, Cheap American brands of beers will not give you as good of results as a good American Craft type or imported German beer, both of which should be Unfiltered "Wheat beer". I myself use Imported German Wheat beer which is unfiltered, this means it still has yeast particles left in the bottle which adds to the rise and gives you a nice yeasty tasting light crust with nice air bubble in the dough, if you do use and unfiltered Wheat beer make sure you leave about a 1/2 of beer in the bottle an swirl it around, this will release the yeast in the bottom of the bottle so you can mix it into the dough Malty types of beers that use a lot of Hop's like Pilsner's will give a strong bitter off tasting crust.
Who puts baking powder in Pizza dough? Bread flour, active yeast, salt, and water ( beer too) .....that's pizza dough.

You're certainly free to leave it out, but the baking powder does add an extra lightness to the crust. Happy baking! Laurie@KAF
I altered this recipe a little and had excellent results. I replaced 5 oz of the unbleached flour with traditional whole wheat. I used a Spaten Optimator beer (dark and malty) but didn't need to use all 12 oz. the dough was pretty sticky at first but was easy to handle after rising. Pizzas turned out great!
Didn't care for the taste and texture of this dough.

We're sorry to hear that this recipe wasn't a knock out with you. The good news? There are so many different pizza crust recipes to choose from based on what you are looking for in your pie. Thin crust? Look for Italian flour. Hearty crust? Use whole wheat flour. Something with a tang? Sourdough is the answer! We hope you find the recipe you are looking for. Kye@KAF