A customized print-friendly version of this recipe is available by clicking the "Print Recipe" button on this page.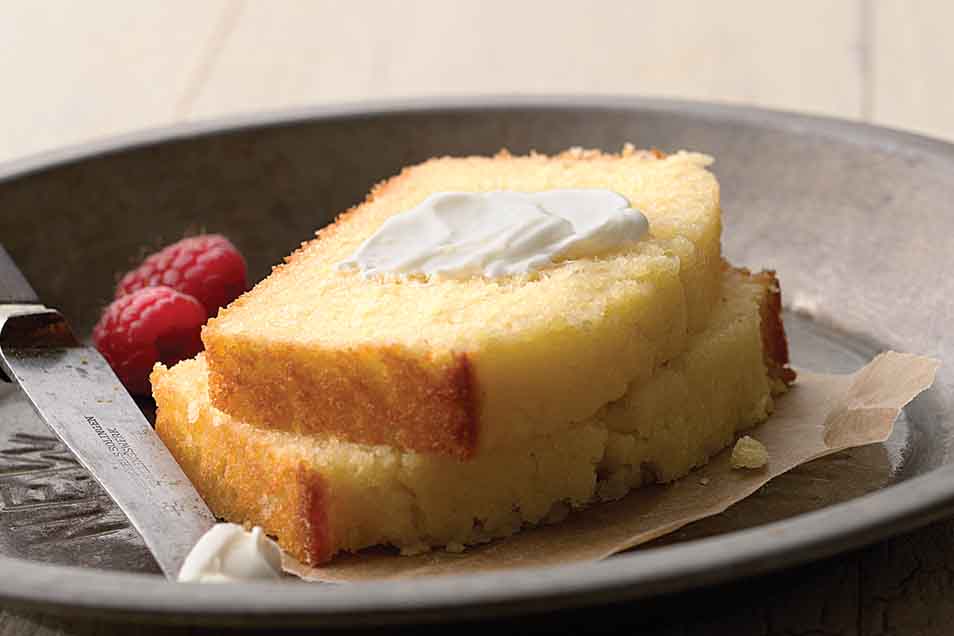 This bread is a treat for anyone who loves the fresh, bright taste of citrus. Made doubly moist by the lemon-sugar glaze applied after it comes out of the oven, it's reminiscent of poke cake (remember that?). It's sweet enough to serve for dessert, yet tart enough to go well in a brunch breadbasket with other muffins and breads.
Ingredients
Bread
1/4 cup fresh lemon juice
3/4 cup buttermilk or yogurt
1/2 teaspoon lemon oil OR 1 teaspoon grated lemon rind
1 teaspoon baking powder
1/2 teaspoon baking soda
1/2 teaspoon salt
6 tablespoons butter, softened
1 cup sugar
2 large eggs
Glaze
1/4 cup fresh lemon juice
1/2 cup sugar
Instructions
Preheat the oven to 350°F. Lightly grease an 8 1/2" x 4 1/2" loaf pan.

To make the bread: Mix the buttermilk or yogurt with the lemon juice and lemon oil, and set aside.

Mix the flour, baking powder, and salt, and set aside.

Beat together the butter and sugar until combined.

Add the eggs one at a time, beating well after each addition.

Add the dry ingredients to the butter mixture alternately with the buttermilk mixture.

Pour into the pan, and bake for about 50 to 55 minutes, or until a cake tester inserted in the center comes out clean.

To make the glaze: While the bread is baking, whisk together the glaze ingredients to dissolve the sugar.

Remove the bread from the oven, and poke it all over with a cake tester, skewer, ice pick, or other long, thin tool.

While the loaf is hot, drizzle it gradually with the glaze, stopping periodically to allow it to soak in. Set it aside, and let it cool in the pan for 10 to 15 minutes.

Remove the bread from the pan, and allow it to cool completely before slicing. The bread will keep for 5 days on the counter, covered. Freeze for up to 3 months.
Tips from our bakers
Baker's Special Sugar will dissolve most easily in the lemon juice for the glaze.
Reviews
I dropped the buttermilk down to 1/2 cup because I found the loaf a bit too soft and crumbly with the full amount of buttermilk. I used more lemon zest, about 1 tablespoon, in the batter, as well as the lemon oil. I lined the bottom of the loaf pan with parchment to make it easier to flip out after the glaze soaks in. I think it's easier to let the cake fully cool in the pan before taking it out. I increase the lemon flavor by drizzling a quick. Confectioners sugar with lemon juice and zest glaze. Perfect lemon loaf!
Made this last night with yogurt and it was delicious. I only had bread flour . I don' t know if that affected the recipe, but the batter started rising in the bowl before it ever got to the pan. I've never seen that before. Turned out light and with a beautiful texture.

Since this recipe has baking soda plus acids in it (lemon juice and the yogurt or buttermilk), the batter will start to rise as soon as the wet and dry ingredients are mixed. For this reason, it's important to make sure the oven is fully preheated before you start mixing and move the batter quickly from the mixing bowl to the loaf pan and into the oven. Your choice of bread flour likely contributed a bit more of a chewy texture than all-purpose flour, but the difference can be subtle when used in recipes like this. We're glad you enjoyed the results! Kye@KAF
Made this last night with yogurt and it was delicious. I only had bread flour . I don' t know if that affected the recipe, but the batter started rising in the bowl before it ever got to the pan. I've never seen that before. Turned out light and with a beautiful texture.
Great recipe. I ignored the glaze, since I prefer less sweet. I also used the juice & zest of one large lemon, a little more than the recipe. I was generous with the salt to compensate. Turned out great.
The glaze is amazing and allows the lemon flavor to really pop. I don't have the right size pan, though, I have a 9x5. Is there a modification I can make so it will rise and not be as dense?

If you're okay with a shorter, more squat loaf, you can go ahead and bake the recipe as written, checking for doneness about 3 to 5 minutes early. If you'd like to make a loaf that fills the pan as it would in an 8 1/2" by 4 1/2" loaf pan, then you can increase everything in the recipe by 30%. (This is easiest done if you click on either "ounces," or "grams," and then multiply the weight of each ingredient by 1.33.) For this larger loaf, you may need to extend the baking time by 5-10 minutes for it to bake through completely. Happy baking! Kye@KAF
This turned out great! I had to switch out lemon oil for extract, used milk instead of buttermilk or yogurt and for the glaze I used powdered sugar instead of sugar. I would definitely make this again!
The bread itself turns out great, but I found that the sugar glaze just congealed and settled into the bottom of the bread for a mottled and unattractive look. I ensured the sugar and lemon juice glaze were well mixed, but I was still left with a disappointing outcome. I normally trust King Arthur Flour recipes to a T, but this one let me down a little.

We're sorry to hear you didn't enjoy the glaze on this bread. One thing that may help is to allow it to boil for 30 seconds or so, to really ensure that all of the sugar granules have dissolved. Then, let it cool until it's just warm, and brush on about half. Let it soak in, and then feel free to add the rest if the loaf looks like it needs a bit more moisture. Annabelle@KAF
I made this last week and it did not turn out that well. It was dense and heavy. I do not have a 8.5 x 4 pan so I used my 9 x 5. Don't know if that made a big difference. I weighed my ingredients everything was fresh. I used regular buttermilk not low fat could that have the problem? I would like to try this again because the flavor was good Any ideas of what went wrong?

We're so glad you enjoyed the fresh lemon flavor of this bread, Rose! Believe it or not, the pan size makes a big difference. A 9" x 5" pan holds about 15% more batter than a standard loaf pan. Because of its larger size, the batter has a harder time grabbing onto the pan edges, rising upward, and holding that rise. Instead, it tries to rise but doesn't quite have the strength to stay up so it collapses, giving you a dense loaf. Since you liked the flavor, try baking the batter as lemon muffins for 20-23 minutes. Annabelle@KAF
I made this bread/cake yesterday and served it today. I made a few minor changes: 1. Since I was making it as a desert, I made it a bit more cake-like by adding an extra 1/2 tsp baking powder to make it lighter. 2. It's cherry season here in California, so I pitted and halved a dozen bing cherries and added them to the batter before baking. 3. I reduced the sugar content a bit, because we prefer cakes that are not quite so sweet. 4. I baked it in a medium bundt pan, used the painting the mold with butter and dusting with flour method to prevent sticking. Glazed the cake as directed, and when I released the cake 10 minutes later, it popped right out. 5. I made a thin lemon icing with 1 tbs butter, 1/2 cup confectioners sugar, and 1/3 cup fresh lemon juice which I drizzled over the cake when it was cool. I topped each flute with 1/2 fresh bing cherry. The cake looked fantastic, the texture was moist as it should be, but only got four stars because the lemon flavor was not a strong as I had hoped. I think the next time, I'll be more generous with the lemon zest. But in any event, thank you KAF because I still think this cake has possibilities.
Would this be good with fresh blueberries or raspberries added?

Blueberries would be a fabulous choice, Lee. They'll hold up better than raspberries in this somewhat thick batter, and the flavor of lemon and blueberries together is divine. Feel free to add up to 1 cup of fresh or frozen berries after the batter is mixed. (If using frozen berries, rinse them and then pat dry before folding into the batter at the very end.) Allow up to 5 minutes of additional bake time to ensure the loaf bakes through fully. Enjoy! Kye@KAF