A customized print-friendly version of this recipe is available by clicking the "Print Recipe" button on this page.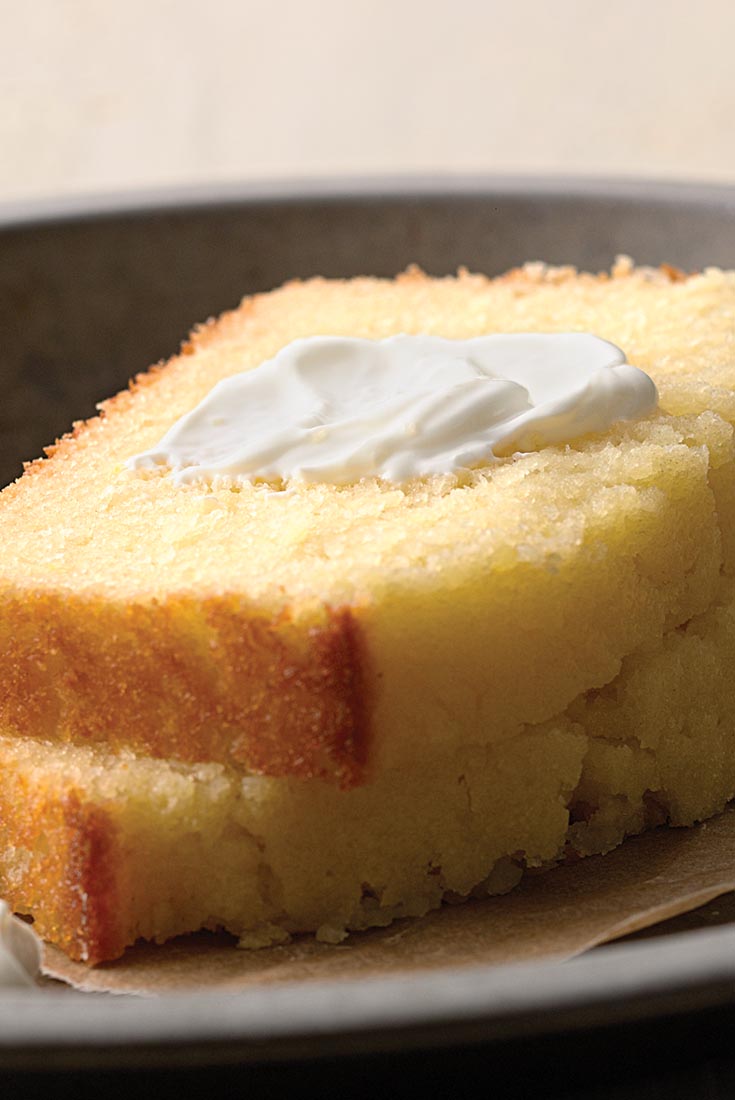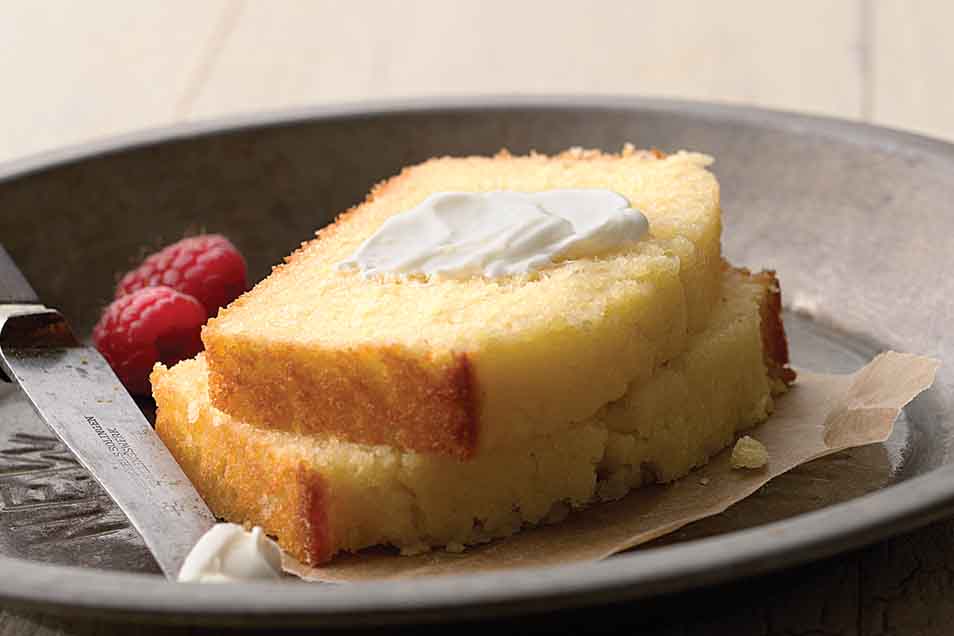 This bread is a treat for anyone who loves the fresh, bright taste of citrus. Made doubly moist by the lemon-sugar glaze applied after it comes out of the oven, it's reminiscent of poke cake (remember that?). It's sweet enough to serve for dessert, yet tart enough to go well in a brunch breadbasket with other muffins and breads.
Ingredients
Bread
1/4 cup fresh lemon juice
3/4 cup buttermilk or yogurt
1/2 teaspoon lemon oil OR 1 teaspoon grated lemon rind
1 teaspoon baking powder
1/2 teaspoon salt
6 tablespoons butter, softened
1 cup sugar
2 large eggs
Glaze
1/4 cup fresh lemon juice
1/2 cup sugar
Instructions
Preheat the oven to 350°F. Lightly grease an 8 1/2" x 4 1/2" loaf pan.

To make the bread: Mix the buttermilk or yogurt with the lemon juice and lemon oil, and set aside.

Mix the flour, baking powder, and salt, and set aside.

Beat together the butter and sugar until combined.

Add the eggs one at a time, beating well after each addition.

Add the dry ingredients to the butter mixture alternately with the buttermilk mixture.

Pour into the pan, and bake for about 50 minutes, or until a cake tester inserted in the center comes out clean.

To make the glaze: While the bread is baking, whisk together the glaze ingredients to dissolve the sugar.

Remove the bread from the oven, and poke it all over with a cake tester, skewer, ice pick, or other long, thin tool.

While the loaf is hot, drizzle it gradually with the glaze, stopping periodically to allow it to soak in. Set it aside, and let it cool in the pan for 10 to 15 minutes.

Remove the bread from the pan, and allow it to cool completely before slicing. The bread will keep for 5 days on the counter, covered. Freeze for up to 3 months.
Tips from our bakers
Baker's Special Sugar will dissolve most easily in the lemon juice for the glaze.
Reviews
This turned out great! I had to switch out lemon oil for extract, used milk instead of buttermilk or yogurt and for the glaze I used powdered sugar instead of sugar. I would definitely make this again!
The bread itself turns out great, but I found that the sugar glaze just congealed and settled into the bottom of the bread for a mottled and unattractive look. I ensured the sugar and lemon juice glaze were well mixed, but I was still left with a disappointing outcome. I normally trust King Arthur Flour recipes to a T, but this one let me down a little.

We're sorry to hear you didn't enjoy the glaze on this bread. One thing that may help is to allow it to boil for 30 seconds or so, to really ensure that all of the sugar granules have dissolved. Then, let it cool until it's just warm, and brush on about half. Let it soak in, and then feel free to add the rest if the loaf looks like it needs a bit more moisture. Annabelle@KAF
I made this last week and it did not turn out that well. It was dense and heavy. I do not have a 8.5 x 4 pan so I used my 9 x 5. Don't know if that made a big difference. I weighed my ingredients everything was fresh. I used regular buttermilk not low fat could that have the problem? I would like to try this again because the flavor was good Any ideas of what went wrong?

We're so glad you enjoyed the fresh lemon flavor of this bread, Rose! Believe it or not, the pan size makes a big difference. A 9" x 5" pan holds about 15% more batter than a standard loaf pan. Because of its larger size, the batter has a harder time grabbing onto the pan edges, rising upward, and holding that rise. Instead, it tries to rise but doesn't quite have the strength to stay up so it collapses, giving you a dense loaf. Since you liked the flavor, try baking the batter as lemon muffins for 20-23 minutes. Annabelle@KAF
I made this bread/cake yesterday and served it today. I made a few minor changes: 1. Since I was making it as a desert, I made it a bit more cake-like by adding an extra 1/2 tsp baking powder to make it lighter. 2. It's cherry season here in California, so I pitted and halved a dozen bing cherries and added them to the batter before baking. 3. I reduced the sugar content a bit, because we prefer cakes that are not quite so sweet. 4. I baked it in a medium bundt pan, used the painting the mold with butter and dusting with flour method to prevent sticking. Glazed the cake as directed, and when I released the cake 10 minutes later, it popped right out. 5. I made a thin lemon icing with 1 tbs butter, 1/2 cup confectioners sugar, and 1/3 cup fresh lemon juice which I drizzled over the cake when it was cool. I topped each flute with 1/2 fresh bing cherry. The cake looked fantastic, the texture was moist as it should be, but only got four stars because the lemon flavor was not a strong as I had hoped. I think the next time, I'll be more generous with the lemon zest. But in any event, thank you KAF because I still think this cake has possibilities.
Would this be good with fresh blueberries or raspberries added?

Blueberries would be a fabulous choice, Lee. They'll hold up better than raspberries in this somewhat thick batter, and the flavor of lemon and blueberries together is divine. Feel free to add up to 1 cup of fresh or frozen berries after the batter is mixed. (If using frozen berries, rinse them and then pat dry before folding into the batter at the very end.) Allow up to 5 minutes of additional bake time to ensure the loaf bakes through fully. Enjoy! Kye@KAF
Just took this out of the oven and it is cooling now. I don't know how anyone says this is not moist. Also it rose beautifully. Check your pans. It is suppose to be a 8x4 not a 9x5. Makes a difference. Weight your flour also makes a difference. I use grams. My baked goods come out so much better now that I weigh things out.
I was looking for a hint of spring to eat with my coffee and had lemons in mind. This recipe is perfection! I used the buttermilk and lemon rind options listed in the recipe. Followed the recipe step-by-step and the result was a successful (i.e., beautiful, delicious) outcome. I am confident spring is coming now. Thank you!
I made this bread gluten free with the newest cup to cup gf flour as an ingredient and since my oven is not working, I have been making my breads in the slow cooker. I went by the recipe exactly as written. I used yogurt not buttermilk as the liquid and added a small amout of fresh blueberries. It was too tart in my opinion and I think I would have liked better without that glaze which made it quite tart. Otherwise it was ok and I will try at another time, maybe with buttermilk instead of yogurt.
I am a seasoned baker and was disappointed in the outcome of this cake, as the cake did not rise very much. My baking powder was fresh, my flour was fresh as I just opened the bag. I weighed my ingredients. The only difference is that I used a glass pan to bake the cake thus lowering the over temp to 325 degrees. Could the change in over temp and pan have made the the difference or does this cake just not rise much. I will say that the flavor was very good.

Hi JL. Often glass pans have more angled sides, causing quick breads to rise a bit more outward rather than upward so it's difficult to see much rising progress. The Lemon Bread likely did rise, it was just harder to see it. In addition, quick breads typically don't rise as much as cakes just because the batter can be on the heavier side compared to a cake batter. Annabelle@KAF
It came out a bit dry, I'd try another recipe like the Simple Zucchini Bread and add lemon juice and zest to it instead.

One of the most common reasons why baked goods turn out dry and heavy if because too much flour is used. To ensure you're using the right amount, we recommend checking out the "Measuring standards," link next to the ingredients header above. You'll see that either measuring your flour by weight using a scale, or fluffing and sprinkling the flour into your measuring cup are the best ways to ensure your recipe turns out perfectly. We hope that helps, and happy baking! Kye@KAF