A customized print-friendly version of this recipe is available by clicking the "Print Recipe" button on this page.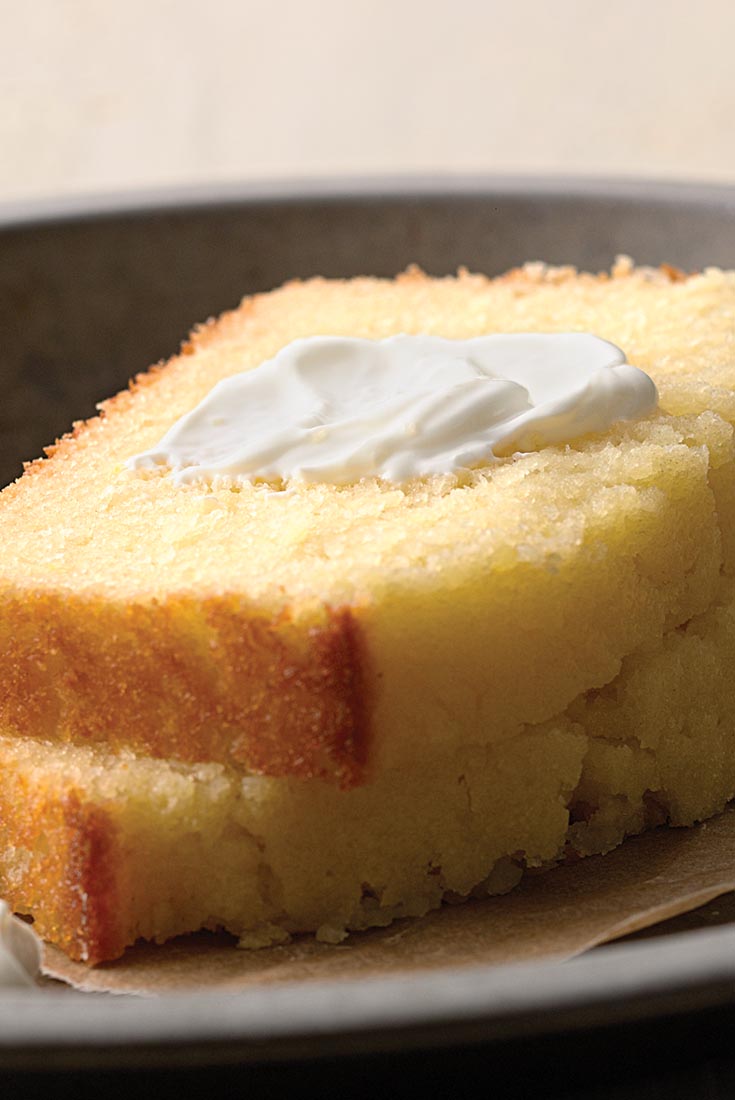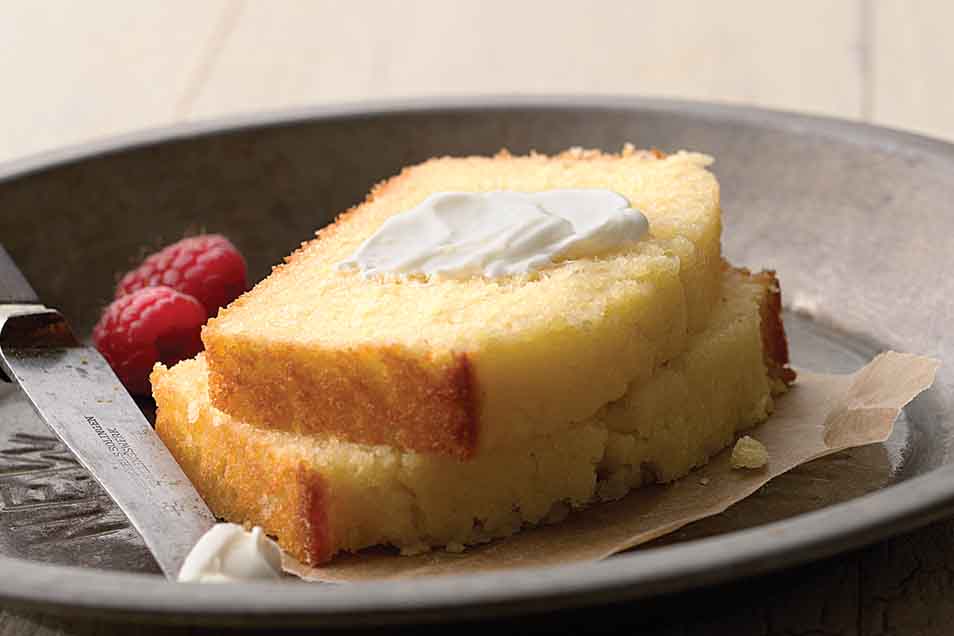 This bread is a treat for anyone who loves the fresh, bright taste of citrus. Made doubly moist by the lemon-sugar glaze applied after it comes out of the oven, it's reminiscent of poke cake (remember that?). It's sweet enough to serve for dessert, yet tart enough to go well in a brunch breadbasket with other muffins and breads.
Ingredients
Bread
1/4 cup fresh lemon juice
3/4 cup buttermilk or yogurt
1/2 teaspoon lemon oil OR 1 teaspoon grated lemon rind
1 teaspoon baking powder
1/2 teaspoon salt
6 tablespoons butter, softened
1 cup sugar
2 large eggs
Glaze
1/4 cup fresh lemon juice
1/2 cup sugar
Instructions
Preheat the oven to 350°F. Lightly grease an 8 1/2" x 4 1/2" loaf pan.

To make the bread: Mix the buttermilk or yogurt with the lemon juice and lemon oil, and set aside.

Mix the flour, baking powder, and salt, and set aside.

Beat together the butter and sugar until combined.

Add the eggs one at a time, beating well after each addition.

Add the dry ingredients to the butter mixture alternately with the buttermilk mixture.

Pour into the pan, and bake for about 50 minutes, or until a cake tester inserted in the center comes out clean.

To make the glaze: While the bread is baking, whisk together the glaze ingredients to dissolve the sugar.

Remove the bread from the oven, and poke it all over with a cake tester, skewer, ice pick, or other long, thin tool.

While the loaf is hot, drizzle it gradually with the glaze, stopping periodically to allow it to soak in. Set it aside, and let it cool in the pan for 10 to 15 minutes.

Remove the bread from the pan, and allow it to cool completely before slicing. The bread will keep for 5 days on the counter, covered. Freeze for up to 3 months.
Tips from our bakers
Baker's Special Sugar will dissolve most easily in the lemon juice for the glaze.
Reviews
I am a seasoned baker and was disappointed in the outcome of this cake, as the cake did not rise very much. My baking powder was fresh, my flour was fresh as I just opened the bag. I weighed my ingredients. The only difference is that I used a glass pan to bake the cake thus lowering the over temp to 325 degrees. Could the change in over temp and pan have made the the difference or does this cake just not rise much. I will say that the flavor was very good.

Hi JL. Often glass pans have more angled sides, causing quick breads to rise a bit more outward rather than upward so it's difficult to see much rising progress. The Lemon Bread likely did rise, it was just harder to see it. In addition, quick breads typically don't rise as much as cakes just because the batter can be on the heavier side compared to a cake batter. Annabelle@KAF
It came out a bit dry, I'd try another recipe like the Simple Zucchini Bread and add lemon juice and zest to it instead.

One of the most common reasons why baked goods turn out dry and heavy if because too much flour is used. To ensure you're using the right amount, we recommend checking out the "Measuring standards," link next to the ingredients header above. You'll see that either measuring your flour by weight using a scale, or fluffing and sprinkling the flour into your measuring cup are the best ways to ensure your recipe turns out perfectly. We hope that helps, and happy baking! Kye@KAF
I wondered if you could add cranraisins or blueberries to this recipe f I would have to change other ingredients? Thank you for your time...I am anxious to try this!

A half cup or so of fresh or dried fruit would be absolutely delicious in this recipe, Cheryl. No other changes would be necessary, just fold them into the batter right before pouring it into the loaf pan. Happy baking! Annabelle@KAF
I lucked into a 99 cent bag of lemons at my grocery on clearance - 7 lemons and all in good shape. So, a hankering for Starbucks lemon loaf got me looking for a recipe. I landed here since KA recipes usually work. This recipe is a winner. I used half Greek yogurt and half milk for the yogurt / buttermilk. It gave a nice texture to the batter. I only used half of the glaze. I think it's just right. I did add a pinch of salt to the glaze to help cut the sweet perception. The batter comes together beautifully. I did add 1 teaspoons of vanilla extract to the batter recipe. I increased the baking powder from 1 to 1-1/2 teaspoons as some had noted the recipe didn't rise as much as they'd like it to. I think this might be lovely with poppy seeds added to it. As is, this is quite bright and fresh, well balanced and I might not be purchasing a slice of lemon loaf out again for awhile.
I loved the flavor of this bread, which I made with a mix of standard lemons and pink lemons. I also cut back on the sugar, using only 3/4 of a cup as I intended it for dinner. It did not rise. I have a dim memory of quick breads rising. What might be wrong? I should say that I baked it at my daughter's house and she never gets cakes to rise. Years ago, I read that quick breads should be put in a pre-heated oven but that yeast breads should be put in a cold oven and the climbing heat should be allowed to finish the rise. Is that true?

Susan, some quick bread recipes are designed to rise while others have flatter tops and stay pleasantly dense, like pound cake. Your Quick Lemon Bread might not have risen quite as much as expected if your baking powder wasn't fresh, if the oven wasn't up to temperature, if too much flour was used, or partially because of the sugar reduction. As for your question about quick breads vs. yeast breads, some yeast breads can be started in a cold oven but that's not the norm. It's much more common for both to be baked in a pre-heated oven. If you have more questions, feel free to give our Baker's Hotline a call at 844-371-BAKE(2253). We'd love to help! Kye@KAF
A delicious bread to make on a snowy day! I had lemons and buttermilk left over from another recipe and was looking for a way to use them up. I substituted half King Arthur White Whole Wheat for the AP flour and doubled the recipe to use up my lemons, also using zest instead of lemon oil. I made half into a loaf to freeze and half into muffins to eat right away. I didn't bother with the glaze since the loaf was getting frozen. Both pans took longer to bake than I expected, but turned out deliciously tart and lemony.
This recipe is great for lemonheads. It smelled wonderfully lemony during baking. My husband couldn't stop circling around the bread until it was cool enough to eat. I reduced sugar by 15% and also substituted 20% of AP flour with cake flour because our preference for a more cakey texture. Due to my lack of basic reading comprehension, it was inadvertently baked at 375 degrees for 15 minutes and adjusted to 350 for 35 minutes. In spite of initial higher oven temperature, it required the full suggested time to cook thoroughly. The bread nearly rose to top of the pan but never got very tall. Since the glaze was intended to soak through the bread, I didn't bother with powdered sugar as some suggested. Even with error and adjustments, the result was very good. Super duper lemony and tart and not sickly sweet. I would suggest using a fine instrument for poking if you are baking for company. The bamboo skewer I used left unsightly holes on top.
Absolutely delicious! Followed recipe exactly as printed. Would definitely make again. It was one of the best lemon bread recipes. Thanks for all the recipes you give us :)
A nice combination of tart and sweet. I had to bake it longer to get the inside done, which caused the edges to be a little browner than I like. I didn't have buttermilk or yogurt so I used sour cream and it seemed to work just fine. I also used the lemon zest instead of oil and that worked out fine as well. Next time I will try it with the buttermilk to see if it makes any difference.