A customized print-friendly version of this recipe is available by clicking the "Print Recipe" button on this page.
Quinoa Date and Nut Bread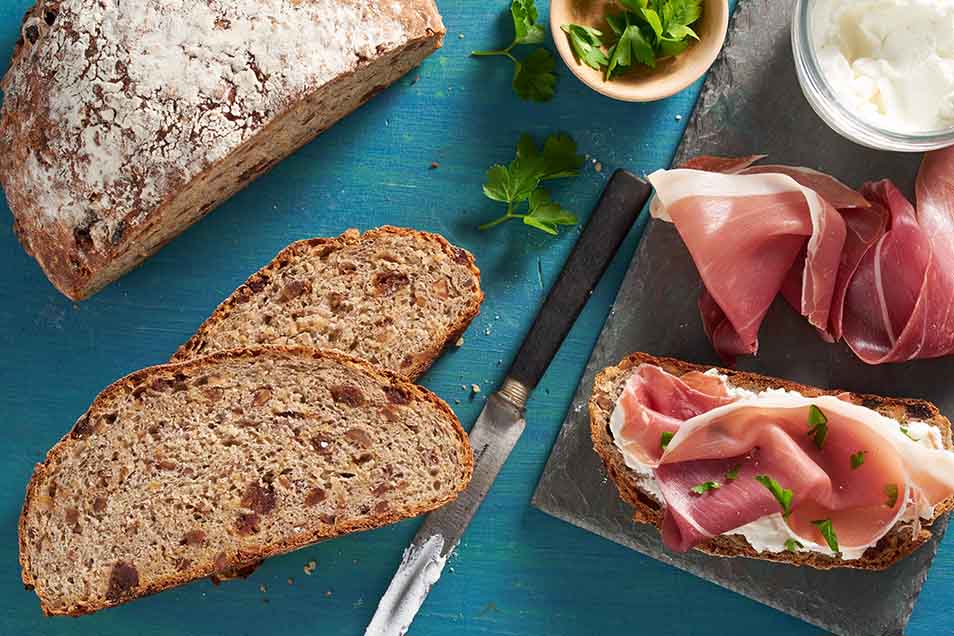 It's hard not to love this bread. It's made using two forms of quinoa — the flour and the cooked grain — which both contribute to its moist, tender texture and subtle nutty flavor. Meanwhile, pockets of sweet dates and buttery pecans make it into each bite so that even a plain slice of this loaf is compelling and appetizing. We also enjoy serving toasted slices tartine-style, with creamy cheese and salty cured ham.
Instructions
To make the sponge: Combine all the ingredients and mix until smooth. Cover the sponge, and let it sit for 1 to 2 hours, or until it's very bubbly.

To make the dough: Mix the salt into the sponge, then gradually incorporate the bread flour, either by hand or stand mixer, until a shaggy dough forms.

Knead the dough until it's smooth and somewhat stiff.

Knead in the cooked quinoa, pecans, and dates until they're thoroughly incorporated into the dough; at this point the dough will have slackened, but shouldn't be too sticky to handle.

Place the dough in a lightly greased bowl, cover, and set aside to rise until it's just about doubled in size, about 1 1/2 to 2 hours.

Gently deflate the dough on a lightly floured work surface, divide it in half, and shape each half into a round (boule).

Place the boules on a cornmeal-sprinkled or parchment-lined baking sheet, cover, and let rise until not quite doubled in size, 45 minutes to 1 hour.

During the final 20 minutes of rising, preheat the oven to 425°F.

Bake the loaves for 15 minutes at 425°F, then reduce the oven heat to 375°F and bake for an additional 20 to 25 minutes, or until a digital thermometer inserted in the center of the loaves registers 200°F.

Remove the loaves from the oven and transfer them to a rack to cool completely.

Store, well wrapped, at room temperature for several days; freeze for longer storage.