A customized print-friendly version of this recipe is available by clicking the "Print Recipe" button on this page.
Quinoa Date and Nut Bread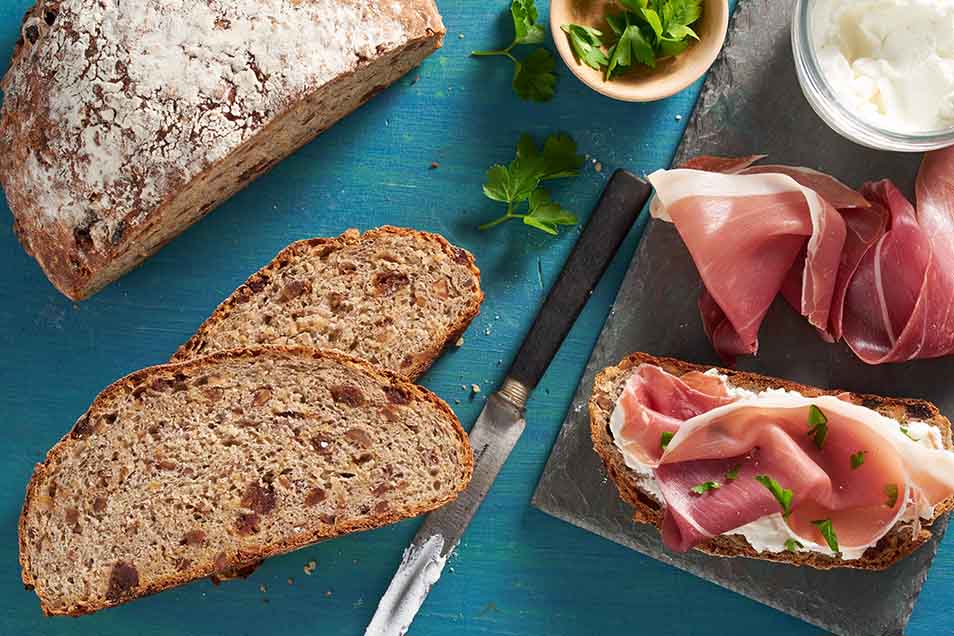 It's hard not to love this bread. It's made using two forms of quinoa — the flour and the cooked grain — which both contribute to its moist, tender texture and subtle nutty flavor. Meanwhile, pockets of sweet dates and buttery pecans make it into each bite so that even a plain slice of this loaf is compelling and appetizing. We also enjoy serving toasted slices tartine-style, with creamy cheese and salty cured ham.
Instructions
To make the sponge: Combine all the ingredients and mix until smooth. Cover the sponge, and let it sit for 1 to 2 hours, or until it's very bubbly.

To make the dough: Mix the salt into the sponge, then gradually incorporate the bread flour, either by hand or stand mixer, until a shaggy dough forms.

Knead the dough until it's smooth and somewhat stiff.

Knead in the cooked quinoa, pecans, and dates until they're thoroughly incorporated into the dough; at this point the dough will have slackened, but shouldn't be too sticky to handle.

Place the dough in a lightly greased bowl, cover, and set aside to rise until it's just about doubled in size, about 1 1/2 to 2 hours.

Gently deflate the dough on a lightly floured work surface, divide it in half, and shape each half into a round (boule).

Place the boules on a cornmeal-sprinkled or parchment-lined baking sheet, cover, and let rise until not quite doubled in size, 45 minutes to 1 hour.

During the final 20 minutes of rising, preheat the oven to 425°F.

Bake the loaves for 15 minutes at 425°F, then reduce the oven heat to 375°F and bake for an additional 20 to 25 minutes, or until a digital thermometer inserted in the center of the loaves registers 200°F.

Remove the loaves from the oven and transfer them to a rack to cool completely.

Store, well wrapped, at room temperature for several days; freeze for longer storage.
Reviews
I try to test a new sourdough bread every week using my discard starter, and this is one of the best. It tastes great with the nuts and dates. The crumb is moist and soft. Makes excellent toast, but is delicious plain. I added 2 tablespoons of vital wheat gluten to the dough, but that was the only change I made to the ingredients. I changed the prep slightly, and mixed the quinoa, dates and nuts into the sponge after it was bubbly, then added the flour in increments to the sponge. I didn't use all the flour. Hand kneaded for about 10 minutes to a smooth, tacky, but not sticky dough. Both the first and second rises were as indicated in the recipe. Instead of dividing the dough into 2 boules, I made one large loaf in a clay baker. Started the bread in a cold oven and timed once the oven had reached 425 degrees. I baked the bread to an internal temperature of 208°. There was a gummy residue on the probe at this point and I was concerned that the bread was underbaked; however, the gummy texture went away as the it cooled. I cooled it in the oven with the door open.
Excellent flavor but have had a hard time getting it to rise on the second go round, unfortunately resulting in a dense 'squatty' bread. I baked it in a loaf pan the second time to no avail...any suggestions? Perhaps prepping it with a mixer or adding a touch of vinegar to the dough?

Gina, the most common reason why dough fails to rise for a second time is because of the kind of yeast that's used. Be sure you're not using a RapidRise Yeast, which is known to only produce one rise. If you're not already doing so, try using a instant yeast like SAF Red or an active dry yeast that's fresh. If it doesn't seem like your yeast could be the cause of the problem, consider giving our Baker's Hotline a call at 855-371-BAKE(2253) so we can troubleshoot further. Kye@KAF
I used Whole Wheat instead of quinoa flour, and cooked oats in lieu of the cooked quinoa, and walnuts instead of pecans. ALL good. Yes the dough was wet, (added 1 tbs flour) but I am getting used to that. Dough had a good rise, and once baked, it had excellent flavor as well as a tender crumb.
I answered that I made this recipe, but it is more accurate to say I was heavily inspired by this recipe! I've made another quinoa bread that had cooked quinoa but all whole wheat flour and it is an excellent sandwich bread. I maintain a sourdough starter and use that and rarely use commercial yeast. I feed once a day (starter at room temp) and also keep and use the discard (refrigerated) within a week For this recipe, I used all discard starter in the sponge, no commercial yeast and planned on a 6-8 hour wait for the sponge but it was bubbly and active in 2 hours so I went on with the recipe at the 3 hour point. I had cooked, cooled and measured quinoa as instructed: lightly packed. I mixed all in a stand mixer with dough hook. My dough after mixing was stiff but very sticky. Using wet hands, I shaped 2 loaves and then refrigerated overnight. This is a method that works for me, my oven, my flour. In the morning, I preheat the oven to 500 with a cast iron dutch oven covered in the oven during preheat. 15 minutes after the oven comes to temp, I flour/slash and put one loaf, on parchment into the dutch oven, cover and baked 20 minutes. Remove lid, lower temp to 450 and make another 20 minutes. Internal temp was 205 when I removed. Finished loaf had a crisp but not rock hard crust, wonderful moist crumb that toasts well and good for sandwiches also. Oh, I used KA dried tart cherries and chopped walnuts. I don't know how this might work for others, but I find with the high moisture doughs, the very hot oven enables them to rise and hold the structure. At least I think that is what happens. Mainly I know this works for me: ciabatta, sourdough boule and I also just made a wild yeast brown bread with the KA Irish Style flour and the KA Common Brown Bread recipe.
Stayed true to the recipe steps, made a nice moist dough until the quinoa and nuts. Dough got very wet and I added 1/4 C quinoa flour and a 1/2 C bread flour to get it under control. The 1st & 2nd rises were fine (at 7300' above sea level) and baked as stated. Loaf came out a bit flat but very tasty, not sweet. Next time the quinoa goes in with the sponge, an extra Tbls. of honey and something to keep the loaf going up, not out on the second rise.
I did not include the pecans (do not like nuts) and this recipe was still delicious! I used the long baker and did not divide it into 2 loaves. I also started it in a cold oven so it added extra time, but I prefer the crunchier outside. Adding the quinoa and dates after kneading was very messy... but the result was a tender loaf of bread. I will definitely make it again!
a very different kind of bread, it came out very moist and chewy. i used hazelnuts instead of pecans and it seemed to work. i have to get used to the quinoa, gotta admit.
Has a really good taste, had some with goat cheese and also used it for turkey sandwiches. May have been my fault as I was rushed the day I made it but I thought it was too skimpy for two loaves. I let it rise in two bannetons and it didn't rise any more in the oven. Next time I will make one loaf in a slightly larger oval banneton or I might try using the dutch oven technique.
Delicious! I used dried cranberries instead of dates.