A customized print-friendly version of this recipe is available by clicking the "Print Recipe" button on this page.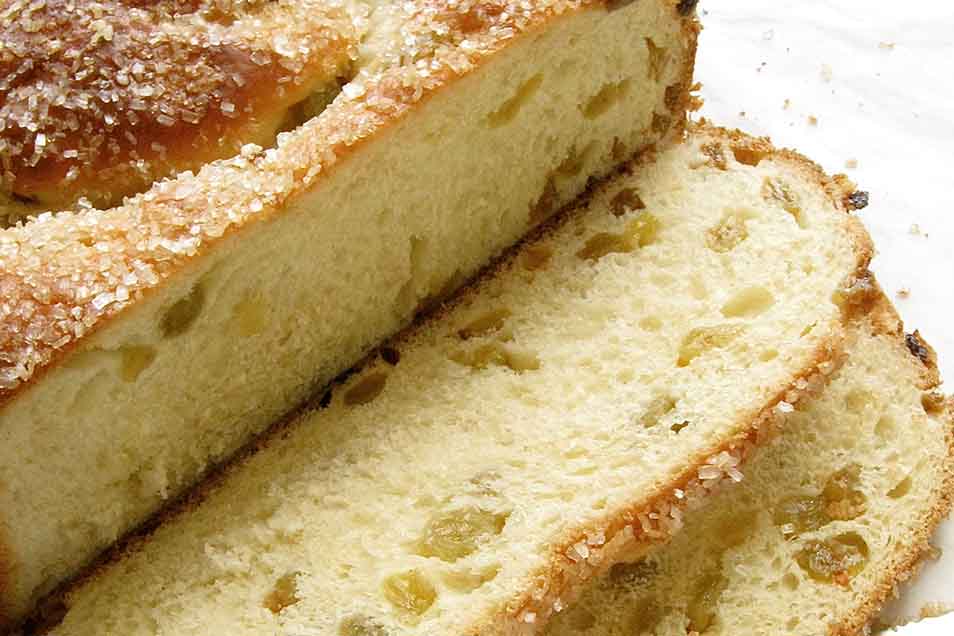 This bright-gold challah, stuffed with raisins, is baked in a spiral shape, traditional at Rosh Hashanah.
Ingredients
Dough
1/2 cup lukewarm water
6 tablespoons vegetable oil
1/4 cup honey
2 large eggs
1 1/2 teaspoons salt
5 teaspoons instant yeast
1 1/2 cups golden raisins, packed
Instructions
To make the dough: Combine all of the dough ingredients except the raisins, and mix and knead them, by hand, mixer, or bread machine, until you have a soft, fairly smooth dough.

Allow the dough to rise, in a lightly greased, covered bowl, for 2 hours, or until it's puffy though probably not doubled in bulk.

Gently deflate the dough, and knead in the raisins.

Lightly grease a 9" round cake pan.

Roll the dough into a 30" to 36" rope. If it shrinks back, walk away and leave it alone for 10 minutes, then resume rolling. The longer the rope the more distinct the spiral, but if it isn't exactly 36" long, don't stress; just get as close as you can.

Coil the rope into the prepared pan, starting in the center.

Cover the challah gently with lightly greased plastic wrap or a proof cover, and allow it to rise for about 60 to 90 minutes, until it's puffy and pretty much fills the pan.

Near the end of the bread's rise, preheat the oven to 375°F.

Whisk together the egg and water. Brush the risen dough with the egg mixture. Sprinkle with coarse white sugar, if desired.

Bake the bread for 20 minutes, tent it with foil and bake for an additional 15 to 20 minutes, until it's a deep, golden brown, and an instant-read thermometer inserted into the center registers 190°F.

Remove the bread from the oven, and after a minute or so carefully transfer it to a rack. Cool the bread to lukewarm before cutting it.
Tips from our bakers
The pretty spiral shape this loaf takes is supposed to symbolize the continuity of life. It's a lovely bread to serve at Rosh Hashanah, the Jewish New Year.
The suggested glaze, made with a whole egg and water, makes the bread's crust deep-brown and shiny. for a lighter brown (but still shiny) crust, use a glaze made of egg white and water. For a lighter-brown, matte crust, dispense with the glaze altogether.
Reviews
I've been making this recipe for Rosh Hashanah for the last 5 years, at least. I find it's often stiff, but I'm not sure whether I'm overproofing or underproofing it. My first step is to soak the raisins, which may help the folks who think it needs more water. It's always delicious and beautiful!

We're glad to hear this is a recipe you come back to time and time again, Mindy. If you find that the dough feels slightly stiff, it usually means too much flour has been added. To ensure you're using the right amount, we recommend checking out the "Measuring Standards," link next to the ingredients header above. You'll see that either measuring your flour by weight using a scale, or fluffing and sprinkling the flour into your measuring cup are the best ways to ensure your recipe turns out perfectly. Kye@KAF
The amount of water called for is too little by half. (Was a 1 missing?) Even using a full cup made a dough that was tough and bread that was dense, chewy, and anything but the light, fluffy bread pictured.
I am sorry you had some trouble with this recipe. It is correct as written. Depending upon the case, there is always a chance one needs to add more liquid or flour in order to arrive at the correct consistency. Please also be sure you are measuring your flour correctly. For a great video tip, go to the page on our site called Learn>Watch and Learn Video Tips. Elisabeth@KAF
LOVE this recipe!!! Very similar to Esther McManus' recipe. For my family I add in a pinch of ground ginger, mace, dried zested orange peel, and slivered almonds to make it an authentic Hoska/Chalka Christmas bread. What is left over we use the next morning for an amazing french toast.
This bread is gorgeous coming out of the oven. Taste, to me, on the other hand, was just okay. I prefer some of the other challah recipes on the site -- especially Honey Challah with Flax and Classic Challah. Since it's entirely possible that I made some "operator error" that adversely affected the crumb/flavor of the raisin challah, I plan to try the substantially similar dough in the Cinnamom-Apple Raisin Challah recipe. Maybe I'll like the result better, second time around!
I made this after work when the house was going to be empty for a few hours - start to finish this took 4.5 hr. The challah is perfection! I didn't have any trouble with the recipe - I used my scale to measure the ingredients. I didn't struggle to get a 36" roll - I just kept pushing/rolling the dough out from the center to the edges and I stretched it to nearly 40". I let my dough rise in a large mixing bowl so that when I punched it down I had a pretty large disc of dough sitting in a bowl. I sprinkled half the raisins on the counter, turned the disc of dough out on to the raisins, then sprinkled the rest of the raisins on top of the disc. Then I started kneading and I have raisins throughout the dough. I did not use dusting sugar on top. The bread is so delicious - it takes strong will to help it last more than a day or two in our house.
Too dense. Either too much flour or too little water dough is hard to work with.
Sorry to hear you had trouble with the recipe. Give our hotline a call and we'll be happy to help troubleshoot. MJR @ KAF
Great taste. Simple to make. Great, easy-to-follow step-by-step instructions with the raisins. Family loves this bread.
I am making this for the second time. I had to double (at least) the water both times. The first time I made it I thought that I had mistakenly added too much flour and even correcting with additional water the dough was a stiff lumpy mess. I had to pick-up a friend at the airport, so I just left it. When I returned the dough had risen beautifully, I carried on and it was wonderful! But I do see how a less experienced baker might freak out. I've been baking for over 50 years and I thought that I was going to have to throw out my first batch of dough.
I made this for a friends Rosh Hashanah dinner. It was fantastic. I did add a tsp of dist malt powder to the recipe. I am not sure if it made a difference, but i don't think it hurt at all. My challah was beautiful! I was so pround of the results. KAF, do you think this would bake up well in the tulip muffin papers? Little challahs? I am wondering if the dough would be to stiff?
Yes, I think you could! You would probably have to set them in a muffin tin pan and watch them closely in the oven as they will bake faster. Feel free to call us at 802-649-3717 with any questions! kelsey@KAF