A customized print-friendly version of this recipe is available by clicking the "Print Recipe" button on this page.
Raspberry Lemon Quick Bread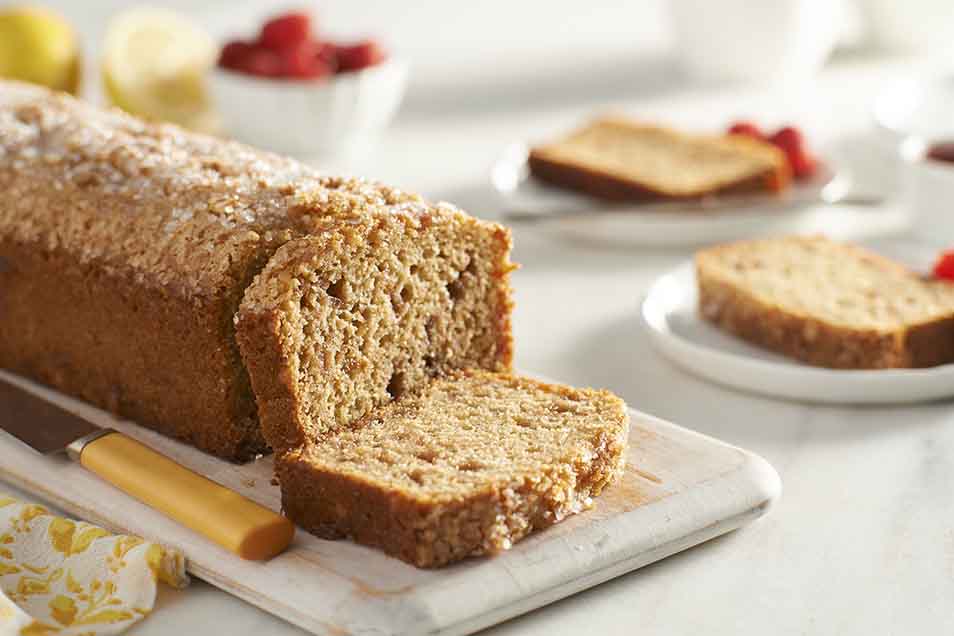 Here's a variation on a basic quick bread recipe from The Original King Arthur Flour Cookbook. With its brown sugar and whole wheat, it makes a moist, deep-gold loaf.
Instructions
Preheat the oven to 350°F. Lightly grease a 9" x 5" loaf pan or tea loaf pan.

Mix the flours, baking powder, baking soda, salt, and Jammy Bits in a medium-sized bowl.

In a separate bowl, beat the oil, sugar, and eggs at high speed for 2 minutes.

Blend in the milk and flavorings.

Add the wet ingredients to the dry mixture and stir just enough to blend. Pour the very thin batter into the prepared pan.

Bake the bread for 50 to 60 minutes, or until the top of the loaf springs back when you press it with your fingertips.

Remove the bread from the oven, and let it cool on a rack for 10 to 15 minutes before turning it out of the pan to cool completely.
Reviews
Thanks for the suggestion--I will try tossing the jammy bits with some of the flour next time. Even though the jammy bits were all on the bottom, the flavor was good.
Very disappointed. Two of my favorite flavors and this didn't meet the mark. In particular, I used the Boyajian lemon oil from KA and the lemon flavor tasted - metallic/artificial - (not the right words, but close) and left a nasty oily/slick aftertaste on the palate. I carefully measured because this was the first time I used this oil. I will try this recipe again using fresh lemon zest to see if that will make a difference. I'll amend this review if it turns out better.

We're sorry to hear that the flavor of the lemon oil wasn't a good fit for you, Valerie! We encourage you to reach out to our friendly Customer Service team at 800-827-6836 to come up with a meaningful solution for you. Thank you, Annabelle@KAF
I wanted to try a recipe with jammy bits, and was happy to find this recipe in the King Arthur catalog. When I cut into my freshly baked bread, all of the jammy bits had sunk to the bottom! I had assumed that mixing the bits in the dry ingredients before adding the wet (as instructed) would prevent this from happening. Very disappointing. Should I have done something else?

Hi there, Cheryl! We might suggest taking a small amount of the flour out of the recipe (about a 1/4 cup) and using that to toss your jammy bits in first. Then after your batter is all mixed together, fold the floured jammy bits into the batter. This should make sure they're all well coated to help them stay suspended in the batter and ensure they're evenly distributed. We hope this helps and happy baking! Morgan@KAF
I love all things lemon so when I saw this recipe in the most recent catalog I recalled that I had some of the jammy bits as well as some lemon bits (these seem to no longer be available) and lemon oil and had to try it! It did not disappoint. I used about a half a cup of whole wheat pastry flour and half a cup regular whole wheat flour, a milder cinnamon. Because I wanted to make sure it was lemony I used approx 1/2 cup of the raspberry bits and 1/4 cup of the lemon bits. The flavor is fantastic. Didn't have the tea loaf pan so use my 13" pain de mie pan and it was perfectly done in 50 min. Forgot to add the sparkling sugar!!
This was delicious! It is a very nice whole wheat recipe. I didn't have raspberry jam bits, and swirled in jam instead. I substituted 1/2 tsp. of Yuletide Cheer spice blend for cinnamon, and as other reviewers suggested upped the citrus oil to 1/2 tsp. (I used orange oil because that was in my pantry).
I tend not to like the texture of baked goods using vegetable oil, but this recipe got good reviews so I tried it. The bread tasted very gummy. I used Nielsen-Massey lemon extract and the lemon flavor was nonexistent. I would replace the vegetable oil with butter next time and up the lemon extract.

Gummy crumb generally means it is a bit underbaked. If your oven was too hot at the beginning, it would brown faster and the interior crumb would not set properly. You may have also pulled it a bit too soon. Try using butter instead, and testing the interior temperature of the bread with an instant read thermometer- it should test over 195. Tent the loaf if it is getting too dark. For more troubleshooting, please call the Hotline at 1-8755-371-2253 and we'll help you out. Happy baking! Laurie@KAF
I am giving this recipe low stars. The bread wasn't particularly tasty. I used 3/4 cup of frozen raspberries as we had no jammy bits. It was not sweet enough for our taste and the white whole wheat gave it too strong a wholesome and healthy taste. I chose to glaze it with a vibrant lemon glaze to give it more flavor. Might make it again but probably not without messing with the proportions of whole vs. white flour.
It seemed peculiar to me that the milk was added as a last step. Why did we not beat the milk into the wet ingredients (oil, eggs and sugar) and thus save ourselves the difficulty of adding wet to a big hunk of dough?
Thanks for asking, Ali - The milk and flavorings (step 4) are added to the bowl of other wet ingredients - oil, sugar, eggs (step 3), then all the wet ingredients are added to the dry as you're used to with the muffin method of mixing. Happy Quick Bread Baking! Irene@KAF
I make this recipe all the time... ALL The Time it is always moist and delicious. My variation to speed it up is cupcakes instead only requiring 20 minutes bake time. I also add fresh raspsberries to the whole mix and then in 1/2 the recipe I add chocolate chips. I also have used cake enhancer from KAF. I am not sure whether the enhancer is necessary as the muffins are eaten right up by one and all before they would go stale. This is one of my go to recipes. I recommend to new and old pro bakers.
used fresh raspberries, cut into small bits....the bread is wonderful - moist, light, delicious!