A customized print-friendly version of this recipe is available by clicking the "Print Recipe" button on this page.
Raspberry Lime Rickey Cake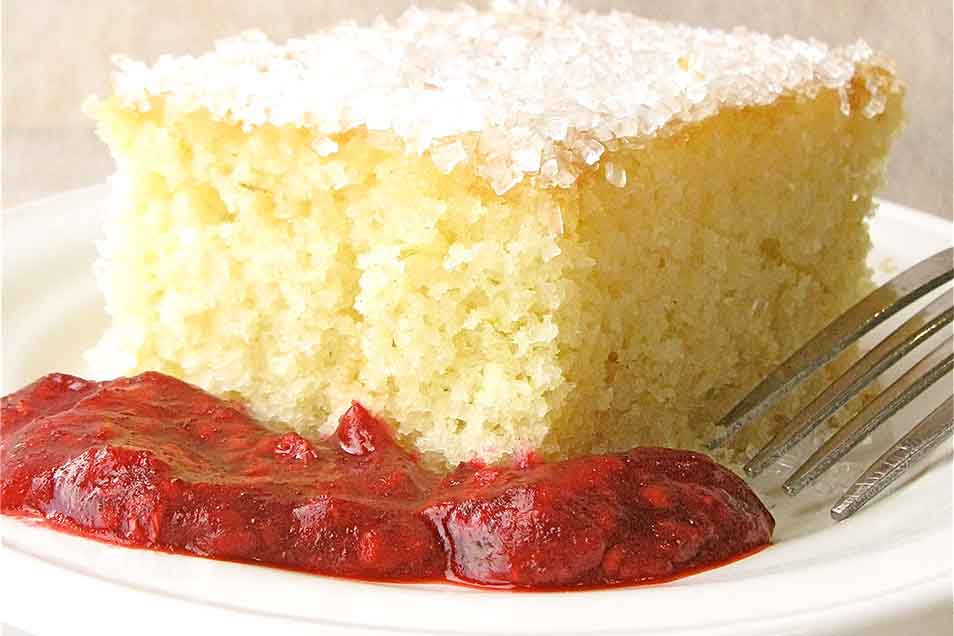 Ever heard of a lime rickey? NO?! Then you've missed one of summer's most refreshing drinks. At its simplest, it's a mixture of carbonated water (seltzer), lime juice, and simple syrup (sugar). In elevated form, it includes alcohol; the mojito is its kissing cousin. And if you're talking strictly ice cream fountain fare, the lime rickey is often enhanced with other flavored syrups — most often raspberry, if you live in New England. This lime cake, with its raspberry topping, is a tribute to the drink made famous by New England's Friendly's and Brigham's ice cream chains.
Instructions
Preheat the oven to 350°F. Lightly grease a 9" x 13" pan.

Beat together the butter, sugar, and salt till smooth.

Add the eggs one at a time, beating well after each addition.

Add the baking powder, then add the flour alternately with the milk, starting and ending with the flour. Mix until smooth. Stir in the grated lime rind or lime oil.

Spoon the batter into the prepared pan, smoothing the top with a spatula.

Bake the cake for 25 to 33 minutes, or until the top is starting to brown and a cake tester inserted into the center comes out clean.

While the cake is baking, make the glaze by stirring together the lime juice and sugar. Set it aside.

Remove the cake from the oven, and set it on a rack. Use a skewer or toothpick to poke the top all over. Don't poke all the way to the bottom of the pan; just about halfway down.

Stir the glaze to combine, and immediately brush it onto the hot cake; be generous. Let it sink in for about 5 minutes, then brush on more glaze, continuing until all the glaze is used up.

If you're using the optional sugar topping, shake the coarse sugar in a jar with the lime oil, till well combined. Sprinkle the sugar atop the glazed cake, gently pressing it in with your fingers.

Allow the cake to cool completely before slicing.

To make the raspberry topping, stir together completely thawed raspberries with pie filling enhancer (if you're using it), and sugar to taste.

Serve squares of cake with a dollop of raspberry sauce on the side.
Tips from our bakers
Want to dress this cake up for St. Patrick's Day? Add green gel paste food color to the batter until it's as green as you like, then bake.
Reviews
I have baked this cake many times. It is easy and I always have the ingredients handy. For our family I make it using 2 cups of flour 1 1/3 of sugar and 3 eggs, I also adjust amounts of butter and milk. Just for larger gatherings I make the full recipe. This is great, no frosting needed.
After chatting with a baker, I substituted about 1/4 cup of lime powder for lime juice and zest in the cake recipe with pretty good taste results. I am thinking the original recipe would be more zingy, but I was lazy today and didn't want to fight our town's summer tourist traffic. I had no trouble with dryness, poked lots of holes, added half again more glaze than was called for since I live in a dry mountain climate.
This cake was FAB and super easy, one bowl. I cut the recipe in half and baked in a 9x9 pan. I didn't have limes so I substituted lemon. I used the rind from one lemon and lemon oil both in the recipe and topped with the lemon juice and sugar. It turned out super lemony, which I like and my teenage daughter really liked it too, even better the second day!
It was very flavorful, although a little dry, even with the glaze soaked in (not sure how that happened. The glaze kind of sat on top). I suppose I should have put in a LOT more holes. Or not baked it so long--which leads me to: The problem I had was that the cake was very dark by the time the center of the cake was done. I'm going to try this as a layer cake next time to see if the smaller pan solves that problem. I only had turbinado sugar on hand, so I topped the cake with that. It was a fine substitute.
Wonderful lime flavor! I tried this for the first time yesterday. My only complaint is that I needed to find somewhere to bring this otherwise I might have eaten all of it myself. My husband brought some to work & everyone there loved it too. I used some zest & lime oil. Yuuuummmmmy!
How much sugar for the optional sugar topping?
2 tablespoons of coarse sugar should be plenty to give your cake a little crunch and sparkle on top.
It's unclear from the directions, and some commenters' responses to the recipe have me puzzled -- are Persian limes called for here or are key limes preferred? Does it make a difference which type you use?
Either is fine, depending on the flavor you like best. I tend to use "whatever's on sale limes" unless a specific fruit is called for. ~ MJ @ KAF
I baked this cake when you first published the recipe 2 years ago. It has become my fave and yesterday when my son asked what I wanted for my birthday cake, I pulled out the recipe. When we make it, the family stands around armed with toothpicks to stab holes in the cake before pouring on the mouthwatering glaze. If you use real limes rather than key limes, you get that real, limey flavor. Shades of "Juke Box Saturday Night"!
Just made it for the 2nd time. My family is full of Lime Lovers & absolutely loved it, and now I'm taking one to work. I used the lime oil instead of the lime zest the 2nd time, while it still taste great, I miss the specks of zest throughout. So wonderfully easy, may try a lemon version next time.
My oh my!! This is addictive!