A customized print-friendly version of this recipe is available by clicking the "Print Recipe" button on this page.
Red and White Vanilla Pinwheels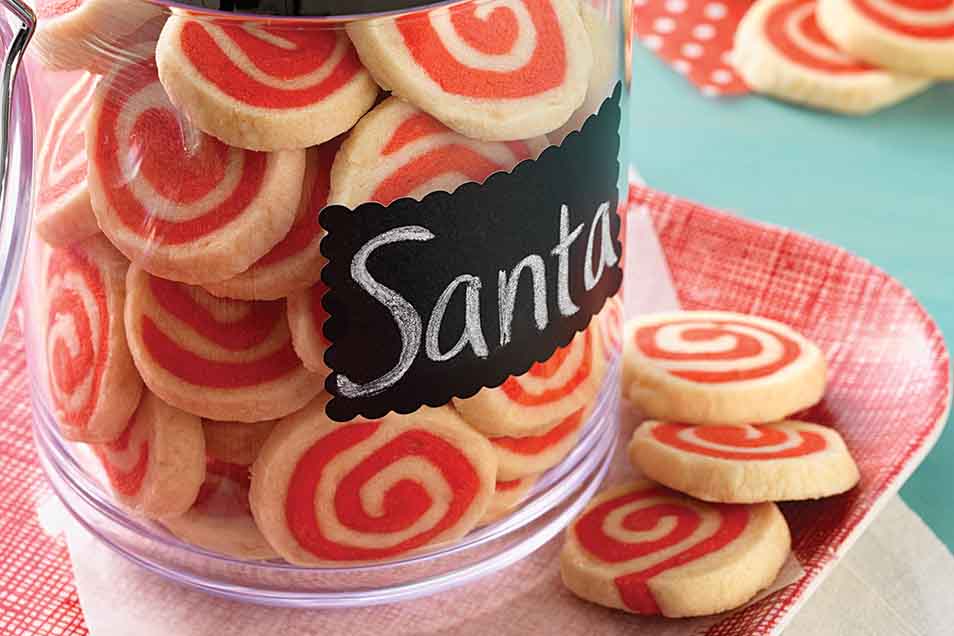 Although they resemble candy canes, these crisp, two-toned butter cookies are purely vanilla on vanilla. They're a fun and tasty way to add color to your cookie swap or homemade gifts for the holidays.
Ingredients
Glaze
1 large egg white
1 tablespoon water
Instructions
To make the white dough: Beat together the sugar, butter, salt, and vanilla.

Add the flour, stirring to make a cohesive dough. Divide the dough in half, flatten each half into a rectangle that's about 5" x 7", wrap the pieces in plastic, and refrigerate for 2 to 4 hours.

To make the red dough: Beat together the sugar, butter, salt, vanilla, and color.

Add the flour, stirring to make a cohesive dough. Divide the dough in half, flatten each half into a rectangle that's about 5" x 7", wrap the pieces in plastic, and refrigerate for 2 to 4 hours.

To make the glaze: Whisk together the egg white and water until slightly foamy. Refrigerate until ready to use.

To shape the cookies: Place parchment or waxed paper on your work surface and dust it lightly with flour.

Lay one square of white dough on the parchment and roll it into a 12" x 6" rectangle. Brush with the glaze, and set it aside.

Using another piece of parchment or waxed paper, roll one square of red dough slightly smaller than the first; it should be about 11 1/2" x 5 1/2".

Place the smaller piece of red dough on top of the larger piece of white dough, using the parchment to transport.

Starting with a long edge, use the parchment to help you gently roll the stacked dough into a tight log, with no gaps.

Press the edge to seal, then wrap the log in plastic wrap or parchment, and freeze for at least 1 hour.

Repeat with the second red and white pieces of dough.

Preheat the oven to 350°F. Lightly grease (or line with parchment) two baking sheets.

Remove the log from the freezer, unwrap it, and place it on a clean work surface.

Use a sharp knife to gently cut the log into 1/4" to 3/8" slices. Transfer the cookies to the prepared baking sheets.

Bake the cookies for 12 to 14 minutes, or until they feel firm. Remove them from the oven and transfer to a rack to cool.

When cool, store airtight at room temperature for up to a week; freeze for longer storage.

Yield: about 4 dozen cookies.
Tips from our bakers
If the log is too hard to slice when it comes out of the freezer, let it thaw and soften for 10 to 15 minutes at room temperature.
If the log becomes too soft to handle and slice while you're working with it, let it firm up in the freezer for 10 to 15 minutes.
Reviews
Rally nice, easy recipe. Tasty and tender cookies. There is a mistake in the grams version - the flour should be 177g, not 117g.

Hi there, Julie! Thank you so much for bringing that transcription to our attention, we'll be sure to get that corrected right away. Happy baking! Kindly, Morgan@KAF
Number one, the red dough is way too wet, I had to add in more powdered sugar to even be able to roll it. Two, there's no flavor in this cookie, it's so bland who would want to eat it? Three, when I baked these they were so delicate they cracked into powder if you looked at them wrong. This recipe doesn't deserve to be on King Arthur Flour. A waste of time and ingredients. Now I have to find a new recipe and start over because I'm way too embarrassed to serve these this Christmas.

Hi there, Miri. We're sincerely sorry to hear that this recipe didn't work out for you. We've found that the red dough can be a little soft, but firms up after some time in the fridge to make a dough that is easier to roll. This butter cookie has a more mellow flavor profile, but if you were looking to change up the flavors a bit, some peppermint oil would be a nice addition. The crumbling you experienced could have been caused by a little too much flour in the dough. If we can troubleshoot further or help to pick out a recipe that might be a better fit, please feel free to reach out to our friendly Baker's Hotline folks at 855-371-BAKE (2253). Kindly, Morgan@KAF
Working with this dough to get the spirals is tricky. The first roll I did turned out almost perfect. The others, not so much. There is a fine line between the dough being cold enough to work with and too cold. I also found it hard to get the different colors an even thickness. I ended up making "marbled" cookies and also striped cookies (layer the dough in a loaf pan) when I couldn't get the other pieces of dough to work. Also, I recommend baking these a little longer than you think. The cookies that were just firm seemed to break apart. Also, the ones that were a little brown had better flavor.

We're sorry to hear that you had some trouble shaping these cookies, Susan. If we can ever help explain steps or provide additional tips our friendly Baker's Hotline folks are happy to help, they can be reached at 855-371-BAKE (2253). Kindly, Morgan@KAF
This is a nice recipe. I made pink dough instead of red, because I had started with only a bit of food coloring and it made a nice shade of pink. The edges of the roll were a bit messy, but I cut those off and threw them away. The rest were beautiful. The swirl of colors was perfect. They baked nicely, and tasted lovely, like a nice shortbread/sugar cookie mix. Lots of work, but it paid off.
The proportions of flour to liquid in the red dough need to be adjusted for the gel food coloring. I found the red dough to be far too "soft."

Thanks for sharing your experience with this recipe, Jonathan. One of the reasons we like working with gel food coloring is because they add so much less moisture than liquid food coloring, and the 8-10 drops needed here shouldn't be enough to significantly change the consistency of the dough. It will make the dough a bit stickier, but this can typically be countered with a little chill in the fridge. If we can help troubleshoot any further, please feel free to give our Baker's Hotline a call at 855-371-BAKE. We'd be happy to chat! Mollie@KAF
Very festive cookies. Taste like a shortbread. Dough can be a little tricky to work with. I amped them up a bit by doubling the glaze recipe, then brushed glaze on the exterior of the rolls and coated with red sanding sugar, before freezing the rolls in parchment. I would recommend cutting these on the thinner side. Also, might be a good idea to let the cut slices warm to room temp for 10 minutes on cookie sheet before popping in oven, to prevent spreading. I like the idea of trying different flavors like peppermint! Merry Christmas.
As written, the cookies are pretty but have a very mild taste. It's a lot of work for cookies that aren't very tasty. Made them again, subbing 1/2 tsp of peppermint extract for the 2 tsp vanilla in ONLY the red stripe dough; also put some white decorating sugar on cookies. Improved the taste a bit, in my opinion. Also, I don't think there's any need to roll the dough out before refrigeration; I ended up having to ball the dough back up and re-rolling it to the required measurement. Definitely freeze the dough logs for an hour at least, though.
Very pretty cookies! If I made them again, I'd add a tablespoon of extra flour to the red dough to compensate for the liquid in the gel food coloring to make it easier to handle.