A customized print-friendly version of this recipe is available by clicking the "Print Recipe" button on this page.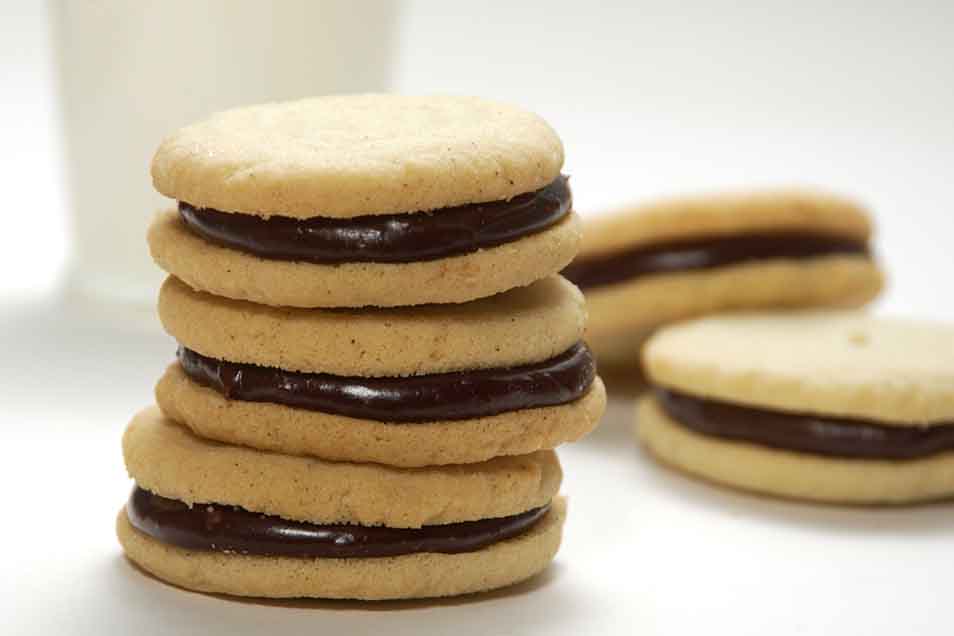 Ultra-crisp vanilla cookies, sandwiched around thick, soft chocolate icing, are a mirror image of America's favorite chocolate sandwich cookie.
Ingredients
Cookies
2 to 3 teaspoons vanilla extract
1/2 teaspoon baker's ammonia or 1 1/2 teaspoons baking powder
1 teaspoon salt
1 1/4 cups granulated sugar
1 cup unsalted butter
2 cups King Arthur Unbleached All-Purpose Flour
Filling
2 cups semisweet chocolate chips
1 1/2 tablespoons light corn syrup
1 teaspoon vanilla extract
1/2 teaspoon espresso powder, optional but good
3/4 cup heavy cream
1 1/2 cups confectioners' sugar, sifted
Instructions
Preheat the oven to 350°F. Lightly grease (or line with parchment) two baking sheets.

Combine the vanilla, baker's ammonia, and salt in a very small bowl. Stir to dissolve the ammonia; the salt won't fully dissolve.

Combine the vanilla mixture with the butter and sugar, and beat till smooth.

Mix in the flour; the mixture may seem quite dry at first. Continue beating until the dough comes together.

Scoop the dough into 1"-diameter, 3/8-ounce balls. A level teaspoon cookie scoop works perfectly here.

Space the balls on the prepared baking sheets, leaving about 1 1/2" between them.

Use the bottom of a glass, dipped in sugar if necessary to prevent sticking, to flatten the balls to about 1/4" thick. If you have it, use the end of the food pusher from a food processor; many of these have a circular, ridged pattern on their end, which imprints the cookies with a nice design.

Bake the cookies until they're set, and a very light golden brown around the edges, about 15 minutes.

Remove them from the oven, and leave them right on the pan to cool, as you make the filling.

Place the chocolate chips, corn syrup, vanilla, espresso powder, and cream into a large microwave-safe bowl, or into a large saucepan.

Heat the mixture till it's very hot; the cream will start to form bubbles.

Remove from the heat, and stir until smooth.

Beat in the confectioners' sugar.

Dollop icing on the flat side of half the cookies, spreading it to within about 1/2" of the edge. You'll use about 4 teaspoons for each cookie; a tablespoon scoop, filled to just below the rim, works very well here.

Top each of the iced cookies with a plain cookie, and squeeze gently to push the filling out to the edges.

Place the cookies on a rack, or back on the cookie sheet, so the icing can set. Wrap in plastic, and store at room temperature.

Yield: 33 cookies, about 2 1/4" to 2 1/2".
Reviews
This was a great recipe. Very easy to make and tasted great. The chocolate in the center is a great consistency as well. Very rich.
I teach a baking class for high school students and we made these yesterday afternoon. They were a huge hit! The cookies had a perfect balance of crunchy and chewy, and the frosting stayed put while eating. These might be our fav recipe of the quarter!
These cookies were a big hit this past weekend but I must admit I added my own twist to them. I added 1/2 orange zest and a squeeze of orange juice in both the cookie dough and the chocolate filling and it was delicious. What could be better than shortbread, chocolate and orange. Thanks for the recipe!
With your variations,the cookies must have rated a 5! Irene @ KAF
These were really good. I used regular vanilla and baking powder. I also chilled the dough before scooping. As an added touch I dipped them in sparkling sugar before baking. I baked them for 12 minutes and they were perfect.
I made these (cookies only, no filling) looking for a crisp vanilla cookie. I used bakers ammonia. They were crisp, yes. But oddly tough, too. Upon chewing them they disintegrated into tough little rocks that stuck to the teeth in a really unpleasant way. Sorry to be so graphic! Taste was fine. Texture left a lot to be desired.
Call our bakers hot line so we can help you with what went wrong with this recipe. Joan @KAF
I had the same problem as Molly - my cookies were very greasy, spread out very thin and baked much faster than the suggested cook time. My butter was frozen and some of it melted when I defrosted in the microwave, so I think that might have been the problem. Next time, I'm going to chill the dough before I bake and see if that fixes the problem. My husband considers the wider spread of the cookies a plus since it means more room for filling. :)
I made these for my co-workers and they were gone withine an hour! Everyone has requested more! I found that the cookies spread a little thinner than I had expected, but once i adjusted the baking time, they came out perfectly golden. I love this recipe!
very good..downright dangerous filling ! for all you chocohallics out there ...used regular van. cut it down to 2 tsp. and 3/4 on the filling still came out great..Thanks again KAF !
Fabulous cookies. I used the bakers ammonia (an added bonus to using it is that is makes the batter smell bad so I am not tempted to eat it!). VERY rich. I ate one and that is plenty. I will be very popular at work tomorrow! I got 22 sandwiches (44 individual cookies--my smallest scoop was a little too big, 1.25 inches diameter), I think making them smaller (as recommended) would be better because they are so rich. They spread a little more that I had hoped but that was probably my fault, my oven was not quite up to temp when I put them in. All in all, highly recommended.
There is something wrong with the proportions in this recipe. I followed it perfectly (even weighed the flour). and after only 7 minutes in the oven, they completely spread out and burned (I have a thermometer in my over, so i know it was the correct temp). They were SUPER greasy too. Waste of time and ingredients!
So sorry to disappoint. This is a perfect opportunity to call and chat with one of our bakers - we're here to help. Call us at the Baker's Hotline direct number 802-649-3717. Irene @ KAF