A customized print-friendly version of this recipe is available by clicking the "Print Recipe" button on this page.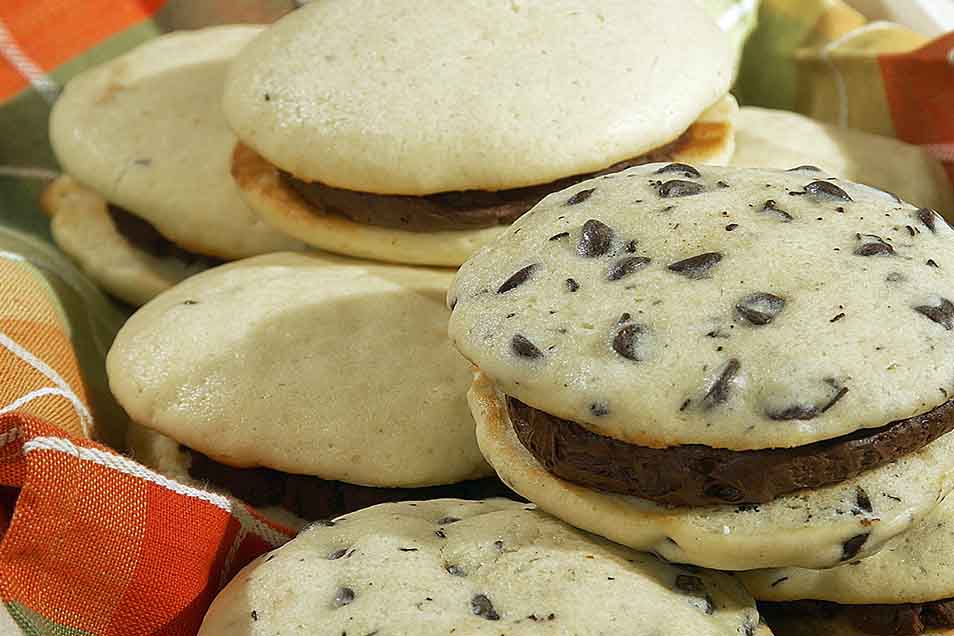 The classic whoopie pie is a cake-like chocolate cookie with creamy white filling. These pies flip-flop that traditional formula, sandwiching two vanilla cookies around rich chocolate filling. Add even more chocolate by adding semisweet chips to the cookies.
Instructions
Preheat the oven to 400°F. Lightly grease (or line with parchment) two baking sheets.

To make the cookies: In a large mixing bowl, cream together the butter, salt, vanilla, baking powder, and sugar.

Add the eggs one at a time, beating well after each addition.

Add the flour to the wet ingredients alternately with the milk, beginning and ending with the flour. Do this gently; there's no need to beat the batter.

Stir in the chocolate chips at the end.

Using a scone or muffin scoop, or a 1/4-cup measure, drop the dough onto the prepared baking sheets.

Wet your fingers, and flatten and smooth each mound of dough to a circle about 3" across. Leave 2" to 2 1/2" between each cookie, for expansion.

Bake the cookies for 11 minutes, or until they're barely set on top; they won't have colored at all.

Cool them on the pan for 5 minutes, then transfer to a rack to cool completely.

To make the filling: Place the chocolate chips, corn syrup, butter, and heavy cream into a large microwave-safe bowl.

Heat in the microwave for 2 to 3 minutes, until the mixture is very hot.

Stir until the chocolate melts and the mixture is smooth.

Chill in the refrigerator, stirring occasionally, until the filling is cool room temperature.

Remove from the fridge, and beat at high speed with an electric mixer until it lightens in color and thickens slightly.

If the filling doesn't lighten and thicken after several minutes of beating, chill for another 15 minutes, then beat again.

Spread about 1/3 cup filling per cookie on half the cookies (it will feel like you're piling it on; that's precisely the point!). Work quickly, as the filling will start to harden.

Sandwich the remaining cookies atop the filled ones.

For best storage, wrap each pie individually in plastic wrap, and store at room temperature for up to a week.
Reviews
I made these today. plain w/out the c.chips in batter. The cake part is very good. Be sure not to cook too long, mine were done in 9 min. , they will dry out if in too long. I ended up using the filling from another KAF recipe, similar filling with powdered sugar and half the chocolate. Nice cookie/cake. P.S used Tablespoon to scoop out. made 24 , 2inch cookies with plenty of filling left over.
Really good! Instead of chocolate chips I added ground up Captain Crunch berry cereal. YUM!
Daughter said the batter taste like pancakes
This reverse recipe features a sweet vanilla cookie with chocolate filling, while the traditional recipe features a sweet, soft chocolate cookie with vanilla filling. I hope you can find a whoopie pie recipe on our website that will meet your expectations - there are many to choose from! Irene @ KAF
I love this recipe. I have made it several times, and now end up making double batches of these. Its a frequent request dessert. However, I too, prefer the fluff filling and just had some cocoa to my recipe. I like to play with the chips, I have used bittersweet as well as chunks and both ways they're great!
I think this recipe is way too sweet, and I'm a person who rarely finds anything too sweet. I also made Kyle's chocolate whoopie pies with the white frosting. I think I'll stick with those and forget about the reverse whoopies.
All enjoyed this recipe very much. I used mini chocolate chips for the cookies and cut the amount of the chocolate for the filling in half for a lighter version. I was asked to make them again soon.
Thanks for sharing your version of this recipe. Many other bakers will appreciate your work to make a lighter version. Happy Baking! Irene at KAF
Great recipe! I take my whoopie pies very seriously and this was a fun variation. However, I used a heaping tablespoon instead of a 1/4c for baking size since I prefer smaller pies and I think they still came out very large. I also did not use the filling recipe here but used a traditional vanilla whoopie pie frosting and made it chocolate with dark cocoa powder. I only did this because I enjoy the traditional Fluff and shortening filling the best. This is a great recipe to work with for other flavors too...maybe a strawberry pie for summer?
Stay tuned.....more whoopie pie variations coming on the blog soon! Irene at KAF