A customized print-friendly version of this recipe is available by clicking the "Print Recipe" button on this page.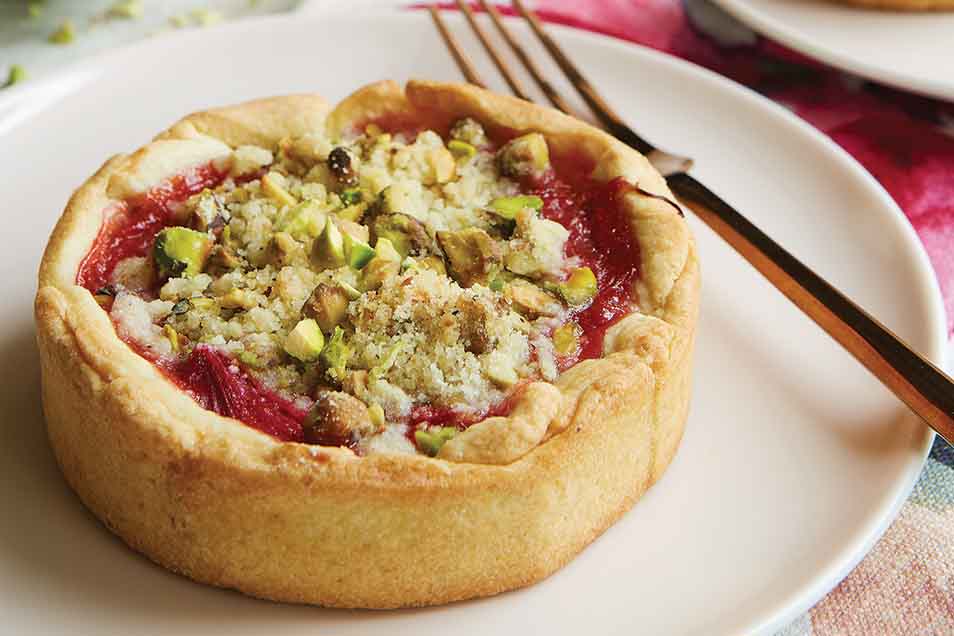 In this recipe a pâte sucrée and a crumbly topping offer a sweet balance to the tartness of the rhubarb. The pistachios add a burst of color.
Ingredients
Dough
1/2 cup confectioners' sugar
1/2 cup (8 tablespoons) cold unsalted butter
1/2 teaspoon salt
1 teaspoon baking powder
2 1/4 cups Pastry Flour Blend or 2 cups King Arthur Unbleached All-Purpose Flour
2 large egg yolks
1 large egg
1 teaspoon vanilla extract
Filling
5 cups rhubarb, cut in 1" pieces
1/2 cup sugar
1 teaspoon vanilla paste or 2 teaspoons vanilla extract
1 teaspoon Instant ClearJel, optional, for thickening; substitute 1 tablespoon flour, if desired
Topping
1/4 cup granulated sugar
1/4 teaspoon salt
1/4 cup (4 tablespoons) chilled unsalted butter, cut into 1/2" cubes
1/2 cup chopped pistachios
Instructions
To make the dough: Mix the sugar, butter, salt, and baking powder.

Add the flour; mix until crumbly.

In a separate bowl, whisk together the egg yolks, egg, and vanilla.

Add to the flour mixture and stir until the dough is cohesive.

Shape into a disk, wrap in plastic, and refrigerate for at least 1 hour.

To make the filling: Combine 3 cups of the rhubarb, the sugar, vanilla, and ClearJel or flour in a heavy saucepan.

Simmer over medium-low heat for 10 to 15 minutes, or until the rhubarb breaks down. Transfer to a bowl, stir in the remaining rhubarb, and cool.

To make the topping: Combine the flour, sugar, and salt.

Work in the butter to make pea-sized crumbs.

Add the pistachios, stirring to combine. Place in the refrigerator.

Preheat the oven to 375°F. Place 8 English muffin rings on a parchment-lined baking sheet.

To assemble and bake the tartlets: Roll the dough 1/8" thick. Cut 8 1/2" to 9" circles, and fill the rings with the dough, trimming the edges.

Fill each tartlet with 1/4 cup of the rhubarb. Sprinkle on the topping.

Bake the tartlets for 35 minutes, until the crust and topping are golden and the filling is bubbly.

Remove from the oven, and serve warm.

Yield: 8 individual tarts.
Reviews
What an eye catching dessert, and so delicious! I used the hamburger bun pan and made 6 inch circles of dough and then filled them. The filling and topping worked beautifully and was very tasty. I'd like more rhubarb filling next time. I made 6 tarts, which removed from the pan once cooled very easily.
I have baked this recipe 3 times this year and have finally used up all the rhubarb ( on to the blueberries!). I elected to make the tart dough using the "amazing tart dough" recipe and then blind baked that dough. The first two times I did a 9" tart and two smaller 4" tarts to great approval. The last time I did it as a sheet pie serving it as bars and people were pretty happy with that too. I also added frozen blueberries to the cooked rhubarb which allows me to sell this as a fruit tart for those reluctant to eat rhubarb. No complaints. I really enjoy mixing and matching these recipes.
Nice idea. Used my Great-grandmother's rhubarb pie filling after trying this one, no strawberries. And I 'sugar ' the rhubarb, so I don't need as much cornstarch or Cleargel. Basically it's like salting eggplant to get the excess bitter water out. One thing, if you are going to make these to freeze, BAKE THEM OFF FIRST, otherwise they will turn a muddy brown color. They will taste fine, but totally unappealing to look at.
I followed this recipe mainly for the filling and it came out great. I had leftover pie dough so I used that in two small tart pans and then 4 ramekins (I don't have english muffin rings). Also used maple sugar in the topping rather than granulated and pecans for pistachios. Yummm, we all loved these, nice and tart but sweet enough with the topping. Much better than a regular rhubarb pie and would be perfect for guests.
Oner more thing; I used a recipe in a King Arthur Flour brochure I got in the mail and it said to cut 6" circles which were more than enough for regular size english muffin rings; the 8 1/2 to 9 inch would seem to be larger than necessary; dispite all that they are delicious and worth the effort required to put this recipe together.
Didn't have clearjel so used cornstarch did not seem to adversely affect the recipe. Have a recipe combining strawberrys and rhubard but like the more sour effect of only using rhubarb. Measured exactly 20 oz's rhubarb but probably will increase that by at least 50% next time, also was not careful enough to roll out to at least 1/8 inch so some had a little too much crust; also will divide dough in half to roll out; would be much easier to get the thickness correct and not have to re-roll scrapes to fill all eight biscuit rings. Also the dough seemed to shrink slightly in the rings where I trimmed to exactly the top of the ring; did not affect the taste; everyone thoroughly enjoyed.
Very tasty! I made these in ramekins since i didn't have the rings and they still came out perfect. I subbed strawberries for 1/2 the rhubarb, 1 tsp of tapioca in place of the ClearJel and left out the pistachios since I didn't have any on hand. The filling was delicious - not too sweet ; not too tart. The dough alone is worth 5 stars. I can't wait to try it filled with blueberries, raspberries and every other filling I can think of!!