A customized print-friendly version of this recipe is available by clicking the "Print Recipe" button on this page.
Rhubarb-Walnut Quick Bread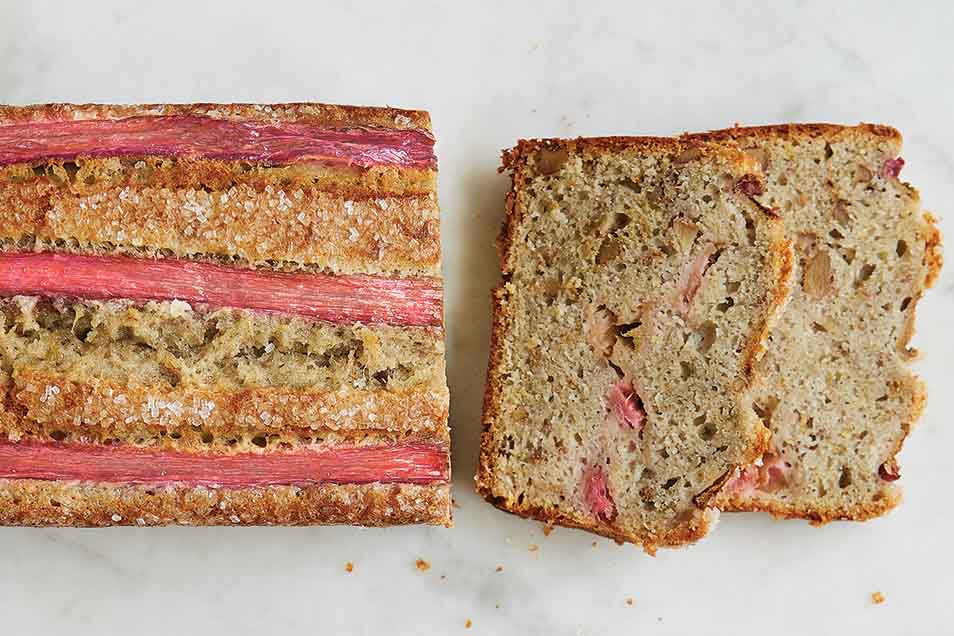 This is a moist quick bread that takes advantage of rhubarb's bright, citrusy flavor; it's Eexcellent with a schmear of cream cheese. The walnuts add a bit of crunch.
Ingredients
2 1/2 cups sliced rhubarb, plus 3 or 4 colorful stalks for garnish
1 3/4 cups King Arthur Unbleached All-Purpose Flour
1 cup sugar
1/2 teaspoon baking soda
1/4 teaspoon salt
1/4 teaspoon ground nutmeg
1 tablespoon grated lemon rind (zest) or 1/4 teaspoon lemon oil
1/2 cup chopped walnuts
2 large eggs
1/2 cup vegetable oil
Instructions
Put the rhubarb (minus your brightest red stalks for the garnish) into a 2-quart saucepan and cook over low to medium heat, stirring occasionally until it collapses and cooks down. Remove from the heat and cool; you should have about 1 1/2 cups. Set aside.

Preheat the oven to 350°F. Grease and flour an 8 1/2" x 4 1/2" loaf pan.

In a medium bowl, whisk together the flour, sugar, baking soda, salt, nutmeg, and lemon zest (or lemon oil). Stir in the walnuts.

In another bowl, whisk together the eggs and vegetable oil. Combine with the 1 1/2 cups of cooked rhubarb.

Stir the egg and rhubarb mixture into the dry ingredients, mixing until the batter is evenly moistened. Transfer the batter to the prepared pan.

Wash the reserved rhubarb stalks and cut in half lengthwise. Place, cut side down, on top of the batter in the pan.

Bake the bread for 55 to 60 minutes, until a cake tester, toothpick, or paring knife inserted into the center comes out clean. Remove the loaf from the oven and cool it in the pan for 15 minutes. Then remove itf from the pan and place it on a rack to finish cooling completely before slicing.

Store the bread, well wrapped, at room temperature for three days; or sliced and frozen for up to 3 months.
Nutrition Information
Serving Size

1/2" slice, 58g

Servings Per Batch

16
Amount Per Serving:
Calories

167

Calories from Fat

90

Total Fat

10g

Saturated Fat

1g

Trans Fat

0g

Cholesterol

23 mg
Sodium

123mg

Total Carbohydrate

20g

Dietary Fiber

1g

Sugars

9g

Protein

3g
* The nutrition information provided for this recipe is determined by the ESHA Genesis R&D software program. Substituting any ingredients may change the posted nutrition information.
Reviews
This bread came out perfect. Great texture, fully baked through without any soggy spots, and not too sweet! Now I know what to do with all of this rhubarb! I didn't change anything in the recipe at all except I doubled it to make two loaves.
I'm puzzled by this recipe - it was easy to make, and delicious. I skipped the decorative stalks on top as I didn't think they'd be easy to cut without separating from the bread and could easily just look like dried old rhubarb. I also omitted the nuts. I cooked down my rhubarb in the microwave in a pyrex measuring cup, a minute or two at time, stirring in between. A piece advice - make sure your rhubarb is cooled before combining the wet ingredients so you don't cook the eggs! In the end, it turned out very nice. However, my key issue was day 2 - I made it on Saturday evening and by Sunday afternoon I found the taste of oil was so strong that it was inedible (in my opinion). I don't eat a lot of oil, so maybe that's why it was such a noticeable flavour for me. Or maybe it was because I used canola oil?

Sonia, our best guess is that the oil you used was probably rancid. When fresh, canola oil should be neutral in flavor, but it's not uncommon for it to go off while it sits in your kitchen, or even sometimes on the grocery store shelf. Baking would make this rancid flavor even more pronounced, so it's not surprising that you sensed something off in the final product that you couldn't detect in your raw oil. We'd recommend trying a new, fresh bottle of oil next time or using cooled, melted butter instead. Mollie@KAF
Cathy from Oregon had a great tip: sprinkling some sugar on top before baking. I used brown sugar - it's more subtle. I followed the recipe step-by-step and doubled the amounts so I'd have two loaves. It was terrific. A friend tried a slice, went into ecstasy, so I pulled the other loaf from the freezer and let her have it. That's the way we roll in northern Vermont, after all. I didn't think the rhubarb garnish did much. It wound up dry and made cutting slices a little awkward. The best thing is this is a good recipe for ANY sort of fruit. The other day, fresh cherries were in the local produce section so, uh huh, CHERRY Walnut Quick Bread. Blimey! Since my homemade cherry filling used a cup of sugar, I subtracted that amount from the batter recipe. I'm making bread - not pop tarts. I also mixed your Whole Wheat Flour into the mix, just to be a rebel. This made the bread a little more, um, sturdy! King Arthur, you rule! Ours is now a flour-infused fiefdom of your realm.
This recipe didn't work for me at all. The bread was extremely soggy. The recipe says to cook down the rhubarb but doesn't say whether you should drain the liquid. I drained most of the liquid off but the bread came out very soggy. Very disappointed.

We're sorry to hear the texture of your quick bread wasn't quite what you were hoping for, fellow baker. The rhubarb should be cooked down from 2 1/2 to 1 1/2 cups, during which much of the liquid evaporates. The resulting mixture should be moist but not overly wet; all 1 1/2 cups of the cooked rhubarb mixture should be added to the batter.

If your bread turned out soggy, it may have been that the rhubarb wasn't cooked down quite enough or the flour may not have been strong enough. (If you're not already doing so, be sure you're using King Arthur All-Purpose Flour as it will give you the best texture in this bread.) We hope that helps. Kye@KAF
Delicious! Quick and easy to make. Nice and moist. I sprinkled some coarse sugar on top for extra sweetness and a nice crunch. I'll be making this again.