A customized print-friendly version of this recipe is available by clicking the "Print Recipe" button on this page.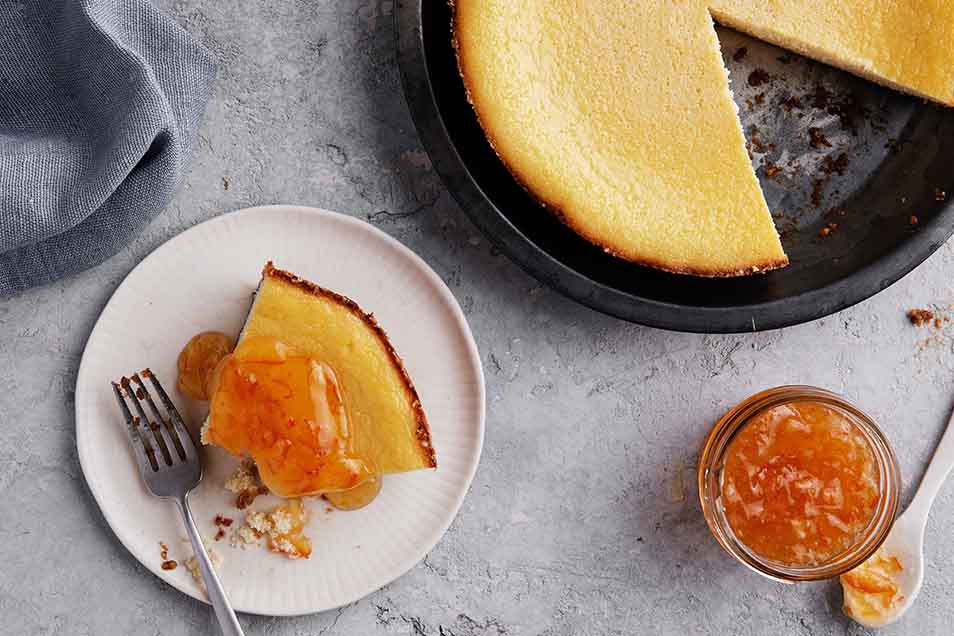 This traditional Italian sweet is usually served on special holidays — Easter in particular. But it's so tasty, you won't want to relegate it to only special occasions. Nicely sweet, with a thin layer of graham cracker crumbs and ground almonds in the bottom of the pan standing in for crust, it's mostly cheesecake. Using ricotta instead of cream cheese keeps the texture a bit lighter, and makes this pie a delicious source of calcium and vitamin D.
Ingredients
Crust
2 whole graham crackers, enough to make a scant 1/3 cup crumbs
1 tablespoon sugar
1/4 cup almonds — whole, slivered, or blanched; honey roasted are tasty
pinch of salt
Filling
3 cups ricotta cheese, whole-milk or part-skim
6 large eggs
1/3 to 1/2 cup sugar*
1/4 cup Amaretto liqueur, optional
1 to 2 teaspoons vanilla extract, to taste
1/8 teaspoon salt
*Add sugar to taste, for a sweeter or less sweet cheesecake.
Instructions
Preheat the oven to 350°F. Rub a generous amount of soft butter on the inside of a 9" pie pan at least 1 1/2" deep; use a deep-dish pan, if you have one. If your pie pan isn't at least 1 1/2" deep, substitute a 9" square pan.

To make the crust: Place the graham crackers, sugar, almonds, and salt in a food processor or blender, and process until totally ground, but not powdery.

Pour the crumbs into the pan, tilting and shaking the pan to distribute the crumbs across the bottom and up the sides of the pan. Place the pan on a baking sheet, to make it easy to handle once you've added the filling.

To make the filling: Mix together all the filling ingredients, and beat slowly until well combined.

Pour the filing into the crust; it will come nearly to the lip of the pan.

Bake the pie for 45 to 50 minutes, until it's becoming brown around the very outside edge, and an instant-read thermometer inserted into the center registers 160°F. The pie will still look quite unset in the center; that's OK.

Remove the pie from the oven, and cool it to room temperature. Once it's cool, refrigerate until chilled.

Serve pie as is, or with the topping of your choice.

Yield: one 9" pie, 8 to 12 servings.
Tips from our bakers
If you're not someone who keeps liqueur in the house but want to try the Amaretto in this recipe, purchase one of the small "nips" from the liquor store. It should be a scant 1/4 cup, but if it's not, don't worry; just use however much you have.
Orange marmalade, heated briefly in the microwave to make it pourable, is a nice topping for this pie. Grated orange peel is often one of the ingredients in the filling; but substituting an orange-based topping gives you more flexibility — in case your audience includes those who might not like orange in their cheesecake.