A customized print-friendly version of this recipe is available by clicking the "Print Recipe" button on this page.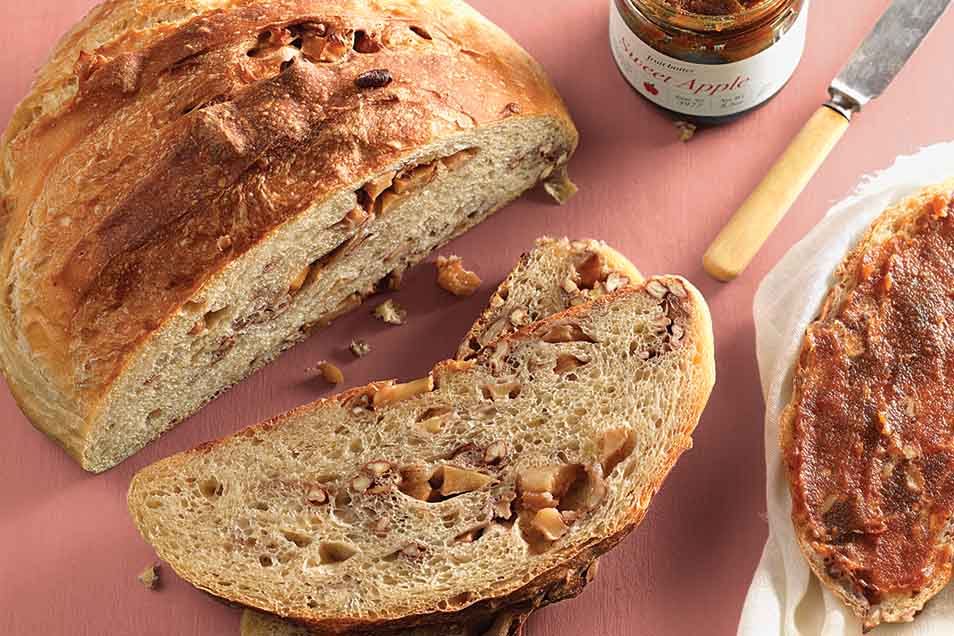 You'll need to plan ahead for this bread, as it gets its flavor from a lengthy rise. For the best crust, bake it in a ceramic bread crock, or a covered clay baker.
Ingredients
2 to 2 1/2 cups chopped apple*
1 teaspoon ground cinnamon
2 tablespoons sugar
3 1/4 cups King Arthur Unbleached Bread Flour or King Arthur Unbleached All-Purpose Flour
1 cup King Arthur Premium Whole Wheat Flour or King Arthur White Whole Wheat Flour
1 1/2 teaspoons salt
1/2 teaspoon instant yeast
1 3/4 cups cool water
1 cup coarsely chopped walnuts or pecans
*Leave the apples unpeeled, if you like. Choose apples that stay a bit firm when baked, like Granny Smith or Cortland.
Instructions
Preheat the oven to 425°F.

Core and chop the apples, leaving the skins on if you like.

Toss the apples with the cinnamon and sugar.

Spread the apples on a parchment-lined or greased baking sheet.

Bake the apples for 10 to 15 minutes, until they're fork tender and have concentrated some of their juice; don't roast until mushy! Set aside to cool.

Mix the flours, salt, yeast, and water in a large bowl. Stir, and then use your hands or a dough whisk to mix and form a sticky dough.

Work the dough just enough to incorporate all the flour.

Cover the bowl with plastic wrap, and let it rest at room temperature overnight, or for at least 8 hours; it'll become bubbly and rise quite a bit, so use a large bowl.

Turn the dough out onto a lightly floured surface, and work in the roasted apples and nuts.

Shape the dough into a log or round loaf to fit your 14" to 15" long lidded stoneware baker; 9" x 12" oval deep casserole dish with cover; or 9" to 10" round lidded baking crock.

Place the dough in the lightly greased pan, smooth side up.

Cover the pan and let the dough rise at room temperature for about 2 hours, until it's become puffy. It should rise noticeably, but it's not a real high-riser.

Place the lid on the pan, and put the bread in a cold oven. Set the oven temperature to 425°F.

Bake the bread for 40 to 45 minutes, then remove the lid and continue to bake for another 5 to 15 minutes, until it's deep brown in color, and a digital thermometer inserted into the center registers about 205°F.

Remove the bread from the oven, turn it out onto a rack, and cool before slicing. When completely cool, store airtight at room temperature for up to a week; freeze for longer storage.
Nutrition Information
Serving Size

71g

Servings Per Batch

18
Amount Per Serving:
Calories

150

Calories from Fat

40

Total Fat

4.5g

Saturated Fat

0g

Trans Fat

0g

Cholesterol

omg
Sodium

200mg

Total Carbohydrate

24g

Dietary Fiber

2g

Sugars

3g

Protein

5g
* The nutrition information provided for this recipe is determined by the ESHA Genesis R&D software program. Substituting any ingredients may change the posted nutrition information.
Reviews
I have baked this successfully several times. Today I doubled it and baked it in both a long covered baker and a round Dutch oven. Both baked up beautifully. The round baker took an additional 8 minutes. I weighed all ingredients and kept the dough as slack as I could stand, kneading in the nuts and apple slowly. I was proud to put a picture of the finished product on social media!
This is a wonderful recipe! I had been experimenting with no-knead artisan breads from a cookbook I bought and while they were always good, this recipe is superior. I used 2 Granny Smith apples (peeled) with 3 tbsp. sugar and 1 1/2 tsp cinnamon. That is the only change I made - a little bit extra sugar/cinnamon. I let it rise for 18 hours before incorporating the apples/walnuts. I placed a sheet of parchment paper in a 6 qt. enamel cast iron Dutch oven, sprayed lightly with cooking spray and sprinkled with flour before placing the dough in it. I also lightly sprayed the lid before baking. This made a large loaf, and with a baking temperature of 425, it baked perfectly (45 minutes with the lid on, 10 minutes without). The other recipes I had been using had a baking temp of 475, and I always ended up with an over cooked, heavy loaf. This loaf was perfect. The apples add little bites of subtle sweetness. I will definitely bake this bread again and use recipes from this site. Hint: While I would love a Le Creuset Dutch oven, they are quite pricey. My Dutch oven is a Martha Stewart Brand from Macys. When they go on sale, they are very affordable!
Was looking through my Sift magazine and found this recipe; I made it as directed, using Fiji apples and pecans. I toasted the pecans. It was a little challenging mixing in the apple and nuts, not sure I was doing it right. I baked it in my cast iron Dutch oven. It is delicious.
I really like this apple bread because the apples are properly prepared and are dry enough for the bread. It turned out great.
I used granny smiths, baked for less than 10 minutes, still found the moisture from apples enough to have to knead in a quantity of additional flour after adding them to the risen dough. A beginning bread baker might have been discouraged at this phase. That said, the bread still rose well, and baked in a clay covered baker yielded a loaf that has a pleasant, tasty texture when toasted. Dried apples may pose a less problematic substitute and still give the harvest flavor.

Sandra, the reason why you may have needed to add additional flour is because the apples were baked for less than ten minutes. We recommend baking them for at least ten, up to 15 minutes so that the juices concentrate and some of the liquid evaporates. Some varieties of apple are juicier than others, so you may have to add a bit more water or flour as necessary to make a slightly tacky dough. Dried apples will likely make the dough dry as they re-absorb water as it rests, so stick with fresh apples for best results. Kye@KAF
I made a few alterations to the recipe to turn it into a sourdough loaf, but this is by far the best bread I have ever baked! My alterations were: 1) replacing 1 cup of flour with 1 cup sourdough starter (and then used less water). 3) Used only bread flour, no whole wheat. 2) Baked uncovered at 350 for 1hr10minutes. The bread is crusty on the outside, chewy on the inside and as incredible flavor from the walnuts! I will 100% be baking this again.
I have only been baking bread for about 9 months and still need to follow recipes to the T which I did for this bread. I have made many other breads successfully from the recipes on your site as well as others but never with this much difficulty or dissatisfaction. I found the dough extremely sticky making it difficult to incorporate the apples ( which I think dicing would be better than chuncks) and walnuts. The dough simply would not hold the apples which kept bursting out of the dough and I ended up removing at least half. I baked it in my new covered clay loaf pan which I carefully oiled last night and again this morning - and I was not skimpy or "light" as the recipe suggests. Regardless I could not get the bread out from the pan without destroying the loaf completely - both top (yes - I oiled it too based on reading all the comments) and the bottom were lost when finally pried out with a spatula for about 10 minutes. So frustrating to have that much difficulty to remove a loaf of bread from a pan!! Now I am also afraid my new covered clay loaf pan might be ruined because of the hardened-stuck-on- dough on both top and bottom! And that was a costly item for me to purchase ( I even called your hot line to help me make a decision between purchasing the pullman pan and this clay one and she recommended the clay pan because of it's versatility). I do not see how it can be cleaned without a long soak in a sudsy bath which I know is not recommended. What remained of the bread tasted somewhat gummy and extremely bland. For me it lacked taste completely. I questioned myself while adding the ingredients trying to imagine what it would taste like. It's neither savory nor sweet. It needs something to make it edible in my opinion. I ended up discarding the bread altogether, and will probably toss the pan too if I cannot manage to somehow scrape off the dough without damaging the pans. Overall I think you need to revisit this recipe and bake it in the long loaf clay pan precisely as the recipe suggests. It cannot be that so many of us had the same problem removing the loaf.

Annemarie, thanks for taking the time to share your feedback about this recipe with us. There are a few quick tips we can share here that may help for a more successful bake, and we'd also suggest that you give our Baker's Hotline another call at 855-371-BAKE so we can talk with you more in detail about the recipe and the pan.

The dough here is supposed to be a bit sticky, but one that is either too sticky or too dry will have a hard time holding the additions of apples and nuts. When making any bread dough, including this one, you may find that you need to adjust the liquid:flour ratio based on factors like ambient temp and humidity. It sounds like your dough may have been wetter than desired, which would contribute to the difficulty working in the apples and nuts and could also lead to a gummy center.

Hearing that the dough stuck so decisively to both sides of the pan before the interior was fully baked also leads us to believe that the oven might have been a little hotter than intended. It's not unusual for home ovens to run a bit warm or cool, and it may help to turn the oven down for your next bake. For added stick protection when using the Long Covered Baker, it can help to grease, then sprinkle the pan with a coarse flour like durum or semolina (cornmeal works too but will burn more quickly).

Often stuck dough will be easy to pick off once fully cooled, but if this isn't the case, try spritzing or dripping water onto the baked-on pieces of bread to soften them, rather than soaking the whole pan. Either way, you'll do best to reseason your baker before using again, but it should definitely be salvable!

Bottom line, we're sorry to hear that you had such a poor experience with this pan and recipe and hope we can help make the second one a better one! Mollie@KAF
I didn't have stoneware to bake the loaf, I used my Le Creuset Dutch oven. I greased it as recommended and it worked perfectly. This is the first time I made it and found the directions to be accurate. I had no problem with incorporating the quantity of apples and nuts it called for. Definitely crusty.
Solved the Sticking Problem!!! After greasing the pan (and the bottom part of the lid ...) dust all over with fine, dry, bread crumbs (as if you were flouring a cake pan). Ta-Da! Bread pops right out, any excess bread crumbs are easily brushed off, although they're not an issue for my family. Constant rave reviews on this one. I find it easiest to pat out the dough on a lightly floured surface, apply apples, then walnuts, and roll it up; less goopy that way. My 17-year-old, and her friends, have me baking this every third day. Can't beat it!
I have made this tasty bread twice. The result is not light and fluffy but still delicious. The second time around I added sunflower seeds and oat bran for more texture. I agree with one the the reviewers. Cooking the apples after the dough is rising would be nice in the recipe. Not baking the apples first.