A customized print-friendly version of this recipe is available by clicking the "Print Recipe" button on this page.
Roasted Harvest Vegetable Pizza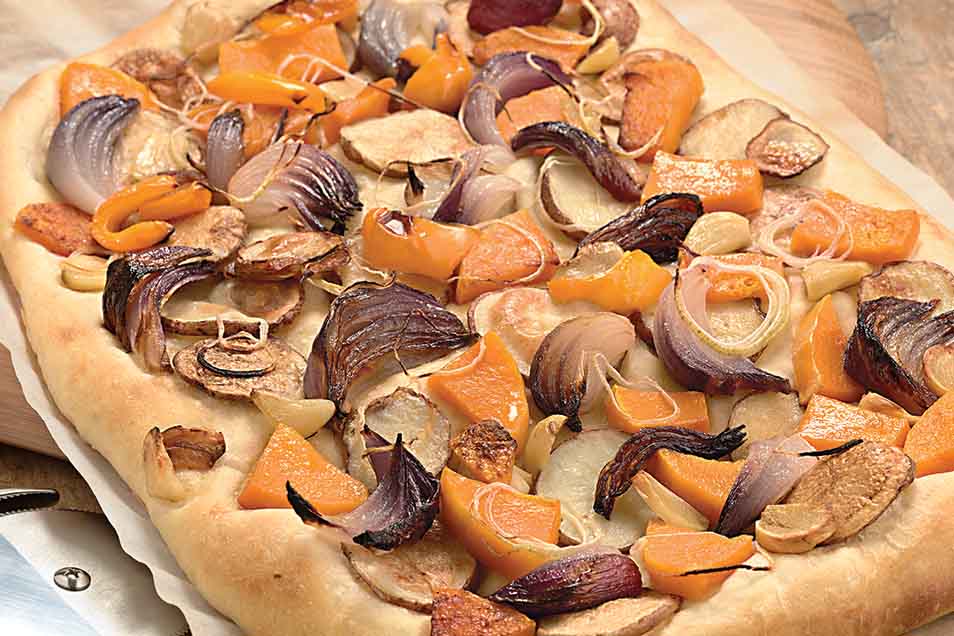 Crisp (or chewy) high-fiber crust, loaded with roasted vegetables, makes a colorful and delicious pizza.
Ingredients
Higher-fiber dough
2 cups King Arthur Unbleached All-Purpose Flour
1 ½ cups King Arthur Whole Wheat Flour
¾ cup Hi-maize Fiber
2 tablespoons olive oil
1 tablespoon Pizza Dough Flavor
1 1/4 teaspoons salt
2 teaspoons instant yeast
1 1/2 cups lukewarm water
Topping
1 tablespoon olive oil
1/2 teaspoon salt
6 to 8 garlic cloves, peeled and cut in quarters
6 shallots, peeled and cut in quarters
1 medium butternut squash, cut into ¼" pieces
3 to 4 new potatoes, cut in ¼" slices
1 medium red bell pepper, cored and cut into chunks
2 medium purple onions, peeled and cut into eighths
2 cups sliced mushrooms
2 teaspoons Pizza Seasoning or rosemary and thyme
Instructions
To make the dough: Mix and knead together all of the dough ingredients—by hand, mixer or bread machine—till you've created a smooth dough. Adjust the dough consistency if needed by adding extra flour or water.

Place the dough into a greased bowl. Allow the dough to rise, covered, for 1 hour; it should become quite puffy.

Turn the dough out onto a greased work surface, and divide it in half.

Roll the pizza dough out as thick or thin as you like. Rolling the dough out into two 14" x 10" rectangles will yield a medium-thick crust.

Grease two baking sheets with olive oil, and place each piece of dough on one of the pans.

Brush the crusts lightly with olive oil and sprinkle with Pizza Seasoning, or the herbs of your choice. Set aside to rise while the vegetables are cooking.

To make the topping: Preheat the oven to 500°F.

Combine 1 tablespoon olive oil, salt, and the vegetables. Place on a greased or parchment-lined baking sheet, and toss to coat.

Bake the vegetables for 15 minutes. Stir the vegetables and bake for another 10 minutes, or until they're beginning to get tender, and have some color on the edges.

Remove the vegetables from the oven, and reduce the heat to 450°F.

Layer the vegetables over the oiled and seasoned crust. Place in the oven and bake for 18 to 25 minutes, until the crust is crisp and browned.

Serve warm.

Yield: 2 pizzas, about 16 slices.