A customized print-friendly version of this recipe is available by clicking the "Print Recipe" button on this page.
Roasted Root Vegetable Pie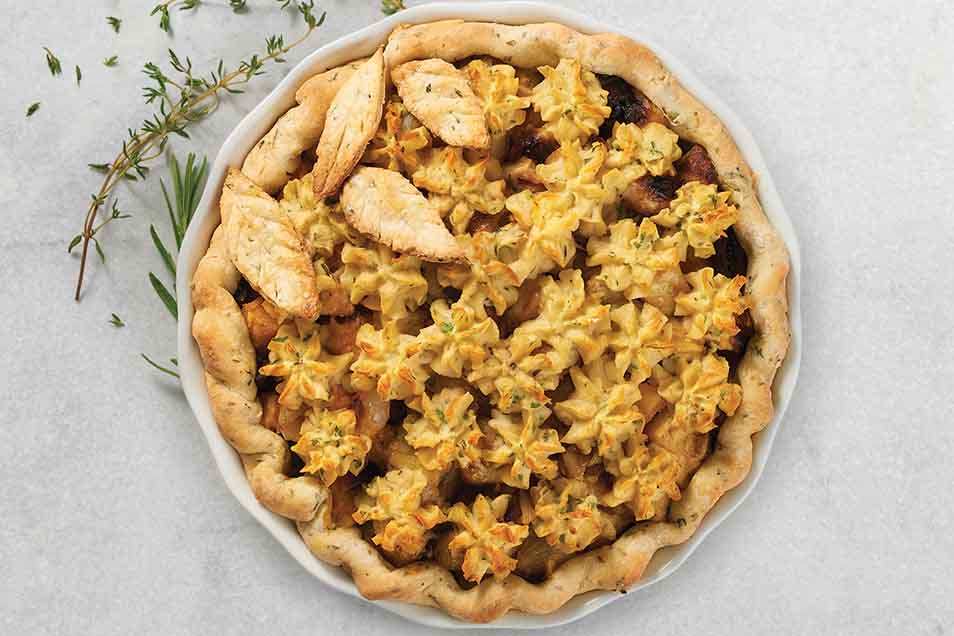 A savory pie crust redolent of herbs, and a rich potato and vegetable filling that showcases fall's harvest of sweet root vegetables. This pie can also be frozen before baking, so making an extra will give you a quick meal any time of year.
Ingredients
Savory crust
1/2 teaspoon salt
2 tablespoons minced fresh herbs (thyme, parsley, chives)
1/2 cup unsalted butter, chilled and diced
1/4 cup cream cheese, chilled and diced
1 to 2 tablespoons milk, as needed
Filling vegetables
2 1/2 cups pearl onions
1 cup peeled, diced winter squash
2 cups peeled, diced rutebaga
1 cup peeled diced white turnip
1 cup peeled, diced parsnips
1 cup diced leeks, washed and drained
2 cups peeled, diced celery root
2 cups sliced mushrooms
2 to 3 tablespoons olive or vegetable oil
salt and pepper to taste
Potato filling binder
2 medium baking potatoes
2 large eggs
1 tablespoon chopped fresh parsley
1 tablespoon chopped fresh chives
1 teaspoon dried thyme
1/2 to 1 teaspoon salt
Instructions
For the crust: Whisk the flour, salt and herbs together in a medium bowl. Cut in the butter and cream cheese until the mixture is the texture of granola. Add the milk one tablespoon at a time until the dough comes together but is not soggy.

Pat the dough into a disk, wrap in plastic and refrigerate at least 30 minutes before rolling out.

To roast the vegetables for the filling. Preheat the oven to 425°F. Place the diced, chopped vegetables in a large bowl and drizzle them with the oil. Season with salt and pepper and toss all to coat.

Spread the vegetables out on a parchment or foil lined baking sheet and roast in the oven for about 45 to 60 minutes total, stirring well every 15 minutes. The veggies are ready when they are fork tender and caramelized on the edges. Set aside to cool.

While the vegetables are roasting, bake or boil the potatoes until they are soft and easily pierced with a fork. Peel, drain and mash the potatoes in a large bowl.

Mix the warm mashed potatoes, eggs, herbs, and seasoning together, then fold in the roasted, cooled vegetables.

To assemble: Roll the pie crust to a 12" to 14" circle. Drape the crust into a greased 9" or 10" pie pan. Trim and flute the crust edges and place the filling in the unbaked crust.

At this point the pie can be well wrapped and frozen for up to 4 weeks. If you are baking now, bake in a preheated 400°F oven for 15 minutes. Reduce the heat to 350°F and bake for another 25 to 30 minutes or until golden browned on top and the center is set.

If you have frozen the pie, you can bake it directly from the freezer at 350°F for 1 hour and 20 minutes. Be sure to check the edge of the crust and protect it from burning with a pie shield or foil.
Tips from our bakers
Want to go gluten free? Switch out the savory herb crust for your favorite gluten free crust recipe. You can even bake the filling as a casserole and go crustless.
Reviews
This is a delicious and satisfying dish. I used sweet potatoes and added vegetable broth to the final mixture before putting into the pastry. My daughter gave it a 10 out 10
I just made this recipe--sans the crust--for Thanksgiving for something a little different. Everyone loved it! My sister has the same "Holiday 2016" Sift magazine, so she said she didn't have to ask for the recipe! My pie was not dry at all.
I love this recipe and have made it almost every year for the last 4 Turkey Days. I have Celiac and am dairy intolerant so I use my favorite gf pie crust recipe and add in the seasoning. I also use baked yams instead of regular potatoes for the filling. It adds a little extra sweetness and moisture. Even my non-gf friends all love the result.
Very disappointing as it was dry as dust, and not flavorful, after so much love and care (and salt and herbs) went into making it. I think the potato mixture was a problem, maybe my potatoes were too big, so I think a measured quantity of mashed potatoes to egg instead of the size of the potato would be helpful. Maybe the chunks of vegetables should have been bigger than just diced, so the flavors would stand out. All in all, this one needs to go back to the drawing board. 2 stars because it was edible to some, at least.

Julie, we're sorry this recipe didn't meet your expectations. We're wondering if your vegetables were quite dry and hard to start with, given California's recent drought. A juicier potato mash would have helped; in addition to the eggs, you can add 1/4 cup of vegetable stock to loosen it up. You might want to taste the roasted vegetables next time before they get mixed in with the binder — if they're dry, additional vegetable stock can help. While larger veggies may seem appealing, it makes the pie difficult to slice if they're not diced. I hope that helps. Kye@KAF
Simple and delicious.. I added beets- a mistake - turned everything pink. but wonderful all the same!
I have had great success with substituting the potatoes for sweet potatoes in the filling. I've made this on a number of occasions and everyone who has tried it has loved it.
Amazing- even got our non veggie eaters to ty it, and they came back for seconds. Tons of prep, but well worth it, and can be prepped well in advance of actual baking. The crust was a little heavy, but I misread the amount of lour in the recipe, This one goes in the permanent file!
The pie went over quite well at Thanksgiving and the leftovers were even better for breakfast. One friend suggested rosemary might be a good addition to the filling.
I agree with the previous reviewer. It was very dry. The picture showed some kind of sauce/gravy but gave no recipe for it or suggestions what might go with it. It definitely needs something. I think a top crust would benefit it maybe, making it more like a pot pie. A lot of work and no one finished their first serving, let alone asked for seconds.
I am sorry that you were disappointed with this recipe. A bechamel sauce would be a great addition to this pie. Adding a bit of gravy made with a vegetable or mushroom stock would also be great. ~Amy
The flavors were good, but mine was a little on the dry side. I baked the potatoes as suggested in the blog, but I think doing so robbed them of moisture. With all the peeling, dicing, and pastry-making, this dish was a lot of work considering what you end up with. For my tastes, the pie was lacking something. I wonder if folding a cup of sour cream into the filling would improve it.