A customized print-friendly version of this recipe is available by clicking the "Print Recipe" button on this page.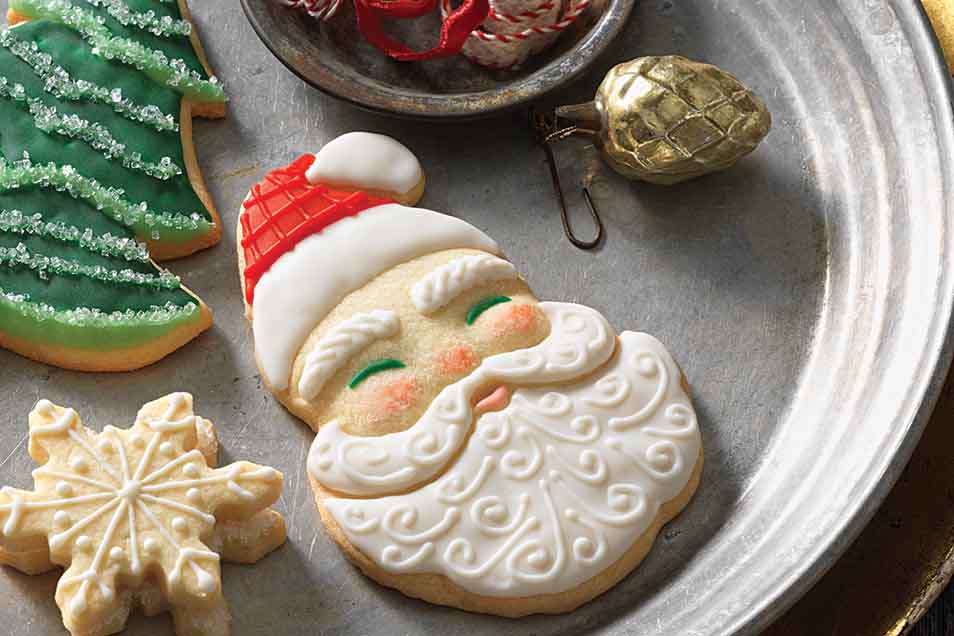 This recipe, by blogger Amanda Rettke from i am baker is simple, yet absolutely splendid. Buttery, crunchy, and packed full of flavor, these cookies are amazing — perfect for cutting out and decorating.
Ingredients
1 1/2 cups unsalted butter
2 cups sugar
2 large eggs plus 2 egg yolks
4 teaspoons vanilla extract
2 teaspoons almond extract
1 teaspoon salt
1 teaspoon baking powder
Instructions
To make the dough: Beat the butter and sugar until light, fluffy, and pale yellow in appearance. Add the eggs and yolks one at a time, beating well after each addition.

With the mixer on low, slowly add the vanilla and almond extracts; mix until combined. Scrape down the sides and bottom of the bowl.

In a separate bowl, sift together the flour, salt, and baking powder. With the mixer on low, slowly add to the butter mixture and mix until just combined.

Place a large piece of plastic wrap on the counter and scoop half of the dough out onto it. Gently pull the sides of the plastic up and over the dough and flatten it into a disc. Wrap dough securely and repeat with the remaining dough. Chill for at least 2 hours, or overnight.

Preheat the oven to 325°F, and line two baking sheets with parchment.

To shape and bake: Working with one piece of dough at a time, roll approximately 1/4" thick and cut out cookies. Place on a baking sheet lined with parchment paper.

Bake the cookies for approximately 10 to 12 minutes, until they just barely start to turn golden on the edges and the center doesn't look moist. Remove from the oven and cool completely before decorating.
Reviews
I've been really trying to recreate the boxed mixed of King Arthur cookies and I think I've figured out some tips: 1) I put the sugar in a food processor to make it finer. 2) I used about 3 cups of flour in the stand mixer and then incorporated the rest by hand- probably about 4 3/4 cups total- the extra 1/4 cup made it a little to stiff last time. 3) Definitely didn't need 4 tsp of vanilla- I used about 2/ 2.5. I also didn't put any almond extra. The flavor felt too overpowering with 6 full tsps of flavoring- just the 2 tsp of vanilla really lets the sugar cookie shine. Definitely refrigerate or put in the freezer for a about 10 minutes before baking. And I don't know about everyone's oven, but mine cooked better at 350 than 325. Love the recipe- fiddled a little to get exactly what I wanted.
This recipe worked well for me and made plenty of cookies. I was able to roll out the dough and my kids cut the cookies out. For some reason, my first batch slightly spread. I made sure to chill my cookie sheet and dough to before I baked (it was cold enough outside that a few minutes on the back porch did the trick). I also raised my oven temperature to 375 (I have a feeling my oven runs on the cooler side). The cookies were cooked perfectly when they were slightly golden on the bottom. And they tasted great even before we iced them. Perfect recipe, It will be my go-to from now on.
This recipe is my new go to for sugar cookies. The flavor is perfectly balanced with almond and vanilla.
The taste is some of the best that I have made. I used mostly all King Arthur products - My granddaughters helped decorate the cookies and loved them (9 out of 10).
I love this recipe! Very easy to make and work with. I do recommend after chilling the dough, rolling the dough and cutting the cookies out to throw the cut out cookies in the fridge for at least 10 mins. This helps the cookies from spreading. Cold butter doesn't spread, warm butter spreads.
Wow! This recipe couldn't be easier. I rolled out the cookies on my granite countertop and was delighted with how they turned out. I will probably add a bit more almond extract next time, but this recipe is a winner.
This recipe is going to replace my great grandmother's sugar cookie cutout recipe... don't tell my great grandmother! The combination of almond extract with the vanilla definitely is delicious. Takes a bit of planning ahead since the dough does need to be cold when rolled/cut/baked. Worth the extra time though. I followed the recipe except for added only 1 t. of almond. Did not have a problem at all with the dough sticking or spreading when baked. When decorated with sprinkles only just before baking, the cookies stay crisp. When decorated with royal icing, they get softer and chewy after a day but both keep well in a cookie tin for many days (if they last that long).
A true classic sugar cookie .I use King Arthur flour used 4.5 cups flour per the recipe plus 1 Tablespoon as was using detailed cookie cutters ,didn't want a whole extra 0.5 cups flour and the cookies are perfect .I did freeze them first after rolling and cutting.I used the impression cookie cutters sold here the large Santa And Snowman and they came out of the cutters easily and the details are vividly perfect .They did not spread when baked and are absolutely beautiful and delicious.
I made these today and followed the recipe using 4 1/2 cups flour ( I actually weigh my ingredients in grams) when the cookies where baking they spread out so much the cookie cutter designs widen out. Also baking at 325 F took more time than the 8-10 minutes suggested. I chilled my dough overnight so it was very cold when I cut them out and baked them. Will try and find another recipe that will work. My oven temp by the way is spot on, I checked with a thermometer. First time a KAF recipe did not work for me....disappointed.

We're sorry to hear these cookies spread too much for your taste! To get less spreading, you could try a couple of different things, including doubling up your baking pans and using a tablespoon or so less sugar. We hope that does the trick for you! Kat@KAF
I'm not sure what all the fussing is about. This is by far the least sticky, most workable dough I've made from this site. You want to deal with a sticky dough mess, try their pizza crust. The Hawaiian rolls are sticky too. Anyway, I found these to be easy to work with. I rolled mine out thinner (1/8 to 1/4") and baked them hotter (350f) and for longer (12 minutes) because I like a crisper cookie. But that's me, you should make the style of cookie YOU LIKE. I also didn't ice them, but instead sprinkled them with holiday colored sugars and sprinkles. Because that is what we did as kids in my family and its also much quicker and easier (which is why we probably did it that way). #lazy Turned out great! It ended up making many cookies, too many really. I meant to half the recipe, but screwed up in process and so made the full batch. I love this site because it offers measurements by weight and the recipes are good as well. Plus their products are quality. And yes I did use genuine King Arthur AP flour. You people whining about sticky dough probably used some brand X flour. Do yourself a favor and use the good stuff here (actually everywhere).