A customized print-friendly version of this recipe is available by clicking the "Print Recipe" button on this page.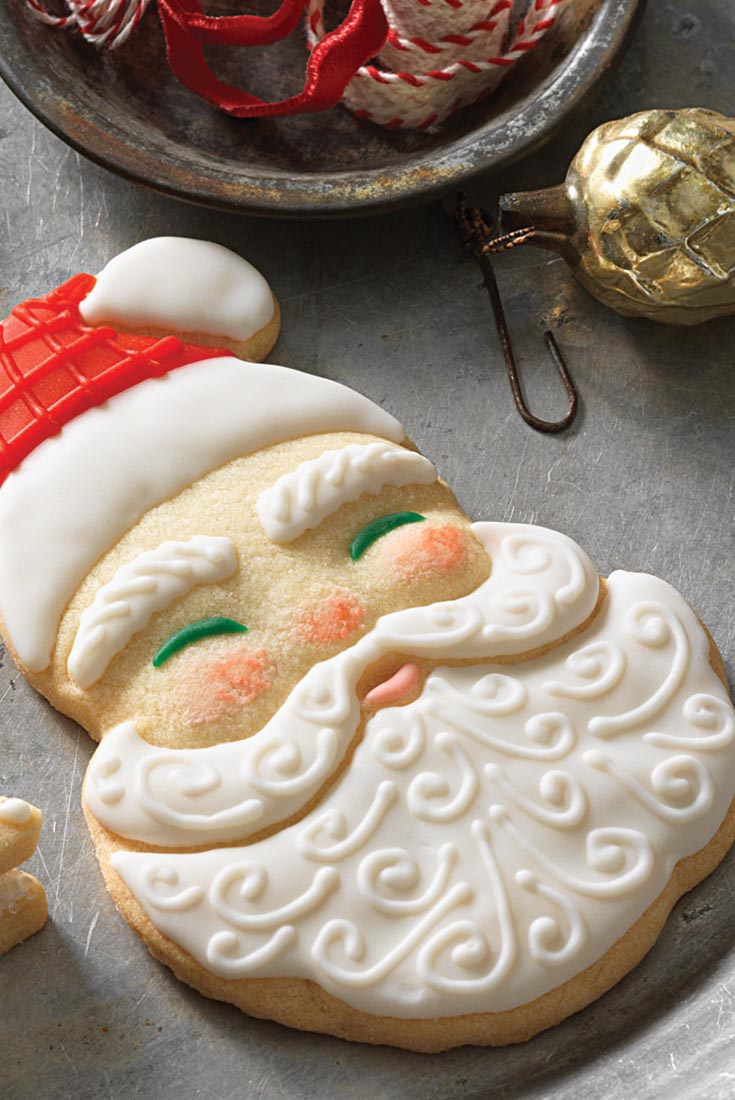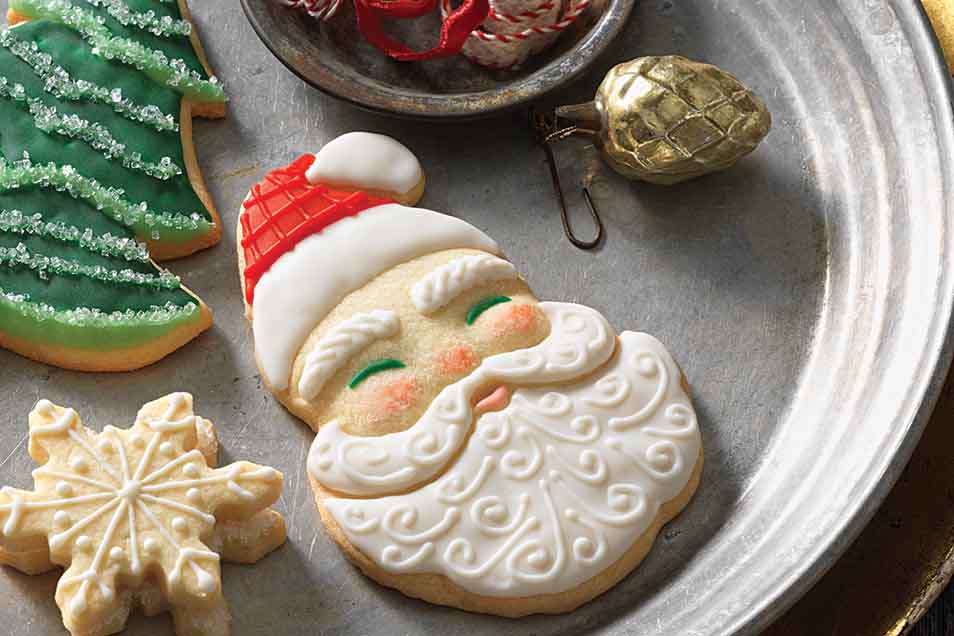 This recipe, by blogger Amanda Rettke from i am baker is simple, yet absolutely splendid. Buttery, crunchy, and packed full of flavor, these cookies are amazing — perfect for cutting out and decorating.
Instructions
To make the dough: Beat the butter and sugar until light, fluffy, and pale yellow in appearance. Add the eggs and yolks one at a time, beating well after each addition.

With the mixer on low, slowly add the vanilla and almond extracts; mix until combined. Scrape down the sides and bottom of the bowl.

In a separate bowl, sift together the flour, salt, and baking powder. With the mixer on low, slowly add to the butter mixture and mix until just combined.

Place a large piece of plastic wrap on the counter and scoop half of the dough out onto it. Gently pull the sides of the plastic up and over the dough and flatten it into a disc. Wrap dough securely and repeat with the remaining dough. Chill for at least 2 hours, or overnight.

Preheat the oven to 325°F, and line two baking sheets with parchment.

To shape and bake: Working with one piece of dough at a time, roll approximately 1/4" to 1/2" thick and cut out cookies. Place on a baking sheet lined with parchment paper.

Bake the cookies for approximately 8 to 10 minutes, until they just barely start to turn golden on the edges and the center doesn't look moist. Remove from the oven and cool completely before decorating.
Tips from our bakers
2/01/17: As a result of reader feedback about sticky dough, we retested this recipe and as a result have increased the amount of flour from 4 cups to 4 1/2 cups.
Be sure to work with well-chilled dough; if your cutters have a lot of detail, add up to 1/2 cup additional flour to the recipe to get more sharply defined edges.
Reviews
This is my favorite cookie recipe for frosted cookies. I add 2 tbsp water. I've tried it with several different flavors and all work great. Highly recommend.
I love the taste of this recipe but mine came out chewy and crisp. I know my oven temp is off but I thought I adjusted for that. Is there some other reason? I still have 1/2 of the dough in the fridge so if there is something I could try before I roll and bake the second batch I'd appreciate the help.

We're glad you enjoyed these cookies! We have found you can achieve a more crunchy texture by working in about 1/2 cup of additional flour to your dough, and chilling it thoroughly before rolling. Hope this helps! Annabelle@KAF
Loved the flavor of this cookie! I had a bit of trouble with spreading also . . . I just added a bit more powdered sugar and that did the trick. Would love to know how you made the Santa cookie with puffy cheeks. Where did you find that amazing mold?

The Santa cookie is made from a cookie cutter we sell seasonally; check back in with us in early fall to see if it's available at that time. As for decorating, we recommend checking out our full Cookie Decorating Guide within the "Learn" section of our website for tips, articles, videos, and more! Kye@KAF
Delicious flavor, but I cannot recommend this recipe for cookie cutters or molds because of how much they spread. I have tried half shortening/half butter, I have tried adding more flour, and I have tried chilling the cut outs before baking. I have an oven thermometer to make sure my oven is at 325 degrees. Nothing I do controls the spread. I am now using a recipe without any baking powder.

We're surprised to hear you had trouble with these cookies spreading, Lindsay, as baking powder typically makes cookies puff while baking soda is responsible for spread. Feel free to leave the baking powder out of this recipe entirely, or you might like using our Holiday Butter Cookie recipe. It doesn't contain any leavener and it's just as delicious as this one here. We hope that helps! Kye@KAF
Great tasting cookies but the spreading was a bit of a problem. I liked that the KAF bakers suggested using a bit more dough for a better defined molded cutout cookie and I'll try that next time. I don't agree with the temperature setting, I found that these bake best at 375 degrees for the allotted time, 325 is just too low to control the dough. I also make the dough and keep it in the 'fridge the day before baking and "freeze" it for, at least, fifteen minutes before baking (on a separate, room temperature, baking sheet). I made these cookies so many times that I lost count already, they taste that great!

Markus, to help prevent spreading you may also consider using half shortening and half butter in the dough. The reason why the oven temp at 325°F is to allow the structure of the cookies to set before the butter gets melted, thereby controlling the spread. However, if baking at 375°F works best for your cookies, we encourage you to stick with it. Happy baking! Kye@KAF
Love this recipe. I just baked it in a professional kitchen, and it works great. Make sure you're using King Arthur AP because it has a higher protein content than other AP flours, and that might result in a sticky dough. I didn't even need flour to roll it out, provided my dough was cold enough.
I've made these twice now and as long as you've chilled the batter, they roll out just fine. My only issue is the time it takes to cook them. It says 325 for 8 to 10 minutes, but I'm finding that, even when the dough is rolled 1/4, it takes upwards of 20 minutes for one cookie sheet. I bumped the temp up to 350, but it still takes longer than the recipe calls for. No matter...they taste great and make a beautiful iced cookie. Maybe my oven isn't reading right.....
It does sound like your oven may be running lower than the temperature you set it at. I would recommend checking with an oven thermometer after the oven has been preheating for at least 30 minutes. Thankfully, it's easy to remedy this problem by adjusting your setting accordingly. Barb@KAF
I made dozens of cut out cookies with this recipe and loved it. I like the addition of the almond extract. I added flour to the dough as I rolled the cookies and I didn't have any trouble rolling out any shape. The flavor is just right, not too sweet.
I should have read the reviews. I also had trouble with sticky batter and when I did get it to work, the cookies spread. I also had to bake longer but never got them to change to any shade of brown. In the end, I just rolled them, pressed them flat and added sanding sugar.
Sharon, we're sorry to hear that this recipe didn't work well for you. It sounds like your oven might have been running a little low, which would contribute to the cookies spreading and not browning. If you'd like help troubleshooting this recipe, please give our Baker's Hotline a call at 855-371-2253(BAKE). Barb@KAF
I have a family favorite sugar cookie that I always use and made it again this year. I decided to try this one in addition to my own recipe. I am replacing the old. Everyone raved about this cookie and it was very easy to handle, rollout and delicious most of all. Way to go!