A customized print-friendly version of this recipe is available by clicking the "Print Recipe" button on this page.
Root Beer Cake with Chocolate Root Beer Ganache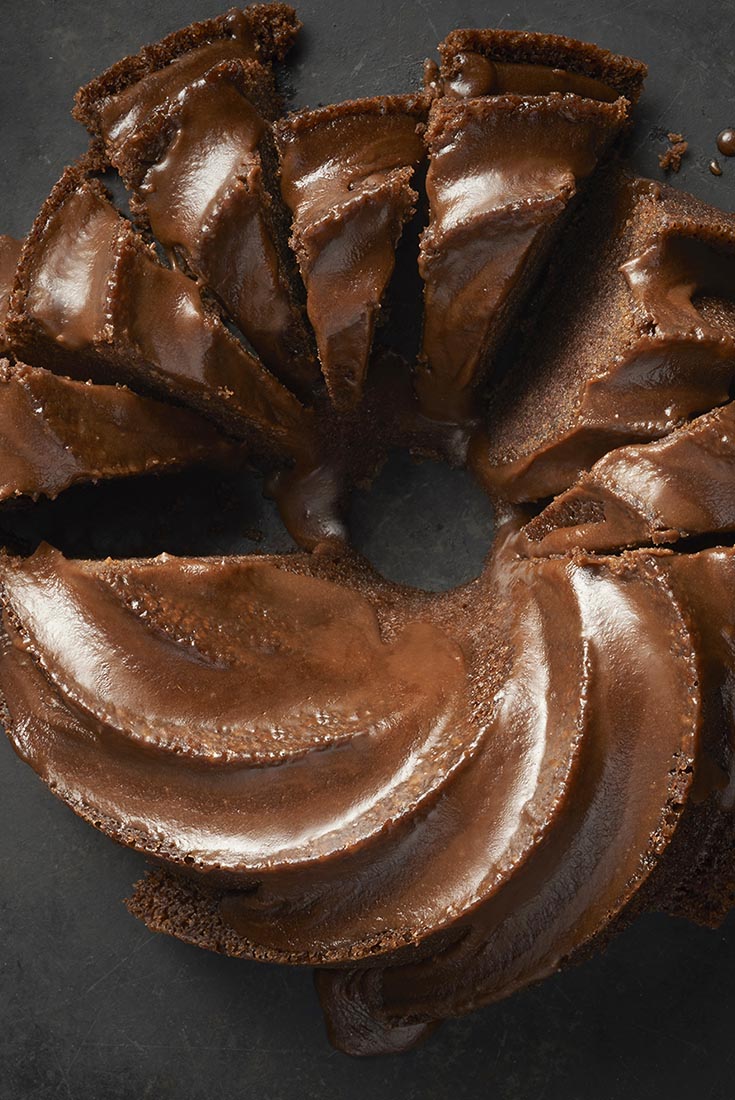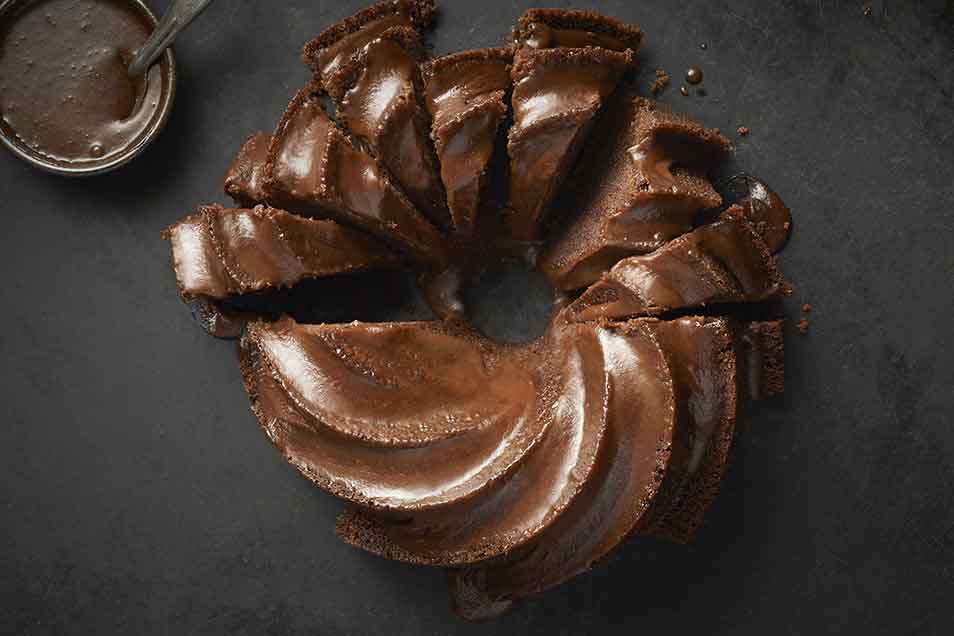 Carla Hall uses root beer to give her grandmother's classic Coca-Cola cake recipe a twist. The moist chocolate cake has a uniquely spicy personality, thanks to the addition of fresh ginger, smoked cinnamon, and star anise.
Ingredients
Cake
2 1/4 cups King Arthur Unbleached All-Purpose Flour
1 1/2 cups granulated sugar
1/2 cup packed brown sugar
1 teaspoon baking soda
1/2 teaspoon salt
1 teaspoon ground cinnamon*
1 teaspoon ground nutmeg
1 teaspoon ground star anise
1 1/2 cups root beer, flat or fizzy
16 tablespoons (1 cup) unsalted butter
1/4 cup cocoa powder, Dutch-process or natural
2 large eggs
1/2 cup buttermilk
1 teaspoon vanilla extract
1 teaspoon grated fresh ginger
*The original recipe calls for smoked cinnamon; if you can find it, by all means use it.
Ganache
1/4 cup root beer, flat or fizzy
1/4 cup unsalted butter
1 1/2 tablespoons cocoa powder, Dutch-process or natural
2 cups confectioners' sugar
1/8 teaspoon ground nutmeg
1/8 teaspoon ground star anise
1/4 teaspoon salt
Instructions
Preheat the oven to 350°F. Grease a 10-cup Bundt pan, a 9" x 13" pan, or two 9" round cake pans.

To make the cake: In a large bowl, whisk together the flour, sugars, baking soda, salt, and spices. In a medium saucepan, bring the root beer, butter, and cocoa powder to a boil, stirring occasionally. Remove from the heat, cool for 5 minutes, then mix into the flour mixture.

In a small bowl, whisk together the eggs, buttermilk, and vanilla and stir into the flour mixture. Fold in the grated ginger.

Transfer the batter to the prepared pan(s) and bake for 50 minutes for a Bundt cake, 35 minutes for a 9" x 13" cake, or 33 to 35 minutes for 9" layers, until the edge of the cake begins to pull away from the pan and a toothpick inserted in the center comes out clean.

Remove the cake from the oven. Gently loosen it from the pan around the edge, if you can. Place a cooling rack on top, across the surface of the cake. Very carefully turn the cake and rack over so that the cake (in its pan) is resting on the rack. Wait 15 minutes, then carefully lift the pan off the cake, jiggling it gently first to make sure it's not stuck.

To make the ganache: Bring the root beer to a boil in a small saucepan over medium heat. Add the butter and cocoa powder, stirring until smooth. Pour the mixture into a large bowl, then whisk in the confectioners' sugar, spices, and salt until smooth and glossy. Pour over the top of the cake while still warm.

Store any leftover cake, well wrapped in plastic, at room temperature for several days; freeze for longer storage.
Nutrition Information
Serving Size

3/4" slice, 74g

Servings Per Batch

16 slices
Amount Per Serving:
Calories

228

Calories from Fat

108

Total Fat

12g

Saturated Fat

7g

Trans Fat

0g

Cholesterol

50mg
Sodium

170mg

Total Carbohydrate

29g

Dietary Fiber

0g

Sugars

19g

Protein

3g
* The nutrition information provided for this recipe is determined by the ESHA Genesis R&D software program. Substituting any ingredients may change the posted nutrition information.
Tips from our bakers
This cake is fairly delicate; if your Bundt pan is more detailed than most, or otherwise has any nooks and crannies that might "trap" the cake, be aware that the cake might stick and crumble. For that reason, we recommend using a Bundt pan with a simpler design for this cake.
Reviews
I am NOT a novice baker. Baked this in a 13"x9" pan. It was very flat, but I was going to stack it anyway. The crumbling was awful. The frosting was much too sweet. I would only be able to fix the cake to look presentable if I iced it in 3/4 inch frosting. Much too sweet. I threw it to the birds. Don't waste you time or spices unless you make the batter into cupcakes.

We're so sorry to hear this recipe was such a disappointment to you, Munch. We appreciate your feedback and encourage you to reach out to our friendly Baker's Hotline staff to possibly troubleshoot at 855-371-2253. Kindly, Annabelle@KAF
I used Dr Pepper instead of root beer and added half a can of cherry pie filling. Topped with a plain bittersweet chocolate ganache. Everyone loved it.
I used the crowd pleaser bundt pan and it came out of the pan perfectly. I use the old fashion Crisco to grease the pan. Had no problems. This cake and the ganache is fabulous! Will definitely make it again. I used KA cocoa blend and I crushed whole anise which made the cake very smell wonderful while cooking.
Wish I'd read reviews before making this. Read the instructions twice-grease pan- not grease and flour. Next time maybe will try the spray that has both. Cake is SO delicious, it was really disappointing to not be able to serve it. Would make an awesome cake for the holidays.

We're glad you enjoyed the flavor of this cake, Debbie. We understand how important it is for Bundt cakes to release easily, so we did extensive testing to find the best ways to prepare pans. Greasing and flouring did not provide the best results; it tended to create a paste that sometimes acted like glue. Instead, we've found that brushing the pan with melted shortening using a pastry brush or spraying with non-stick spray is the best approach. You can also try dusting the inside of the pan with a nut flour (we like almond flour) after greasing to create a barrier between the cake and pan. As mentioned in the tips section, we also recommend using a simple design to set yourself up for success. We hope this helps! Kye@KAF
The cake turned out beautiful, but the search for smoked cinnamon was aggravating and futile. I didn't have star anise powder, either, and was going to crush some of the whole ones, but on a whim just added Chinese five-spice powder instead. I wish, if you're going to print recipes with obscure ingredients like the smoked cinnamon you'd tell readers where to get it. (I found it on Amazon, but it would take forever to get it. We have several good spice shops here, as well as good Asian markets, but no one at any of them had ever heard of smoked cinnamon.). I'd still like to try it.

Thanks for sharing this request with us, Joan. We understand your point about wanting a little help finding these somewhat elusive, yet flavorful, ingredients. We'd love to help ambitious bakers like yourself who would like to find ingredients like these headed in the right direction. Smoked Cinnamon is available through online retailers like Amazon, as you mention. We've shared your suggestion about including tips to help make the search easier with our Recipe Team. Kindly, Kye@KAF
Fabulous recipe, but like the previous reviewer, I used the Bundt pan as in the photo and parts of the cake did not release. And yes, I know how to prep a pan like that to avoid sticking, but the cake stuck anyway. I was able to sort of patch it up and once the glaze was on, the patches weren't very obvious. This particular pan has always been problematic in my experience. Nothing ever comes out of it cleanly. Will not use it again. The cake itself is just out of this world and I am sure other bundt or cake pans will work out fine.
Made this three times to rave reviews. Will bake again. Tried all three: Bundt, two 9" rounds and 9 x 13 pan. Part of Bundt wouldn't release so put everything in 9 x 13 since I was unable to put back together. Once it was frosted it looked fine. Bottom round fell apart once It was frosted and in transfer to serving platter but was able to fix it. The Bundt I used was the one in the photo so probably too many angles for this recipe. Since I love Bundt's I will try a fourth time in a simpler Bundt pan. Just a very good recipe.

It sounds like you might want to take a look at the article on our blog called, "How to prevent Bundt cakes from sticking." It includes a handful of tips and tricks for preparing your pan to ensure the cakes will release easily. That way you won't have to do any frosting repairs! Kye@KAF