A customized print-friendly version of this recipe is available by clicking the "Print Recipe" button on this page.
Rosemary, Asiago & Olive Bread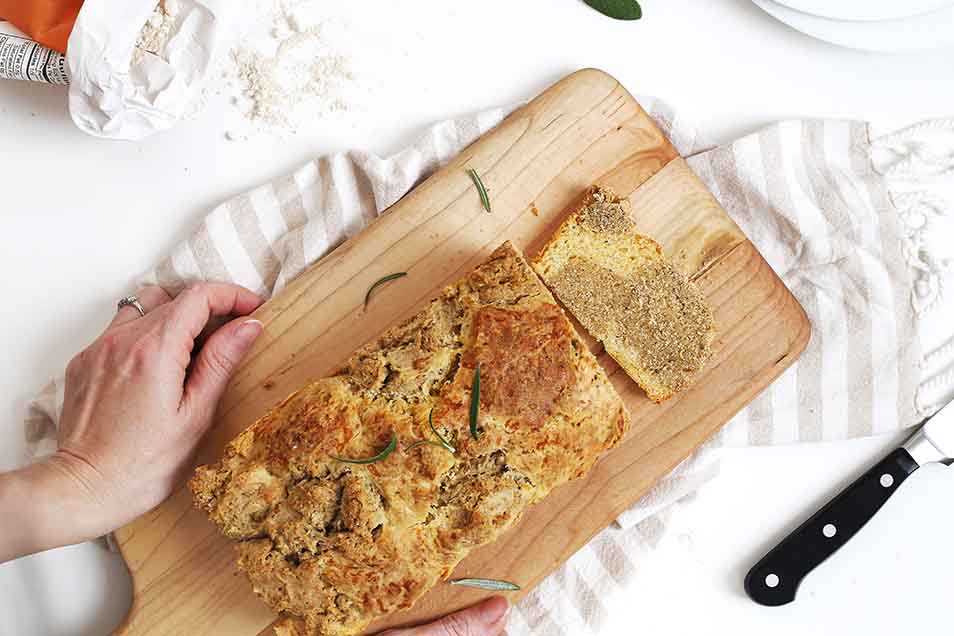 Paired with a simple tomato or vegetable soup, this rich and savory quick bread (no yeast!) makes a hearty fall lunch.
Ingredients
1 cup semolina flour
1/4 cup buttermilk powder
1/4 cup Vermont cheese powder
2 teaspoons baking powder
1 teaspoon salt
1 1/2 teaspoons fresh or dried rosemary, snipped into small pieces
1 cup grated Asiago cheese or sharp cheddar cheese, plus 1/4 cup for garnish
1/3 cup fresh parsley, cilantro, or green onion, finely chopped
1 cup olives, drained and chopped (black, green, or a combination)
1 1/2 cups milk
1/2 cup olive oil
2 large eggs
Instructions
Preheat the oven to 350°F. Lightly grease a 9" x 5" loaf pan, or smaller pans of your choice (see tip at right).

Whisk the dry ingredients in a bowl until well blended.

Toss in the cheese, herbs or onion, and olives.

In a separate bowl, whisk the milk, oil, and eggs until foamy.

Stir the liquid ingredients into the flour mixture.

Spoon the batter into the prepared pan. Sprinkle with 1/4 cup grated cheese.

Bake the bread for 55 to 60 minutes (30 to 35 for mini loaves), until a tester inserted into the middle of the loaf comes out clean. Remove it from the oven, and after 10 minutes turn it out of the pan onto a rack to cool.

Yield: one 9" x 5" loaf.
Tips from our bakers
Want to make smaller loaves or cupcakes? This recipe will make the following:
*Three USA Pans Mini Loaf Pans. Use 1 1/3 cups (about 12 ounces) batter per pan; bake for 30 to 35 minutes.
*Five Bake & Give Mini Loaf Pans. Use a scant 1 cup (8 1/2 ounces) batter per pan; bake for 25 to 30 minutes.
*18 to 20 standard-size muffins; use about 1/4 cup of batter per muffin (our muffin scoop works well here); bake for 18 to 20 minutes.
Reviews
I don't know what I did wrong. I made the recipe as written and baked it in a USA 9x5 loaf pan. It did not rise above the rim of the pan. Toward the end of the baking, the oil in the loaf pan was bubbling at the edges of the loaf, sort of like it was frying in the oil. The end product was very dense and tasty. I cut it into very thin slices and then toasted it right before serving. It's very good that way but I'd like to figure out what I did wrong.

It sounds like it was so close to perfect, Cat! Is it possible that some extra flour was packed into the measuring cup? It's super common, but it makes things dense, as well as prevents rising. For ideal measurement accuracy when not using a scale, we recommend fluffing the flour with a whisk or spoon, sprinkling it into the measuring cup, and scraping off the excess. Another possible issue could be baking powder that's passed its prime. Since you loved the flavor, we hope you'll give this recipe another go! Annabelle@KAF
Nice bread to make when you don't have time for yeast rising. As another reviewer did, I substituted 1/2 cup fresh buttermilk for a 1/2 cup of the regular milk in this recipe. Also, I used only 6 tablespoons of olive oil, however, my bread was a bit dry so my words of advice are, FOLLOW THE RECIPE and use 1/2 cup of oil as called for! I baked my loaf in my USA loaf pan, however, even though my oven temperature was accurate, I should have checked the loaf at 45 miutes. I checked mine at 50 minutes and it had browned a little too much!
Didn't like texture. Would prefer these ingredients in a yeast bread.
When I bake something new my husband and I vote on 'keeper' or 'not keeper'. This was definitely a 'not keeper'. Didn't like the texture or the taste.

We're genuinely sorry to hear this recipe fell into the wrong category for you, Gaila. We'd be happy to hear more of your feedback and figure out what may have wrong awry, or come up with other recipes that might be more like what you're looking for. Please feel encouraged to give our Baker's Hotline a call at 855-371-BAKE(2253). We'd be happy to help if we can. Kye@KAF
I made this for Thanksgiving and servered a dipping sauce with it, it was a huge hit, I thought there'd be some left for a turkey sandwich the next day, wrong it was gone!!!!! It's so easy to make, enjoy
If I want to make this without the cheese powder, should I just leave it out or sub something else in its place?
You might find a product from Cabot Cheese at your grocery store called Cheddar Shake that would work fine in this recipe - or leave it out and amp up the Asiago for more cheese flavor. Happy baking! Irene@KAF
I have made this bread multiple times and shared it with my department at work. everybody loves it. it is so simple to make this savory bread!
This turned out really good, it's definitely a do-againer. I used provolone in the bread, it was good but it got too dark on top, 1 tablespoon pizza flavor, 2 tablespoons of dried green and red sweet pepper flakes + 1 tablespoon of hot pepper flakes in the bread plus I added 2 tablespoons of corn meal for texture and flavor. (My husband didn't notice the olives, which he dislikes.) Next time I will cut the salt in half, it's a little too salty for us. Any excuse to make this again!
Just finishing the second loaf--in the oven now. This is a very nice, hearty bread. I changed a few things. Instead of buttermilk powder I added half a cup of real buttermilk in with the milk. I added 1/4 cup of the artisan olive bread flavor. Herbs de Provence and some red pepper flakes for some kick. Great bread!
Phenomenal each and every time. And versatile, too.