A customized print-friendly version of this recipe is available by clicking the "Print Recipe" button on this page.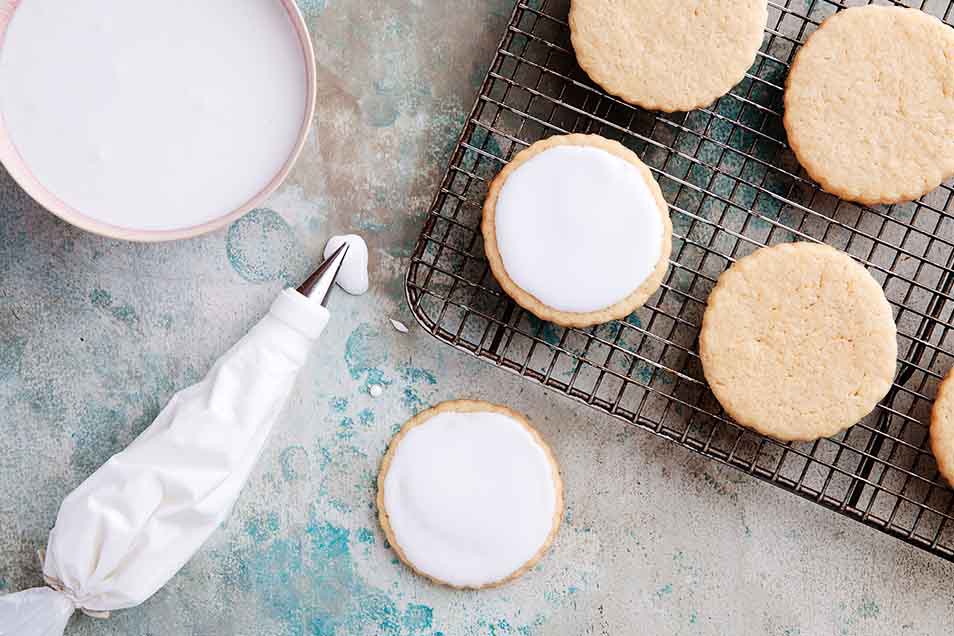 This is the traditional icing for glazing cookies, piping decorations, or assembling the walls of a gingerbread house. It's light and fluffy; the more you beat it, the stiffer it becomes. For a thinner version, simply thin with a bit of water until you have a consistency that will flow evenly over the cookie. Let it dry to a hard, shiny surface, then you can pipe over it or use food-safe markers to decorate. To color the frosting, we recommend gel paste or powdered colors. Liquid food coloring can dilute the frosting so much it separates and becomes grainy. Be sure to store any frosting you're not using in a tightly covered container; it becomes quite hard as it dries. We make this big batch of frosting, then divide it into smaller amounts to tint different colors.
Ingredients
1/4 cup meringue powder
1/4 teaspoon salt
3 to 4 cups confectioners' sugar, sifted
3/4 cup cool water
Instructions
Place the meringue powder and salt in a large mixing bowl. Add the cool water, and stir slowly to allow the powder and salt to dissolve. Allow to sit for 5 minutes for the powder to hydrate (see tips below).

Mix on low speed at first, to create a network of very fine bubbles. Add the sugar, increasing to medium and then high speed over several minutes. Beat until the icing is fluffy. You can adjust the sugar or water as needed to get a stiff, glossy icing that holds a tall peak.

Cover the bowl with a damp towel, and cover that with a layer of plastic wrap to keep the icing from crusting over.

If desired, divide the frosting into smaller containers and mix with gel food coloring. Add the colors drop by drop until you reach the desired color.

To use for piping, put a tip in the bottom of a disposable pastry bag. Using a coupler will allow you to change tips with ease.

Use a tall, heavy-bottomed glass to hold the pastry bag while you add the frosting. Take care not to fill the bag more than half full.

Close the back of the pastry bag with a twist tie or spring clip, to keep the icing from backing up over your hand when you squeeze it.
Nutrition Information
Serving Size

17g

Servings Per Batch

36
Amount Per Serving:
Calories

46

Calories from Fat

0g

Total Fat

0g

Saturated Fat

0g

Trans Fat

0g

Cholesterol

0mg
Sodium

21mg

Total Carbohydrate

11g

Dietary Fiber

0g

Sugars

11g

Protein

0g
* The nutrition information provided for this recipe is determined by the ESHA Genesis R&D software program. Substituting any ingredients may change the posted nutrition information.
Tips from our bakers
After stirring and allowing the mixture to sit, rub a little between your fingers to feel for lumps or grittiness. Old meringue powder won't dissolve properly even when whipped with sugar, and your icing will be grainy and sandy.
To make a hard cookie glaze, thin some of the frosting with a little more water. Dip the top of a cooled cookie into the frosting, then sweep across the top with a spatula to remove the excess. At this point you can sprinkle the wet glaze with colored sugar and let it dry, or put another color on top and swirl it through with a toothpick.
To keep the frosting in a pastry bag from hardening at the tip, place the pastry bag inside a second, uncut bag. This will shield the open tip from the air, and keep the frosting from leaking out.
When decorating, here are some of the tools you may find handy to have on hand: craft paintbrushes for spreading frosting; toothpicks for drawing one color through another; tweezers for placing sugar decorations, and colored sugars for sprinkling over wet icing.
Here is a royal icing recipe using egg white. It is from our 200th Anniversary Cook book. 1 egg white, 1 1/2 cups confectioners' sugar, 1/8 teaspoon salt, 1 teaspoon lemon juice. Beat all of the ingredients until it forms peaks.
Reviews
This is an excellent recipe. I used the version at the bottom of the page that substitutes egg whites (as I didn't have meringue powder) to decorate gingerbread cookies. I added a little extra confectioner's sugar, since I wanted to pipe some clear designs instead of flooding large areas, and I found it dried quite quickly. (I added some sparkling sugar, and needed to do so within about two minutes of icing application before the surface dried enough that the sugar wouldn't stick). It took perhaps a full hour to set well enough to stack the cookies, which is pretty quick for royal icing! But within about ten minutes it would have been set enough to transport flat without worrying about a total mess. Will definitely use again!
I made this as an icing for my Holiday Butter (cut out) cookies. It took a while to get the "stiff tall peaks" but eventually it came together beautifully. The only drawback to this recipe was that the icing took A LONG TIME to set (which other reviewers had indicated). If I had planned better, I wouldn't have been scrambling to get the icing to "set" on the cookies. Luckily it was very cold outside where we live so I was frosting the cookies and letting them sit outside to set - eventually I moved the cookies to my freezer and by the time I needed to individually bag each cookie (they were used as baby shower favors in the shapes of baby bottles, carriages, stars and ballerinas) the setting had set significantly (I had to bag them at the shower - any earlier and it would have smeared everywhere). The cookie recipe was very good too (I've used it before) but the royal icing - well, it was my first time with this. Next time I'll prepare and ice the cookies the day before I need them.
My daughter and I decided to up our decorating this year and used this recipe. I doubled it to make sure we had enough. We decorated about 4 doz cookies and had plenty leftover. We thinned some for flooding and pretty much just goofed around, experimenting with the frostings and tips, bags and bottles. Wish I could add a photo but we really liked the icing. I did add vanilla extract and if the icing seemed to thicken, we just added a little cool water.
It's critical when making royal icing that all your utensils, mixing bowl, beaters, etc are completely grease-free. I wash every thing with Dawn before I make royal icing. Grease will cause the icing to "break" and it will not harden.
It was terrible! It tasted terrible and it didn't dry at all!
We're sorry for the disappointment. The recipe notes state it's light and fluffy; the more you beat it, the stiffer it becomes. We welcome your call to our Baker's Hotline (855-371-2253) so we can offer more suggestions for royal icing. Let's work together to get you back to happy baking! Irene@KAF
Very tasty, but I wish I had really whipped the frosting until it was a meringue like texture- the icing did not hold its shape out of a piping bag.
Just made this for an order of sugar cookies, and it worked out perfectly. I added a bit more than 4 cups of powdered sugar to make the icing a little stiffer for letter writing. The tip about dipping the top of the cookies in a thinner icing for the glaze on top is life-changing. It's so much faster than flooding the cookies by piping.
I tried the royal icing recipe Mary from KAF had suggested, consisting of egg whites, powdered sugar, salt, and lemon juice which turned out PHENOMENAL!!! This is some of the best frosting I've ever had and my family's always baking desserts. Thanks!
This icing worked wonderfully well for my children as they decorated gingerbread cookies. The lines held their shape and did not run. Beautiful cookies!
I used this royal icing recipe on a batch of KAF gingerbread cookies (http://www.kingarthurflour.com/recipes/gingerbread-cookies-recipe). I did tweak it by adding 1.5tsp vanilla extract and 2tsp lemon extract to the flour/salt/meringue powder mixture (which i sifted twice for extra smoothness). Using an electric hand mixer, i beat it for about 5-7 minutes and it was great. I'm pretty sure i used less water than the recipe said too - as i was using it to detail cookies, rather than flood them. Unlike other reviewers, My icing dried VERY quickly. I finished icing my cookies within 4 hours they were dry enough to package. (though had i used enough water to make it flood a shape, i'm sure it would have taken 16-20hours at least) Anyway, with the extracts, it had a great flavor that really complemented the gingerbread. I would totally use this recipe again! I think the greater amount of meringue poweder (at least compared to the wilton royal icing recipe) really makes this icing a winner.