A customized print-friendly version of this recipe is available by clicking the "Print Recipe" button on this page.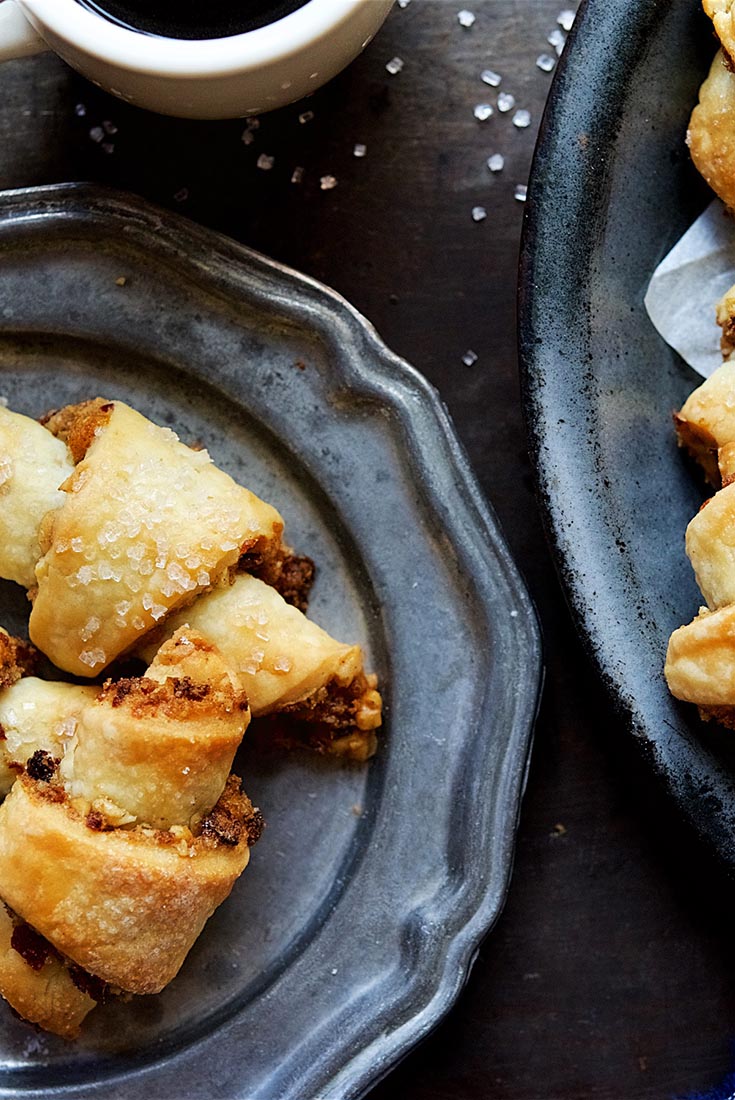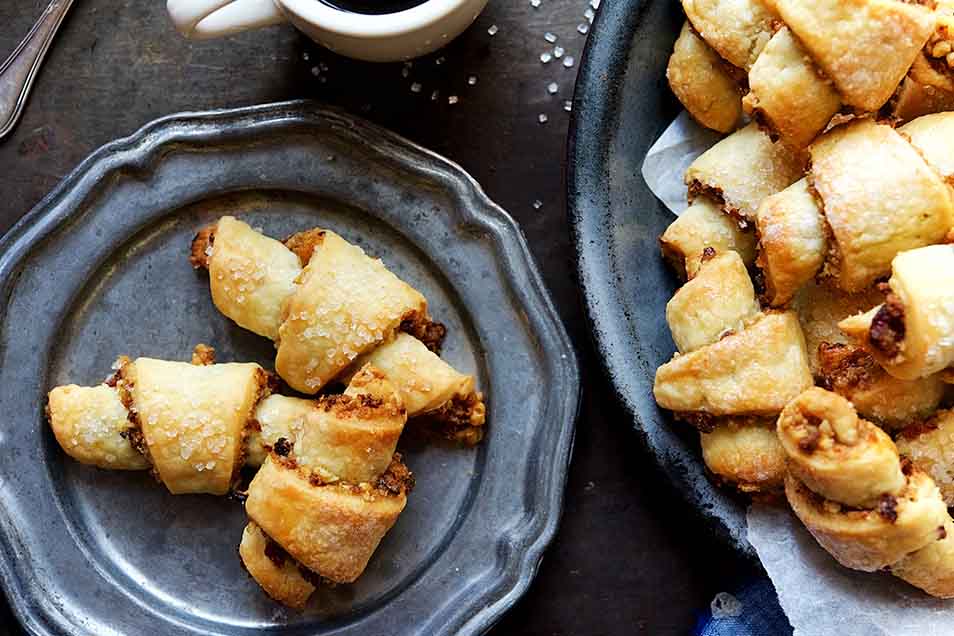 Satiny soft dough made with butter, cream cheese, and sour cream wrapped around a filling of sugar, nuts, and dried fruit: that's rugelach. Once baked, the traditional Eastern European cookie flakes like a Danish or croissant, its buttery flavor the perfect foil for the sweet filling within. While traditional rugelach is most often based on raisins and walnuts, apple, apricot, and chocolate versions are common as well. You'll find these variations in "baker's tips," below: or create your own favorite filling. Our rugelach is not only delicious, it's a blank canvas awaiting your imagination!

Baking gluten-free? For great results, substitute King Arthur Gluten-Free Measure for Measure Flour for the all-purpose flour in this recipe; no other changes needed.
Ingredients
Crust
16 tablespoons (1 cup) unsalted butter, at room temperature
3/4 cup cream cheese, at room temperature
1/3 cup sour cream
1/2 teaspoon salt
Filling
1/2 cup brown sugar
1 cup walnuts, chopped
1/2 cup dried cranberries, raisins, or currants
1 tablespoon cinnamon
water for brushing dough
Instructions
To make the crust using a food processor: Place the flour and salt in the bowl of a food processor. Pulse briefly to combine. Cut the butter and cream cheese into chunks and add to the bowl along with the sour cream. Pulse just until the dough forms chunks, and you can squeeze it together.

To make the dough using a mixer: Beat together the butter, cream cheese, sour cream, and salt until smooth. Add the flour, mixing to make a stiff dough.

Divide the dough into three equal portions. Press each gently into a disk. Make the disks as round as possible, smoothing their edges; this will allow you to roll the disks into a perfectly round circle, making the resulting rugelach more attractive. Wrap the disks in plastic, and chill the dough for about 1 hour, until it's firm but not rock hard. Or chill longer (up to overnight), then warm for about 45 to 60 minutes at room temperature, until the dough softens enough to roll out without cracking.

To make the filling, process the sugar, walnuts, dried fruit, and cinnamon in a food processor or blender until finely chopped and well combined (but not pasty). Don't have a food processor? Simply stir together the filling ingredients; your filling will be chunky rather than smooth.

Working with one piece of dough at a time, place it on a generously floured surface. Roll it into a 10" circle and brush it lightly with water. For a flavorful touch, brush the rolled-out rugelach dough with a thin layer of boiled cider, warmed apple or currant jelly, or puréed fruit preserves, instead of water.

Use your fingers to spread about 1/3 of the filling onto the round, going all the way to the edges and gently patting the filling to help anchor it to the dough.

Using a pizza cutter, baker's bench knife, or sharp knife, divide the dough into 12 equal wedges. Roll each wedge up, beginning with the wide end and ending with the narrow end. Place the rolls point-side down on a baking sheet; lining the baking sheet with parchment will help with cleanup. Repeat with the remaining two pieces of dough.

Brush the rugelach with milk or cream; and sprinkle with granulated or coarse white sparkling sugar, if desired.

Preheat the oven to 350°F. Refrigerate the rugelach while the oven is preheating.

Bake the rugelach for 25 to 30 minutes, or until golden brown. Remove from the oven, and cool right on the pan. Serve warm or at room temperature.

Store leftover rugelach in an airtight container at room temperature for several days. Freeze for longer storage.
Nutrition Information
Serving Size

27g

Servings Per Batch

24
Amount Per Serving:
Calories

127

Calories from Fat

80

Total Fat

9g

Saturated Fat

5g

Trans Fat

0g

Cholesterol

17mg
Sodium

50mg

Total Carbohydrate

10g

Dietary Fiber

1g

Sugars

5g

Protein

2g
* The nutrition information provided for this recipe is determined by the ESHA Genesis R&D software program. Substituting any ingredients may change the posted nutrition information.
Tips from our bakers
Try these tasty fillings; each makes enough for one-third of the dough, so feel free to mix and match various fillings using a single batch of dough.
Dark Chocolate: Whisk together 1 tablespoon brown sugar and 1 teaspoon unsweetened cocoa powder; add 1/4 teaspoon cinnamon, if desired. Sprinkle atop rolled-out dough. Sprinkle with 1/4 cup (1 1/2 ounces) mini chocolate chips or chopped semisweet chocolate.
Double Apricot: Process 1/2 cup (3 ounces) chopped dried apricots, 3 tablespoons (2 ounces) apricot jam or preserves, 1 teaspoon lemon juice, and a pinch of salt until the apricots are finely chopped, but the mixture isn't totally smooth.
Apple-Cinnamon: Combine 2/3 cup (about 4 ounces) peeled, grated apple; 2 teaspoons lemon juice; 1/3 cup (2 3/8 ounces) sugar; 2 tablespoons (1/2 ounce) cornstarch, and 3/4 teaspoon ground cinnamon in a small saucepan. Stir to thoroughly combine. Cook over low heat, stirring frequently, until the apple starts to release its juice. Increase the heat to medium, and bring to a simmer. Simmer, stirring, until the mixture thickens, 1 to 2 minutes. Remove from the heat, and set aside to cool to room temperature; if you want to hasten the process, place in the refrigerator.
Both the rugelach dough and shaped, unbaked rugelach can be made ahead, wrapped airtight, and frozen up to 4 weeks before using. For best results, thaw in the refrigerator overnight, wrapped, before using. 
Reviews
Wonderful recipe. I actually roll out the dough on a piece of plastic wrap to avoid extra mess. All three pieces go back into the fridge ready to unwrap - and then onto the parchment paper on the cookie sheet.
This is a relatively easy recipe to follow and make. The most difficult part for me was cutting the pastry dough and making the rugelach uniform pieces. But that doesn't matter because they were absolutely delicious. Instead of raisins, I used dates. The next time I make these, I'm going to use figs. Having the dough separated into three different discs allows you to make three different types. The possibilities are endless with this recipe!
Such a great result for not much complexity. I have made this recipe 3 times and taken the results to several social dances to wide acclaim. Several of the tips have proved to be a big help. The use of Boiled Apple Cider to brush the dough with before spreading on the filling has helped the filling to stick. It works particularly well with robust sweet fillings. I have done two of these with dried cranberries and nuts (once walnut and once pistachio). I would use butter for a more neutral coating if I was using a more delicate flavor like apricot or orange. I look forward to trying a savory version in the near future.
Made Gluten Free with the KAF cup for cup flour. Have made both sweet and savory!
Made Gluten Free with the KAF cup for cup flour. Have made both sweet and savory!
easier than anticipated because the dough was easy to roll and shape. followed the recipe for dough as written, weighing the flour and sour cream. about 15 one second pulses using a process resulting in dough with a small curd cottage cheese consistency that I could shape into disks (each about seven ounces). used the tip of leaving the tips of the triangles free of filling there was no problem with unrolling during baking. used three different fillings (cinnamon and sugar/jelly and nut combo/cinnamon sugar and raisins), all of which were great. I did not chop up the raisins, but found pressing them into the dough slightly and tucking them in at the wider end of the triangles as I formed the cookies kept them in place. Raves all around. Now part of my "these cookies are winners" file.
Dough was much easier to handle than anticipated and so was able to assemble the cookies in a short period of time once the dough had chilled an hour. I made 1/3 with the cranberry walnut filling, 1/3 with the apple filling and 1/3 with lingonberry jam. All are delicious although the jam-filled ones leaked most of the contents during baking so their appearance is not company-worthy. The others will be taken to Thanksgiving dinner. My husband is more than happy to eat the lingonberry ones left behind. I'll be adding this recipe to my list for holiday baking.
I made these with the walnut & cranberry filling, as well as the apricot and chocolate options. They are all delicious! Dough was extremely wet, almost pourable, and not crumbly at all. When it was refrigerated, however, it rolled out easily. I froze the unbaked cookies for a couple of days, then thawed them overnight in the fridge before baking. The walnut/cranberry ones turned out pretty much like the picture. The apricot ones flattened slightly, but the filling stayed inside where it belongs. The chocolate filling melted and ran out onto the pan, making them not nearly as attractive as the others. I was using a Silpat, so the mess was pretty easy to handle. I used kitchen shears to cut away the chocolate filling that had run out, and the resulting cookies were still delicious, just not as pretty as the others. Too bad I can't post a photo of the finished product. Definitely a keeper for holiday baking!
The rugalech turned out great! The dough is tasty and flaky; a perfect complement to the sweet filling. I opted not to use the dried cranberry in my filling because I'm such a huge fan of the brown sugar, walnuts, cinnamon filling. I found the dough very easy to work with after refrigerating it overnight and then letting it sit on the counter for an hour before trying to manipulate it. The cookies look as beautiful as they taste. So thrilled with the recipe!!
As a man I think I did pretty good and this recipe is great. The only suggestion I would make is to role the dough out in a mixture of flour and sugar to add some sweetness to the dough. It seems to overpower a little the filling. Of course, I am not an expert baker, just my opinion. I like my dough a little sweeter.