A customized print-friendly version of this recipe is available by clicking the "Print Recipe" button on this page.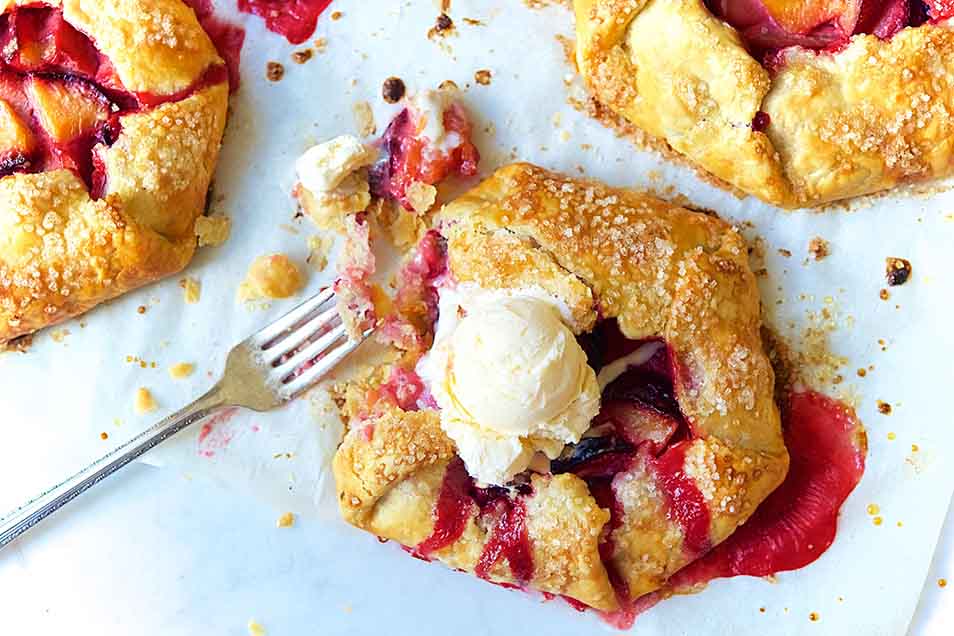 In this "rustic" dessert, a rich pastry crust is folded up around cream-enhanced fruit filling, the folds simply gathered together at the top. What these tarts lack in fancy presentation, they definitely make up in taste. Try these with juicy stone fruits in summer, when peaches and plums are at their peak.
Ingredients
Filling
1 cup sour cream, regular or low-fat
1/4 cup sugar
2 tablespoons Pie Filling Enhancer or 3 tablespoons King Arthur Unbleached All-Purpose Flour
1 teaspoon cinnamon
1/2 teaspoon cardamom, optional
1 tablespoon lemon zest or 1/4 teaspoon lemon oil
3 to 4 large apples, peeled, cored and diced in 3/4" dice, or 4 to 5 large peaches or plums, peeled, pitted and diced
Instructions
To make the pastry: In a medium-sized mixing bowl, beat together the butter, sugar, salt and egg yolks until they're light-colored and fluffy.

Add the flour and cream, and mix until well-combined.

Divide the dough into 6 pieces, round each piece into a ball, flatten the balls into disks, then cover them with a damp cloth, or wrap with plastic wrap.

To make the filling: In a medium-sized mixing bowl, whisk together the sour cream, sugar, pie filling enhancer or flour, cinnamon, cardamom (if desired) and lemon.

Toss the mixture with the diced fruit.

To assemble and bake the tart: Preheat the oven to 375°F.

Roll the disks of dough into 8" circles, and place them on a lightly greased or parchment-lined baking sheet.

Spoon about 1/2 cup of the fruit filling into the center of each disk. Bring the sides of the dough up around the filling, making pleats to hold the dough in place if necessary.

Bake the tarts for 10 minutes, then turn the oven down to 350°F and bake for an additional 20 to 25 minutes. The apples should be cooked (they won't bubble, but should be fork-tender), and the pastry lightly browned.

Remove the tarts from the oven and serve warm or at room temperature.

Store the tarts, well-wrapped, at room temperature for up to 3 days.
Tips from our bakers
The tarts are excellent alone, but a dollop of whipped cream, vanilla ice cream or Devon cream with brandy melting on the top makes them simply irresistible.