A customized print-friendly version of this recipe is available by clicking the "Print Recipe" button on this page.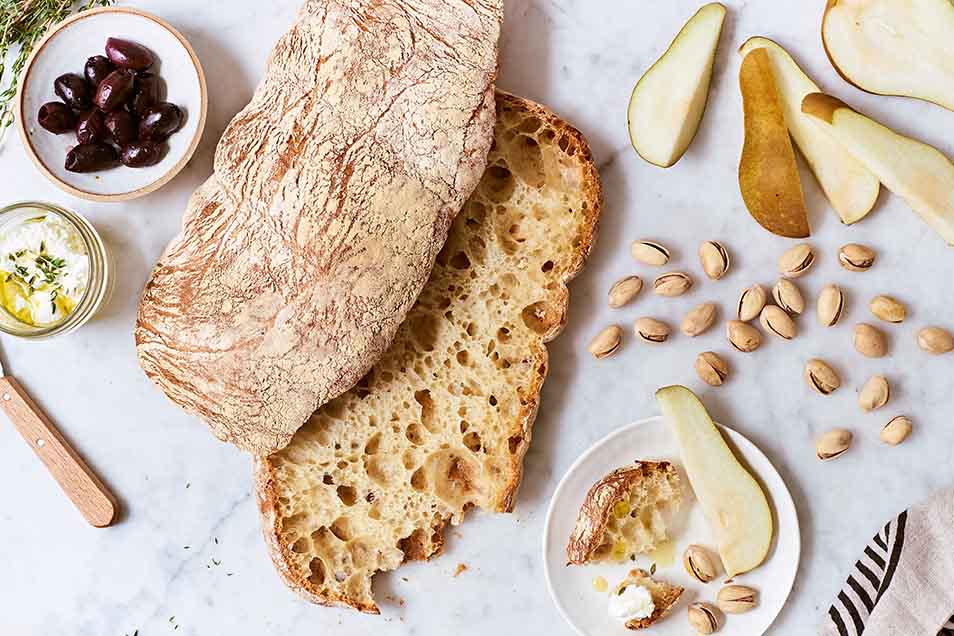 This rustic Italian loaf is filled with irregular holes, all the better to trap a drizzle of olive oil. Cut lengthwise, ciabatta makes a wonderful Italian-style sandwich.
Instructions
To make the starter: Stir the water, 2 cups flour, and 1/4 teaspoon yeast together, cover, and let rest at room temperature for several hours, or overnight.

To make the dough: Add the 1 1/2 cups flour, 1 teaspoon yeast, and salt to the starter, mixing vigorously until the dough begins to hold together. This is a very sticky dough; add more flour only if it's "soupy."

Place the dough in a lightly floured bowl. Let it rise for 1 hour, then gently deflate it. Let it rise another hour, then turn it out onto a liberally floured work surface or silicone rolling mat, and sprinkle lots of flour on top.

Flatten the dough to an 8" x 10" rectangle, about 3/4" thick, and cut it into two pieces, each about 4" x 10".

Transfer the loaves onto a piece of parchment, leaving about 6" between them. Cover with heavily oiled plastic wrap or a freestanding plastic cover, and let rise until they're very puffy, about 2 hours.

Preheat the oven to 500°F for 30 minutes. If you have a baking stone, place it in the oven when you start preheating, so it gets nice and hot.

Spritz the dough with water; or add steam to your oven (see "tips," below). If you're baking on a stone, transfer the bread to the stone, parchment and all. If you're using a pan, transfer the loaves on their parchment to a baking sheet, and place them on a middle rack of the oven. Lower the oven temperature to 425°F.

Bake the ciabatta until it's golden brown, approximately 22 to 25 minutes. Turn the oven off, place ciabatta on the oven's middle rack, crack the door open about 2", and allow ciabatta to cool completely in the turned-off oven. Fresh ciabatta is best enjoyed within a couple of days. For longer storage, wrap well and freeze.
Nutrition Information
Serving Size

39g

Servings Per Batch

20
Amount Per Serving:
Calories

80

Calories from Fat

0

Total Fat

0g

Saturated Fat

0g

Trans Fat

0g

Cholesterol

0mg
Sodium

180mg

Total Carbohydrate

16g

Dietary Fiber

1g

Sugars

0g

Protein

3g
* The nutrition information provided for this recipe is determined by the ESHA Genesis R&D software program. Substituting any ingredients may change the posted nutrition information.
Tips from our bakers
For extra-crusty crust, add steam to your oven as follows: While the oven is preheating, place an empty cast iron frying pan on the oven rack below the stone. If possible, adjust stone and pan so that the pan isn't directly under the stone, making it easier for steam to reach the baking bread. Once you've placed the bread in the oven, pour about 1 cup of boiling water into the cast iron frying pan. Steam will billow from the pan upwards to envelop the baking bread; be sure to wear good oven mitts to shield your hands and arms. Quickly close the oven door to trap the steam.
Reviews
I'm really enjoying making bread, particularly those in the Sourdough family. Instead of covering any dough I make with plastic wrap, I use unbleached drill cloth, about twice the size of a dish towel and hemmed on all four sides. Just rub the cloth with flour and cover your dough. Shake it out outdoors, when you need to clean your cloths, wash on the sanitize cycle of your washer with no chemicals. My question is, I want to branch out and make this recipe using a variety of other ingredients, I.e. spinach, caramilized onions, roasted peppers, garlic, ect. Any suggestions regarding preparation and or increased moisture as well as the best time to work these ingredients into the dough? Thank you! I thoroughly enjoy this site and many of the recipes i've used.
Turned out perfect! I actually did 3 stretch folds during the 1st hour rise (stretch dough and fold onto itself on all 4 sides). I baked on a stone with a second stone placed about 4" over the bread, and added ice to create steam. The result was a perfect ciabatta, soft inside, crisp outside, with a creamy mouth feel. Thanks KAF.
I was curious why there is no kneading this dough. At least it's not mentioned in the instructions. I consider myself an experienced bread maker however I was disappointed with this recipe. yes it is a sticky dough as mentioned however after the last 2 hour rise they were very flat. Pictures show a very floured top yet the instructions tell you to cover dough with heavily oiled plastic wrap for the last rise. Any oil on top of the loaf just before baking is going to result in a soft crust, not a floured crispy crust as ciabatta should be. Am I missing something?

Hi, Sara! Typically ciabatta isn't kneaded because of the high hydration and airyness, rather it is gently folded a couple times during the rising process. The flatness is a characteristic of ciabatta bread, which are most often only a couple inches in height. Just before you cut the dough into two loaves the tops should be heavily sprinkled with flour after being turned onto a well-floured surface. The oiled plastic wrap is an extra precaution and helps to keep the plastic from sticking in the event that there are any spots that might be light on flour. Also, you want to lightly cover the loaves with plastic wrap as to not make an oil/flour paste on the top of the dough. We hope this helps! Kindly, Morgan@KAF
I've made ciabatta before. However, it's been awhile, and I couldn't remember the exact recipe. Figured King Arthur would be reliable, but now I wish I'd read the reviews first. The flour/water ratio seemed too much for a slipper bread, but I thought that maybe my memory was just faulty. After all, that's why I was looking at a recipe. In short, the dough doesn't turn out sticky or slippery like a ciabatta. It ends up being more like a normal bread. Not bad, but not what I wanted. Didn't have any rise problems like others mentioned; however, it lacked the nice big air bubbles of a normal ciabatta.

It sounds like you might have been measuring your flour by scooping it directly from the bag into the measuring cup, which can result in too much being added to the dough, making it stiff and dry. To ensure you're using the right amount, we recommend checking out the "Measuring Standards," link next to the ingredients header above. You'll see that either measuring your flour by weight using a scale, or fluffing and sprinkling the flour into your measuring cup are the best ways to ensure your recipe turns out perfectly. Kye@KAF
Wish I had read the reviews before trying this 12-hour long process. Did not rise above 2 inches in the oven. Followed all directions.

We'll admit that making traditional ciabatta is more of an advanced baking technique, as it can be difficult to get a nice rise out of such a wet dough. We'd be more than happy to talk through some of the common pitfalls of making ciabatta and hear more about your ingredients and method if you give the Baker's Hotline a call at 855-371-BAKE (2253). Our friendly and experienced bakers would love to troubleshoot with you further. Kindly, Kye@KAF
I made this recipe but .... the final loaf was very flat and didn't have the big bubble / open texture. It looked more like focaccia that ciabatta. It wasn't the yeast because it did double in volume but instead of going 'up' is spread out. I suspect that the problem was my dough was too wet so it didn't have the viscosity to hold it's shape. I'm going to try it again and make the dough a little bit firmer but still soft.

It sounds like you had a similar experience to the previous reviewer, so we'll suggest an approach along the same lines. Try manipulating the dough more so during the 1 hour rise by adding a series of stretch and folds. While wet, sticky dough can be difficult to handle, it's also key to making bread with a large open crumb. If you add more flour, you may lose some of this lovely texture, so consider working on a lightly greased work surface (instead of floured). Kye@KAF
Might be a mistake on my part but I didn't get the kind of rise I expected on the last rise and the bread end up a bit spread/flat. I think the issue may be that I had the dough too wet/soft so it didn't have enough density to raise in place and just 'mushed out flat'. It tasted good though ....

Sometimes flat bread still tastes delicious, it's true! If you're looking to give your bread a bit more height next time, consider adding just a bit more flour (2 tablespoons to 1/4 cup) to give your dough more strength. You can also add a series of stretch and folds to the dough during the one hour rise in step 3, which will help organize the gluten and add strength. (Every 15 to 20 minutes, turn the dough out of the bowl and fold the corners into the center; turn the whole thing over so the seams are facing down.) We hope this helps make perfect ciabatta next time. Happy baking! Kye@KAF
I've made this several times now, using your tutorial on kneading wet dough by hand and am very pleased with the consistent, delicious results. I feel I've learned a great deal about bread-making from the experience and have gained in confidence about very hydrated doughs. My colleague, with whom I have a friendly baking competition has not had the same success with the ciabatta recipe he uses (Paul Hollywood's).
When I added the rest of the flour the dough was not sticky. I must have added too much flour initially. I resolved the dry dough by adding water. Turned out OK but will try again to see if I can figure out what I did wrong the first time. Suggest listing both methods of measurement in the directions. I weigh the ingredients when I bake but in the recipe it only provides direction using cups which can get confusing.

Thank you for your valuable feedback and suggestion, Mia! We've passed it along to our recipe team for future consideration. In the meantime, the Ingredient Weight Chart in the Learn section of our website shares that one cup of the flour in this recipe weighs 4.25 ounces. Simply start with 8.5 ounces for step 1, then you can add the rest in step 2, holding back an ounce or two to add in slowly as needed. We hope this helps! Annabelle@KAF
Not sure what I did wrong. Followed directions. It never did rise. It was very flat, nice and crunchy but not impressed with the outcome.

We're sorry to hear this recipe didn't turn out the way you'd hoped, Kate. The fact that it never rose leads us to think that either the yeast wasn't working, or there was a bit too much flour added to the dough. We'd love to figure out where things went awry, so we encourage you to reach out to our friendly Baker's Hotline staff to help troubleshoot at 855-371-BAKE (2253). Kindly, Annabelle@KAF