A customized print-friendly version of this recipe is available by clicking the "Print Recipe" button on this page.
Rustic Olive Sourdough Bread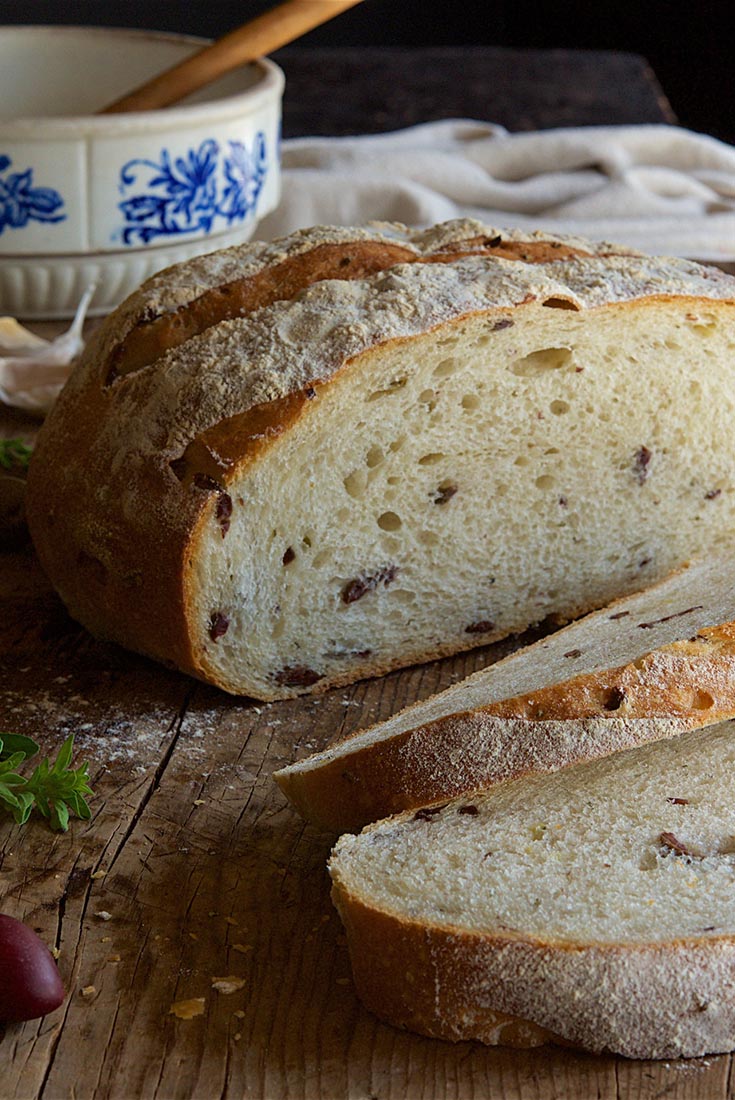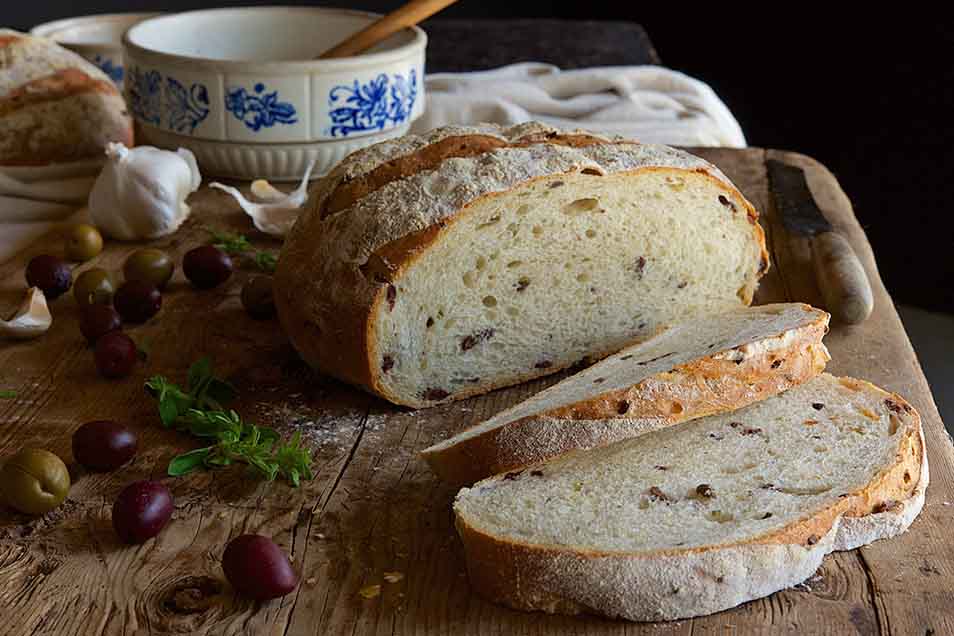 This loaf's slight tang of sourdough, plus the brininess of olives, are perfectly complementary. The strength of these flavors works well with assertive sandwich fillings such as tuna, smoked fish, or meat. Which is not to say the bread isn't equally good slathered with salted butter, as a side to a Mediterranean-inspired meal.
Ingredients
1 cup sourdough starter, ripe (fed) or discard
1 1/4 cups lukewarm water
1/4 cup olive oil
2 teaspoons instant yeast
1 tablespoon sugar
2 1/2 teaspoons salt
2 cloves garlic, finely chopped
1 tablespoon fresh oregano, finely chopped; or 1 1/2 teaspoons dried oregano
4 1/2 to 4 3/4 cups King Arthur Unbleached All-Purpose Flour
1/2 to 1 cup cup drained, pitted, and coarsely chopped kalamata olives
Instructions
Combine all of the ingredients, except the olives, mixing and kneading to form a smooth dough then fold in the olives.

Cover the dough, and allow it to rise until it's doubled in size, about 90 minutes.

Gently divide the dough in half; it'll deflate somewhat.

Shape each piece of dough into a round loaf. Place each loaf on a lightly greased or parchment-lined baking sheet.

Cover the loaves and let them rise until very puffy, about 1 hour. Towards the end of the rising time, preheat the oven to 425°F.

Spray the loaves with lukewarm water, and make two fairly deep diagonal slashes in each.

Bake the loaves for 25 to 30 minutes, until they're a very deep golden brown. Remove them from the oven, and cool on a rack.
Tips from our bakers
For robust olive flavor, add 1 cup sliced olives, with 4 to 6 tablespoons additional flour, to the dough.
For a crunchier crust, bake the loaves on a preheated pizza stone.
Reviews
at what point are the olives added to the dough?

The olives are added at the end of step one, after the dough begins to come together. Once it feels smooth and slightly bouncy, fold in the chopped olives until they're evenly distributed. Happy baking! Kye@KAF
Really great taste with the artisan olive KAF product. I also added julienned sun-dried tomatoes (soft and not packed in oil) and additional dried rosemary (skipped the garlic), which gave the bread an interesting color and delicious taste. I also used white spelt flour. I tried to prolong the crunchy crust by letting it cool in the oven, but its a soft loaf. Very tasty and pretty too. I highly recommend the addition of the sun-dried tomatoes. Thanks KAF!
It's delicious and I'm happy to have a use for my unfed starter. I used a cup of halved and sliced mixed Kalamata and Castelvetrano olives. I added quite a bit more flour as the dough was extremely sticky. I baked the loaves on parchment on a preheated pizza stone. The only reason I didn't give it 5 stars, is it lost its crunchy texture as it cooled. Husband loved it!

Congrats on such a successful loaf, Claudia! To hold on to that crispy crust, try turning your fully baked loaf out onto an oven rack, cracking the oven door, and allowing it to cool down along with the oven. Mollie@KAF
Delicious. I made the dough for this great flavored bread in my bread machine, followed the directions, no changes except I baked them as two loaves in my KA Italian loaf pan. The Olive Artisan Bread Flavor is a must. The dough was wonderful to work with. They rose beautifully. I spritzed them, and tried to slash them, baked them at the recommended temp for about 20 min. They were nicely browned, a crispy crust with wonderful interior. Next time I'll add Kalamata olives as the note at the end of the recipe recommends. Great bread with butter, or olive oil, or cheese, or whatever. My husband is in heaven with another great KA recipe.
Can this be baked in a dutch oven,
The quick answer is Yes! This recipe makes about 2 1/2 pounds of dough or two loaves, so it may be good to do a test bake with half the dough in your dutch oven. Happy baking! Irene@KAF
I love this bread!!! It turns out perfect each time I make it!!!! I use KAF flour and olive bread flavoring, I also use KAF sourdough starter, I have had the starter for 5 years.
Hooray! A sourdough bread that can use fed or unfed starter. This is a yummy loaf - even without the olive flavor enhancer. I will have to try what I have seen others suggest - adding herbs and olives. I always have good results with this dough. And can I put in a plug for your KAF sourdough? I have had mine going for 3 years now and it doesn't always get fed on schedule - tough stuff! I'm really glad that I found this website (and KAF products) for all the fun bread recipes. Thanks!
I didn't have the Olive (or olives) flavor so after looking up what was in I I decided to put 1/2 cup wheat flour and 1/2 cup grain mix in the bread. I used olive oil to oil the bowl & dough while rising. Oil got in/on the bread when I rolled it into baguettes. Made 4 baguettes with the bread, I should stop, these "rustic" recipes make goofy looking baguettes. Wound up with a dense (not heavy) crusty loaf. Grain mix wasn't too evident. I may put olives in the next time. Ate a whole loaf myself with some chicken & rice soup. Would have been even better with minestrone soup.
Great recipe. I riffed on it somewhat, as I never use commercial yeast in my sourdough. (It kills all the good bacteria!) Still came out great. I made four small loaves, two boules and two braids. (The recipe has a small error in that it tells you to divide the two halves in two, but then says at the end that the yield is two loaves.) I also used KA whole wheat flour, as I had no olive flour. Two plain boules, one braid with a bit of extra olive oil and chopped fresh rosemary and the other with rosemary and chopped Kalamata olives. Definately saving this one to my Pocket App!