A customized print-friendly version of this recipe is available by clicking the "Print Recipe" button on this page.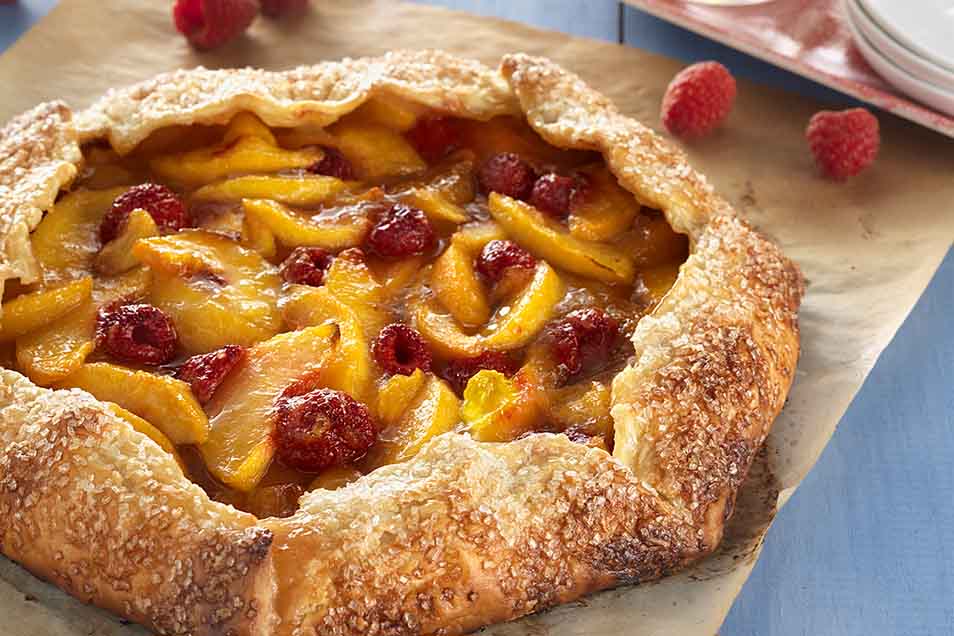 Flaky, buttery crust enfolds juicy peaches in this rustic tart.
Ingredients
Filling
4 to 5 large ripe peaches, peeled and sliced; or 2 pounds frozen sliced peaches, partially thawed (about 5 to 6 cups)
1/2 cup sugar
2 tablespoons Instant ClearJel
1/2 teaspoon ascorbic acid; optional, for added flavor and to preserve color
1/8 teaspoon nutmeg
pinch of salt
1/2 cup fresh raspberries
Instructions
To make the crust: In a large bowl, whisk together the flour, buttermilk powder, and salt.

Mix in the cold butter and shortening until the dough is crumbly.

Sprinkle ice water over the mixture 1 tablespoon at a time while tossing with a fork. After adding 3 tablespoons of water, gather the dough together into a ball. Add more water if it crumbles and won't hold together.

Flatten into a disk, wrap, and refrigerate for 30 minutes or longer.

Preheat the oven to 450°F.

Whisk together the sugar, Instant ClearJel, ascorbic acid, nutmeg, and salt.

Add the peaches and a few of the raspberries, tossing to combine. Set aside.

Roll the chilled dough on a well-floured work surface or silicone rolling mat into a 14" circle.

Use a knife or pizza wheel to trim the edges in a scalloped design.

Move the crust to a baking pan or pie pan; a giant spatula works well here.

Fill the center with the peach mixture.

Fold the edges of the crust up over the peaches, leaving the center uncovered.

Bake the tart for 40 to 45 minutes, until the crust is golden.

Remove from the oven, and sprinkle with the remaining fresh raspberries.

Serve warm, with whipped cream or ice cream.
Nutrition Information
Serving Size

175g (1/8 tart)

Servings Per Batch

8
Amount Per Serving:
Calories

270

Calories from Fat

117

Total Fat

13g

Saturated Fat

5g

Trans Fat

0g

Cholesterol

37g
Sodium

290mg

Total Carbohydrate

37g

Dietary Fiber

2g

Sugars

19g

Protein

4g
* The nutrition information provided for this recipe is determined by the ESHA Genesis R&D software program. Substituting any ingredients may change the posted nutrition information.
Reviews
This was a disaster. There was not only not enough dough to make a 14" circle it was dry and crumbly. Tried fixing it with a bit more liquid but it refused to hold together. I finally scrapped it and pulled out another handy tart crumble recipe and what I thought would be a fast and easy dessert turned into a major undertaking. I put up Palisade peaches every fall so no way was I letting those babies go to waste.

We're sorry to hear this recipe gave you some trouble, Jessica. We'd be happy to talk through the recipe with you, so we encourage you to reach out to our free and friendly Baker's Hotline staff to help troubleshoot at 855-371-BAKE (2253). Kindly, Annabelle@KAF
I made this for my in-laws last week, and it turned out all right -- it was good, but nothing to really write home about (imo, though those present liked it). I made it again today and it was *so* good -- the best pie I'd ever made, according to my husband, and the kids all had seconds. I don't like using shortening so the crust, which I made in my food processor, was all butter, and I topped it with some KAF sparkling sugar before baking. I added Penzey's Pie Spice instead of nutmeg and that was a great addition. Definitely will be making it one more time before peach season is over!
Don't substitute instant tapioca. I often use it in pies with great success but it didn't not dissolve in this recipe. I had peaches from a local orchard I was anxious to use so I decided to give it a whirl. Also didn't have buttermilk powder but that was ok. Overall taste is great though and I will definitely make again. My husband still ate it.

We're sorry to hear your substitution didn't turn out well in this recipe, Pie Baker. We've had mixed success using instant tapioca, so we tend to opt for Instant ClearJel or Pie Filling Enhancer, two products that are known to thicken reliably and leave the filling clear and smooth. We hope you'll give this recipe another try using one of those two options. We think you'll be pleased with the results! Kye@KAF
The fruit mixture did not set up. I used all fresh fruit so perhaps there was more water in the fruit. After over an hour of baking, and totally mushy fruit, I took out about half of the moisture and added cornstarch, some fresh blueberries to try to keep it looking like a jam pie, and I put foil on the edges to try to contain the crust that by this time had stretch out and split at places on the sides. I'm going back to flour, cornstarch, or tapioca as a thickener.

We're genuinely surprised to hear your pie filling was quite so liquidy, Susan. We're wondering if you used 2 tablespoons of Instant ClearJel, as this should set the filling almost immediately after it's mixed in with the fruit filling. If you did use Instant ClearJel, we encourage you to give our Baker's Hotline a call so we can troubleshoot further, as this ingredient is usually a fail-proof thickener and doesn't need any heat to activate. We're here to help if you'd like our advice and insight: 855-371-BAKE(2253). Kye@KAF
If 6 stars were an option, I'd choose 6! I've made this for the past three summers. Today, I followed one reviewer's suggestion to drain the fruit (peaches, raspberries, blueberries) mixture after step #7 and simmer the juices to thicken them (5 minutes). I quickly cooled the juice in the freezer before pouring it over the assembled tart before baking. The improvement was astounding. I had to give away half the tart to a neighbor before I ate the entire thing. Other changes: I always cut the sugar amount in half (the fruit is sweet enough). My buttermilk powder had hardened (didn't realize I should have refrigerated it after opening) so I added a tablespoon of powdered milk and a tablespoon of vinegar and reduced the water accordingly. I didn't have ascorbic acid so I squeezed 1/2 a lemon over the tart before baking. I didn't see the need for nutmeg so that was eliminated, too. I substituted cornstarch for ClearJel. I baked at 450 degrees/convection for about 30 minutes and got a golden result. Excellent dessert! I would like to try this with Washington state cherries. Any suggestions on how to make that work? Thank you.

We're so glad this recipe was a hit, Kathy! Cherries would make a lovely filling. You should be able to adjust the sugar to your tastes depending on whether the cherries are sweet or sour, but the only other change to consider would be the thickener. Cherries don't release quite as much juice as peaches, so we'd recommend cutting the thickener down to 1 tablespoon + 1 1/2 teaspoons rather than 2 tablespoons. Happy baking! Annabelle@KAF
I've made this several times now, using half peaches and half blueberries for the filling. The crust is tender and has a good flavor, and is easier to work with if chilled for the minimum amount of time.
I made this using 5cups of blueberries as the fruit and didn't have clear jel, so used 2tbsp corn starch and 1 tbsp lemon juice. Some reviews said 450 was too high, so I baked it at 435 for 40 mins. I think 450 would have been fine. The crust was easy to throw together in the food processor. I don't have buttermilk powder so used reg milk powder and some vinegar in the water to simulate buttermilk. I typically bake/cook everything scratch made but when I'm baking pies, it is usually at the holidays when I'm cooking/baking up a storm, so I buy my crust. I know, it's not the same, but it's a big time saver. So I almost never make pie crust. This one went together and rolled out easily and tasted delicious. The only hard part was rolling the dough thin enough to make 14". I rolled it between parchment paper but then it was too warm that the top layer would not easily separate. I popped it into the freezer for a few mins and then the paper came off easily. (I baked it on the bottom layer for ease of clean up.) I would make this again. It boosted my confidence with scratch-made pie crusts. They are so good but sometimes I just don't have time to roll out the dough and get it just right.
The crust turned out well; I use buttermilk to moisten the flour/fat mixture. It works fine. 450 is in my view too high; maybe way to high. Many pies start at 400 and rduce to 350 after about 15 minutes and I will try that next time. The high temperature causes the juices in the fruit mixture to boil too rapidle and they leaked a good deal. I think you might help people out by talking them through the vagaries of ripe fruit in pies and tarts such as this. Often there is a great deal of juice (and more so with frozen fruits). Ideally I think it works best to put the fruit in a sieve, drain the juices and boil them down considerably, until they are thick. This aids in producing a pie or tart with less water to evaporate and a greater possibility of eliminating leaking over the edges of the crust. Finally, I have used tapioca powder as a thickener for years in pies (1-3 TBSP, depending on the juiciness of the fruit) and it works like a charm. (This is not the same as regular tapioca. It's not hard to find any more.)
OMG!!! This is summer in your mouth! First off, I didn't have the buttermilk powder or ascorbic acid and I had just picked up peaches from the local farm stand so I knew I I didn't have time to place an order for these items from KA. No problem with the crust or the color of the peaches. Also having read the reviews I only put in a heaping tbsp of instant clear gel and I should have put in the full 2 tbsp that the recipe called for as the peaches were juicy. I also brushed my rustic pie with water and sprinkled with sparkling sugar for that finished look and it came out beautiful, a bit runny (not enough clear gel) but beautiful. Oh so tasty and that was without the vanilla ice cream. Tonight we polish the rest off with vanilla ice cream.
My crust came out perfectly! The online KAF chat was very helpful about substitutions for thickeners. Draining most of the fruit before putting it onto the crust was a good idea.