A customized print-friendly version of this recipe is available by clicking the "Print Recipe" button on this page.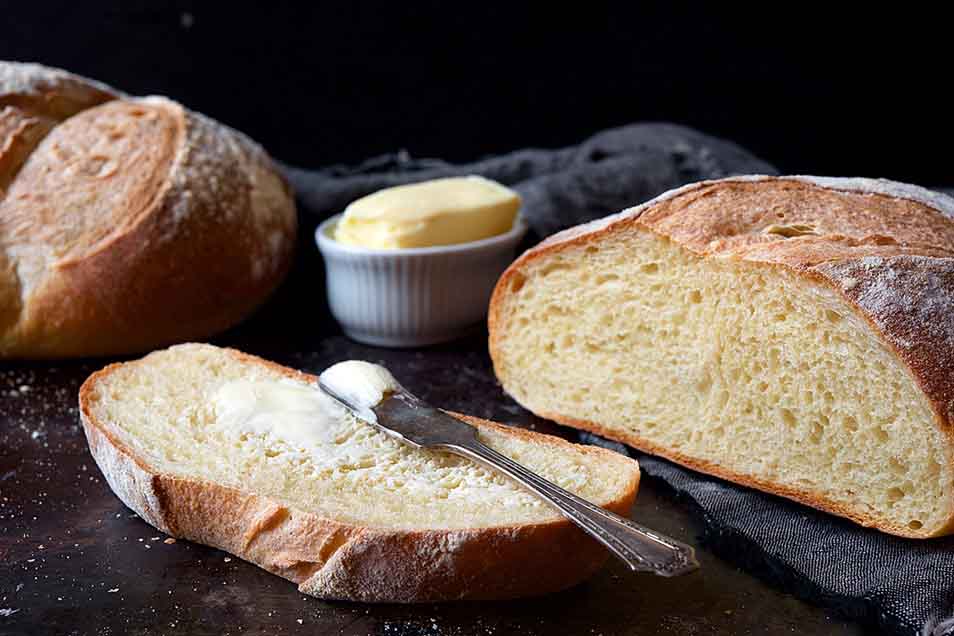 This chewy loaf, with its deep-brown crust, has rich, deep, flavor, and very mild tang. We love this bread for its chewiness and golden crust, ideal qualities for panini; try it with ham and cheese, for a new take on that favorite sandwich.

New to sourdough? Find the help you need for all of your sourdough baking at our Sourdough Essentials page.
Instructions
Combine all of the ingredients, kneading to form a smooth dough.

Allow the dough to rise, in a lightly greased, covered bowl, until it's doubled in size, about 90 minutes.

Gently divide the dough in half; it'll deflate somewhat.

Gently shape the dough into two oval loaves; or, for longer loaves, two 10" to 11" logs. Place the loaves on a lightly greased or parchment-lined baking sheet. Cover and let rise until very puffy, about 1 hour. Towards the end of the rising time, preheat the oven to 425°F.

Spray the loaves with lukewarm water.

Make two fairly deep diagonal slashes in each; a serrated bread knife, wielded firmly, works well here.

Bake the bread for 25 to 30 minutes, until it's a very deep golden brown. Remove it from the oven, and cool on a rack.
Nutrition Information
Serving Size

1 slice

Servings Per Batch

16 per loaf
Amount Per Serving:
Calories

80

Calories from Fat

5

Total Fat

0g

Saturated Fat

0g

Trans Fat

0g

Cholesterol

0mg
Sodium

180mg

Total Carbohydrate

17g

Dietary Fiber

1g

Sugars

1g

Protein

3g
* The nutrition information provided for this recipe is determined by the ESHA Genesis R&D software program. Substituting any ingredients may change the posted nutrition information.
Tips from our bakers
Why the range in yeast amount? If you're sure your starter is healthy and vigorous, and you don't mind potentially extending somewhat the rise times listed above, use 1 teaspoon yeast. If your starter seems a bit lethargic (or you want to keep your rise times on the shorter side), go with 2 teaspoons.
For an assertively sour loaf, read our recipe for Extra-Tangy Sourdough Bread.
Want a brick oven effect? Rather than dividing the dough into two separate loaves, shape it into one large ball, and place it in the base of a round covered stoneware baker, such as La Cloche. Put the lid on, and let the loaf rise for 1 hour. Make two slashes on top of the bread, and bake for 30 to 35 minutes, removing the lid of the baker for the final 5 minutes of baking.
Reviews
Our favorite recipe by far! My food allergic child loves sourdough and now can have it daily for school lunches! We bake it in a Dutch oven and it develops an extraordinary crust. I am wondering how much white whole wheat I can substitute in the recipe without significant change in the flavor. We are never able to finish a loaf the day it's baked. Are there tips for storage? I have tried paper bags but haven't found nice large ones for the Dutch oven-sized bread. Are there tips on when to put the dough in the fridge to allow for baking in the morning? Can I place the shaped dough in the fridge and bring it out just an hour before baking the next day? Thank you for making recipes accessible!

We're so glad this recipe is a hit with you and your little one, LS! It sounds like you have a lot of great questions and we'd be happy to go through all of them over on our free and friendly Baker's Hotline at 855-371-BAKE (2253). We look forward to getting your call! Annabelle@KAF
Delicious! I tried making sourdough for the family last summer and they never ate it and realized it was just too wheaty and too tangy. Decided to try again and started with this recipe. I am not a fan of using all-purpose flour, as I mill my own bread so I was skeptical. Normally I find bread made with AP flour to taste bland. This was delicious! Perfect crumb, awesome crust, and nice mild flavor! Family inhaled it! Super easy to make too!
I made this dough once and have a few questions. How long do you recommend to knead this dough in a kitchenaid stand mixer? In general, is there a conversion/rule when it comes to kneading dough via kitchenaid vs hand kneading? Also, if I only have one dutch oven and want to bake it in there, what do I do with the second boule so it does not overproof? Overall my dough had lots of flavor but was quite dense. I need to work on shaping it and making it a tighter ball so a little more practice is necessary but this is a good recipe for people new to bread making.

Hi there, Heather! When kneading dough it is best to go by how the dough looks rather than by a set amount of time. You want the dough to have a smooth surface, bounce back when you press on it and have a soft, supple texture — this takes about 6 to 8 minutes in a mixer. There isn't really a set rule when kneading by hand versus kneading in a mixer, in either situation you'll want to go by how the dough is looking.
To bake one loaf at a time, we'd suggest dividing the dough, pre-shaping the second loaf, and placing it back in the lightly greased bowl. Then you can just cover the bowl and place it in the fridge while the other loaf rises. When your first loaf goes into the oven you can take out the second one, re-shape it and let it go through it's second rise.
One of the most common reasons why baked goods turn out dense and heavy is because too much flour is used. To ensure you're using the right amount, we recommend checking out the "Recipe Success Guide," link next to the ingredients header above. You'll see that either measuring your flour by weight using a scale, or fluffing and sprinkling the flour into your measuring cup are the best ways to ensure your recipe turns out perfectly. We hope these tips help and happy baking! Morgan@KAF
I love this recipe, so chewy and crusty on the outside, moist and soft in the middle. I bake one large round loaf in my cloche, which is the best invention ever. No need to spray the loaf or put a sheet pan filled with water in the bottom of the oven for a beautiful crust. I have a question, though; Can bread flour be used as a substitute? I try to have every type of flour on hand but sometimes I run out. I also have a white whole wheat. I'm going to try a mixture of both right now. If it doesn't turn out I'd be curious to know why. Ive become obsessed with bread and plan on taking a bread class in Washington later this year.

Hi there! If you'd like to experiment with different kinds of four you sure can, you'll just need to increase the amount of liquid. Flour that has a higher protein content, like whole wheat or bread, will absorb more liquid so for every cup of bread or whole wheat flour you use you'll want to add 2 teaspoons of additional water. We hope you get a chance to join us for a class soon — happy baking! Morgan@KAF
I am a beginner when it comes to bread baking. The recipe was easy, but I had two problems with the end result. (1) The inside was soft but the crust was HARD. Edible but really needed a "hacksaw" to get through it. And (2) it didn't really taste like sourdough. I assume the problem is with my starter. This was the first time I tried to make my own. After just a few days it was bubbly and doubling in size. I used it on the sixth day. I (perhaps mistakenly) followed a guideline--a float test-- that I saw on another site.... I tested the starter by putting a small amount in water. It floated. So, I used it. Was that a mistake? And, if so, can I still try to develop my starter which I have put in the refrigerator? Thank you !

Hi Joan! We're glad this recipe was easy. We actually recently shared a blog article about the float test and found that it wasn't super reliable because it floats when it's just begun ripening. So it's possible it wasn't quite ready.

Letting your shaped dough rise slowly in the fridge overnight would help develop a more sour flavor.

We'd recommend baking it in a Dutch oven. It will help it rise higher, and have a thin, crisp crust. Our blog article "Bread baking in a Dutch oven" will be another great resource along with the float test blog. Lastly, head to the Learn section of our website and go to guides to view our Sourdough Guide for a wealth of info and helpful tips. Annabelle@KAF Annabelle@KAF
First ever successfully starting sourdough starter...so of course, I had to bake some bread. I found this recipe easy to use and follow. I did my rise in the bowl for 50 minutes, then did a letter fold of the dough and set to raise for another 40 minutes. Shaped my rounds and let rise 30 minutes. Spritzed with warm water and into the oven with a Small Pyrex bowl of water on each tray....my husband, who honestly critiques my bread, says this is the best bread I have made thus far. I love KA for all the excellent recipes and tutorials.
Made as written except I used water in a skillet to create steam because of the reviews of a pale exterior. Bread was still pale but tasty with mild sourdough flavor. Easy recipe. Perfect for grilled cheese sandwiches because the texture is not to flimsy or hard.
I made my first loaves with this recipe and a homemade starter. The bread came out amazing. Great flavor and texture. I tried one loaf as shown on a sheet pan and one loaf in a bread pan; both worked. I know the bread should not be stored in a bag, but what about freezing? Can you freeze this successfully?

Hi there, Pamela! We're so happy that you are enjoying your sourdough journey! You sure can freeze this bread. We'd recommend wrapping it in a couple layers of plastic wrap or putting it in a bread bag. Happy baking! Morgan@KAF
I make this a few times a month and it's my go-to sourdough bread recipe. Easy, comes out nicely. My only complaint is the color. I end up with bread that's cooked through nicely, good crumb, but the exterior is very pale. Otherwise, a favorite for friends and family.
How long should I knead? Should I need a second time before the second rise?

Hi there, Maura! You'll want to go more so by how the dough looks than by a set time, but typically it takes about 8 to knead the dough by hand. You want your dough to be soft and supple, and slightly tacky. Before the second rise, you just want to shape your loaves, no need to knead the dough again. Happy baking! Morgan@KAF