A customized print-friendly version of this recipe is available by clicking the "Print Recipe" button on this page.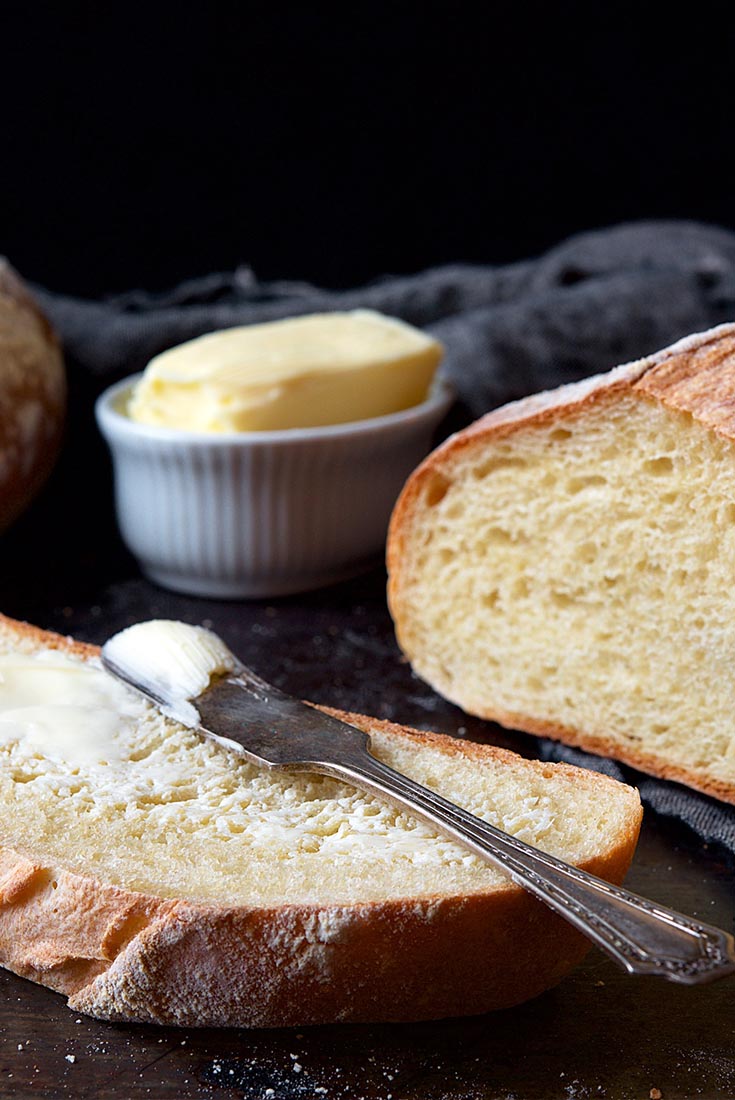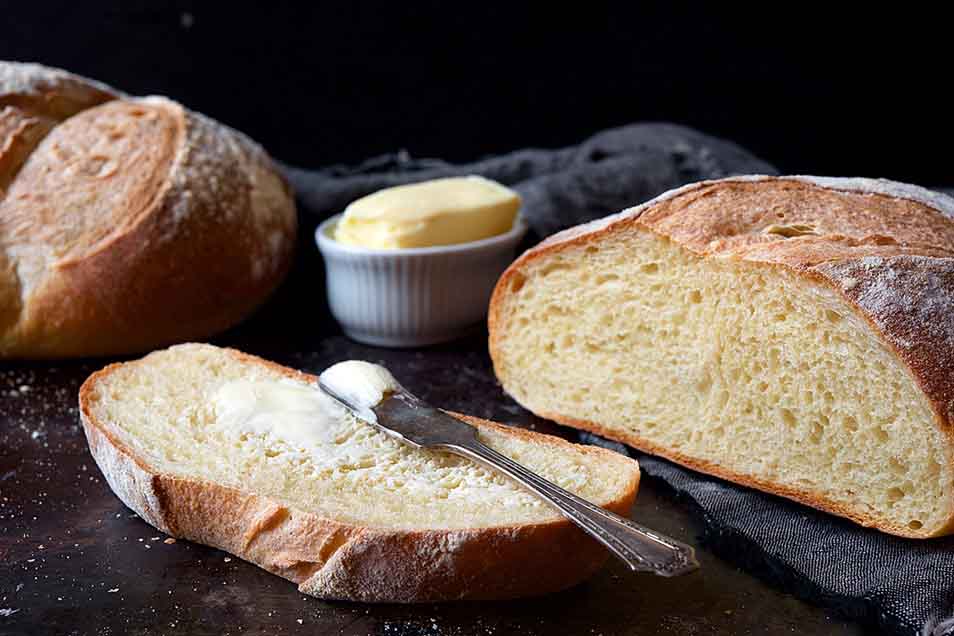 This chewy loaf, with its deep-brown crust, has rich, deep, flavor, and very mild tang. We love this bread for its chewiness and golden crust, ideal qualities for panini; try it with ham and cheese, for a new take on that favorite sandwich.

New to sourdough? Find the help you need for all of your sourdough baking at our Sourdough Essentials page.
Instructions
Combine all of the ingredients, kneading to form a smooth dough.

Allow the dough to rise, in a lightly greased, covered bowl, until it's doubled in size, about 90 minutes.

Gently divide the dough in half; it'll deflate somewhat.

Gently shape the dough into two oval loaves; or, for longer loaves, two 10" to 11" logs. Place the loaves on a lightly greased or parchment-lined baking sheet. Cover and let rise until very puffy, about 1 hour. Towards the end of the rising time, preheat the oven to 425°F.

Spray the loaves with lukewarm water.

Make two fairly deep diagonal slashes in each; a serrated bread knife, wielded firmly, works well here.

Bake the bread for 25 to 30 minutes, until it's a very deep golden brown. Remove it from the oven, and cool on a rack.
Nutrition Information
Serving Size

1 slice

Servings Per Batch

16 per loaf
Amount Per Serving:
Calories

80

Calories from Fat

5

Total Fat

0g

Saturated Fat

0g

Trans Fat

0g

Cholesterol

0mg
Sodium

180mg

Total Carbohydrate

17g

Dietary Fiber

1g

Sugars

1g

Protein

3g
* The nutrition information provided for this recipe is determined by the ESHA Genesis R&D software program. Substituting any ingredients may change the posted nutrition information.
Tips from our bakers
Why the range in yeast amount? If you're sure your starter is healthy and vigorous, and you don't mind potentially extending somewhat the rise times listed above, use 1 teaspoon yeast. If your starter seems a bit lethargic (or you want to keep your rise times on the shorter side), go with 2 teaspoons.
For an assertively sour loaf, read our recipe for Extra-Tangy Sourdough Bread.
Want a brick oven effect? Rather than dividing the dough into two separate loaves, shape it into one large ball, and place it in the base of a round covered stoneware baker, such as La Cloche. Put the lid on, and let the loaf rise for 1 hour. Make two slashes on top of the bread, and bake for 30 to 35 minutes, removing the lid of the baker for the final 5 minutes of baking.
Reviews
I started with a starter using the recipe from KAF, and then used that starter to make this recipe. I am very pleased with the taste, crust and tang of this bread, and now that I've had a little trial and error to find the method and timing that works for me, this has become a staple at our house. Now, I'm trying to tweak my recipe a little to allow the bread to rise a bit more, as mine are pretty consistently dense (not more than the picture that accompanies the recipe, but I would like my bread to be a bit 'airier'). I'm not known to family and friends as a baker, but they have been impressed with these results. I would consider this a great recipe for a beginner to start learning the ropes.
I've made this many times in all shapes and sizes. I've made it with a 1/2, 1, and 2 tsp of yeast and when I had plenty of time, no yeast at all. It has always worked beautifully, and it's the recipe I use to make 3 lovely crusty baguettes.
Great recipe! Nice subtle tang to this sourdough. I was wondering if I could half the recipe since I never seem to eat it fast enough? Thanks in advance. Again, great recipe!

Hi Summer, feel free to divide all of the ingredients in the recipe in half if you're looking to only make a single loaf. You can also make a full batch and freeze the second loaf if you'd like. If you slice the loaf before freezing, you'll be able to take out a single slice at a time and reheat in the toaster as you're ready for more bread. It's a great system that allows you to always enjoy homemade bread! Kye@KAF
First time trying this recipe and my bread came out perfectly! I used a dutch oven which I warmed while preheating and coated it with a little canola oil and cornstarch before putting the dough in. The bread is delicious with a crispy crust and soft interior. I could munch on it all afternoon! Thanks for this awesome recipe!!
I have made this bread quite a few times now with good success. My starter is about 5 or 6 years old now and is in good condition as I am using and feeding it at least weekly, sometimes twice or three times a week. I make a half batch of the recipe - one loaf. Now the weather here is warming up for Spring I have reduced the yeast to 1/2 teaspoon. I have added a bit more flour as the dough was a bit wet. My issue is that the bread is splitting around the base. After shaping, I let the loaf prove for one hour before baking at 200C Fan Forced. The bread does not appear to be over proving as there are no bubbles appearing before it goes it the oven. Can you give me some advice about how to avoid the splitting? I would recommend this recipe to anyone who new to sourdough. It is quick and simply once you have a starter and that is not hard to do with a little attention. Then again I started was once not used for three month and it still lived to bake again.

Hi John, dough that splits usually means it is under-proofed. The yeast still has a notable amount of rising power which is released in the heat of the oven, but the dough hasn't expanded enough to account for this expansion, therefore it splits. Try extending the final rising time by about 5 to 10% next time to see if that helps, and avoid adding additional flour if possible. (Sometimes the dough also splits if the dough is too dry or stiff.)

Last tip: Use flour that has a strong protein content to ensure the dough has the structure it needs to rise high without splitting. If you're not already doing so, use King Arthur All-Purpose Flour for best results or an all-purpose flour with an 11.7% protein content if possible. Kye@KAF
How do you get it a deep golden color? Or keep it from splodging too much? It kind of keeps spreading out.

Hi Valorie, the key to a golden brown crust is two-fold. You've got to bake with steam and also use very high heat. You might try cranking up your oven even higher next time (increase by 25°F to start) if you didn't get as much caramelization in the crust as you were hoping for. Also, be sure you're baking with steam either by spritzing the loaves with water once they go into the oven, adding an ice cube to a pre-heated tray in the bottom of the oven, or our favorite method: Bake the bread in a pre-heated Dutch oven. This last approach might be especially effective if you're having trouble with the loaves spreading out. The pot will give the dough support to rise high while also capturing steam and helping caramelize the crust.

Check out the article on our blog called, "Bread baking in a Dutch oven," for more tips and full instructions on how to use the method most effectively. Kye@KAF
Made this twice, following the recipe exactly...flopped both times. Made a flat oval brick!

We realize it's disappointing when a loaf of bread turns out loaf, and we'd love to help remedy this so you can get fantastic results from your next bake. We'll need to hear a bit more about your ingredients and method to narrow down the possible causes of trouble. We hope you'll consider giving our Baker's Hotline a call at 855-371-BAKE(2253) so we can chat further. Kye@KAF
The bread is soo good! Has a great texture and taste. Can I make this as individual loaves (4-6) and how long would the second and bake time be? Thanks!!

Hi Emily. Smaller buns will rise a little faster so we recommend checking them about 15 minutes early. As for baking, it will also be faster, around 10 minutes quicker. Keep an eye on them in the oven and bake until their internal temperature reaches about 195°F for best results. Happy baking! Annabelle@KAF
This is my college-aged son's favorite bread, so I bake it on Friday before he comes home for the weekend. I always hope he can take the second loaf home with him on Sunday night, but between my husband and son the second one never makes it to Sunday night. I use starter that was fed 10-12 hours prior to mixing and 1 teaspoon of yeast. I use the KA round bread bowls to bake it in. Rather than spritzing the loaves with water, I throw a cup of hot water into my oven's receptacle for this purpose at the start of baking for steam (if your oven doesn't have one, you can put a small pan with the hot water in the rack underneath the bread). That is just for good measure; I am not sure it needs it...it seems to work so I am not messing with a good thing. In my oven, it is done in 25 minutes on the nose. The loaves come out well-risen and consistently good!