A customized print-friendly version of this recipe is available by clicking the "Print Recipe" button on this page.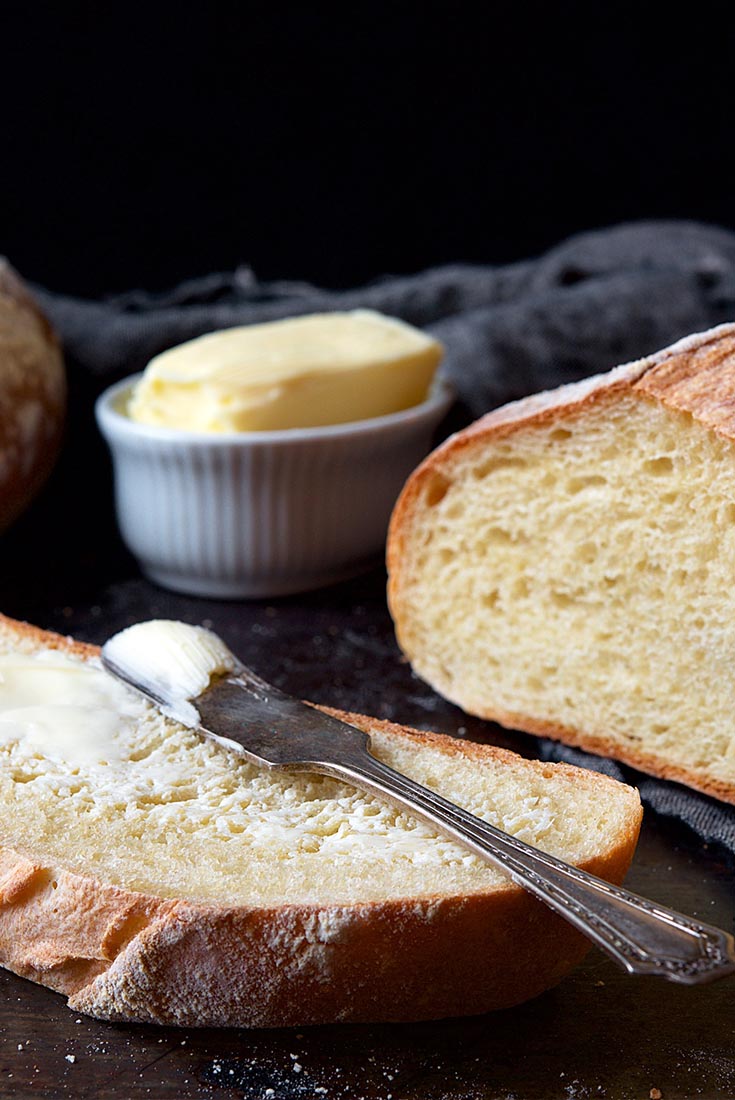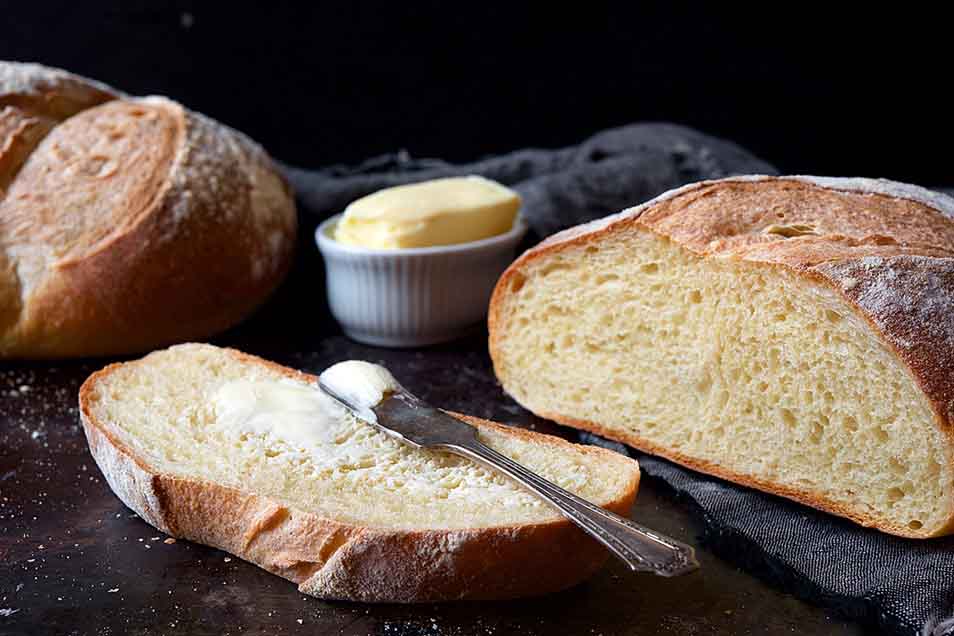 This chewy loaf, with its deep-brown crust, has rich, deep, flavor, and very mild tang. We love this bread for its chewiness and golden crust, ideal qualities for panini; try it with ham and cheese, for a new take on that favorite sandwich.

New to sourdough? Find the help you need for all of your sourdough baking at our Sourdough Essentials page.
Instructions
Combine all of the ingredients, kneading to form a smooth dough.

Allow the dough to rise, in a lightly greased, covered bowl, until it's doubled in size, about 90 minutes.

Gently divide the dough in half; it'll deflate somewhat.

Gently shape the dough into two oval loaves; or, for longer loaves, two 10" to 11" logs. Place the loaves on a lightly greased or parchment-lined baking sheet. Cover and let rise until very puffy, about 1 hour. Towards the end of the rising time, preheat the oven to 425°F.

Spray the loaves with lukewarm water.

Make two fairly deep diagonal slashes in each; a serrated bread knife, wielded firmly, works well here.

Bake the bread for 25 to 30 minutes, until it's a very deep golden brown. Remove it from the oven, and cool on a rack.
Nutrition Information
Serving Size

1 slice

Servings Per Batch

16 per loaf
Amount Per Serving:
Calories

80

Calories from Fat

5

Total Fat

0g

Saturated Fat

0g

Trans Fat

0g

Cholesterol

0mg
Sodium

180mg

Total Carbohydrate

17g

Dietary Fiber

1g

Sugars

1g

Protein

3g
* The nutrition information provided for this recipe is determined by the ESHA Genesis R&D software program. Substituting any ingredients may change the posted nutrition information.
Tips from our bakers
Why the range in yeast amount? If you're sure your starter is healthy and vigorous, and you don't mind potentially extending somewhat the rise times listed above, use 1 teaspoon yeast. If your starter seems a bit lethargic (or you want to keep your rise times on the shorter side), go with 2 teaspoons.
For an assertively sour loaf, read our recipe for Extra-Tangy Sourdough Bread.
Want a brick oven effect? Rather than dividing the dough into two separate loaves, shape it into one large ball, and place it in the base of a round covered stoneware baker, such as La Cloche. Put the lid on, and let the loaf rise for 1 hour. Make two slashes on top of the bread, and bake for 30 to 35 minutes, removing the lid of the baker for the final 5 minutes of baking.
Reviews
Beautiful loaf! I made just 1 loaf (1/2 recipe) and substituted 3/4 cup of semolina flour for part of the flour and used bread flour for the rest (1 3/4 cups). After the first rise, I refrigerated th dough overnight in a round basket and baked at 500F for 20 min in a preheated cast iron combo pan followed by 2o minutes uncovered. Tastes great - I will use this recipe again with semolina!
This has been my go to bread recipe from the start, and has been quite the learning experience. My first loaves were bricks...cooked too long and kneaded too much. I use a stand mixer at about 4 minutes, just to combine, and today's batch was very crusty but perfect in the middle. To rise, I heat my oven to 170, then turn it off before I need it, and that really helps the rise. Unfortunately, it also 'flattens' the dough a bit. I also covered it initially with saran wrap, and that stuck and deflated it even more. Don't get me wrong, My family loves it and I make a batch every 2 weeks. It is a new experience every time, though and I'm loving every minute.
Wonderful bread for sandwiches
Wow. I only used 1/4 tsp instant yeast, plus the full 8oz of starter--and (Jen) (the starter) was hungry, fresh out of a week in the fridge. Not fed, but several months old, in & out of the fridge, fed weekly producing sd loaf after loaf, and here, basically 8oz of discard with 1/4 tsp of instant yeast, and followed the recipe to a tee on the timing, regardless of not so puffy etc, no time to bake today but needed bread! This makes me wonder even more about commercial yeast. What a kitchen bio... power house. Added a tbsp or so of honey & melted butter initially, totally ignored poke test etc, & was done start to finish, with that 1/4 tsp of commercial instant yeast, in 3 hours & 42 minutes. Good loaves--not at all really sd but nice taste, some larger crumb. Just wanted to share. Might try 1/8 tsp instant yeast next time, in a pinch. What is in that commercial yeast...
I made this recipe using my very first sourdough starter that I made from your recipe and made it in my dutch oven to get the brick oven effect and it turned out fantastic! The crust from baking it in my dutch oven turned out perfect. I am definitely making this recipe again this weekend and will be putting olives in this batch. I'll let you know how that turns out. Thanks!
I used bread flour instead of all-purpose (because I didn't look closely enough at the flour label), and did both rises in the refrigerator (because that was the only way I could fit it into my schedule) and it came out amazing. The friends who tried it think I'm some sort of bread magician now.
I'm new to baking any kind of bread. I followed the intructions since this was my first time and I had the same problem that I seem to have with all breads. Whenever I make a rustic style bread (Italian, French, ect) my loaves seem to lose that full of air rise in the dough you get just before placing in the oven causing the bread to bake thin and wide. I'm not sure if if the rising I'm doing is too warm and moist?? For me it's finding that balance of not letting the outside of the dough dry during the rise and not having it too moist and sticky during the rise. Any advice? The bread taste amazing but just doesn't look the way I would like. It browned perfect. I also used a shallow glass pie dish of water in the oven during baking to help the crust thicken and brown.

Welcome to the world of bread baking! There are a few different things you can try to add strength to your dough and help it rise up rather than outwards. First, consider using King Arthur Bread Flour instead of all-purpose flour. It has a higher protein percentage and will give you more structure. Also, you can try adding slightly more flour to make a stiffer dough, which will keep its shape better. You can also let the dough rise in a brotform or a bowl lined with a clean, floured kitchen towel to help it stay nice and tall. The last option to ponder: you can bake the loaves in a Dutch oven or bread baking bowl. The sides of the pan will give the dough the support it needs to rise upwards while baking. I hope that helps, and happy baking! Kye@KAF
I'm still on my sourdough journey. I did this recipe according to the instructions with only 1 tsp yeast. It seemed quite vigorous in rising, in 60 min it had more than doubled. I shaped the loaves and did the second rise and it almost seemed too soft. I baked it in a Dutch oven, 20 min with the lid and 10-15 with out the lid. In the process of moving it into the oven it kind of deflated a bit, but rose very nicely during baking. The crust was crisp and the interior moist and a little chewy with the uneven holes rustic bread has. Somehow the second loaf was softer in the crust but it also had more rise time. Maybe too much. Wish it was a bit more sour, but not sure I want to add sour flavor, maybe rise longer?

Hi Marica. One way to give you bread a stronger sour flavor is to let it do its final rise in the fridge overnight, rather than on the counter. When you're ready to bake the next day, preheat your oven for a good 45 minutes to an hour. In the meantime, pull out your loaf from the fridge and let it warm up a bit and become puffy before baking. Annabelle@KAF
Wonderful. Can I add diastolic malt to the recipe?

We don't see why not, Maralyn! We recommend adding 1/2 to 1 teaspoon of Diastatic Malt Powder per 3 cups of flour in any of your favorite bread recipes. Happy baking! Annabelle@KAF