A customized print-friendly version of this recipe is available by clicking the "Print Recipe" button on this page.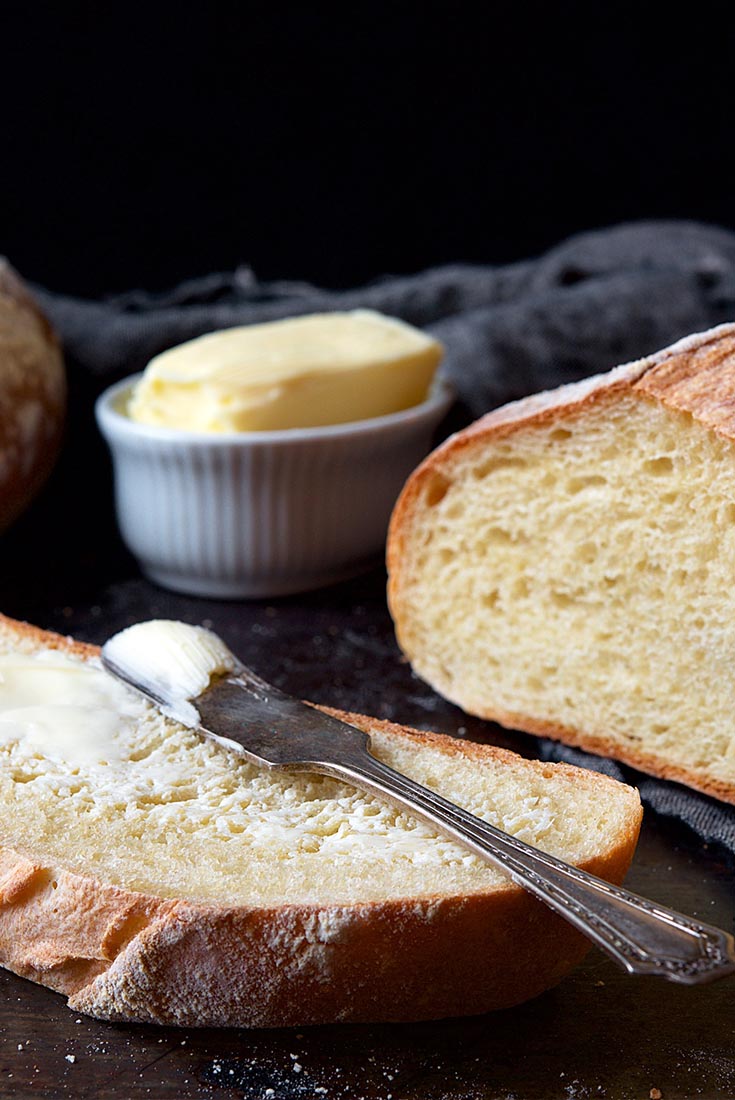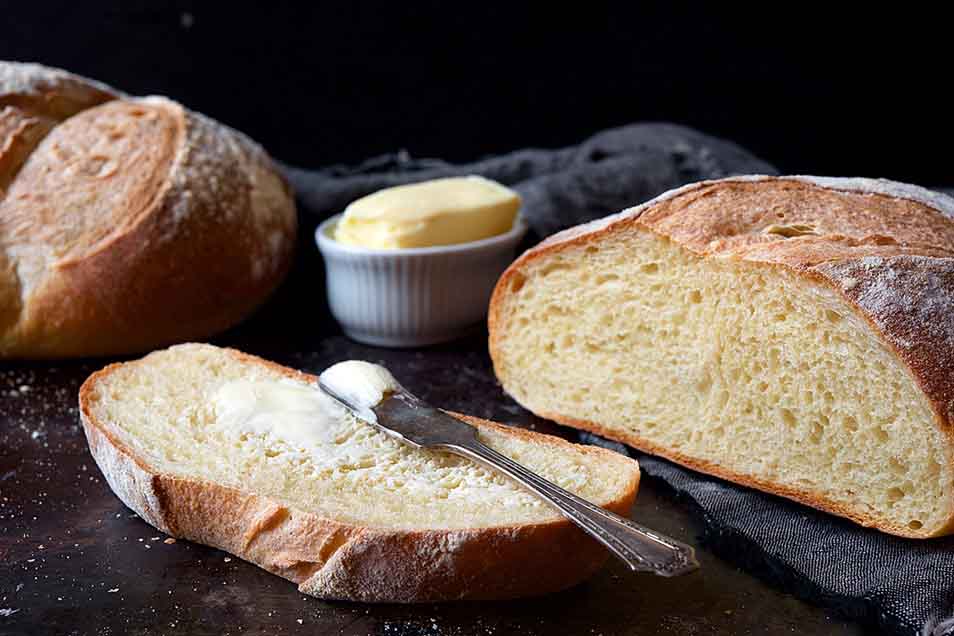 This chewy loaf, with its deep-brown crust, has rich, deep, flavor, and very mild tang. We love this bread for its chewiness and golden crust, ideal qualities for panini; try it with ham and cheese, for a new take on that favorite sandwich.

New to sourdough? Find the help you need for all of your sourdough baking at our Sourdough Essentials page.
Instructions
Combine all of the ingredients, kneading to form a smooth dough.

Allow the dough to rise, in a lightly greased, covered bowl, until it's doubled in size, about 90 minutes.

Gently divide the dough in half; it'll deflate somewhat.

Gently shape the dough into two oval loaves; or, for longer loaves, two 10" to 11" logs. Place the loaves on a lightly greased or parchment-lined baking sheet. Cover and let rise until very puffy, about 1 hour. Towards the end of the rising time, preheat the oven to 425°F.

Spray the loaves with lukewarm water.

Make two fairly deep diagonal slashes in each; a serrated bread knife, wielded firmly, works well here.

Bake the bread for 25 to 30 minutes, until it's a very deep golden brown. Remove it from the oven, and cool on a rack.
Nutrition Information
Serving Size

1 slice

Servings Per Batch

16 per loaf
Amount Per Serving:
Calories

80

Calories from Fat

5

Total Fat

0g

Saturated Fat

0g

Trans Fat

0g

Cholesterol

0mg
Sodium

180mg

Total Carbohydrate

17g

Dietary Fiber

1g

Sugars

1g

Protein

3g
* The nutrition information provided for this recipe is determined by the ESHA Genesis R&D software program. Substituting any ingredients may change the posted nutrition information.
Tips from our bakers
Why the range in yeast amount? If you're sure your starter is healthy and vigorous, and you don't mind potentially extending somewhat the rise times listed above, use 1 teaspoon yeast. If your starter seems a bit lethargic (or you want to keep your rise times on the shorter side), go with 2 teaspoons.
For an assertively sour loaf, read our recipe for Extra-Tangy Sourdough Bread.
Want a brick oven effect? Rather than dividing the dough into two separate loaves, shape it into one large ball, and place it in the base of a round covered stoneware baker, such as La Cloche. Put the lid on, and let the loaf rise for 1 hour. Make two slashes on top of the bread, and bake for 30 to 35 minutes, removing the lid of the baker for the final 5 minutes of baking.
Reviews
This is the BEST sourdough bread ever came out golden brown on top. Followed all the instructions and the spraying of warm water on top Made it crunchy and golden brown
This is my only to-go recipe for Sourdough Bread for several years and it has never failed me. I hand-shape the loaves. Recently, I substituted 100g All-Purpose flour with Rye flour and was so pleasantly surprised at the flavor and moisture. Do you think I can take the next step with 200g rye flour or will that be too intense?

200 grams of rye flour will push the limits of this recipe in the best of ways, San. Rye flour behaves differently than wheat-based flour, as it's quite absorbent and also doesn't develop gluten as readily. Since you enjoyed the results of your initial rye substitution and have a sense of what the dough should look and feel like, we think you're fully prepared to continue experimenting. Be prepared to adjust the consistency of the dough with additional flour or water as necessary to make a soft, slightly tacky dough. Happy baking! Kye@KAF
The bread turned out great, but I do have one question. For some reason I'm not getting much browning on the crust. Good crust, good crumb, internal temp 205, but even after 40 minutes the crust is only a light beige. It's not a problem other than aesthetics, but if I'm doing something wrong is like to know, so any input would be appreciated. Thanks!

Pete, you might want to consider baking your bread in a pre-heated Dutch oven if you haven't already experimented with that. Allowing your bread baking vessel to pre-heat empty fills it with steam, which makes the crust turn a beautiful golden brown while it bakes. To read more about how to use this method successfully, check out the article on our blog called, "Bread baking in a Dutch oven." Happy baking! Kye@KAF
My first sourdough and it's awesome and delicious. I used KAF sourdough starter that I have been feeding for two weeks. It's lovely and bubbly. I followed the instructions exactly and put melted butter on the top before baking to brown the top. I am glad this wasn't my first time making bread or I would have over floured it. It will be a bit sticky especially before the first rise. Thanks for such an easy recipe.
Came out beautifully and was so delicious it didn't last long.
I baked this recipe three times. The first time, the bread was tasty but dense so I tried adding water to a heated baking sheet below the bread while it was baking and that gave a really pleasing shape to the loaves. So far this recipe is working great for this novice baker. Only question; I wasn't getting great elasticity with the dough the first few times so I switched to King Arthur Bread Flour this last time. I'm still not getting great elasticity when I knead it. I read somewhere that you want to be able to pull the dough and see it stretch thin instead of tear apart. Am I doing this the wrong way or putting too high expectations on the recipe?

Maiken, the test you're describing is known as the windowpane test, and it's suitable for some but not all kinds of bread dough. This works for enriched dough like brioche, babka, and other formulas. It's not necessary to be able to stretch this dough to that extent. The dough should feel bouncy and springy to the touch after it's fully kneaded. If your dough has felt stiff and heavy in the past, try using slightly less flour next time and knead the dough for longer to help develop the gluten. Bread flour is a great choice if you're looking for more chew in your bread, but note that it will also give you a tighter crumb (less open holes). Kye@KAF
I love this recipe, but prefer the extra-tangy recipe. This is great when I didn't plan an entire day ahead and want bread for tonight! Question on using the La Cloche. I divided the dough in half and used two banneton proofing bowls. How long would you recommend cooking each loaf and at what temperature? I saw that you suggested not dividing the dough, but I liked the size and the proofing bowls were perfect for half. Thanks!

Crystal, if you'd like to bake a large loaf in the cloche, you're welcome to follow the same basic instructions provided in the Baker's Tip, but extend the baking time to 35 to 40 minutes. Remove the lid after about 30-35 minutes and then let the loaf brown fully and reach an interior temperature of at least 190°F before removing from the oven. Happy baking! Kye@KAF
I've made this several times. It is a good simple sourdough bread with a very mild taste made it for friends and they raved about it also. Found using a cloche completely changes the consistency. Made in the cloche it is much airier with a nice crunchy crust.
This recipe worked perfectly for my first attempt at baking sourdough bread. It is quick, easy, and resulted in two very pretty and tasty loaves of bread. Thanks King Arthur Flour!
I'm brand new to baking with sourdough starter and this was my very first attempt. You can call my results bread, but it deflated once I made the slashes and it didn't brown very well in the oven. It is tasty and we'll eat it all, but I'm wondering what I did wrong. I've since invested in a digital scale and will certainly try it again.