A customized print-friendly version of this recipe is available by clicking the "Print Recipe" button on this page.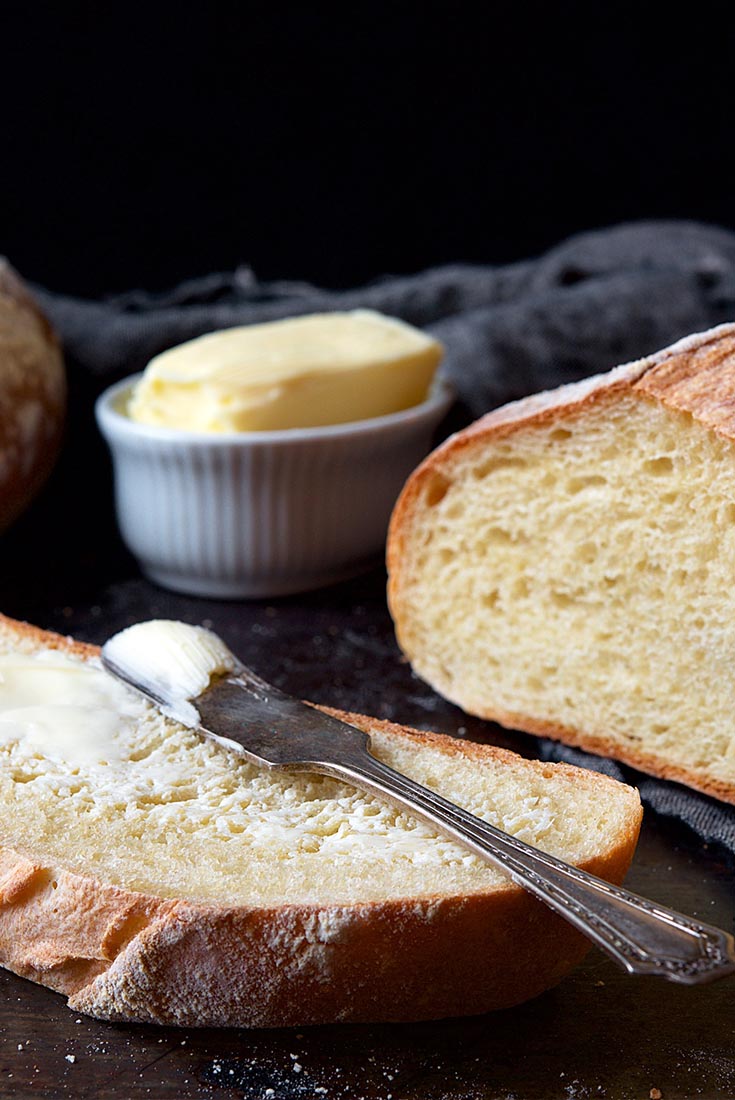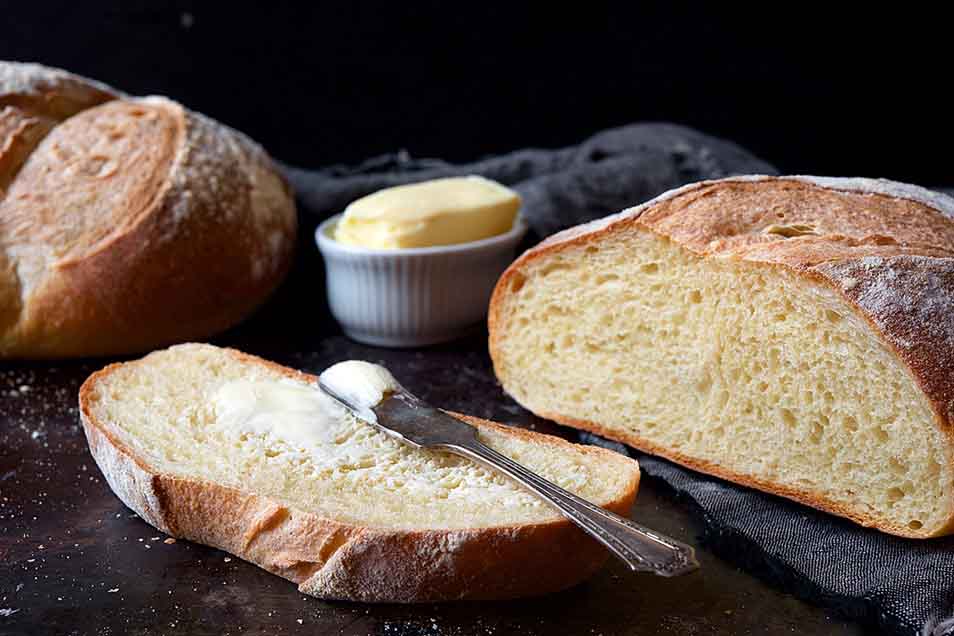 This chewy loaf, with its deep-brown crust, has rich, deep, flavor, and very mild tang. We love this bread for its chewiness and golden crust, ideal qualities for panini; try it with ham and cheese, for a new take on that favorite sandwich.

New to sourdough? Find the help you need for all of your sourdough baking at our Sourdough Essentials page.
Instructions
Combine all of the ingredients, kneading to form a smooth dough.

Allow the dough to rise, in a lightly greased, covered bowl, until it's doubled in size, about 90 minutes.

Gently divide the dough in half; it'll deflate somewhat.

Gently shape the dough into two oval loaves; or, for longer loaves, two 10" to 11" logs. Place the loaves on a lightly greased or parchment-lined baking sheet. Cover and let rise until very puffy, about 1 hour. Towards the end of the rising time, preheat the oven to 425°F.

Spray the loaves with lukewarm water.

Make two fairly deep diagonal slashes in each; a serrated bread knife, wielded firmly, works well here.

Bake the bread for 25 to 30 minutes, until it's a very deep golden brown. Remove it from the oven, and cool on a rack.
Nutrition Information
Serving Size

1 slice

Servings Per Batch

16 per loaf
Amount Per Serving:
Calories

80

Calories from Fat

5

Total Fat

0g

Saturated Fat

0g

Trans Fat

0g

Cholesterol

0mg
Sodium

180mg

Total Carbohydrate

17g

Dietary Fiber

1g

Sugars

1g

Protein

3g
* The nutrition information provided for this recipe is determined by the ESHA Genesis R&D software program. Substituting any ingredients may change the posted nutrition information.
Tips from our bakers
Why the range in yeast amount? If you're sure your starter is healthy and vigorous, and you don't mind potentially extending somewhat the rise times listed above, use 1 teaspoon yeast. If your starter seems a bit lethargic (or you want to keep your rise times on the shorter side), go with 2 teaspoons.
For an assertively sour loaf, read our recipe for Extra-Tangy Sourdough Bread.
Want a brick oven effect? Rather than dividing the dough into two separate loaves, shape it into one large ball, and place it in the base of a round covered stoneware baker, such as La Cloche. Put the lid on, and let the loaf rise for 1 hour. Make two slashes on top of the bread, and bake for 30 to 35 minutes, removing the lid of the baker for the final 5 minutes of baking.
Reviews
I did a full recipe, undivided in my La Cloche. Turned out very nicely, though I didn't really notice a tang. Is the yeast really necessary? I'd have thought only only using the starter would slow down fermentation and so add flavor (though, on that note I didn't do the Extra-Tangy Sourdough because of time constraints, but that requires much more time). I baked for 25 minutes then removed the lid. After another 5 minutes the outside was still pale; I left it in for a few more minutes then checked the internal temperature with a Thermapen; it read 195, so I took it out even though the outside was pretty pale. At a thought, I popped it back in for about a minute under the broiler, and that got the crust decently browned. The manufacturer's instructions for the La Cloche have you proof on the bottom and preheating the lid; would doing so have browned the crust better?

Hi Scott, if you decide to leave the instant yeast out of the recipe, you'll need to extend both rising times notably to allow the sourdough starter to leaven the dough, which then leaves you with a process that looks similar to the Extra-Tangy Sourdough recipe. Also, refrigerating the shaped loaves overnight also helps develop a tangier flavor, which is why this step is called for in the extra-tangy recipe. It sounds like that might be the recipe you're looking for, so consider trying to fit it into your schedule next time you're craving some tangy bread.

As for the color of the loaf, you're welcome to try the heating instructions offered by the manufacturer to see if it gives you more of the golden color you're looking for. However, we've found the best way to get a nice dark crust is to bake at a high heat and extend the baking time if necessary until the crust gets some color on it. You can also try adding a bit of diastatic malt powder to the dry ingredients, though that's not usually necessary if your flour is already malted. Increase the heat of the oven slightly next time (try bumping it up by 15°F) to see if that helps. Happy baking! Kye@KAF
I liked this recipe but didn't get much of a rise. Instead it just kind of spread out. Any ideas why?

Hi Tammy, what you're describing (a flat loaf) is a common occurrence with this recipe because of the fact that it's has sourdough starter added to it and includes long fermentation periods. There are a number of things you can do to try to remedy this, but first and foremost, it's critical that you're using a robust, healthy starter that's regularly fed. The starter should also be ripe before beginning the recipe, meaning it's bubbling and almost at its peak volume.

It's also important that you use flour with a high protein percentage. (We recommend using King Arthur All-Purpose Flour if you're not already doing so.) To build strength in the dough, you can also try adding some stretch and folds into the second rise, which means you'll fold the edges of the dough out and into the center on all sides before turning the dough over. This will help develop the dough's structure, which will help it rise high. These are just a few tips to consider, but if you'd like to troubleshoot further or would like a deeper explanation, please give our Baker's Hotline a call at 855-371-BAKE(2253). Kye@KAF
While this turned out well, I have to admit, try as I might my wife and I can't seem to develop a taste for the underlying "tang" of my sourdough starter. However, I have been keeping alive my Rye starter from my KAF Rye Bread class a couple of years ago and we love the Rye bread it makes. I'd like to try this rye starter in this recipe. Any issues you may foresee?

We're glad to hear you're eager to use your rye starter in more recipes, Craig. We encourage you to experiment, starting with recipes that call for a small amount of sourdough starter (the flour in the starter should be no more than 15-20% of the total flour weight). Rye flour behaves differently than wheat flour, and it performs best when used alongside a high-protein flour (like bread flour). Consider using bread flour in place of any all-purpose flour in the recipe, and adjust the amount of liquid that's added until it has the right consistency, usually soft and slightly tacky. You might also consider using our recipes called Sourdough Rye Bread, Jeffrey's Sourdough Rye Bread, or Whole Wheat and Rye Sourdough. These recipes will set you up for success! Kye@KAF
This was my first time baking bread from scratch. I bought the starter from KAF..I fed it as instructed and just a few days later I was eating the MOST amazingly crusty on the outside and chewy on the inside SOURDOUGH!!! I did it!! Thank you KAF
Great, easy loaf. I add 1/2 tsp. citric acid and 2 tbsp honey or coconut sugar. Gives it a little more Tang and depth of flavor.
AWESOME! I made this as a half batch. It was a warm day, and I am glad I checked the dough as it had risen in less than half the time. It held it's shape, and I got a high rise. The texture is a nice even crumb, and a very crunchy crust. I think it will nearly be gone before it cools! My starter is about 25 years old, by the way.
I made this bread this morning. End results were it came out great. Next time, I will rise the dough in the fridge for a more acertic flavor. I used the KAF Unbleached Bread Flour instead of AL. Final texture is soft and tender. I also used my Dutch Oven to bake the bread. The overall results are wonderful. Your sourdough starter and recipe are outstanding. Thanks for all you do for us home cooks.
Excellent! I've tried many different sourdough recipes since making my starter a few years ago, and this is one of the best so far. Not only does the baked bread look great, it tastes great as well, both toasted and plain. The crust is thin and crisp; the crumb is soft, a bit chewy, open and moist. I added 1/2 cup of a mix of hemp, chia, flax, sunflower and pumpkin seeds, and also added 2 tbsp of vital wheat gluten. My starter was unfed but bubbly, and at room temperature. Because the starter was unfed I added 1 tsp of yeast, but am not sure that it was needed. The dough rose quickly in both the first and second rises, and the oven spring was amazing. Instead of 2 loaves I made one large oval loaf and 4 buns. I baked the loaf in my clay baker with the lid on for the first 25 minutes, then removed the lid to brown the crust. Because the clay baker is started in a cold oven, the bread took 45 minutes to bake. I think this basic recipe could be adapted in many ways.
This was my first time making sourdough bread! I used the K.A. sourdough starter recipe first, and then made this recipe. I halved the recipe, and used about 3/4 tsp. of yeast. I ended up using the dutch oven baking method with my bread. The bread took about 35 minutes being covered, and then 5 minutes more uncovered to get that golden brown color. The loaf tastes wonderful, but I would've liked a bit more of that sour taste. Perhaps my starter wasn't quite ready? I'm going to try it again in a couple days, and see if letting my starter rest/and feeding it will help.
Beautiful loaf! I made just 1 loaf (1/2 recipe) and substituted 3/4 cup of semolina flour for part of the flour and used bread flour for the rest (1 3/4 cups). After the first rise, I refrigerated th dough overnight in a round basket and baked at 500F for 20 min in a preheated cast iron combo pan followed by 2o minutes uncovered. Tastes great - I will use this recipe again with semolina!