A customized print-friendly version of this recipe is available by clicking the "Print Recipe" button on this page.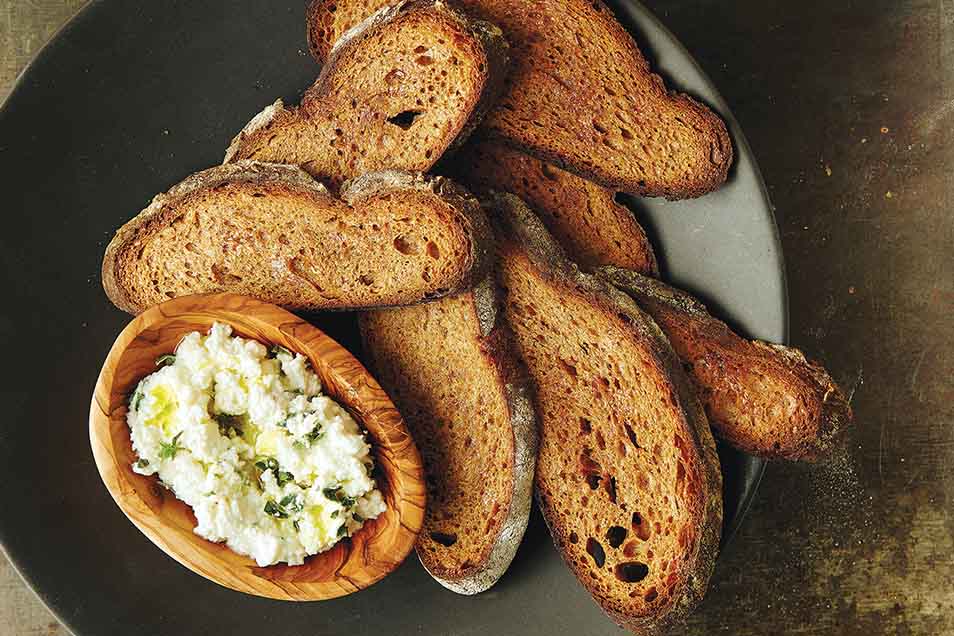 This recipe appears in the Spring 2016 issue of Sift as Sourdough Pumpernickel, and it is exactly that. We've renamed it here so as not to cause confusion with our existing recipe for Sourdough Pumpernickel, which has similar ingredients but a different technique. This recipe converts a white sourdough starter to a rye levain, and uses that to build the starter that raises the bread. The extra step makes a very flavorful, robust sourdough rye.
Ingredients
Dough
all of the rye starter
3/4 cup room-temperature water
2 tablespoons vegetable oil
2 teaspoons salt
1/4 cup molasses
Instructions
To make the rye levain: In a medium bowl, combine all of the ingredients, cover, and let work at room temperature for 8 hours, or overnight.

To make the rye starter: In a medium bowl, combine the levain, coffee, and pumpernickel flour. Cover and let rise on the counter for 8 hours, or overnight.

To make the dough: Put the starter in a large mixing bowl, and stir in the water, oil, salt, and molasses. Stir in the whole wheat flour. Cover and let the dough rest for 10 minutes.

Add the bread flour 1 cup at a time, mixing well after each addition. The dough will be quite sticky, but resist the temptation to add more flour. The dough will develop and change in texture as you let it rise and work with it. Place it in a greased bowl, cover, and let rise for 50 minutes.

Rising and folding: After the first rise, the dough won't look like it's risen much, but don't worry. With each rise and fold you give it, the dough will become more supple and springy to the touch. Turn the dough out onto a lightly floured surface, flour your hands, and press it into a rectangle. Use a bench knife to help you grab the edge and fold the dough into thirds. Turn it 90° and repeat the folding process.

Return the dough to its bowl, cover, and let rise for 50 minutes more.

Repeat the folding process a second time, with another 50-minute rise afterward.

When this last rise is done, the dough should be quite active. Turn it out onto a floured surface to shape. You can make one large or two smaller loaves, whichever you prefer. Shape the dough into rounds or loaves. For loaves, place the dough in a pair of greased 8 1/2" x 4 1/2" loaf pans. Rounds can be placed in floured banettons or a bowl lined with a well-floured tea towel, with the bottom side of the round facing up.

After shaping, cover the dough and set it aside to rise until almost double. This may take as long as 3 hours if the room is cool, or as little as 1 hour if the room is warm. You can also "retard" the dough by covering it with plastic and refrigerating overnight (this will make a more sour bread). If you choose this route, bring the dough to room temperature the next day while you prepare the oven. In either case, the risen loaves should feel full and bubbly when lightly touched with floured hands: that's when they're ready to bake.

To bake the bread: An hour into the last rise, preheat the oven with a baking stone inside (if you have one). Preheat to 375°F for one large loaf; or 400°F for two smaller ones.

When the bread is ready to bake, pace a small oven-safe skillet with 1" of simmering water in the bottom of the oven, or on the lowest rack. Invert the round loaves onto the hot baking stones and slash the tops. Pan loaves can simply be put in the oven on the stone. Spray the inside of the oven with water.

Bake the large loaf for 50 minutes, or smaller loaves for 35 minutes, until well browned. The center of the bread should read 205°F when measured with an instant-read thermometer. Remove from the oven and cool completely on a rack before slicing; rye breads can be gummy if you cut them while still warm.
Nutrition Information
Serving Size

1 slice, 53g

Servings Per Batch

28
Amount Per Serving:
Calories

122

Calories from Fat

9

Total Fat

1g

Saturated Fat

0g

Trans Fat

0g

Cholesterol

0mg
Sodium

169mg

Total Carbohydrate

25g

Dietary Fiber

3g

Sugars

3g

Protein

3g
* The nutrition information provided for this recipe is determined by the ESHA Genesis R&D software program. Substituting any ingredients may change the posted nutrition information.
Tips from our bakers
What does ripe starter look like? It should double in volume from it's last feeding within 8 hours, be filled with bubbles, and just beginning to collapse under its own weight. If you watch it for 30 seconds, you should see bubbles rising to the surface and breaking, as if in slow motion.
This recipe relies entirely on the active yeast in the starter to raise the bread. If you're not confident in your starter's level of activity, you can use a teaspoon of instant yeast in the dough as "insurance". The rise times will likely be shorter; check the texture of the dough as it rises after 40 minutes instead of 50.
Reviews
Recipe was spot on; however, I had a bit of trouble with the actual baking. I normally bake at around 450 in a cast iron dutch oven. Having no baking stone, I used the DO at 375 but the boule was too big. It fit, but barely. I think the DO limited oven spring. Next time I'll make two boules. When I uncovered it, I touched the crust - expecting it to be crisp - however, it was still tender and I dented it. When baking was done, the crust was still tender and I broke the bottom. Sigh. I also hadn't scored it adequately. BUT ... it is delicious although without the holes in your photo. Can't wait until next time.

Len, it sounds like you're on the right track to achieving rye levain perfection! We hope you give this recipe another try, making the small adjustments you've realized might give you the results you're looking for. We also encourage you to give our friendly and experienced bakers on the hotline a call at 855-371-BAKE(2253) if you'd like to talk through some of these baking details further. Kye@KAF
Excellent rye bread. Mine turned darker than the featured picture, probably because I used the blackstrap molasses. Fantastic recipe for a stay at home weekend. You make your levain Friday night, then you go about your usual Saturday tasks and chores coming back to your bread bowl now and then. You bake it Saturday night and then it starts to be difficult, because you have to wait till breakfast before you can slice it! But you are rewarded by this bread's wonderful rich taste and beautiful looks. Other than requiring some time and planning this is actually quite easy to make.
This is a terrific recipe. I made two loaves -- one pan loaf and one in brotform. Both went into Emile Henry bakers. Nice soft crust and wonderful crumb. Very good sour bite too. I used expresso powder and added some caramel color to make a darker loaf.
Best rye bread I have made. Excellent flavor and consistency. Substituted rye for pumpernickel flour, and used espresso (one shot diluted to one cup fluid), but otherwise followed the recipe as written. Highly recommend this one and will definitely make it again.
Just started baking bread and used my wholewheat sourdough for this. I could not find pumpernickel flour so just used rye flour and I got a good lift without any yeast. The dough was a little dry to begin with so I used a full cup of water which I think was a little too much as the dough was a bit slack but I baked it in two round cake pans on a pizza stone and it turned out just like the picture with a great taste and nice chewy texture. Would do this again despite the extra steps of making the starter.
I used my pumpernickel sour in place of step one it was nice and puffy and I use it in every rye recipe. I made one large boule I floured the top with pumper nickle and placed it in my brotform. Once proofed ( about an hour) I flipped it directly onto the stone scored it and added additional water to my pan. I preheat my oven for rye with water so it is nice and moist. I followed every step carefully and the bread was beautiful, the grayish white floured exterior split with deep chocolate brown tracing the scores and a rich walnut colored center. Now onto flavor and this is subjective but I found the molasses taste too prominent for my liking I'd scale it back maybe by a half teaspoon to a teaspoon. Once butter was applied the molasses was soften some and I could taste the nuttiness of the rye. Once of the prettiest rye I've had the pleasure of working with and there will definitely be a next time.
I made some substitutions and ended up with wonderful and light rye bread, not the overly chewy and dense variety. The substitutions I made were: using rye flour instead of pumpernickel, regular whole wheat flour instead of the white whole wheat flour, and barley malt syrup instead of molasses. These substitutions were out of necessity - I did not have the ingredients specified in the recipe. I added 4 tsp. of caraway seeds I did everything else exactly according to the recipe. The recipe has more steps than any other bread I have made, but each step is quick and easy. The resulting loaves were beautiful in crumb, crust, and taste. This is the best rye bread I have ever made.
Bread is good, but changes are required

Hi there, we're glad to hear you gave this recipe a try. We'd love to hear your thoughts about what changes may be needed to make this recipe shine. Feel free to send us an email at customercare[at]kingarthurflour[dot]com if you have any specific feedback you'd like to share. Kye@KAF
Recipe made two large and poofy loaves. The crumb was moist and tender. I wasn't expecting this as I'm used to rye being chewy. It might have been because of the added oil or because I grind my own rye flour from whole rye berries finer than regular pumpernickel. Flavorful with a slight sweet and sour taste from the molasses and sourdough but not what I would think as "pumpernickel." Next time I'm adding dark, concentrated coffee instead of regular for more color and a bit of ground nigella seeds for added flavor. Your Jewish rye recipe has a stronger rye flavor in my opinion but I would recommend this for someone wanting a more tender rye.
For a two to three day bread recipe.. It did not live up to my expectations. I followed everything to a T with the exception of using organic whole wheat flower as opposed to white whole wheat flower.. After consulting with the bakers hotline, they said it would be fine, but to add two teaspoons of additional water. My end result (i cut into it the day after baking) .. was dense, sour, and chewy.. but not in a good way. There is no crunch or crumb at all.. simply a sour chewy dense bread. I got no 'holes' either.. as pictured. I cooked it exactly the time/temp listed and even added the extra teaspoon of yeast as insurance if my starter wasnt up to speed. All in all, not worth the time or ingredients this go around.. and at a three day endeavor..dunno if I would ever give it another go.. Have not had much luck at all with my rye/pumpernickel flours
Trent, I'm so sorry to hear that this recipe did not work well for you. We'd love to help you achieve the results you're looking for. Please give us a call at the Baker's Hotline (855-371-2253) and we'll be glad to work with you in pursuit of a rye bread you can love. Barb@KAF