A customized print-friendly version of this recipe is available by clicking the "Print Recipe" button on this page.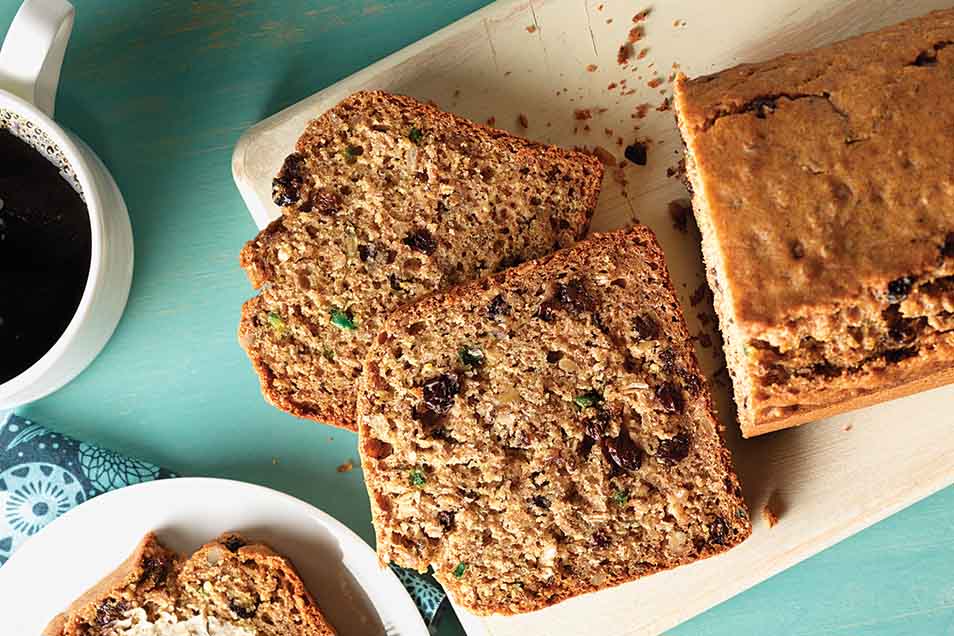 When this soda bread came out of our test kitchen, it was a big hit with practically everyone who took a bite (or three, or five). The moist crumb counterbalances the crunchiness from the grains and seeds, and the slight sweetness complements the subtle earthiness of the whole grains. If you prefer the more traditional flavor of rye, we recommend you add the optional caraway seeds; we like the bread both with and without.
Ingredients
1 cup pumpernickel flour
3/4 cup Harvest Grains Blend
1 1/2 teaspoons baking soda
1 teaspoon salt
1 to 2 tablespoons caraway seeds, optional; for traditional rye flavor
1/2 cup vegetable oil
3 tablespoons maple syrup
2 cups buttermilk
1 cup currants or raisins
Instructions
Preheat the oven to 375°F. Lightly grease a 9"x 4"x 4" loaf pan or a 9" x 5" loaf pan.

Combine the flours, Harvest Grains Blend, baking soda, salt, and seeds in a large bowl.

In a separate bowl or measuring cup, whisk together the oil, maple syrup, and buttermilk.

Pour the liquid ingredients into the dry, stirring just until blended.

Fold in the currants or raisins.

Transfer the batter to the prepared pan, smoothing the top with a spatula.

Bake the bread for 70 to 75 minutes (60 to 65 minutes for a 9" x 5" pan), tenting it with foil if the top becomes too dark; a toothpick inserted into the center should come out clean.

Remove the bread from the oven. After 10 minutes, turn it out onto a rack to cool completely.

Yield: 1 loaf.
Tips from our bakers
You may notice some green spots when you slice into this loaf after it's cooled. Don't panic; these spots are sunflower seeds that have chemically reacted with the baking soda while in the oven. The bread is perfectly safe and tasty to eat.
If our Irish-Style Wholemeal Flour isn't a pantry staple in your home, our Premium 100% Whole Wheat Flour or White Whole Wheat Flour are fine substitutes.
To make soda bread muffins: Divide the batter evenly among 12 lightly greased muffin cups. Bake for 16 to 18 minutes, until a toothpick inserted into the center of a muffin comes out clean. Remove the muffins from the oven, and after 5 minutes turn them out onto a rack to cool.
Reviews
I made this in an 8 cavity mini-loaf pan. It came out to 11 mini-loaves and timed the same as the recommendation for muffins. Delicious!
Lovely and so easy to make. I like the barely sweet and very whole grain loaf and am very glad I used the Harvest Grains and Irish flour.
I used to use the King Arthur Irish Soda bread mix for breakfast almost every weekend, because we liked it so much. (I bought a year's supply every March.) However this recipe is even more delicious than the mix and almost as easy to make. We really love it!
I made some substitutions in this recipe, as I like a sweeter soda bread. I added 1/4 cup sugar to the dough, used pecan oil for the oil, and sprinkled sanding sugar on top. It's wonderful! I'm going to make this again.
I made some substitutions in this recioe, ad I like a sweeter soda bread. I added 1/4 cup sugar to the dough, used pecan oil for the oil, and sprinkled sanding sugar on top. It's wonderful! I'm going to make this again.
LOVE this bread! So easy to make and tastes delicious. It combines two things I adore, Irish brown bread and rye bread. I didn't use the 7 grains blend because my family has food allergies, so I substituted 3/4 cup crushed quick cook oats to add texture and it worked perfectly. I didn't use the caraway seeds because I was running low. The bread doesn't "need" them, but I think I will add them next time just for a change.
Delicious bread! It was only after I had stirred up the batter that I realized the recipe uses no eggs. Bonus, since my fridge is short of eggs at the moment. :) I used only a small amount of the caraway seeds, coarsely crushed, and really liked the occasional hit of flavor. I made smaller muffins and got 22, which were done baking at 13 minutes. Can't beat that for ease and speed! My husb took four with him for lunch today and he is hard to please. Success! I've saved this recipe to make again. Thanks.