A customized print-friendly version of this recipe is available by clicking the "Print Recipe" button on this page.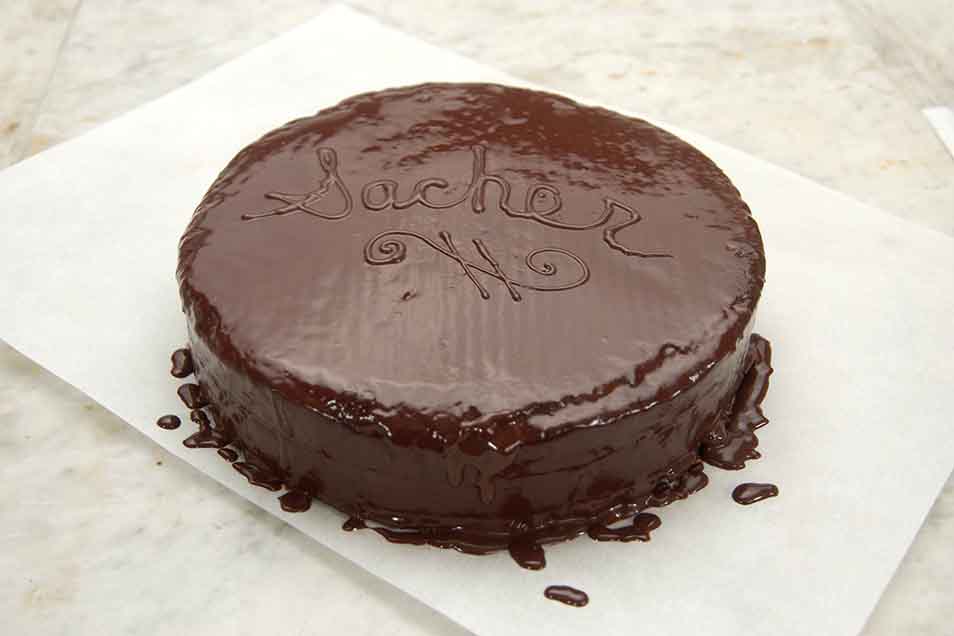 According to the Sacher Hotel website, the story of the legendary chocolate cake filled with apricot jam began in 1832 in Vienna. Franz Sacher was a 16-year old apprentice at the court of Prince Metternich when he was asked to create an especially delicious dessert for distinguished guests. The guests loved it, and it became known as the Sacher-Torte.

This classic chocolate cake is both light and rich at the same time, with an airy cake, a simple apricot jam filling and a decadent bittersweet glaze. As the cake sits to allow the glaze to set, the jam becomes absorbed into the cake and forms a slightly sweet moist layer in the center, an exquisite finish to any holiday or special occasion.
Thanks to reader feedback, the glaze recipe has been updated as of 03/15/17 to make a thicker, but still glossy topping
Ingredients
Sacher Cake
1 cup bittersweet chocolate discs, such as Belcolade
8 large eggs, separated
1/2 cup unsalted butter, melted
1 teaspoon vanilla extract
1/8 teaspoon salt
3/4 cup sugar, superfine prefered
1 cup King Arthur Unbleached Cake Flour Blend
1/2 cup apricot jam
Chocolate Glaze
1 cup bittersweet chocolate discs, such as Belcolade
1/2 cup boiling water
1 cup sugar
Instructions
Preheat the oven to 350°F. Spray one 9" by 2" round cake pan with cooking spray and line with parchment. Spritz the parchment lightly as well. If your pan isn't at least 2" deep, use two pans instead of one.

Over low heat or in the microwave melt the chocolate slowly, stirring well.

In a small bowl, lightly beat the 8 egg yolks. Add the melted chocolate, melted butter, and vanilla. Blend until smooth and satiny, with no lumps or unincorporated yolks.

In the bowl of a stand mixer, beat the 8 egg whites with a pinch of salt until they begin to foam. Slowly add the sugar, then beat on high speed until the whites hold a stiff peak but are still glossy.

Using a wide rubber spatula, mix about 1/3 of the egg whites into the chocolate/yolk mixture to lighten it. Now, pour the lightened chocolate mixture over the rest of the whites in the bowl. Fold gently, using about 20 to 30 strokes.

Sprinkle the cake flour over the chocolate batter and continue to fold gently until there are no traces of egg white remaining.

Pour the batter into the pan(s). Bake until the cake is puffed and dry looking on top, and a cake tester inserted into the center comes out clean: 40 to 45 minutes for a single pan, 20 to 25 minutes for two pans. Remove from the oven and cool in the pan(s) for 10 minutes before turning out onto a wire rack to cool completely. Be sure to peel off the parchment circle while the cake is still warm.

While the cake is cooling, strain the apricot jam through a fine sieve to remove any bits of fruit and make a smooth filling.

Filling the cake: If you used one cake pan, you will need to split the layer before filling. Use a long, sharp serrated knife to split the cake into two even layers. If you used two pans, simply spread the apricot jam between the layers, leaving 1/2 inch around the border so that the jam does not squeeze out over the sides of the cake.

For the chocolate glaze: Place the filled cake on a wire rack over a parchment lined baking sheet. Place the chocolate, water and sugar in a medium-sized saucepan over medium-low heat. Cook, stirring frequently until the glaze is smooth, shiny and slightly thickened, about 4 to 5 minutes.

As soon as the glaze is smooth, immediately pour over the cake. The excess glaze will drip off of the cake onto the parchment paper. You can scoop up the excess glaze to cover any bare spots on the cake. Use a flexible spatula to help spread the glaze on the top and sides of the cake, but do not overwork the glaze or it will not remain smooth and sleek.

Allow the glaze to set up at room temperature for a few hours before serving. This cake is best served the day it's made. Store any leftovers at room temperature for 1 day.

Yield: one 9" cake.
Tips from our bakers
A traditional decoration for Sacher Torte is to pipe the word Sacher on top with melted chocolate once the glaze is set. If you prefer you can pipe simple swirls on top, or leave the cake plain. It will still taste just as good!
Reviews
I am having a dreadful time sending you feedback. I will try once more. This is a fabulous recipe. I have made it several times recently, but have tweaked it a bit. 1. I use almond flour instead of wheat flour. I think is comes out better this way -- lighter. 2. I spike the apricot jam with a tablespoon of Cointreau. 3. I make a chocolate ganache for the icing. For the full recipe one cup melted 70% chocolate mixed with one 1/2 cup heavy cream. I use both the spiked jam and some of the ganache for the filling. 4. I decorate the sides with 70% chocolate shavings, and put a few raspberries on top for color. The result is spectacular. Even my 14 year old granddaughter, and at that age they are severe evaluators, gave it two thumbs up. Thank you KAF
Turned out great, I added a little less water to the glaze, as recommended by many other comments, added a little less sugar for a more dark, less sweet cake(but still sweet enough), added a little extra jam, also a little on top of the cake, before adding the glaze, and everything came out very well. My egg whites did not peak out, just formed a foam, I used this as they were, but that didn't seem to matter at all.
Cake turned out great and it's really simple. Ok but what's the deal with the recipe for the hot water bath glace? In the notes it says that the recipe has been updated due to feedback. Some reviewers say to use 1/4 C of water, but the recipe still says 1/2C. I followed the recipe and it was so watery! I had to add more chocolate, just enough to make a pourable glace. Of course I had way too much glace after that. So, has the recipe actually been updated? I will use 1/4C of water next time. Still love you guys!

We're glad to hear this was a tasty cake, Briana! We found 1/2 cup of water gave us the consistency of glaze that we were aiming for, but if you prefer a thicker consistency we encourage you to try out the 1/4 cup next time. Annabelle@KAF
This came out great I had to make four of them for work. I did make the the glaze with only 1/4 cup of water instead of 1/2 cup.
Glaze too watery using the proportions given in the recipe. Today, I tried 2/3 cup boiling water, and still too watery. Next time, I will try 1/3 cup.

Thanks for reaching out to us with your concern about the glaze, Greg. We're taking another took at the recipe to see if we can improve your results. Traditionally a Sacher Torte is enrobed in a hot water glaze, so we'll keep this element but test alternate ratios of chocolate to water. We'll be sure to make any necessary changes noted. Happy baking! Kye@KAF
I loved the cake part of this recipe, light, gently sweet, moist and easy to make. Based on the reviews I went with a different ganache/chocolate drizzle and it set hard, but that was my own fault, the ratio of liquid to chocolate was off. I baked my cake in 2 9" pans and it would have been better to bake it in one deep pan and cut cake in half because my two rounds didn't stack perfectly. I also didn't strain apricot preserves, I like different textural experience it provides. Cake has been getting great comments from co-workers all day.

Be sure to use a quality melting chocolate (wafers are best) when making the chocolate ganache. To ensure you have the right ratio of liquid to chocolate, you can weigh your ingredients using a scale (about 6 ounces of chocolate) and 8 ounces of boiling water. We're so glad your co-workers loved this recipe as much we do! Happy baking! Kye@KAF
Easy cake.....A better glaze is to make a 2:1 simple syrup with 200g Sugar ( 1 Cup) with 100 ml water, simmer for a few minutes and pour that on 6 or 7 ounces chocolate instead of boiling water, cool a few minutes before using on cake.
The cake itself was beautiful, but the glaze was a mess! As others wrote, the water/chocolate ratio must be off. Unfortunately, I read the review only after I glazed my cake. It did look very watery, but I never made water glaze before, and KAF recipes (which I use for years, from both cookbooks and the website) always work, so I went ahead. Well, most off the glaze went to waste, and the cake was not the beautiful shiny Sacher pictured at the website. I covered ugly glaze with fruit, and the flavor was still very good. My 5 year old, who requested this for his birthday, didn't notice the problem with the glaze, and liked the cake, so it was fine, but KAF, please correct the glaze recipe. Thanks!
I put in a question about this recipe to Bakersresource because there have been several comments about the glaze having too much water in it. Waiting for a response. Barb@KAF
Delicious and a lovely presentation. Best to eat on day of baking or next day. Icing: definitely, only 1/4 cup boiling water needed for 1 cup Belcolade chocolate discs; be sure to wisk water in gradually and quickly. I used Sarabeth's peach/apricot preserves but did not strain.
This was a big hit at Christmas dinner. I baked the cakes in 2 separate 8" pie pans to save from having to slice it. Since I couldn't find the good chocolate in town, I used Bakers Semi-Sweet squares, 6 for the cake and 6 for the icing. It took a long time for the icing to set, but did not negatively affect it.