A customized print-friendly version of this recipe is available by clicking the "Print Recipe" button on this page.
Samosas with Quick Flaky Pastry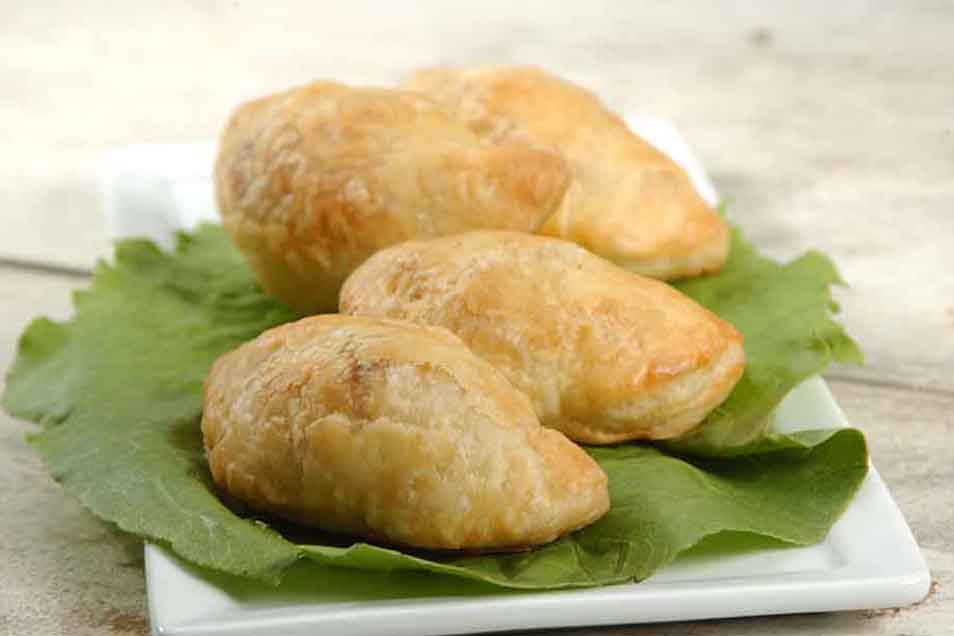 From its earliest appearance in Middle Eastern and Central Asian cuisines centuries ago, the samosa (just one of its various names) has spread throughout the world. This stuffed pocket's typical butter and flour pastry lends itself to a myriad of filling possibilities. For our version of samosas, a savory filling of onions, potatoes and spices is brightened by the sweetness of peas to create an amazing snack.
Ingredients
Quick Flaky Pastry
2 1/2 cups King Arthur Unbleached All-Purpose Flour
1/2 teaspoon salt
1 cup unsalted butter, chilled
1/4 to 1/2 cup ice water
Filling
2 cups cooked potatoes, drained and cubed
2 tablespoons butter
1 cup diced onion
2 cloves garlic, minced
1 teaspoon curry powder
1/4 to 1/2 teaspoon cumin, to taste
1 cup frozen peas, thawed
1/2 teaspoon Sriracha hot sauce, to taste (optional)
salt, pepper to taste
egg wash for brushing pastries
Instructions
Combine the flour and salt in a mixing bowl. Cut in half of the chilled butter with a pastry blender until the butter/flour mixture resembles granola. Work quickly to keep the butter as cold as possible.

Dice the remaining butter and add to the butter/flour mixture in the bowl. Work in the new butter until it is the size of dried cranberries. You can flatten the pieces slightly with your fingers as you go along, creating leaves of butter coated in flour.

Sprinkle about half of the ice water over the butter/flour and work gently, adding more water as needed until the dough forms a rough mass. Knead the dough for about 30 seconds.

Divide the dough in half and press gently into 2 discs. You should still be able to see bits of butter in the dough. Wrap each disc in plastic wrap and refrigerate for 30 minutes. You can keep the dough in the fridge up to overnight if desired.

While the dough is chilling, prepare the filling. Melt the butter in a medium-sized saute pan. Add the onions and garlic, cooking for two to 3 minutes until the onions turn translucent. Take care not to burn the garlic.

Add the curry powder and cumin and saute for an additional minute. Add the potatoes and turn to coat well in the spices. Cook and break up the potatoes for a few more minutes. You can mash the filling smooth at this time, or leave pieces of potato according to your preference.

Taste the filling for seasoning, adjust with salt and pepper and Sriracha hot sauce if desired. Remove from the heat and stir in the peas, taking care not to break them up too much.

Allow the filling to cool to just barely warm. When you are ready to roll your dough, preheat the oven to 400°F and line two half sheet pans with parchment paper.

Working with one disc at a time, roll the chilled dough to 1/8" thick. Cut circles of dough with a sharp edged round 3" cutter. Place 2 tablespoons of filling onto each round and fold the dough into half moons. Use a touch of water to help seal the rounds if needed.

Use a fork to seal the edges of each samosa. Place on the parchment-lined sheet and brush with egg wash to coat. Bake for 15 to 20 minutes or until deep golden brown. Serve hot with yogurt or sour cream for dipping.

*the filling recipe is very generous. If you have leftover filling, it can be frozen for up to one month, or served in tortillas for a quick lunch.
Tips from our bakers
A food processor makes this dough in a snap. Add the flour, salt and half of the butter to the work bowl fitted with the steel blade. Pulse until the mix resembles granola. Add the rest of the butter and pulse briefly. Dribble in the ice water with the machine running until the dough forms a mass. Chill as directed.
Sriracha, aka Rooster Sauce can be purchased in larger grocery stores, or in Asian markets. It packs quite a punch so use it sparingly at first.
To make egg wash, whisk one egg with 1 teaspoon of water and a pinch of salt. Eggs in a carton, such as Egg Beaters, makes an excellent egg wash.
Reviews
could u give me the nutritional information of this recipe

Due to the extensive size of our recipe library, we're currently unable to research and provide nutritional information for all of our past recipes, including this one. We can understand your interest in those details, and extend our sincere apologies for any inconvenience. A resource you might consider exploring is free nutrition analysis calculators, which are made available online for general, non-medical use. Two such calculators we like are from Spark Recipes and Verywell, both of which can be found through a general search engine. We hope you find what you're looking for, and good luck! Kye@KAF
Delicious! Wary of the reviews saying the filling wasn't spicy enough, I added a bit of extra cumin as well as several shakes of cayenne. The filling was fragrant and perfectly spicy (and I like spice), and the pastry was flaky and delicious. I got a bit stressed that my dough was getting too warm while I was rolling it out and shaping the samosas, so I put the filled samosas in the fridge for a bit before baking, and they were great - didn't have any trouble with butter flowing out. This was my first-ever pastry, and it was straightforward to make and very, very good. I received lots of compliments on both looks and taste. Highly recommend this recipe!
I only used the pastry portion of this recipe. I was hankering for cherry pie, and had some dried cherries, but I don't keep shortening in the house, so was looking for something that was all butter. I didn't want to make a whole pie, and this one seemed easy to halve, and the whole recipe only called for half the butter of the other all butter recipe here. First time making crust, really. Halved the recipe, cut butter in using the two knives method and bit of finger work. I probably could have cut it together a little longe/smallerr, but when I patted out the two discs for chilling, they were beautifully and visibly mottled with butter. Let it chill for 30 mins. Rolled out three or four little rounds and stuffed with rehydrated dried cherries and a little sugar/corn starch. I have had to stop myself for weeks from making it again - they were sooo good. I could have them every day, but that would be a problem, wouldn't it?
While the filling is fantastic, this pastry redipe was a disaster. I only added 2T of water to start, and it was entirely too much. I used a food processor, pulsing until the flour and (I used a 50/50 mix of butter and shortening) was at the crumb stage, then added the water and pulsed it a time or two. It was already too late: I added at least a half cup of flour just to get it out and into the fridge. After more than an hour, trying to roll it out was a mess. Had to form them in my hand, adding more and more flour and piecing it together. They took much more time to cook and I wouldn't advise this. Start with one tablespoon of water. Perhaps this should be used in a tart pan instead of being rolled out?

We're sorry you had trouble with this- was your shortening chilled? If it was room temperature when you added it, the heat from the food processor will melt the shortening, creating exactly the results you describe. Try freezing the shortening before adding it to the processor. We'd be happy to talk it over on the Hotline, too. Happy baking! Laurie@KAF
A winner from the get-go!! Perfect taste(didn't add the hot sauce) and, by some miracle, the pastry was indeed quick & flaky. The dough rolled out perfectly between 2 pieces of parchment but I just couldn't the hang of rolling it out evenly. ("operator error"). Should I roll it out "thin" or "not so thin"? As it turned, it didn't make much difference because it still turned out flaky! Another issue I had was the taters. If I had cut them more evenly in about 1/4 inch cubes, the assembly would have been easier. It's all part of the learning curve, though, so I can't wait to make them again.
Pastry: simple and quick to prepare with a food processor. Flaky, tender texture. As others have said, I think this pastry would work great for other savory appetizer "hand pies". Does anyone have a feeling for how the pastry would work for a regular pie crust? Full size I mean. The filling was good, but Twin Rock is right - the spices should be kicked up a notch. That is why I give the recipe (exactly as written) just four stars instead of five.
Excellent! Added peas and carrots instead of just peas. If you eat a lot of curry and sriracha you will want to up both of those and the garlic. I have a small processor and made the pastry in two batches, came out great and would be perfect for homemade hot pockets!
Excellent recipe, easy to make and tastes so good
Absolutely five stars--from my husband, who loved them; from my 11-, 13- and 14-year olds, who said they were *awesome*; and from me, the cook/baker, who found the filling simple (hooray for everyday items) the pastry forgiving, and the technique speedy (I used the suggested food processor method.) They are delicious and (according to my husband who hoarded ALL the leftovers), re-heat well and they are tasty cold! ON TOP OF THIS, this recipe is wonderfully adaptive. I know! Unbelievable! I make a lot of pies/quiches. I was worried about the kneading and handling because I thought I may have over-processed it a teensy bit plus been a little heavy-handed with the water, so I was liberal with the flour when I rolled out the pastry. Hah! This was exceptionally easy and manageable dough and it turned out flaky and delicious. They were perfect! Now I'm bubbling with ideas for variations.