A customized print-friendly version of this recipe is available by clicking the "Print Recipe" button on this page.
Sam's Pulled Pork Sandwich with Coleslaw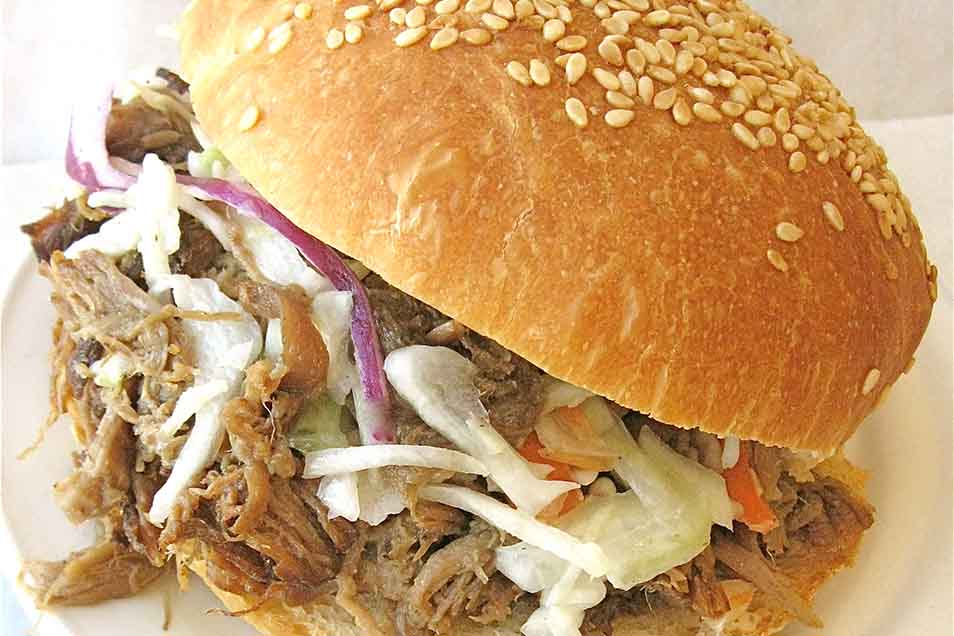 Pork shoulder, simmered for hours in a vinegar/brown sugar broth, is fall-off-the-bone tender. Once it's shredded — "pulled" — it's served with lightly sweetened coleslaw on a crusty roll. We realize there are many versions of pulled pork out there, and lots of opinions about what type of roll it should he heaped on; this just happens to be our favorite.

The pork part of this recipe comes to us from King Arthur friend Sam Libby, a Richmond, Vermont native currently seeking his fortune in Washington, D.C. Thanks, Sam!


Ingredients
Pulled pork
4 to 5 pound bone-in pork shoulder
1 large yellow onion, peeled and quartered
salt
brown sugar
1/2 cup apple cider vinegar
1/3 cup Worcestershire sauce
Coleslaw
1/4 cup granulated sugar
1 teaspoon celery salt
1 teaspoon dry mustard
3/4 cup mayonnaise
2 1/2 tablespoons white vinegar
1-pound bag prepared coleslaw vegetables or 1 pound shredded green and red cabbage
Instructions
To make the pulled pork: Rub the pork all over with salt, then coat it with brown sugar, patting it on as best you can.

Place the onion in the bottom of a slow cooker. If you don't have a slow cooker, you can cook the pork over a very low burner (preferably with a flame tamer), or in an oven just hot enough to keep it simmering. A slow cooker is the easiest bet here, though.

Place the pork shoulder on top of the onion, and drizzle in the vinegar and Worcestershire sauce.

If you're using a slow cooker, heat the insert in a microwave for 5 minutes or so, to warm the meat and other ingredients.

Set the slow cooker to high, and cook for 3 to 4 hours. Reduce heat to low, and cook for an additional 5 hours or so, until the pork falls off the bone and shreds apart easily when you poke it with a fork.

Remove the bone and any whole pieces of fat. Gently stir the pork, until it starts to fall apart. Season to taste with additional salt (up to about 1 1/2 teaspoons, depending on how much you used initially).

Drain the pork, saving the juices. Refrigerate pork and juices. When the juices are cold, skim the fat off the top and discard it.

To make the rolls: Mix and knead the dough ingredients — by hand, mixer or bread machine set on the dough cycle — to make a smooth dough.

Cover the dough and let it rise until it's noticeably puffy, about 60 to 90 minutes.

Transfer the dough to a lightly greased work surface, deflate it, and divide it into 12 pieces (about 3 1/4 ounces each). Shape into balls.

Dip the top half of each roll into water, then into the seeds. Place the rolls into the cups of a lightly greased hamburger roll pan, or onto a lightly greased or parchment-lined baking sheet. Press gently to flatten.

Cover the rolls, and let them rise until puffy, 45 to 60 minutes. Towards the end of the rising time, preheat the oven to 400°F.

Bake the rolls until they're a deep golden brown, 22 to 26 minutes. Remove them from the oven, and cool on a rack. If desired, just before serving reheat rolls in a 375°F oven for 5 minutes or so, to crisp.

To make the coleslaw: Combine the sugar, celery salt, mustard, mayonnaise, and vinegar in a blender or mini food processor. Toss with the cabbage. Refrigerate until ready to serve.

To serve, split each roll. Reheat the pork with some of its juice until hot. Heap each roll with pork, and top with coleslaw. A dill pickle slice is optional.

Yield: 12 rolls; 12 cups pulled pork; and 3 cups coleslaw.
Tips from our bakers
To serve coleslaw on the side, instead of on the sandwich, double the recipe to make 6 cups.
Bread flour or all-purpose flour can be substituted for the Hi-maize in this recipe. But if you're looking for added fiber without even a touch of grittiness, try Hi-maize; it's an amazing product.
It's best to make the pork a day ahead, so that it can mellow a bit. But if you want to make everything in one day, start the pork in the early morning, then make the rolls, and make the coleslaw an hour or so before serving.
Want to make barbecue sauce from the reserved pork juices? Simmer the juices for about 10 minutes in a sauté pan, to reduce by about half. Add 1/2 cup ketchup, 1 teaspoon hot sauce or tabasco, and 1 teaspoon liquid smoke flavoring. Simmer for an additional 10 minutes, until syrupy. Pour or spread atop pork before adding coleslaw.
Reviews
Hi I think this recipe is brilliant although I have not tried the buns yet (I will tho). I've made this about 5 times now and everyone comes back for more definitely a keeper
Great recipe but do make sure you add some liquid smoke to the broth and baste the pork after pulling it. Coleslaw is fine but use any recipe you like this is nothing special. Rolls are also fine but again there are better ones on the KAF site.
Oh, my gosh! This recipe is fantastic, and possibly my new go-to meal for a crowd. The only change I made was to add about 2 tablespoons of boiled cider to the vinegar/Worcestershire sauce mixture. It really bumped up the flavor. I only had red cabbage for the coleslaw, but the red color was appropriate for Valentine's Day dinner. ;-)
Since I only cook for two I halved everything and WOW, so delicious! I've only been making bread for about two months, and tonight was the first time I ever made rolls. Could not have been any happier with the results. I will do this one again and again.
Really enjoyed how delicious the pork tasted. The dressing for the coleslaw also delicious. Didn't have time to make the rolls but will in the near future.
I have to admit, I was hesitant about another pulled pork recipe. But with a blizzard in our forecast, I decided to give it a try (minus the homemade rolls - used good storebought). Well, the pork was OUTSTANDING - it had a fresh pulled pork flavor, not like the ones just doused in bottled sauce! It had just the right amount of sweetness, and great flavor! Next, the coleslaw was fantastic atop the meat!!! I've never eaten it that way, but it was truly the bomb! My sons came back for 2nds and 3rds!!! The only thing I would change is to cut the sugar in the coleslaw to about 1/2 the amount. This is a KEEPER, and will be taken to family parties!!! (I did make the pork the day before, as it was easy to remove the fat.)
OK so I was in a hurry--I admit I did not take the time to make the buns. I just found some good bakery buns. This is by far the best pulled pork I've ever made. Husband went back for seconds (after whining when he heard that I was going to make pulled pork). Slaw was also great. This is a keeper. I'd serve this to guests. I look forward to making the buns.
Just as I always go to KAF for recipes and baking products, Penzey's Spices is the place to go for spices. I used Penzey's Chicago Steak Seasoning as a rub on the pork for two days before cooking it in the crockpot as described in the recipe. It is always a huge hit -
I just made the pulled pork sandwiches for dinner, and they are so delicious! Even my 4- and 6-year olds loved them! I will definitely make this again. Next time I will also make the coleslaw (didn't have enough time to make it before the kids got hungry tonight).