A customized print-friendly version of this recipe is available by clicking the "Print Recipe" button on this page.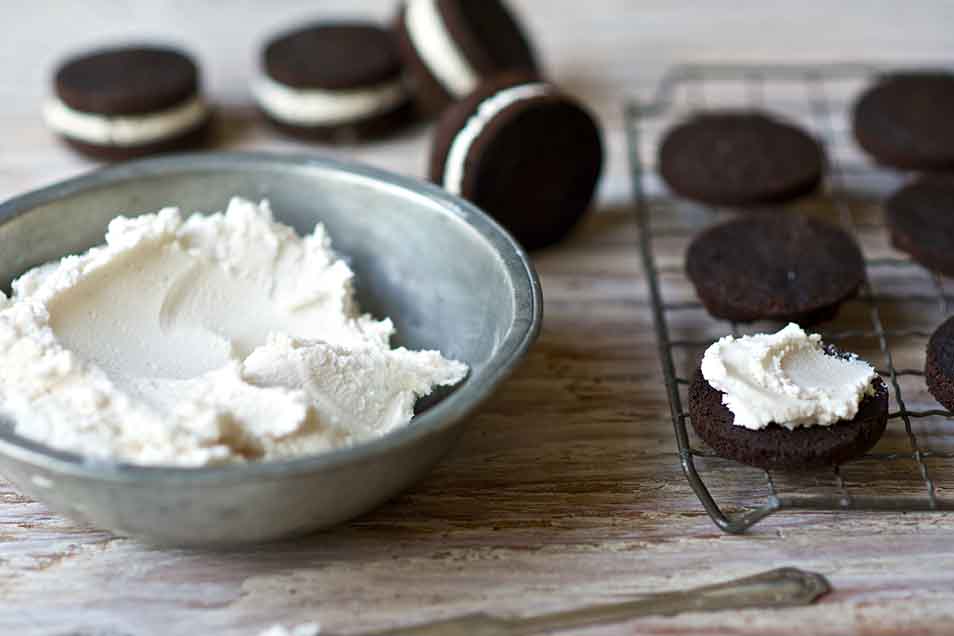 You know the smooth, dense white icing in store-bought sandwich cookies? This is a homemade version, perfect for filling our Chocolate Wafer cookies
Ingredients
2 1/2 cups confectioners' sugar or glazing sugar
1/2 cup vegetable shortening
pinch of salt
1 teaspoon vanilla extract
2 teaspoons cold water, or enough to make the filling cohesive
Instructions
Beat together the sugar, shortening, salt, and vanilla. The mixture will seem very dry at first, but will eventually begin to clump together.

Add the water, beating until smooth and spreadable. The filling should be stiff, but not so stiff that you can't flatten it when you sandwich it between your cookies.

For best presentation, roll pieces of filling into a ball before gently flattening atop cookie bottoms, and adding cookie tops.

Yield: a heaping 1 1/2 cups filling, enough to fill about 24 to 30 medium (about 2 1/2") sandwich cookies.
Tips from our bakers
Can you substitute butter for the vegetable shortening? You can; the filling will taste different, and won't hold up as well if the weather is warm.
For colorful, holiday-themed sandwich cookies, beat up to 10 drops gel paste food colors into the prepared filling. Start with 2 to 4 drops of paste, then work your way up, drop by drop, until you achieve your desired color.
For sandwich cookies with a flavorful twist, replace the teaspoon of vanilla extract with 1 teaspoon vanilla bean paste (our Pure Vanilla Plus is a good choice); ½ to 1 teaspoon of another extract, or a few drops to 1/8 teaspoon of one of our extra-strong flavors. Start with the lesser amount of flavoring then add more little by little until you achieve your desired strength.
Reviews
can u freeze the cookies with the filling?

Hi Ruth! You should be able to freeze the cookies, with or without filling, for up to 3 months. Make sure they're wrapped well and are kept in the back of the freezer where they're less likely to thaw. Annabelle@KAF
Could the shortening in this recipe be swapped out for butter? Just wondering because I do not carry shortening at my house

HR, as we say in the baker's tips, you can use butter (or coconut oil) in this recipe, but shortening is truly what gives the filling its characteristic texture and mouthfeel. It's also more stable than butter, which means your filling will hold up better (not melt at warm temperatures). Choose what works for you! Kye@KAF
Have used this recipe for years with one exception. I use heavy whipping cream instead of water. Just makes it a little richer. May have to add several tablespoons. I also have a very small scoop that I use instead of rolling it into balls. Much easier and quicker.
This has been our family's 'go to' frosting recipe for decades. It's probably the first recipe I could make without the recipe card. If you add a little almond extract and frost sugar cookies, don't be surprised if you get a comment, "this is better than crack!" Response was, "how would you know, dad?" LOVE baking 💞💞💞 and King Arthur!
The recipe was simple, the only problem I had was getting it to come together. All in all I used about 10 teaspoons of water and then it came together nicely. It also tasted like the real deal from the "other" cookies. Although my kids were not fooled in a blind taste test, my daughter said the cookies were not hard enough! :) I will use this recipe again.